The global single-use bioreactors market size was estimated at USD 4.37 billion in 2022 and is foreseen to touch around USD 23.94 billion by 2032 with a registered compound annual growth rate (CAGR) of 18.6% from 2023 to 2032.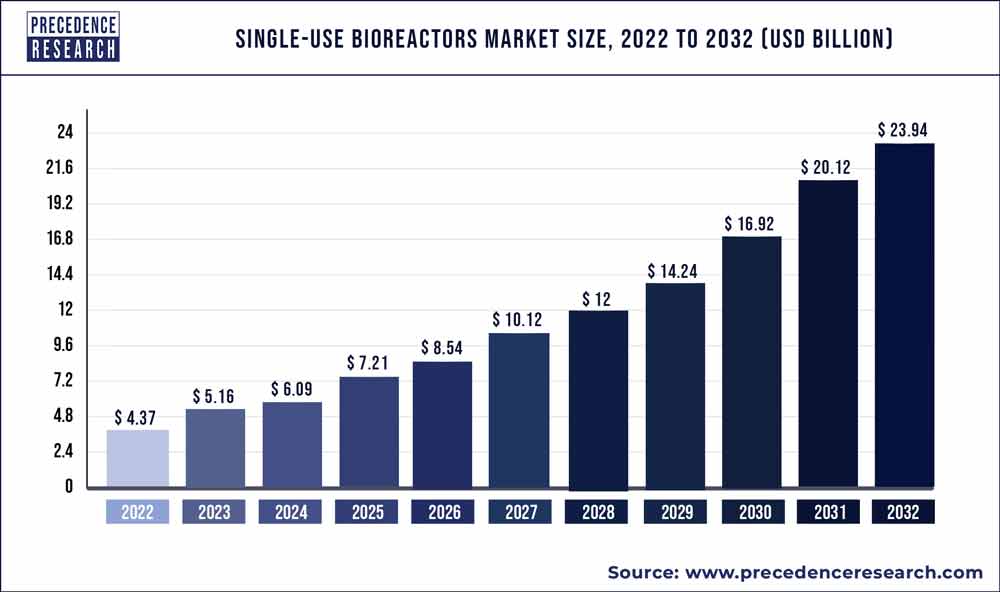 Access our Premium Real Time Data Intelligence Tool, Visit: Precedence Statistics
Key Takeaways:
North America has accounted highest revenue share of around 31.5% in 2022.
By end use, the CMOs and CROs segment has captured 40% revenue share in 2022.
By usage type, the lab-scale production segment has reached 37% revenue share in 2022.
By application, the research and development (R&D)/process development segment has held 75.5% revenue share in 2022.
By molecule type, the vaccines segment has accounted revenue share of around 26% in 2022.
By type of cell, the mammalian cells segment accounted for 81% market share in 2022.
By type, stirred tank bioreactors segment accounted for 82% of the total revenue share in 2022.
By product, the single-use bioreactor systems segment has held an 80.6% revenue share in 2022.
The single-use bioreactors market has shown a notable increase in sales despite the worldwide COVID-19 epidemic. As a result, the need for single-use bioprocesses has skyrocketed. The size of stainless-steel fermenters and associated high capital costs have become an issue due to the shifting market for pharmaceuticals. Due to their adaptability, SUBs have achieved successfully the rising need for pharmaceuticals while overcoming issues that are often connected with bioreactors. One of the main business drivers of investing in single-use biopharmaceutical technologies is acknowledged to be versatility.
Growth Factors
The single-use bioreactors have the potential to lower the price of traditional bioprocesses. Disposable biofilters typically have lower investment costs than traditional stainless-steel biopharmaceutical devices. Therefore, the cost-saving benefits in terms of development, operation, and maintenance can be primarily responsible for the acceptance of these items. Cost, reaction size, ideal operating capacity, temperature control, and throughput are all factors to be taken into account when choosing a single-use culture system. Additionally, it is projected that in the upcoming years, the use of throwaway bioreactors will increase due to the increased demand for highly effective medicines on a global scale that doesn't necessitate a significant number of bioprocesses. Small-scale, bench-top SUBs reduce the requirement for assembly, washing, and thermal treatment, which results in a quicker turnaround time. Such reactors are regarded as the workhorses of method advancement and optimization, promoting the use of SUBs for the production of biopharmaceuticals.
Report Scope of the Single-use Bioreactors Market
Report Coverage
Details
Market Size in 2023
USD 5.16 Billion
Market Size by 2032
USD 23.94 Billion
Growth Rate from 2023 to 2032
CAGR of 18.6%
Largest Market
North America
Fastest Growing Market
Asia Pacific
Base Year
2022
Forecast Period
2023 to 2032
Segments Covered

By Product
By Type
By Type of Cell
By Molecule Type
By Application
By End-Use
By Usage Type

Regions Covered

North America
Europe
Asia-Pacific
Latin America
Middle East & Africa

Key Market Drivers:
Rising R&D spending on biopharmaceuticals
Because of the increasing elderly population's increased susceptibility to a variety of diseases, there has been a growing market for biopharma on such a global scale. Global corporations are concentrating on biomedical manufacturing and research for product innovation and enhanced production in response to this need. Workflows for producing biopharmaceuticals must include single-use technology. Single-use methods have become more popular in biomedical R&D because of their benefits over traditional biopharmaceutical methods. As a result, it is believed that increased R&D spending is a sign that the industry is expanding.
Key Market Challenges:
Better single-use devices are utilized
One of the main issues in the industry is the lack of accurate, dependable, and affordable sensors that can fulfil the requirements of SUBS. To order to administer the systems without compromising the sterile of substances, sensors utilized in SUBS must be consistent with the current SUB systems. Nevertheless, due to problems with removal from aqueous solutions and ethanolic extracts, the integrity of detectors that are currently on the market does not meet GMP requirements. However, there is room for advancement in this product category, including the creation of more precise and customized process detectors for parameter settings such as pH, flow measurement, temperature, and quality of products, that can then be integrated into the biocatalytic work process. The above poses a challenge during using SUBS.
Key Market Opportunities:
Developing Nations: The considerable development potential provided by developing nations like India, China, and Indonesia could be ascribed to strong growth in the individual pharmaceuticals and biotechnology industries because of the availability of low-cost, trained labour and far less restrictive regulatory laws. These nations serve as a hub for such exporting of bioprocesses due to their lower labour costs and skilled workforce. Single-use devices are expanding more quickly in emerging economies.
Segmental Insights:
Product Insights
Single-use fermenter systems are now widely used in pharmaceutical production methods that prioritize high production yield. Single-use bioreactors' versatility, cost-effectiveness, and rapidly increased manufacturing will increase demand, which will have an impact on economic growth. Due to these benefits, there will be greater demand for quick growth, higher production of novel therapeutic drugs including vaccines, enzymes, antibodies, and hormones, and larger product volumes that may be produced in these bioprocesses, all of which will help the market expand.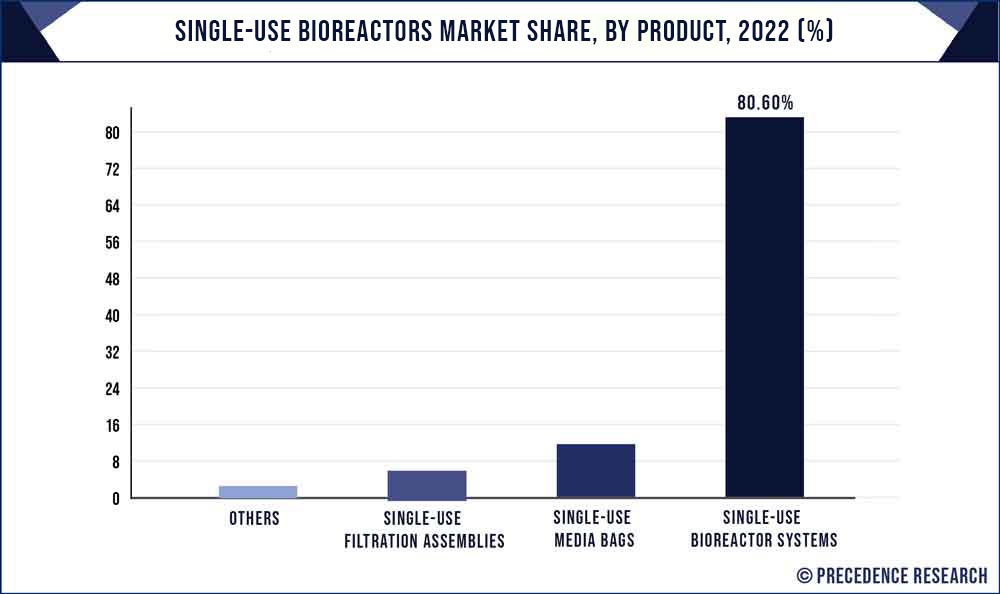 Additionally, growing interest from major players in offering small-scale culture systems will fuel the company's rise in the upcoming years. The accessibility of reusable biocatalytic bags in a variety of shapes for just a variety of uses, including the storing of chemicals, cell cultures, buffers, or sterilized media is predicted to drive market expansion. Single mainstream bags improve production repeatability by providing resilience, hardness, and heat resistance.
Type Insights
In 2022, mixed plate biofilters accounted for the biggest revenue proportion. The market development of continuous stirred tank bioprocesses is at its maximum level thanks to features supplied by such bioprocesses such as good oxygen transmission and liquid mixing capabilities, cheap operational costs, simple scale-up, conformity to cGMP criteria, and different propellers. In addition, it is projected that the increased use of continuous stirred-tank SUBs in huge production would spur market expansion in the upcoming years. The ability to scale up and down with ease has helped fulfil the demands of the current output. Additionally, the availability of wave-induced separate bioreactors would increase in the coming years, boosting overall growth. For the past ten years, Waves Biotech AG has provided the first wave fermenter BIOSTAT RM. More lately, the business unveiled the second version, BIOSTAT RM II, which has upgraded capabilities and a better temperature regulation & propulsion system. During the projected period, these manufacturing improvements will fuel the demand for wave-induced solitary bioprocesses
Type of Cell Insights
In 2022, the sector of mammalian cells held the highest share. This might be due to the significant penetrating of these organisms in the creation of pharmaceutical therapies and the wide commercial successes of transgenic enzymes produced from human cells. 85% of pharmacological prospects in preclinical studies, according to Bioprocess Worldwide, are created in human cultured cells. Mammalian cell culture for the creation of recombinants has also swiftly advanced their use in clinical contexts. Another important aspect that is anticipated to have a considerable impact on market expansion in the forthcoming years is the expanding use of single-use bioprocesses for mammalian cultured cells in different research investigations. Yeasts are dependable eukaryotic carriers again for the synthesis of fusion proteins and offer special benefits in the generation of medicinal homologous sequences. The increasing attention given by numerous research organizations and scientists to the use of the fermentation process in medical or medicinal contexts will hasten market expansion during the projected timeframe.
Molecule Type Insights
With a larger overall revenue in 2022, that vaccine category dominated the marketplace. This is mostly because of the Severe acute respiratory virus's widespread outbreak, which has created an immediate requirement for a pandemic vaccine. According to the COVID-19 Effects on Bioprocessing research by Bio Plan Partners, single-use solutions used in commercial production are predicted to rise sharply. These initiatives rely heavily on single-use bioprocesses because they are adaptable, economical, and less likely to cause cross-contamination. The industry is expected to be driven by this steady rise in the consumption of single-use solutions. Additionally, the growing field of gene and cell therapy is anticipated to accelerate the uptake of SUBs throughout this market. Sartorius, as well as Rooster Bio, Inc., teamed up in Jan 2021 to improve the production capacities for cell and gene therapies. The partnership aims to increase the output of tissue regeneration. One of the major players in the marketplace for single-use bioprocesses is Sartorius.
Application Insights
The expansion of research and innovation processes accounted for the biggest revenue proportion. Single-use fermenter utilization in systems integration is a driving force behind the industry's expansion. For example, according to the article written by American Pharmacy, the business used this single-use bioreactor for systems integration.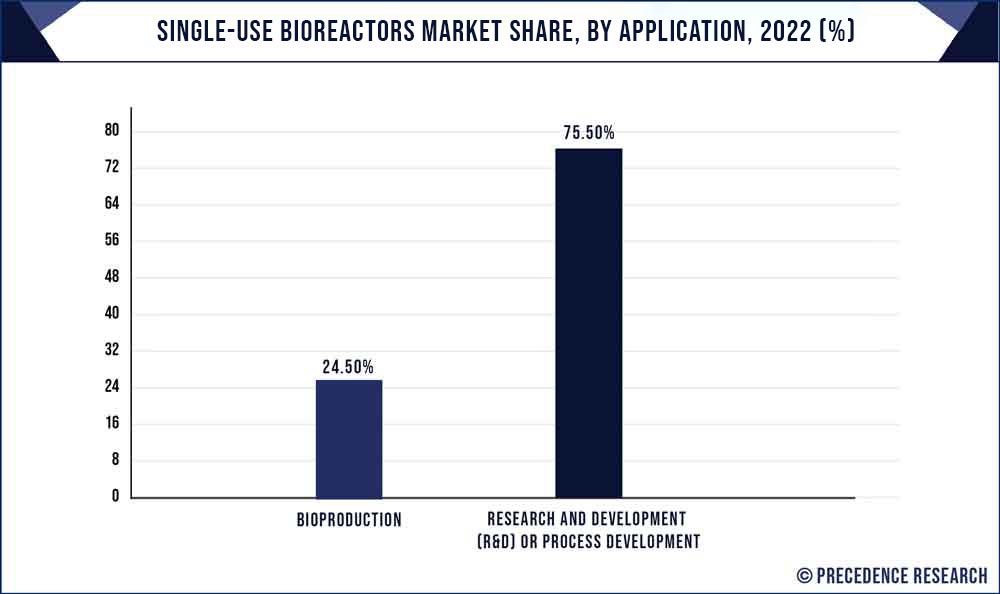 Moreover, every component of the bioprocessing sector uses single-use devices. This demonstrates the predominance of single-use bioprocesses in clinical production and R&D. In the nearest term, it is projected that the bioproduction sector will see a rise in the use of these bioprocesses. Removable reactors are increasingly being used on a broad scale, first from the laboratory to the industry, as a result of substantial improvements in bioreactor layouts, sensor systems, film technology, and swirling motors.
End-Use Insights
The segment with the highest revenue share in 2022 more than 36% was CMOs & CROs. CMOS has a significant desire for more variable manufacturing capacity as well as fast program switchovers. They thus use a greater variety of single-use parts and systems. CMOS & CROs are increasingly inclined to use SUBs as a result of the rising tendency of outsourced.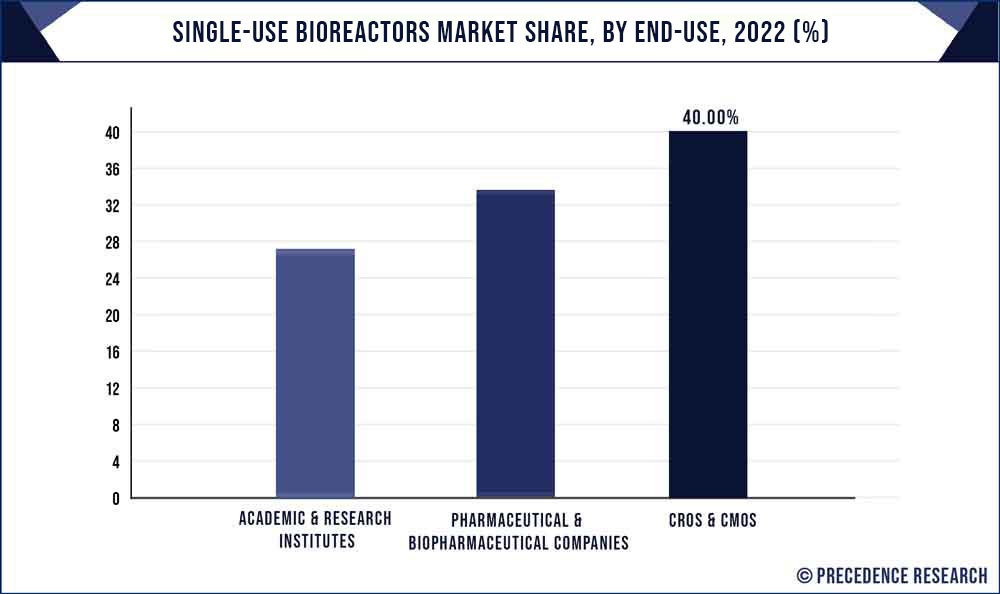 This development is linked to the effectiveness and application of SUBs in managing various pharmaceutical commodities and shifting market needs. These elements result in substantial SUS gadget adoption enabling quicker CMO acceptance of new SUS technology. The sector is being driven by CMOs' dynamic processing line & capabilities as well as more consistent product designers for biotechnological processes machinery and infrastructure.
Usage Type Insights
In 2021, the research facility production sector had the biggest income proportion. In the pharmaceuticals sector, throwaway fermenters are frequently employed in preliminary and clinical studies. The company's growth is anticipated to be significantly impacted by the growing usage of single-use technologies in cell treatment studies and vaccine manufacture. Throughout the projected period, it is expected that the massive production category would experience significant expansion. This is due to the fast-increasing need for the commercial operations of biological goods and the increase of manufacturing capacity to satisfy the need. During the projection term, biotechnology and pharmaceutical businesses should experience profitable growth possibilities. The market expansion was further reinforced by strategic alliances among product producers and pharmaceutical firms.
Single-use Bioreactors Market Share, By Region, 2022 (%)
| | |
| --- | --- |
| Regions | Revenue Share in 2022 (%) |
| North America | 31.5% |
| Asia Pacific | 23.2% |
| Europe | 27.8% |
| Latin America | 10.5% |
| MEA | 7% |

Regional Insights
In 2022, North America's overall revenue was the highest. This is explained by the existence of significant operating firms and the country's well-established biotech industry. For example, Thermo Fisher Laboratories said in September 2021 that it intended to build a new production facility specifically for single-use bioprocessing solutions. During the projected timeframe, Asia Pacific is anticipated to have the fastest CAGR. According to estimates, Asian businesses, both domestic contenders and global behemoths are building around 50 per cent of the newest biorefinery facilities worldwide. In the coming years, this is anticipated to significantly drive the global market in Asia-Pacific. Due to its widespread usage of single-use technologies, China is predicted to be at the front.
Recent Developments:
To integrate Pall Company's (US) iCELLis biopharmaceutical equipment into Freeline's (UK) adeno-associated viruses manufacturing platform, the two companies partnered in 2019. This collaboration seeks to produce AAV regenerative medicine viruses on a large scale and at a high standard.
2018 saw the acquisition of Applikon Biotech (Netherlands), a top supplier of biopharmaceutical systems, by Getinge (Sweden). In the marketplace for single-use bioprocesses, this purchase will improve Getinge's Biomedical Research business area.
To deliver single-use solutions & biopharmaceutical product manufacturing, Samsung BioLogics from South Korea and Merck Millipore from Germany partnered in 2017.
To facilitate the growth of the Chinese biopharma sector, Merck Millipore (Germany) constructed a Mobius single-use production plant in Wuxi in 2017.
Key Market Players:
ABEC Inc.
Able Corporation & Biott Corporation (Japan)
Applikon Biotechnology B.V.
Aptus bioreactors.
Cell culture company
Cellexus Ltd
Celltainer Biotech BV (Netherlands)
CESCO Bioengineering Co., Ltd.
Danaher Corporation
Distek Inc. (US)
ENDEL ENGIE
Eppendorf AG (Germany)
G&G Technologies Inc. (Australia)
GE Healthcare
Getinge AB (Sweden)
GPC Bio
Infors AG.
Meissner Filtration Products Inc.
Merck KgaA (Germany)
New Horizon Biotechnology Inc.
OmniBRx Biotechnologies
Pall Corporation
Parker-Hannifin Corporation,
PBS Biotech Inc. (US)
Pierre Guerin Technologies
Sartorius Stedim Biotech (Germany)
Satake Chemical Equipment Mfg., Ltd. (Japan)
Solaris Biotechnology SRL
Solida Biotech GmbH (Germany)
Stobbe Pharma GmbH (Germany)
Thermo Fisher Scientific (US)
Segments covered in the report:
(Note*: We offer reports based on sub-segments as well. Kindly, let us know if you are interested)
By Product
Single-use Bioreactor Systems

Up to 10L
11-100L
101-500L
501-1500L
Above 1500L

Single-use Media Bags
Single-use Filtration Assemblies
Other Products
By Type
Stirred-tank SUBs
Bubble-column SUBs
Wave-induced SUBs
Other SUBs
By Type of Cell
Mammalian Cells
Yeast Cells
Bacterial Cells
Others
By Molecule Type
Monoclonal Antibodies
Vaccines
Stem Cells
Gene Modified Cells
Others
By Application
Research and Development (R&D) or Process Development
Bioproduction
By End-Use
CROs & CMOs
Pharmaceutical & Biopharmaceutical Companies
Academic & Research Institutes
By Usage Type
Pilot-scale Production
Lab-scale Production
Large-scale Production
By Geography
North America
Europe
Asia-Pacific
Latin America
Middle East & Africa (MEA)