The global single-use assemblies market size was evaluated at USD 9.73 billion in 2022 and is expected to hit around USD 44.29 billion by 2032, poised to grow at a CAGR of 16.36% during the forecast period 2023 to 2032.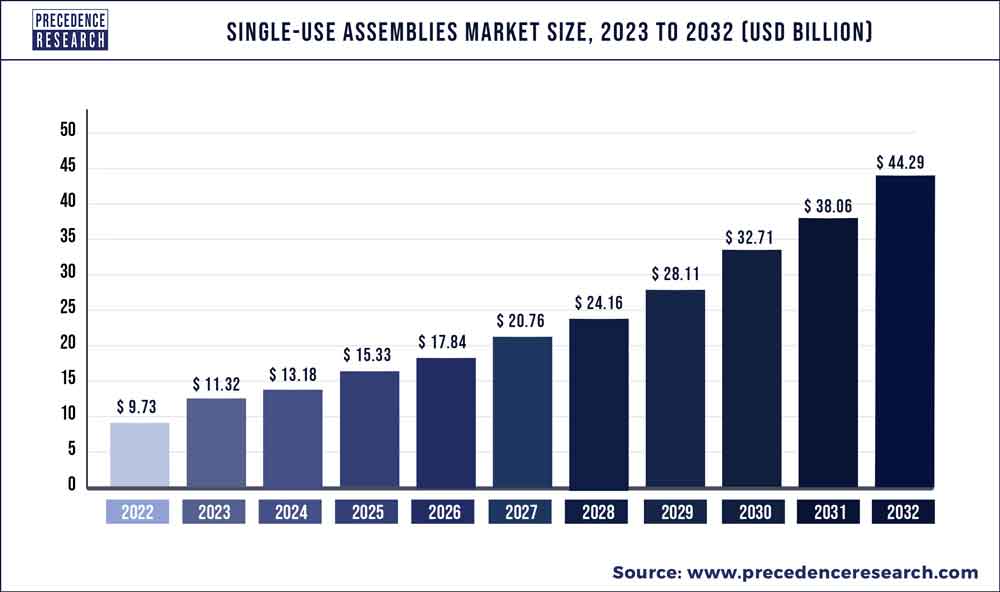 Biopharmaceutical producers use single-use components to cut labour and energy costs, increase resource productivity, and limit the danger of contaminants. The demand for single-use assemblies has grown dramatically as the importance of keeping a sterile environment has expanded. Additionally, expanding pharma-academia partnerships will promote the usage of single-use components in research and academic institutions, which is projected to fuel desire and propel the industry's expansion.
Key Insights:
On the basis of geography, the North America captured of around 37.4% revenue share in 2022.
On the basis of geography, The Asia Pacific market is anticipated to rise at a faster CAGR from 2023 to 2032.
On the basis of product, the filtration assemblies segment dominated the market with a significant revenue share during 2022.
On the basis of application, the filtration segment dominated the market with a significant revenue share during 2022.
On the basis of solution, the customized segment was held the largest revenue share in 2022.
On the basis of end-user, the biopharmaceuticals & pharmaceutical businesses segment held the major market share of around 46% in 2022.
Growth Factors:
Organizations in the life sciences are determined to avoid the expense and labor-intensive washing required using stainless steel. An environment for growth where unique, throwaway technology becomes more important has been given by the quicker rise of worldwide biotech companies. During the projected period, the market will enlarge at a faster amount as the pharmaceutical industry, suppliers, CDMOs, and producers hitch overdue the compensations of single-use components.

The consequence of single-use expertise in accelerating cutting-edge investigation into such disorders is anticipated to upsurge, driving industrial growth in fields like disease research and medicines for uncommon illnesses. Furthermore, SUTs are progressively used in profitable production facilities again for the creation of biopharmaceuticals to be utilized in clinical trials. In a related manner, they forecast that single-use constructions might be built in 1.5 yrs and will use partially as greatly water in addition to electricity to function. Since these assistances, single-use mechanisms are accepted further commonly, enhancing the business's continuous evolution.
Growth in the population of chronic diseases that call for single-use assembly goods like from and sterile sacks has also led to an increase in the need for single-use assemblies such as disposable items in the pharmaceuticals and biotechnological industrial sectors.
The development of this industry has also been aided by improvements made to biotechnological process systems, such as the synthesis of recombinants and the utilization of high-output equipment for biocatalytic optimization.
Report Scope of the Single-Use Assemblies Market
| | |
| --- | --- |
| Report Coverage | Details |
| Market Size in 2023 | USD 11.32 Billion |
| Market Size by 2032 | USD 44.29 Billion |
| Growth Rate from 2023 to 2032 | CAGR of 16.36% |
| Base Year | 2022 |
| Forecast Period | 2023 to 2032 |
| Segments Covered | By Product, By Application, By Solution and By End-User |
| Regions Covered | North America, Europe, Asia-Pacific, Latin America and Middle East & Africa |

Key Market Drivers:
Market expansion is anticipated as biopharmaceutical R&D increases: The development and commercialization of technologically cutting-edge single-use assembly products with simplified workflows, simple operation, and quick deployment are increasing the attention of major players in the global single-use assembly market. Increased spending on pharmaceutical research & development activities for the product is related to the highly growing market for single-use assembly since they play a significant role in both small- and large-scale biopharmaceutical production. Single-use assemblies are growing in popularity because of their benefits such as reduced material cross-contamination risk and no need for extra sterilizing.
Increased deployment and lower risk of cross-contamination: Single-use assembly is becoming more and more common due to its tremendous advantages over traditional bioprocessing techniques. These include a lower chance of cross-contamination as well as a faster integration of single-use manufacturing elements into the biocatalytic cycle. Single-use components have inbuilt flow paths anatomically designed to contain them, enabling quicker installation and a reduced profile.
Worldwide emerging nations are developing rapidly: One of the main elements promoting the growth of these nations in the present period is industrialization, coupled with numerous other technical breakthroughs in various economies around the world. The number of developing nations has increased dramatically in recent years. Furthermore, it is projected that emerging markets would offer significant development opportunities for market companies engaged in single-use assembly. This is because their biopharmaceutical and pharmaceutical businesses have less stringent regulatory standards and employ a staff that is both inexpensive and well-trained.
Key Market Challenges:
Extractable and leachable-related problems: Most end customers need numerous single-use components to concurrently conduct numerous research investigations and manufacturing processes, including big research centers and pharmaceutical corporations. For these trials and progressions, temperature upsurges and ecological circumstances are ignored.
A single-use assortment finished up of plastics also polymers comprehending innumerable stabilizers prospective to depreciate in trace expenses concluded extractable then before leachable. These posters proposition the opportunity of honest uncleanness. So, prevalent worries around materials that are leachable take begun the marketplace enlargement for single-use happens.
Key Market Opportunities:
Emerging nations: Due to the compensations, single-use meetings have grown up in admiration finished the previous ten years. Around the beneficial controlling situation and the frugality of gage in emerging countries like India, China, and South Korea, many medicinal and bioengineering businesses anticipate mounting their single-use manufacturing plants to brand these nations as centers for biocatalytic insourcing. This is additionally stayed by the growing capacity of reserves complete in emergent countries by important marketplace companies. By cooperating with Wego Medicines to improve the situation of industrial volume in China, for occurrence, Cytiva was talented to advance its dispersal structure in the APAC zone.
Segments Insight:
Product Insights
With a significant revenue share during 2022, the filtration assemblies segment dominated the worldwide single-use assemblies market, and it is projected that it will continue to do so during the projected timeline. In the biopharmaceutical business, the usage of medium bags and canisters offers inexpensive original investment, reduced waste emissions, and lower operating expenses.
The bag assemblies segment is poised to grow at the strongest CAGR from 2023 to 2032. The single mainstream bag and boxes also offer durability and good thermal stability. As a result, the widespread usage of medium bags and containers within the biopharmaceutical industry has contributed to the company's latest expansion.
Application Insights
With a notable profit share in 2022, the filtering category dominated the worldwide single-use biorefinery industry, and it's projected that it will continue to do so during the projected timeframe. Due to its effective filtering even at large scales, single-use bioreactor systems are becoming more and more popular in filtering. It is utilized for the filtration process, biomolecular cleaning, and the removal of bioburden.
The cell culture & mixing segment is projected to grow at a largest CAGR from 2023 to 2032.
Solution Insights
The customized solutions segment of the market with the biggest revenue share in 2022 was conventional solutions. Stock solutions were widely used in the biotechnology and pharmaceutical sectors because of the advantages they suggest, that as enhanced production procedure effectiveness with less capital and operating expense, better versatility as a result of using was before elements to assemble assembly, shorter implementation times, and greater production scheduling freedom.
End-User Insights
In 2022, the sector for biopharmaceuticals & pharmaceutical businesses held the biggest market share. Additionally, single-use biorefinery systems have been used by more than 80% of pharmaceutical firms because they are more affordable, effective, and dependable. Contract producers' significant and growing usage of single-use or throwaway products has accelerated the company's expansion. Additionally, the market is anticipated to rise in shortly the near future due to the rising need for single-use biorefinery systems across a variety of biorefinery solutions.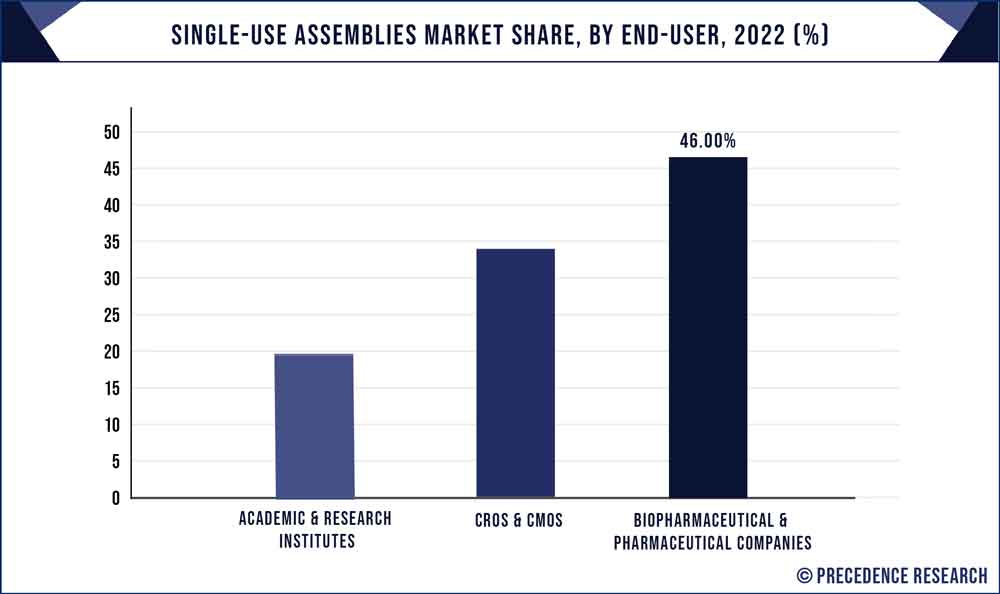 CROs & CMOs segment is projected to reach at the strongest CAGR over the forecast period. Increased price, easy implementation of such a production schedule for limited scale to big scale, and versatility in their use using pre-qualified parts from various assemblies all contribute to the higher acceptance of standard solutions. These are the driving forces behind the increasing demand for single-use components throughout this end-user group. Additionally, increasing pharmaceutical company spending on research activities helps market expansion.
Single-Use Assemblies Market Share, By Region, 2022 (%)
| | |
| --- | --- |
| Regions | Revenue Share in 2022 (%) |
| Asia Pacific | 24.6% |
| North America | 37.4% |
| Europe | 29% |
| Latin America | 5.9% |
| MEA | 3.1% |

Regional Insights
The North America generated of around 37.4% revenue share in 2022, followed by Europe. Due to a variety of factors, including growing biosimilar and imitation production within the region and the presence of a significant number of major market companies with good infrastructures for a huge production, North America had a leading share.
The Asia Pacific market is anticipated to rise at a faster CAGR over the forecast period. The expansion of the single-use components in the region may be attributed to elements including the existence of a favorable corporate environment, higher capital expenditures in pharmaceutical Research & development activities, as well as life sciences research.
Recent Developments:
Sartorius and Sonderanlagenbau HOF, the completely integrated whole design and construction environment, partnered in December 2021. To provide a complete line of suitable freeze-thaw supplies and equipment, the firms would collaborate to integrate the vertical plates freeze-thaw machines into Sartorius' product line.
Thermo Fisher scientific HyPeak chromatographic building, a sole-use chromatographic scheme for bioprocessing purposes, was released by Thermo Fisher in October 2021. The novel result was designed to function within the Emerson DeltaV automated network to allow installation for technology transfer while buffering usage during downstream activities to increase production yield.
Parker Hannifin acquired Meggitt, a multinational British corporation, in September 2022. With this acquisition, the firm wanted to improve its capacity for growth, develop a more electrified portfolio, and provide more creative solutions for both advanced air mobility and clean technology.
In August 2022, the science-based business Albumedix was fully acquired by Sartorius. With just this acquisition, the business hoped to boost and solidify its standing as a supplier of cutting-edge media containing media and essential supporting components.
Max Analytic Solutions, a provider of FTIR-based gas measurement products, was purchased by Thermo Fisher in March 2022. With this acquisition, the business planned to increase and complete Thermo Fisher's FTIR equipment, services, and software range. Additionally, the breadth of microscopic observation solutions and services across a variety of industry categories would improve as a result of this purchase.
Saint-Gobain purchased Equflow, a top supplier of Flowmeters, in September 2021. After this purchase, the corporation would integrate Equflow's fluid monitoring technologies across all of its companies to enhance its single-line abilities.
Dec-2021, With the establishment of a brand-new single-use logistics center in Westminster, Avantor increased its global footprint in Massachusetts. The corporation wanted to bolster its worldwide biopharma supply chain after this regional expansion. The new location would also provide distribution and logistics administration, allowing the business to take advantage of its current assets across North America.
Jun-2021 saw the acquisition of RIM Bio by Avantor, a pioneer in the production of single-use biocatalytic sacks & assembly. With the growth of its single-use production, marketing, and cleanroom abilities across the AMEA area, this transaction aims to help the business better serve its clients.
Sartorius purchased Slovenian purification expert BIA Separations in November 2020. The corporation wanted to incorporate BIA Breakups into its subdivision, therefore it made this transaction.
Repligen acquired the privately held business ARTeSYN Biosolutions in October 2020. The goal of this acquisition was to expand the company's line of hollow fiber devices while also enhancing its chromatographic & TFF filtering product lines.
In April 2020, the American conglomerate Sartorius acquired several of Danaher's life science assets. The corporation wanted to broaden the downstream processing capacity of its Biocatalytic Involves Specific after this purchase.
Key Market Players:
Antylia Scientific
Avantor, Inc.
Corning Incorporated
Danaher Corporation
Entegris
Flexbiosys
Kuhner AG
Lonza
Meissner Filtration Products
Merck KGaA
Newage Industries
Pall Corporation
Parker-Hannifin Corporation
Repligen Corporation
Romynox
Saint-Gobain Performance Plastics
Sartorius Stedim Biotech
Thermo Fisher Scientific, Inc.
Segments Covered in the Report:
(Note*: We offer report based on sub segments as well. Kindly, let us know if you are interested)
By Product
Bag Assemblies
Filtration Assemblies
Tubing Assemblies
Bottle Assemblies
Others
By Application
Filtration
Storage
Cell Culture & Mixing
Fill-finish Applications
Sampling
Others
By Solution
By End-User
Biopharmaceutical & Pharmaceutical Companies
CROs & CMOs
Academic & Research Institutes
By Geography
North America
Europe
Asia-Pacific
Latin America
The Middle East and Africa