The global single-use mixers market size was estimated at USD 0.7 billion in 2022 and it is projected to surpass around USD 1.3 billion by 2032, poised to grow at a CAGR of 6.38% during the forecast period from 2023 to 2032.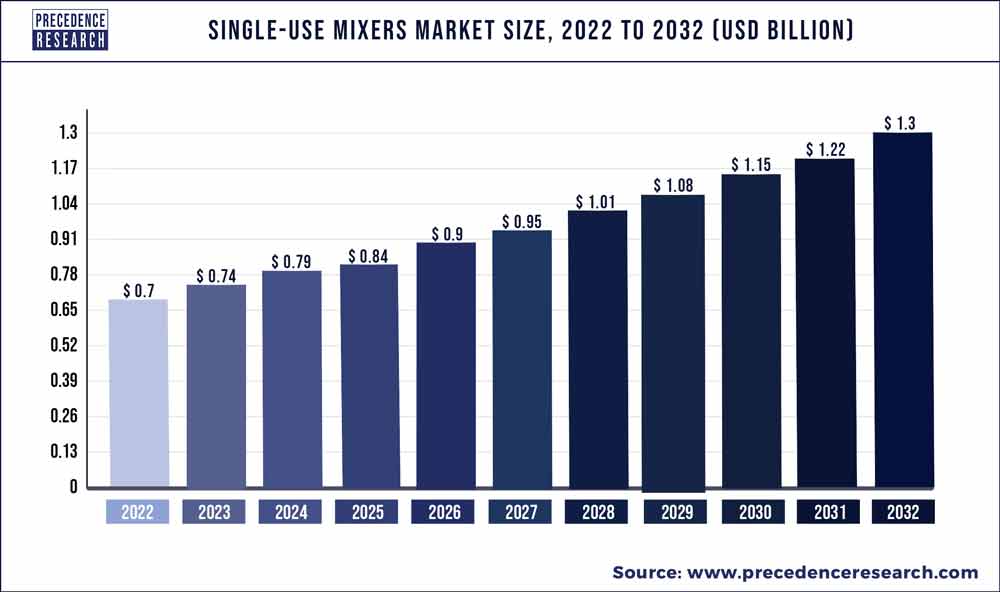 Access our Premium Real Time Data Intelligence Tool, Visit: Precedence Statistics
Key Takeaways:
North America is predicted to lead the single-use mixers market.
By Product, the mixing systems segment has captured a revenue share of 64% in 2022.
By Scale, the commercial manufacturing segment has generated the highest market revenue share of 44% in 2022.
By End-user, the biopharmaceutical companies segment has contributed 51% revenue share in 2022.
Market Overview:
Single-use mixers are designed in a format to avoid the risk of cross-contamination and even reduce the price of validation and cleaning.
In 2022, Meissner Filtration Products, Inc., the manufacturer of single-use systems whose peak revenue was $26.0M. This has been widely used for biologics, pharmaceuticals, and bioprocessing.
The single-use mixer market refers to the segment of the biopharmaceutical industry that produces and delivers disposable mixers that are used only once for a particular use. These mixers are structured to eliminate the purpose for cleaning and sterilization between batches, which lowers the risk of cross-contamination and ensures product consistency. The demand for single-use mixers has increased in recent years due to the growing demand for personalized medicines and biologics, which require small batches and strict control. Moreover, single-use mixers serve various purposes such as lower capital and operational costs, faster turnaround times, and reduced environmental impact.
Growth Factors:
The rising consumer health consciousness seems to bolster the market's growth during the forecast period. Growing consumer awareness about the benefits of single-use mixers, such as flexible schedules and quick turnaround time, has raised the need for single-use mixers. A massive pool of health-conscious consumers is significantly seeking the use of single-use products in pharmaceuticals that will improve the standard of life with less expensive products, contributing to the growth of the single-use mixers market.
Report Scope of the Single-Use Mixers Market:
| | |
| --- | --- |
| Report Coverage | Details |
| Market Size in 2023 | USD 0.74 Billion |
| Market Size by 2032 | USD 1.3 Billion |
| Growth Rate from 2023 to 2032 | CAGR of 6.38% |
| Largest Market | North America |
| Base Year | 2022 |
| Forecast Period | 2023 to 2032 |
| Segments Covered | By Product, By Scale, and By End-user |
| Regions Covered | North America, Europe, Asia-Pacific, Latin America, and Middle East & Africa |

Driver:
Development of personalized medicine
According to the National Human Genome Research Institute, personalized medicine is designed by keeping the patient's genetic profile in mind to prevent and detect any disease relapse and adequately treat the patient. Using the Human Genome Project data makes it easier to administer the appropriate regimen and dose to the patient. The development of personalized medicine is driving the single-use mixers market. With the homogenous mixture of drugs, it avoids the activation of viruses (adjusting pH) and, with low expense, acts as a significant benefit for market growth. Personalized medicine is a massive medical revolution that prevents disease occurrence for a more extended period.
Restraint:
Limited mixing performance
Single-use mixers may be limited in terms of the mixing options they provide, and they may need help to accommodate different speeds, times, or patterns. They are designed to be used only once and discarded, making them a convenient and cost-effective solution for many industries, such as biopharmaceutical manufacturing. However, the limited mixing options of single-use mixers can hamper their performance in specific applications.
The performance of a single use mixer is determined mainly by its design and the materials' physical properties. Unlike traditional stainless-steel mixers, they are typically made of flexible plastic materials that can deform during mixing. This can lead to uneven mixing and the formation of dead zones where the material needs to be better mixed.
Opportunities:
Awareness regarding single-use mixers
Single-use mixers are a mixing technology designed for one-time use. They are often used in the pharmaceutical, biotech, and food industries, where product purity and sterility are crucial. They are typically made of disposable plastic or polymer materials, discarded after use to avoid cross-contamination or product variability. Single-use mixers offer advantages that include reducing cleaning and validation instruments, saving time and expense, increased process design and scale-up flexibility, less risk of contamination and product variability, and low maintenance costs.
However, there are also some limitations to single-use mixers. For example, they may not be suitable for high-temperature or high-pressure and may offer a different level of durability and longevity. Also, the disposal of single-use mixers can raise environmental problems by contributing to plastic waste.
Segments Insight:
Product Insights:
Mixing systems is dominating the single-use mixers during the forecast period
Mixing systems are equipment and processes that blend two or more substances to create a homogeneous mixture. These systems can vary in complexity depending on the usage and mixed materials. Single-use mixers are typically made of plastic and come in various sizes and shapes, from small, disposable bags to larger, more complex systems that can be integrated into a more extensive manufacturing process. They are often used with other single-use components, such as bioreactors and filtration systems, to create a completely disposable manufacturing process.
Consumables & accessories is expected to show significant growth throughout the predicted period
Consumables and accessories refer to products used or replaced regularly in a particular activity. In a single-use mixer, consumables and supplements include disposable bags, filters, tubing, and connectors. It is often used in biopharmaceutical and other industries where maintaining sterility is critical. Single-use mixers typically comprise a mixing vessel, a mixer, and various consumables and accessories.
The consumables and accessories used in a single-use mixer are critical to maintaining the sterility of the process. Disposable bags, for instance, are often made up of sterile material and are used to contain the product being mixed. Filters remove particles and bacteria from the product, while tubing and connectors transport the product from one part of the system to another.
Scale Insights:
Commercial manufacturing is expected to remain dominant during the projection period
Single-use mixers are increasingly used in the biopharmaceutical industry due to their advantages, such as reduced risk of cross-contamination. Due to the increasing demand for biological and biosimilars, the market for single-use mixers is predicted to grow in the forthcoming years. These are generally made up of materials such as polypropylene, polyvinyl chloride (PVC) and polyethylene that are recyclable and easily disposable. They come in various sizes, from small laboratory-scale to large-scale production mixers, and can be used with multiple mixing technologies, such as impellers, turbines and magnetic stirrers.
Process development shows a noticeable growth during the forecast period
Use of appropriate measures to prevent contamination of the product, such as ensuring that the mixer is properly sterilized before use. Contamination control refers to the measures taken to prevent the introduction and spread of contaminants in a manufacturing or processing environment.
Using single-use mixers can help improve contamination control in several ways. As the mixers are used once and then discarded, there is no risk of cross-contamination between batches. Also, they are pre-sterilized before use, there is no need to sterilize them between sets, which ultimately helps in reducing contamination.
End-User Insights:
Biopharmaceutical companies show significant growth and expect to remain dominant throughout the projection period
Personalized medicine help physicians to detect the most effective drugs for a particular patient, based on their genetic profile. For example, if a patient has a genetic variation that affects how their body metabolizes a particular drug, physicians can avoid prescribing that particular drug or adjust the dosage to minimize side effects.
Single-use mixers are mainly used to prepare personalized medicine as they are disposable devices that allow drugs to be mixed and delivered to patients in a controlled and sterile environment. They can be used to create customized drugs that are tailored to each patient's individual needs. This approach can help to minimize the risk of adverse reactions and ensure that patients receive the right combination of drugs to treat their specific condition.
CROs & CMOs are projected to have the highest revenue during the forecast period
CROs (Contract Research Organizations) and CMOs (Contract Manufacturing Organizations) are companies that provide services to the pharmaceutical and biotech industries. CROs typically offer services related to drug development, mainly as preclinical testing, clinical trials, and regulatory affairs, while CMOs specialize in producing drugs and other biologics. For example, a CRO might use a single-use mixer to develop and test a new drug formulation, while a CMO might use a single-use mixer to produce a large batch of a drug for a client.
Single-use mixers are a technology that has become increasingly popular in the biopharmaceutical industry. They consist of disposable plastic bags or pre-sterilized containers filled with ingredients for a given production run. They are commonly used in biopharmaceutical manufacturing because they reduce the risk of contamination and can be easily disposed of after use. CROs and CMOs often use single-use mixers as part of their services.
Regional Insights:
North America has the maximum market share and expects to remain dominant during the forecast period. The rise in investments in North America is leading to the development of new and improved single-use mixers. This can result in the introduction of more advanced and efficient products that meet customers' evolving needs. Also, increased investment can lead to expanding the production capacity of single-use mixers, allowing for larger volumes to be produced, which can help to meet growing demand. Further, it can help to drive down the cost of single-use mixers. This can be achieved through economies of scale, improved production processes, and more cost-effective materials.
Lower costs can make single-use mixers more accessible to a broader range of customers, including those with smaller budgets, thereby increasing demand. Finally, increased investment can lead to more significant innovation and customization in single-use mixers, allowing for more tailored solutions to be developed for specific applications. This can increase the adoption of single-use mixers in new markets and industries, further driving growth in the North American market. The presence of key players such as GE Healthcare, PBS Biotech, Inc., Cole-Parmer Instrument Company, LLC., Avantor, Inc., and Pall Corporation in North America promotes the manufacturing and distribution of single-use mixers across the globe.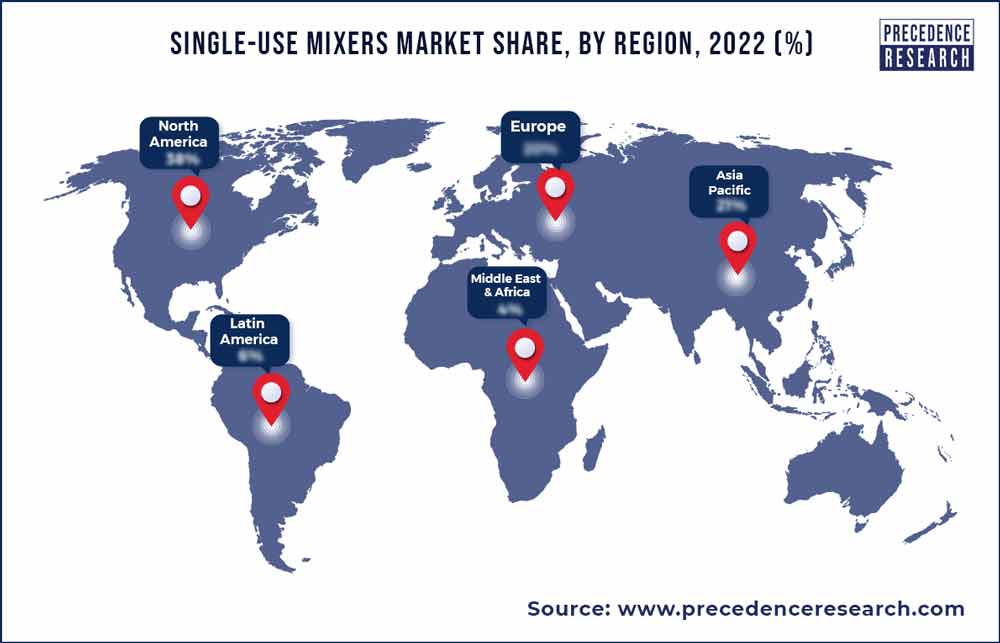 Asia-Pacific shows lucrative growth in the single-use mixers during the forecast period
The rise in demand for biopharmaceuticals and single-use mixers is closely related. Biopharmaceuticals are drugs derived from biological sources such as living cells, tissues, or organisms and used to treat a wide range of diseases. Single-use mixers are equipment used in the biopharmaceutical industry to mix and process the raw materials used to manufacture biopharmaceuticals. There has been a significant increase in demand for biopharmaceuticals in recent years due to their effectiveness in treating diseases such as genetic disorders, cancer, and autoimmune disorders. This has increased demand for the equipment and technology needed to manufacture these drugs, including single-use mixers.
Recent Developments:
In April 2023, LJ Star Inc. declared it had invested strategically in Alphinity USA., Inc., single-use solutions for the biopharmaceutical industry. Alphinity USA expanded its product line and manufacturing capabilities further due to the acquisition. It even bolsters LJ Star's goal to expand and diversify its goods and business operations to include game-changing technological advances and to put the company in a position to compete in the single-use market, which is rapidly expanding.
In October 2022, Pharm NXT Biotech dropped its first manufacturing unit for single-use bioprocessing systems to tackle the issues related to biologics manufacturing in India. It is primarily used because it is cost-friendly with less maintenance.
Key Market Players:
Merck KGaA
Avantor Inc.
Thermo Fisher Scientific Inc.
DrM Life Science
LePure Biotech LLC
Meissner Filtration Products, Inc.
Kuhner AG
Sartorius AG
Danaher Corporation (Cytiva)
Agilitech
Segments Covered in the Report:
(Note*: We offer report based on sub segments as well. Kindly, let us know if you are interested)
By Product
Mixing Systems
Consumables & Accessories
By Scale
R&D laboratory
Process Development
Commercial Manufacturing
By End-user
Biopharmaceutical Companies
CROs & CMOs
Academic & Research Institutes
By Geography
North America
Europe
Asia-Pacific
Latin America
Middle East and Africa