The global skincare packaging market is surging, with an overall revenue growth expectation of hundreds of millions of dollars during the forecast period from 2023 to 2032.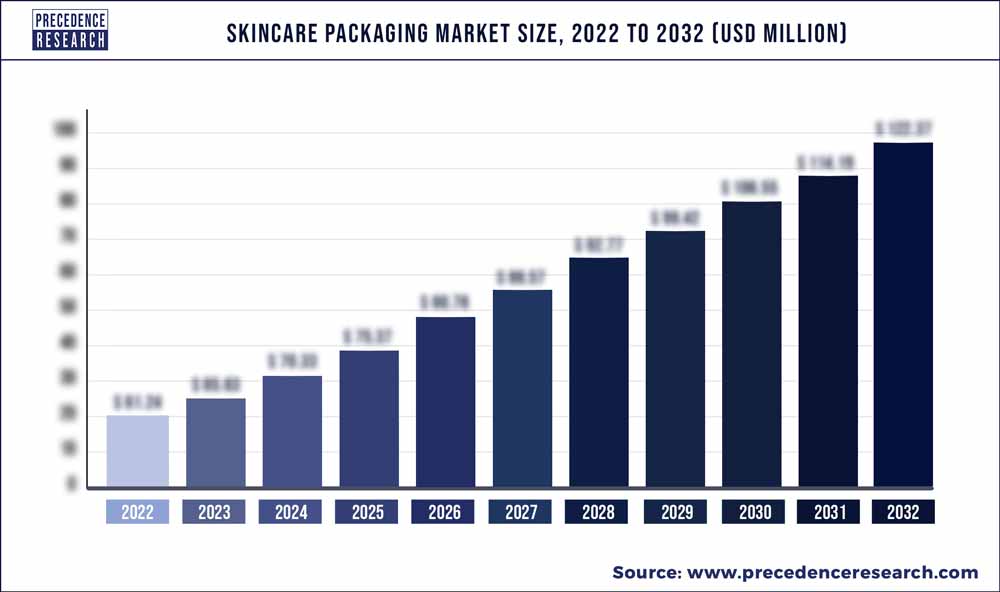 Access our Premium Real Time Data Intelligence Tool, Visit: Precedence Statistics
Key Takeaways:
North America is expected to capture a maximum revenue share from 2023 to 2032.
Asia Pacific is expected to expand at the fastest CAGR from 2023 to 2032.
By Type, the tubes segment is expected to hold the dominant position during the forecast period.
By Material Type, the plastics segment generated the largest market share in 2022 and is expected to continue the same pattern between 2023 and 2032.
By Product Type, the body care segment captured the largest market share in 2022.
Market Overview:
Skincare packaging refers to the materials and containers used to package and present skincare products. It encompasses the design, manufacturing, and distribution of packaging solutions specifically tailored for skin care products such as creams, lotions, serums, masks, cleansers, and other beauty and personal care products. Skincare packaging serves multiple purposes which include protection, hygiene, dispensing and application, information and communication, branding and marketing, and sustainability.
The packaging encompasses a wide range of materials, including plastic, glass, metal, and paperboard, among others. These materials are chosen based on their suitability for product compatibility, durability, aesthetics, and sustainability goals. The skincare packaging market is driven by several factors including the high disposable income of populations, the growing cosmetics industry, increasing product innovation, increasing government initiatives for sustainable packaging, stringent regulations, and increasing collaboration among the key market players.
According to data released in May 2022, by 2060, the amount of plastic used for packaging will have tripled and will reach 380 million tons. In that year, it is predicted that 31% of all plastics will be used worldwide for packaging.
As per statistics by Statista, the United States' disposable personal income in April 2023 increased by 0.4% from the previous month.
Report Scope of the Skincare Packaging Market:
| | |
| --- | --- |
| Report Coverage | Details |
| Largest Market | North America |
| Fastest Growing Market | Asia Pacific |
| Base Year | 2022 |
| Forecast Period | 2023 To 2032 |
| Segments Covered | By Type, By Material Type, and By Product Type |
| Regions Covered | North America, Europe, Asia-Pacific, Latin America, and Middle East & Africa |

Market Dynamics:
Driver:
Increasing demand for skincare products
There has been a significant rise in consumer interest and demand for skin care products globally. Factors such as changing lifestyle patterns increased disposable income, and a growing focus on personal grooming and self-care have contributed to the expansion of the skincare industry. This surge in demand directly fuels the need for skincare packaging solutions. For instance, the value of the Mexican cosmetics business, which ranks second in Latin America and eleventh worldwide, is estimated at more than $10.5 billion, according to the Mexican Chamber of Cosmetic Products (CANIPEC). The CANIPEC member companies account for almost 85% of the official national market, creating 40,000 direct jobs, 150,000 indirect jobs, and providing almost 2 million people with direct sales prospects for income.
Restraints:
Limited material options and shelf space
While sustainability is a significant driver in the skincare packaging market, there may be limitations in the availability and suitability of eco-friendly materials. Finding alternatives to traditional plastics that maintain product integrity, are cost-effective, and meet consumer preferences can be challenging. Developing sustainable packaging solutions without compromising functionality or aesthetics remains an ongoing challenge for the industry. In addition, the skincare market is highly competitive, with a multitude of brands vying for limited shelf space in retail stores. This necessitates packaging designs that are eye-catching, compact and efficient in terms of product placement and visibility. Creating packaging that stands out among competitors while still meeting retailer requirements can be a constraint for brands. Therefore, the limited material options and shelf space might be hampering the market expansion over the forecast period.
Opportunities:
E-commerce and online retail channels
The rise of e-commerce has revolutionized the skincare industry. Online platforms provide convenience, wider product availability, and accessibility to a global consumer base. Skincare packaging must be designed to withstand the rigors of shipping and ensure product integrity during transit. This includes robust materials, secure closures, and protective measures to prevent leakage or damage. Thus, the growing preference for e-commerce for the purchasing of skin care products mainly in emerging economies is expected to offer a lucrative opportunity for the growth skincare packaging market during the forecast period.
Segments Insight:
Type Insights:
Based on the type, the global skincare packaging market is segmented into jars, tubes, bottles, pumps & dispensers, sachets, and others. The tubes segment is expected to hold the dominant position in the skincare packaging market over the forecast period. The demand for tube packaging is driven by the rising popularity of products like facial cleansers, masks, and moisturizers.
Moreover, the rising consumer preference for easy-to-use and travel-friendly packaging solutions. Furthermore, tubes for skincare packaging are typically made from different materials including plastics (PE, PP and PET) and laminate structures. Plastic tubes are lightweight, cost-effective, and widely used, while laminate tubes offer properties to protect sensitive formulations from light, moisture and air. On the other hand, the pumps and dispensers segment in the skincare packaging market has experienced substantial growth in recent years. The demand for these packaging solutions is driven by the increasing popularity of products that require precise dosage and controlled dispensing. The market size of pumps and dispensing is continually expanding due to the growing consumer preference for convenient and efficient product application.
Material Type Insights:
Based on the material type, the global skincare packaging market is segmented into glass, paper, plastic, metal and others. The plastics segment accounted for the largest market share in 2022 and is expected to continue the same pattern over the forecast period. Plastic packaging offers flexibility in design and functionality. It can be easily molded into different shapes, sizes, and closure mechanisms to meet specific product and branding requirements. These solutions often incorporate features such as snap caps, flip-top caps, or pumps for controlled dispensing and product protection.
In addition, plastic packaging is cost-effective as compared to other packaging materials. They are readily available, lightweight, and offer efficient manufacturing processes. The cost advantage of plastic packaging allows skincare brands to offer affordable products to a wide range of consumers. On the other hand, the glass segment is expected to capture a significant share of the skincare packaging industry over the projected timeframe. Glass packaging is often associated with premium and luxury skincare products.
The weight, feel, and visual clarity of the glass creates a sense of sophistication and product quality. The use of glass packaging can elevate brand perception and justify higher price points for skincare products. In addition to this, it is highly reusable and recyclable, making it a sustainable choice in the skincare industry. Glass containers can be easily cleaned and repurposed by consumers or recycled to minimize the environmental impact. The recyclability of glass aligns with the increasing consumer demand for eco-friendly packaging solutions. Thereby, propelling the segment growth.
Product Type Insights:
Based on the product type, the global skincare packaging market is divided into hand care, depilatories, make-up remover, sun care, body care and facial care. The body care segment held a significant market share in 2022. The body care segment includes a wide range of products such as body lotions, creams, oils, scrubs, and others. The segment growth is attributed to the increasing consumer awareness and the desire for overall body wellness and self-care. In addition, this segment has seen growing demand for natural and organic products. Consumers are increasingly conscious of the ingredients they apply to their bodies and seek formulations with clean, natural, and organic ingredients. Brands are responding to this trend by offering body care products that are free from harmful chemicals and synthetic additives.
Regional Insights:
North America is expected to capture a substantial revenue share over the forecast period. The region's market size is influenced by factors such as population demographics, rising disposable incomes, changing consumer lifestyles, increasing popularity of skincare products, and the focus on effective packaging solutions. For instance, according to the analysis by Statista, the skincare product generated revenue of US$21.09 bn in 2023 in the US. Moreover, the presence of major players in the region is one of the major factors that propel the market expansion during the forecast period. The players in the regional market are Albea SA, AptarGroup Inc., Smurfit Kappa Group PLC, WestRock Co., and others. These players continuously create innovative packaging solutions to remain competitive in the region.
Furthermore, the growing penetration of the e-commerce industry is expected to drive market growth in the region over the forecast period. For instance, despite a significant disruption in retail outlets, Canadians have embraced electronic commerce. Over 27 million Canadians used eCommerce in 2022, making up over 75% of the country's population. In 2025, this percentage is projected to increase to 77.6%.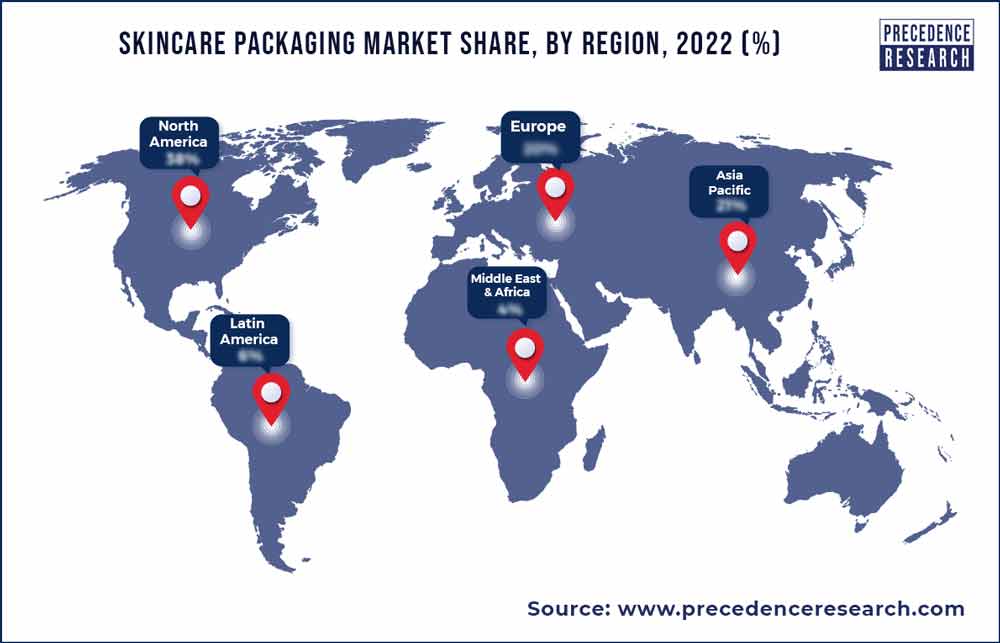 Retail e-Commerce sales in Canada are increasing as a result of more online shoppers. Statistics Canada reports that Canadian eCommerce retail trade sales reached a new high of US$3.82 billion in December 2020, surpassing the growth seen in May 2020 (US$3.2 billion) as a result of the lockdown measures taken in response to the coronavirus outbreak. E-commerce sales were estimated to be around $2.34 billion in March 2022. By 2025, it is predicted that retail eCommerce sales would reach $40.3 billion USD. Thus, the aforementioned facts support the market growth during the forecast period.
The Asia Pacific is expected to grow at the highest CAGR during the forecast period. The regional growth is attributed to numerous factors including a large population base, rising middle-class population and increasing spending on skincare products. For instance, according to the PRICE study, the middle class's percentage of the population increased from 14% in 2004–05 to 31% in 2021–22. Moreover, the Asia Pacific region has witnessed significant growth in e-commerce, with consumers increasingly purchasing skincare products online. This has led to a rise in packaging tailored for e-commerce, such as secure and protective packaging for shipping.
Recent Development:
In May 2023, the first paperboard tube with a fiber-based closure was created by Stora Enso, Blue Ocean Closures, and AISA. Brand owners can enhance the proportion of renewable material in their packaging by using this brand-new, cutting-edge wood fiber approach. The tube's components are all made to be recycled. The tube is made of Natura ShapeTM, a barrier-coated board from Stora Enso, and a screw cap created in partnership with Blue Ocean Closures, with assembly provided by AISA. The solution has the largest fiber content attainable in a tube design—more than 85%. It is anticipated to go on sale in 2024 and be used in cosmetic and personal care products.
In January 2023, the world leader in luxury and home to 75 renowned brands, LVMH, and LVMH Beauty will work together to speed up the adoption of sustainable packaging across all of LVMH's perfume and cosmetic goods. This partnership would make it possible to include circular and bio-based plastics into a number of applications for the cosmetics multinational's products without sacrificing the packaging's quality or functionality.
Key Market Players:
Smurfit Kappa Group PLC
Swallowfield Plc
Saverglass sas
Rise Cosmetic Packaging Co., Ltd.
RPC Group Plc
Quadpack Ltd.
Libo Cosmetics Company, Ltd.
HCP Packaging
HCT Group
Gerresheimer AG
Fusion Packaging
Coverpla S.A.
Essel Propack Ltd.
Aptar Group, Inc.
Albea S.A.
Alovey Cosmetic Packaging Co. Ltd.
Amcor Limited
ABC Packaging Ltd.
Segments Covered in the Report:
(Note*: We offer reports based on sub segments as well. Kindly, let us know if you are interested)
By Type
Jars
Tubes
Bottles
Pumps & Dispenser
Sachets
Others
By Material Type
Glass
Paper
Plastic
Metal
Others
By Product Type
Hand Care
Depilatories
Make-up Remover
Sun Care
Body Care
Facial Care
By Geography
North America
Europe
Asia-Pacific
Latin America
Middle East and Africa