The global smart factory market size was evaluated at USD 129.74 billion in 2022 and is expected to hit around USD 321.98 billion by 2032, growing at a CAGR of 9.52% from 2023 to 2032.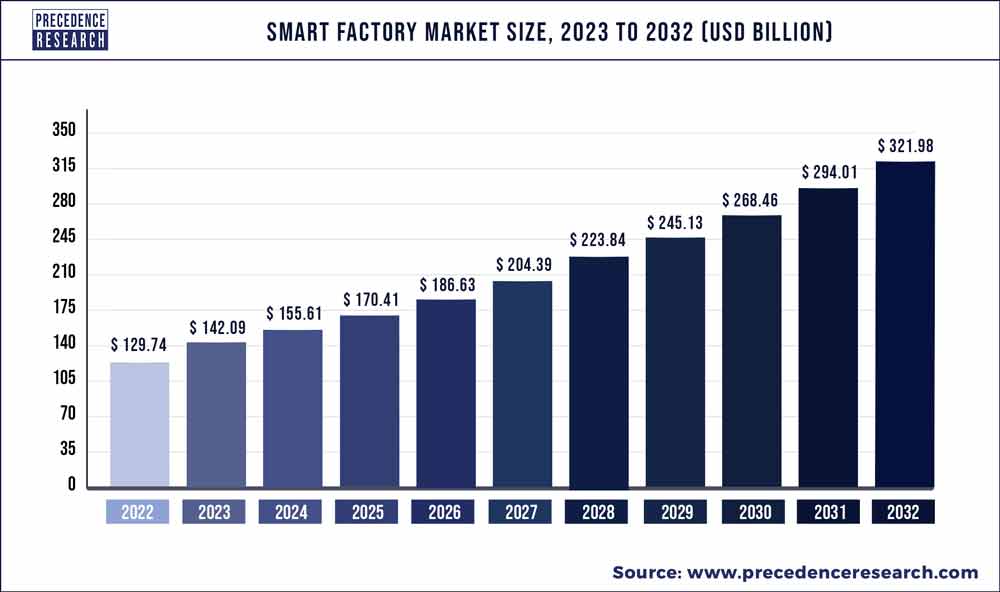 Access our Premium Real Time Data Intelligence Tool, Visit: Precedence Statistics
Key Points:
The North America region currently dominates the market.
The Asia Pacific region will likely have considerable growth.
The Oil and gas segment generated an enormous share of the overall market growth.
A highly networked and digital production facility that relies on intelligent manufacturing is called a "smart factory." The idea of the "smart factory" is a crucial result of Industry 4.0 or the fourth industrial revolution. Most smart factories are being adopted by the manufacturing industry, which uses cutting-edge Technology like robotics, big data analytics, artificial intelligence, and the Internet of Things. These factories can self-correct and operate autonomously on a big scale.
An intelligent factory delivers connectivity, autonomy, and visibility. Although businesses have already used automation, smart factories go one step further and operate automatically. Smart factories are more adaptable than their predecessors because they embrace contemporary Technology, which allows them to learn and change in real-time.
The "smart factories" market will likely rise due to several key aspects, including an increased focus on energy absorption, production efficiency, and expanding use of developed industrial bases. Additionally, the industry's emphasis on the cyber world, where every link in the value chain would be connected to ensure informed manufacturing with no delays and zero defects, is another factor that is anticipated to favorably impact the growth of the smart factory market in the expected time frame.
Market Growth
One of the main elements fostering an optimistic view for market growth is the rapid digitalization across industries and the rising demand for industrial automation. A further factor driving market expansion is the extensive use of manufacturing execution systems (MES) and sophisticated data models for process-specific operation.
Along these lines, the market is expanding due to the rising use of reconditioned industrial robots and radio frequency identification (RFID) systems. Other growth-promoting technology developments include the Internet of Things (IoT), artificial intelligence (AI), and the integration of linked devices with cloud computing. These cutting-edge techniques support automated material handling, electrical and mechanical assembly, and product testing.
Force sensors are also used in smart factories to collect data for statistical process control (SPC) systems, validate component insertion, maintain constant force during buffing, polishing, and deburring, and maintain power during these processes. Other factors, such as the introduction of the Industrial Internet of Things (IIoT) and the growing usage of smart factory solutions to produce complex medical and automotive components, are predicted to propel the market toward expansion.
Report Scope of the Smart Factory Market
| | |
| --- | --- |
| Report Coverage | Details |
| Market Size in 2023 | USD 142.09 Billion |
| Market Size by 2032 | USD 321.98 Billion |
| Growth Rate from 2023 to 2032 | CAGR of 9.52% |
| Largest Market | North America |
| Base Year | 2022 |
| Forecast Period | 2023 to 2032 |
| Segments Covered | By Product, By Technology and By End-User Industry |
| Regions Covered | North America, Europe, Asia-Pacific, Latin America and Middle East & Africa |

Market Dynamics:
Market Drivers: Increase in industrial robot adoption
The factors propelling the growth of the industrial robot market include the following:
The increasing miniaturization of sensors.
Increased automation investments (in the automotive, electrical & electronics, metals & equipment industries).
Rising demand for industrial robotics systems in developing nations.
The deployment of industrial robots has expanded as the need for automation has grown across industries. The expansion of the electronics sector and the skyrocketing labor costs in manufacturing have contributed to industrial robots' market growth. During the study period, this will likely boost the demand for industrial robots and assist the market expansion for smart factories.
Businesses can grow their market and draw customers by delivering smart manufacturing that uses less energy and is more energy efficient, owing to the growing focus on green technology and energy efficiency. Over the forecast period, colossal growth is anticipated in investments in these green systems.
Sustainability and energy efficiency are the smart factory's top priorities. Statistics on how to use the equipment effectively are also provided by the digital solutions that minimize energy use through data analysis. For example, smart factory systems only activate equipment when necessary.
IoT technologies resolve the manufacturing sector's workforce issue, particularly in industrialized nations like the United States. Because of this, the federal government and the corporate sector in the US are investing in Industry 4.0 IoT technologies to expand the American industrial base, which China and other nations with low labor costs have primarily replaced. IoT technology is the primary element driving the adoption of smart manufacturing systems globally.
Market Restraints: Cybersecurity concerns with cyber-physical systems
The manufacturing industry is the most frequently targeted by cyberattacks; 47% of cyberattacks aim to steal trade secrets and competitive advantages from this industry. A cyber-physical system (CPS) is a cutting-edge technology that combines the virtual and real worlds to create automated manufacturing. Manufacturing procedures have been revolutionized by CPS technology.
Advanced Technology like robotics, automation, big data, virtual reality, artificial intelligence, sensors, augmented reality, and additive manufacturing is used in cyber-physical manufacturing facilities to give production processes unprecedented flexibility, accuracy, and efficiency. The market, however, might be constrained by the security risks related to using CPS. A CPS maintains vital plant data and facilitates connectivity among the facility's machinery; if the system is compromised, this data may be in danger.
Market Opportunities: 5G technology's entry into the market for smart factories
Due to 5G technology, owners of a smart factory may use cellular technologies even more safely and adapt them for certain use cases. They can collect data from the production networks without connecting to the machines by installing sensors on equipment connected to 5G networks, enabling seamless real-time optimization. Several manufacturers utilize the 5G network for a consistent and powerful connection.
Wired communication is no longer necessary thanks to installing 5G networks in factories, which allows for high-speed manufacturing with high flexibility and minimal downtime. Industries must have a network that can support them in terms of speed, coverage, and dependability. A one-stop shop for factories and considerable prospects for smart manufacturing will result from the development of the 5G network.
Market Challenges: Information technology and operational technology collaboration
The main obstacle to adopting a smart factory is the compatibility between informational Technology (IT) and operational Technology (OT). IT and OT employ various protocols and architectural styles, significantly increasing the complexity and costs involved. Today, siloed OT systems are the norm. A completely working digital ecosystem is necessary for a smart factory's smooth data sharing between machines and other physical equipment made by various vendors. Businesses with expertise in information and operational technology interoperability would have a competitive edge in manufacturing, reflected in the production yield.
Segments Insight
Product Insights
The global market is divided by product into machine vision systems (processors, cameras, enclosures, software, integration services, frame grabbers, and lighting), industrial robotics (articulated robots, cylindrical robots, cartesian robots, parallel robots, scara robots, collaborative industry robots), control devices (servo motors and drives, switches & relays), communication technologies (wired and wireless), sensors, and other products. In fast-moving conveyor systems, proximity sensors are typically employed to count the number of products passing through a specific stage.
The proximity sensors are crucial for establishing the precise relative placement of the product when autonomous robots conduct an operation on the subject, such as welding in automobiles. In many different industries, they are also utilized to establish the relative placement of mold mates to guarantee the proper alignment of the complementary parts. Such essential uses for proximity sensors fuel market expansion for the projection period.
Technology Insights
The global market includes different technology categories, including Product Lifecycle Management (PLM), Enterprise Resource and Planning (ERP), Human Machine Interface (HMI), Manufacturing Execution System (MES), Supervisory Controller and Data Acquisition (SCADA), Programmable Logic Controller (PLC), Distributed Control System (DCS), and other technologies. PLM has improved return on investment and redefined the utility of data in production (ROI). Manufacturing and industrial workers soon discovered that having all the information at their fingertips made them more effective.
PLMs allow businesses to expand their production capabilities to other geographical areas, which is another important benefit. To ensure product quality throughout their manufacturing facilities, several businesses have used the integration of PLM and ERP systems. PLMs allow businesses to expand their production capabilities to other geographical areas, which is another important benefit. Such benefits all promote segment expansion.
End-User Industry Insights
The automotive, oil and gas, semiconductors, pharmaceutical, chemical and petrochemical, aerospace and defense, food and beverage, mining, and other end-user sectors are the two divisions of the global market by end-user industry.
Oil and gas segment accounted an enormous share in the overall market growth owing to the various benefits associated with it such as reliability for large-scale production. Increasing penetration towards safety is also propelling the growth of the industry.
In other instances, firms in the oil and gas business are also seriously concerned about security. Governments in nations like Mexico, whose pipelines are frequently targets of robberies and insurgent attacks, are boosting their spending on process automation connected to pipeline security. One of the major security challenges the Latin American midstream industry has is the theft of oil from Mexican pipelines.
Regional Insights
North America currently dominates the industry owing to the presence of multinational firms sponsoring industrial technology research and development, industrial Internet of Things (IoT), and cloud technology. The tight government regulations and the development of the industrial sector are the factors that will likely further fuel the expansion of the smart factory market in the region throughout the forecast period. Asia Pacific will likely have considerable growth in this market. Furthermore, the industrial sector's commitment to sustainability will likely dominate the market.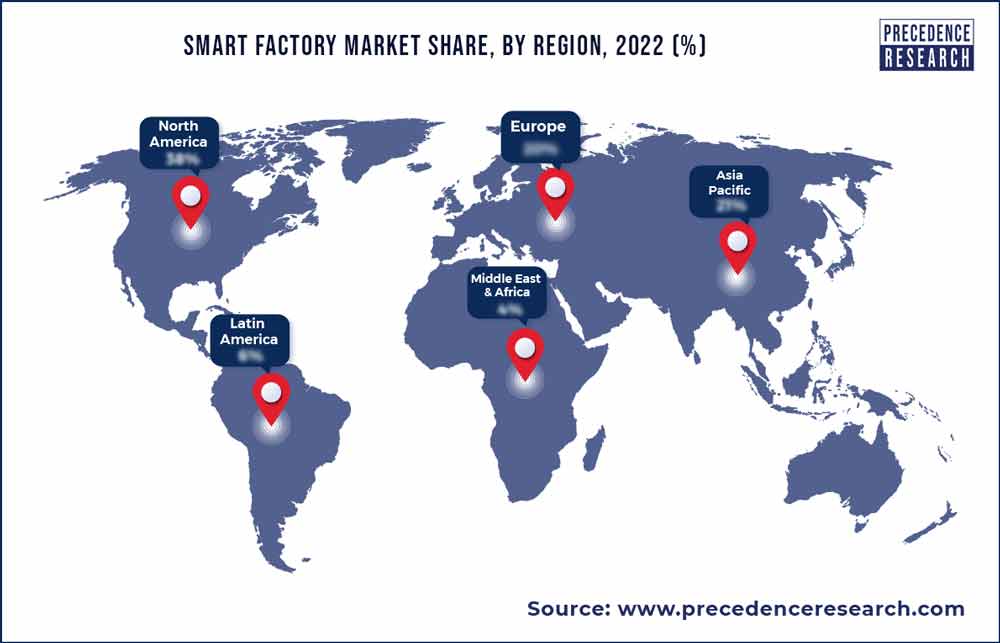 Europe has a significant impact on both the use and production of automation equipment. North America is third region in terms of size. The United States is a substantial market for providers of solutions for smart factories because of the country's early embrace of factory automation. It will likely expand at a reasonable rate throughout the anticipated period. In addition, the nation is home to over 13 significant vehicle manufacturers and boasts one of the largest auto markets in the world. One of the primary sources of revenue for the country's manufacturing sector has been the creation of automobiles.
Recent Development
October 2022 - With orders of $170 million from Stadler Valencia, more than 300 new locomotives and trains will be driven by highly energy-efficient traction technologies. They will be used in several European railway networks to reinforce and modernize train travel in countries including Germany, Austria, Spain, Portugal, the United Kingdom, and several other European rail lines.
October 2022 - ABB announced that Accelleron Industries AG, a pioneer in high-power turbochargers for mission-critical applications, has been authorized to start trading on the SIX Swiss Exchange in Zurich under the ticker symbol "ACLN." This is done to complete Accelleron's spin-off from ABB.
September 2022 - This year's theme of World Maritime Day on September 29, Technology for greener shipping, is covered in the most recent edition of ABB's podcast ABB Decoded which focuses on Technology. The theme is an opportunity to focus on the value of a sustainable maritime sector and participate in a global discussion on the issue.
Key Market Players
ABB Ltd.
DassaultSystèmes
General Electric Co.
Emerson Electric Co.
Honeywell International Inc.
Johnson Controls International
Mitsubishi Electric Corporation
Microsoft Corporation
Robert Bosch GmbH
Schneider Electric SE
Siemens AG.
Segments Covered in the Report
(Note*: We offer report based on sub segments as well. Kindly, let us know if you are interested)
By Product
Machine Vision Systems

Cameras
Processors
Software
Enclosures
Frame Grabbers
Integration Services
Lighting

Industrial Robotics

Articulated Robots
Cartesian Robots
Cylindrical Robots
SCARA Robots
Parallel Robots
Collaborative Industry Robots

Control Devices

Relays and Switches
Servo Drives and Motors

Sensors
Communication Technologies
Other Products
By Technology
Product Lifecycle Management (PLM)
Human Machine Interface (HMI)
Enterprise Resource and Planning (ERP)
Distributed Control System (DCS)
Manufacturing Execution System (MES)
Programmable Logic Controller (PLC)
Supervisory Controller and Data Acquisition (SCADA)
Other Technologies
By End-User Industry
Automotive
Semiconductors
Oil and Gas
Chemical and Petrochemical
Pharmaceutical
Aerospace and Defense
Food and Beverage
Mining
Other End-user Industries
By Geography
North America
Europe
Asia-Pacific
Latin America
The Middle East and Africa