The global sodium carbonate market size was estimated at USD 12.7 billion in 2022 and is foreseen to hit around USD 21.61 billion by 2032 with a compound annual growth rate (CAGR) of 6% during the forecast period from 2023 to 2032.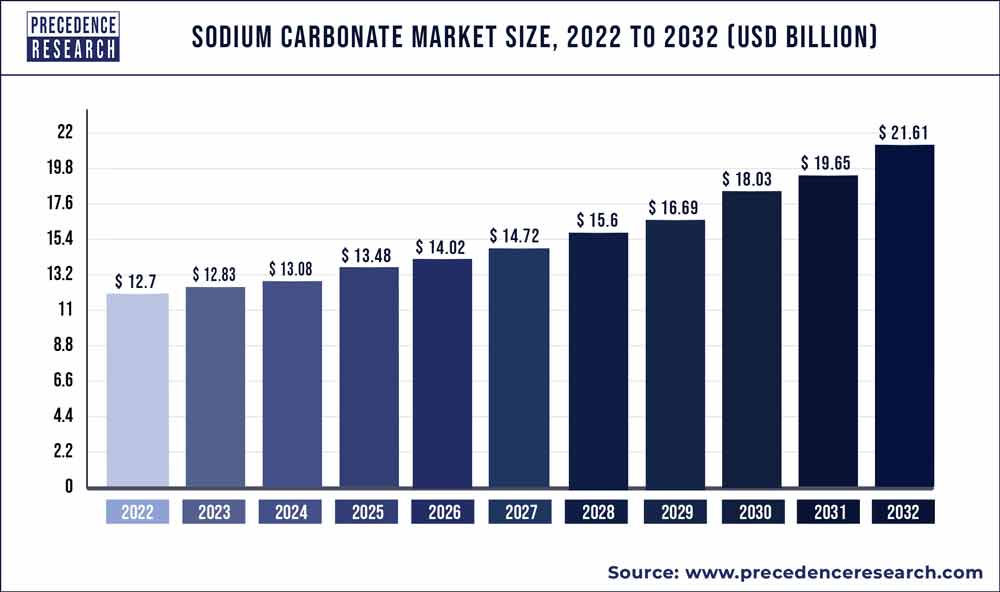 Access our Premium Real Time Data Intelligence Tool, Visit: Precedence Statistics
Key Takeaways:
APAC accounted for 55% of the global market share in 2022.
The APAC market is growing more than 3.2% from 2023 to 2032.
The container glass end-use sector accounted for USD 2.4 billion in 2022.
The chemical segment is growing at a CAGR of 3.4% over the forecast period.
The global synthetic sodium carbonate market is expected to witness growth of 2.4% over the predicted timeframe.
Sodium carbonate, also known as soda ash, is a whitish inorganic chemical with presence of alkaline properties which is used in multiple products such as detergents, glass, chemicals, feed & food sectors. The chemical formula of sodium carbonate if N2CO3 which is also referred as hygroscopic and amorphous substance that has increased solubility in almost each solvent including water. Sodium carbonate also helps in reduction of the furnace temperature that is essential to melt sand in the industry of glassmaking which needs to emphasize on reduction of the cost of production.
Also, sodium carbonate is extracted from ash of vegetations with high content of sodium. The chemical is also an industrial form limestones and sodium chloride using the process known as 'Solvay Process.' It is also chemically active which releases carbon dioxide after the treatment with acids. Although sodium carbonate has low level of toxicity, prolonged exposure to this chemical may cause eye or skin irritation. Additionally, the consumption of sodium carbonate may cause vomiting, nausea, diarrhoea and stomach ache.
Growth Factors
Sodium carbonate is expected to witness a significant growth in usage to manufacturing products such as flat glass for (automotives and construction), soda-lime-silica glass, and glass containers (food and drinks) among other industries related to glass industry. Hence, the demand for flat glasses for the housing, automotives, and commercial building industries along with the container glass for consumer products has boosted the demand for the sodium carbonate industry.
The multiple applications of sodium carbonate such as food, chemical manufacturing, personal care products, and swimming pool maintenance. The key factors such as growing demand for sodium carbonate is expected to propel the growth of sodium carbonate market, increasing environmental consciousness and expanding glass manufacturing industries is also contributing in the sodium carbonate market growth. However, different restraints are expected to hamper the market during projected period.
Report Scope of the Sodium Carbonate Market
| | |
| --- | --- |
| Report Coverage | Details |
| Market Size in 2023 | USD 12.83 Billion |
| Market Size by 2032 | USD 21.61 Billion |
| Growth Rate from 2023 to 2032 | CAGR of 6% |
| Base Year | 2022 |
| Forecast Period | 2023 to 2032 |
| Segments Covered | Product Type, Basis of Type, End-User, and Geography |
| Companies Mentioned | Tata Chemicals Ltd, DCW Ltd., Genesis Energy, LP, Nirma Ltd., Ciner Group, Novacap Group, CIECH SA, Shandong Haihua Group Co. Ltd, Tronox limited, GHCL Limited, ICI Pakistan Limited, Sahand Industrial Group, Soda Sanayii AS, Bashkir soda company, Huanghua Tianxin chemical industry Co., LTD |

Key Market Drivers
Growing demand of soda ash in detergent industry - Conventional phosphate has been substituted by soda ash, which is widely accustomed in the detergent industry. Usually, sodium carbonate is used to impart and enhance the cleaning properties of detergents and soaps. Soda ash also focuses on the wide application base of soda ash in detergent production, especially in developing countries in the Southeast Asia and Pacific region, ASEAN countries and India. Moreover, the factors mentioned above are expected to create an optimistic shock on the soda ash market.
Growth of major industries such as metallurgy and chemicals - Soda ash is widely used in the metallurgical processing industry for the purpose of recycling of zinc and aluminum. The chemical is also used to remove sulfurs and phosphates from ferrous and non-ferrous ores. Multiple chemicals, such as sodium bicarbonate and percarbonate, sodium silicate, sodium chromate, and dichromate, are formed using soda ash. Thus, the augmented application of soda ash in the metallurgical and chemical industry is expected to create significant traction in the market in the forecast period.
Useful environmental applications such as improving the alkalinity - With the increasing emphasis on environmental concerns such as reduction of the acidic nature of water bodies, sodium carbonate is anticipated to witness a significant growth in the projected period. It also helps in reduction of pH levels changes that negatively affect the aquatic life by balancing the alkaline levels in surface water.
Key Market Challenges
Availability of substitutes - Glass manufacturing, especially flat glasses & container glasses, attains a substantial share of over 50% due to the overall adoption and usage of soda ash. However, the increased usage of alternatives such as plastic, recycled glasses, and others has noticed rapid expansion over the forecast period. Moreover, in terms of food & packaging industries, glass containers have been extensively replaced by aluminum and plastics. The factors such as prevalence of liquid detergents in the soaps and detergents industry has resulted in the decline in the revenue sales of the soda ash. The traditional dry powders are key end users for soda ash, with augmented adoption of liquid detergents. Hence, these above-mentioned factors are expected to affect the soda ash market growth during the forecast period.
Key Market Opportunities
Increasing investment by key market players - The proliferation of pharmaceutical industries is expected to offer lucrative opportunities for the growth of the sodium carbonate market in terms of increased revenue during the forecast period.
Segments Insight
Product Type Insights
On the basis of product type, the segment is divided into natural and synthetic in the sodium carbonate market. The synthetic product segments are estimated to lead the market in 2022. The factors such as the easy manufacturing process are anticipated to contribute the growth of the synthetic segment.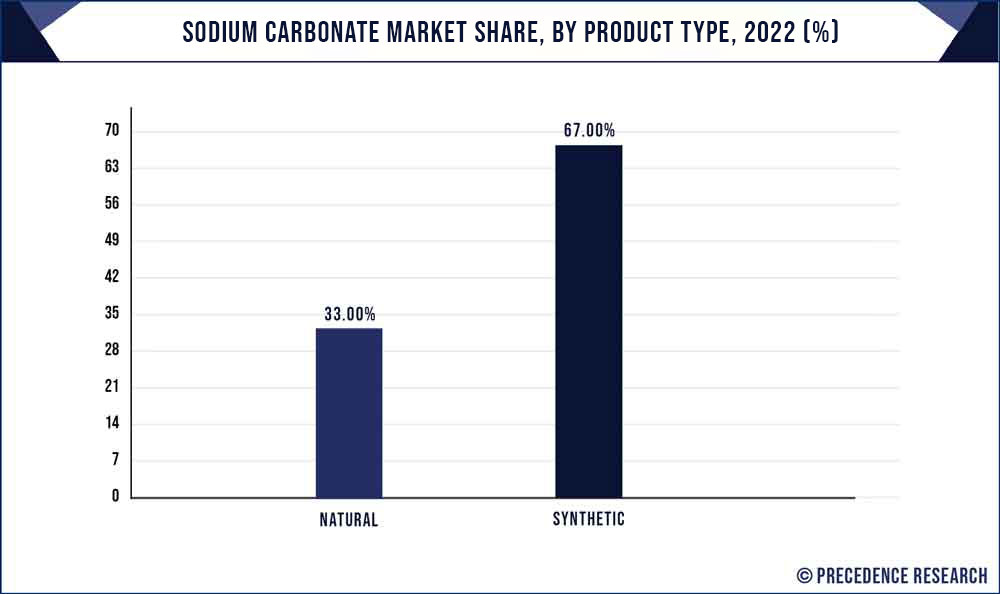 The increased availability of raw materials such as brine, limestone, and coke is also expected to accelerate the growth of sodium carbonate market. Additionally, the growing use of sodium carbonate in multiple industries due to its wide applicability is anticipated to boost the growth of sodium carbonate market.
End-User Insights
On the basis of end-user, segment is separated into chemical manufacturing, water treatment and softening, glass manufacturing, detergent and soaps industry, paper manufacturing, and mining industries. The glass manufacturing is further sub-segmented into container glass and flat glass. Also, chemicals manufacturing is sub-segmented on the basis of carbonate chemicals and sodium chemicals. Additionally, the glass manufacturing is also expected to lead the market in 2022 owing to the rising constructions of residential and non-residential constructions. The increased usage of flat glasses is also expected to propel the growth of sodium carbonate market.
Sodium Carbonate Market Share, By Region, 2022 (%)
| | |
| --- | --- |
| Regions | Revenue Share in 2022 (%) |
| North America | 16% |
| Asia Pacific | 56% |
| Europe | 22% |
| Latin America | 4% |
| MEA | 2% |

Regional Insights
The sodium carbonate market is considered for various geographical regions such as North America, Europe, Asia Pacific and Rest of the World. The Asia Pacific is anticipated to dominate the sodium carbonate market in 2022 due to the rising rates of constructions. The factors such as evolution of road infrastructure, rise of prosperous middle-class population and increased economic growth are anticipated to contribute to the growth of sodium carbonate market. Augmented construction of non-residential & residential building to encounter the rising demand especially in China, India & the U.S., combined with substantial investment in new infrastructures has resulted in an accelerated pace of construction sector which is expected to increase the necessity for flat glass.
In the U.S. the demand for sodium carbonate produced with several flat glasses applications surpassed the worth of over USD 100 million in 2022 which represent the tremendous growth opportunities in area of construction industry. The growth of construction sector in emerging nation in Asia Pacific is especially major attributed to the increasing urbanization as well as considerable population base that has increased the demand for homes which use sodium carbonate-based products.
Recent Developments
In Sep 2019: The firm named Solvay announced that the company would emphasize on increasing its soda ash production capacity over 600 kilotonnes at its trona-based Green River site located in Wyoming, the United States. The purpose of long-term global demand development in several applications. In addition to this, Solvay is also planning to expand its sodium bicarbonate capacity upto 200 kilotonnes in its Devnya plant situated in Bulgaria, that would help in addressing the worldwide demand growth for shaft gas treatments to improve air quality.
In July 2019: Tata Chemicals established a green signal for growth of the soda ash plants located in Gujarat by the estimated costs of Rs 1,042.08 crore. The proposalsare for growth of its soda ash plants situated in Devbhumi Dwarka district from 10.95 lakh tonne each annum to 113.20 lakh tonne eachyear.
June 2019: The CIECH Group launched a new line of production for specialised sodium bicarbonate products in Germany, that are used for the pupose in dialysis. The new production lines of sodium bicarbonate that increases the production capacity of the factory situated in Stassfurt by more than 80 percent (50,000 tonne per year) and also support the expansion of the Group's product portfolio through a variation of soda ash, used in the pharmaceutical industry.
Segments Covered in the Report
(Note*: We offer report based on sub segments as well. Kindly, let us know if you are interested)
By Product Type
By Basis of Type
Monofilaments
Multifilament
By End-User
Flat Glass
Container Glass
Other Glass
Chemicals
Soap & Detergent
Minings
Others
By Geography
North America
Europe
Asia-Pacific
Latin America
Middle East & Africa (MEA)