The global steel wire market size was reached at USD 102.9 billion in 2022 and it is projected to hit around USD 156.1 billion by 2032, growing at a CAGR of 4.3% during the forecast period 2023 to 2032.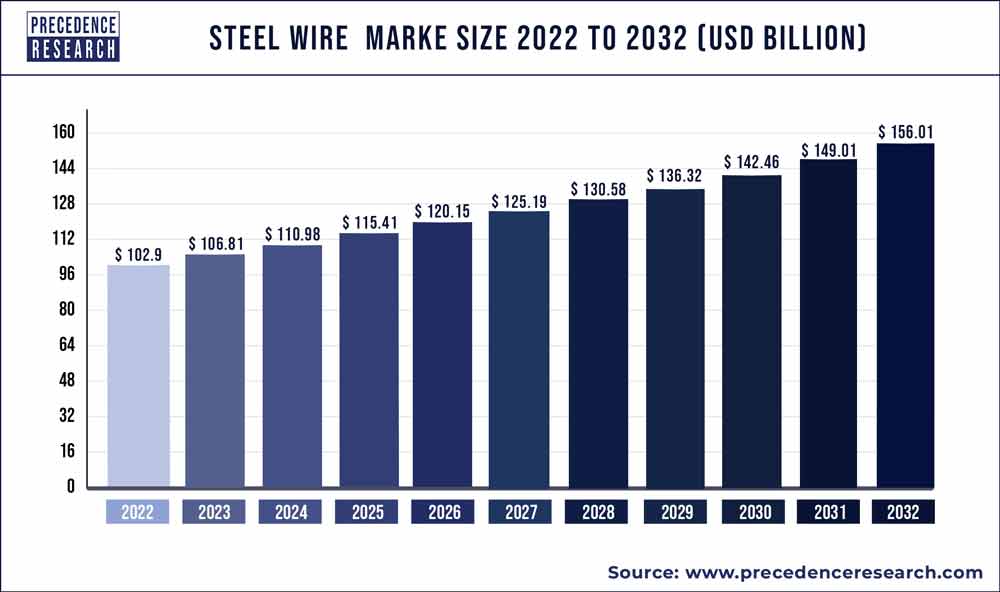 Access our Premium Real Time Data Intelligence Tool, Visit: Precedence Statistics
Key Takeaways:
Asia-Pacific generated more than 45% of revenue share in 2022.
By Material, the carbon steel segment has contributed more than 63% of revenue share in 2022.
By Material, the stainless-steel segment is expected to expand at the fastest CAGR of 6.7% from 2023 to 2032.
By Application, the construction segment accounted the highest market share of 35.8% in 2022.
By Application, the energy segment is anticipated to grow at the fastest CAGR over the projected period.
Market Overview:
The steel wire market encompasses the global trade of steel wires, encompassing their manufacture, distribution, and commercial exchange. These steel wires are highly versatile materials with extensive applications spanning the construction, automotive, manufacturing, and infrastructure sectors.
Prominent industry players include steel manufacturers, wire producers, and distribution entities. The market's expansion often closely aligns with infrastructure development, automotive manufacturing, and industrial production sectors.
Furthermore, environmental considerations and innovations in wire production methods, such as recycling initiatives, are increasingly influencing the industry landscape, reflecting a growing emphasis on sustainability.
Growth Factors:
The steel wire market is a dynamic global industry centered on the production, distribution, and trade of various types of steel wires. These wires serve as indispensable materials with versatile applications across sectors like construction, automotive, manufacturing, and infrastructure development. This market's dynamism is chiefly influenced by factors including industrial demands, technological innovations, and economic conditions, making it a multifaceted arena for businesses and investors.
Several key trends and growth drivers are propelling the steel wire market forward. First and foremost is the ever-growing demand for steel wires in infrastructure development projects worldwide. This surge is attributed to the need for robust, long-lasting materials, particularly in rapidly urbanizing regions. Furthermore, the automotive industry's continuous expansion fuels the demand for steel wires, used in components like tire reinforcement and suspension systems. The advent of electric vehicles (EVs) is also a noteworthy trend, as they require specialized steel wires for batteries and other components. Additionally, technological advancements in steel wire production, such as high-strength wires for lightweight construction, contribute to market growth.
While opportunities abound, the steel wire industry also faces significant challenges. One of the primary concerns is environmental sustainability. Environmental regulations are becoming increasingly stringent, pressuring manufacturers to adopt eco-friendly production processes and materials. Moreover, market volatility due to fluctuating steel prices and global economic conditions poses risks to industry stability. Additionally, competition from alternative materials, like aluminum and composite materials, presents a challenge, as industries seek lighter and more corrosion-resistant options.
Despite these challenges, there are compelling business opportunities within the steel wire market. Companies can explore innovative recycling technologies to reduce waste and lower environmental impact, aligning with sustainability goals. As the renewable energy sector expands, steel wires are crucial for wind turbine production, presenting a growing market segment. Moreover, the escalating adoption of advanced manufacturing techniques, including 3D printing, may furnish fresh avenues for steel wire applications, particularly in aerospace and analogous domains. In conclusion, the steel wire market, characterized by its dynamism and adaptability, remains an essential player in the global materials landscape, boasting enduring relevance across various sectors.
In conclusion, the steel wire market is a dynamic and versatile industry with substantial growth potential. Industry trends are shaped by factors like infrastructure development, automotive demands, and technological advancements, while challenges include environmental sustainability and market volatility. Businesses can capitalize on opportunities by embracing sustainability, exploring emerging sectors like renewable energy, and diversifying into niche markets. Overall, the steel wire market remains a critical player in the global materials industry with enduring relevance across various sectors.
Report Scope of the Steel Wire Market:
| | |
| --- | --- |
| Report Coverage | Details |
| Market Size in 2023 | USD 106.81 Billion |
| Market Size by 2032 | USD 156.1 Billion |
| Growth Rate from 2023 to 2032 | CAGR of 4.3% |
| Largest Market | Asia Pacific |
| Base Year | 2022 |
| Forecast Period | 2023 to 2032 |
| Segments Covered | By Material and By Application |
| Regions Covered | North America, Europe, Asia-Pacific, Latin America, and Middle East & Africa |

Market Dynamics:
Driver:
Infrastructure development
Infrastructure development serves as a pivotal force propelling the expansion of the steel wire market. Across the globe, substantial investments by governments and private sectors in infrastructure projects fuel the surge in demand for steel wires. These wires, valued for their robustness, endurance, and adaptability, find indispensable utility in a diverse array of applications within the construction realm. They reinforce structures, ensuring the requisite structural integrity to withstand diverse loads and environmental conditions, facilitating the construction of bridges, buildings, highways, and railways. Moreover, the telecommunication sector relies on steel wires for the efficient installation of overhead cables and transmission lines, facilitating seamless connectivity.
With burgeoning urbanization and population growth, particularly in emerging economies, the imperative for novel infrastructure becomes pronounced, spurring heightened construction activities and consequently elevating the consumption of steel wires. Furthermore, infrastructure development acts as a potent economic stimulant, engendering a virtuous cycle wherein heightened economic activity begets more infrastructure ventures, thereby catalyzing and sustaining the upward trajectory of the steel wire industry.
Restraints:
Fluctuating steel prices
The erratic oscillations in steel prices present a formidable constraint on the growth of the steel wire market. These price fluctuations, driven by variables such as raw material expenses, global economic dynamics, and trade intricacies, introduce a level of uncertainty that hampers manufacturers' ability to plan production and pricing strategies effectively. When steel prices surge steeply, manufacturers grapple with heightened production costs, which can compress profit margins and erode competitiveness. Conversely, when steel prices plummet, manufacturers may witness reduced revenues even in the face of consistent or increased production volumes, creating financial instability. This rollercoaster ride in steel prices not only introduces market uncertainty but also disrupts supply chains, affecting inventory management and complicating the ability to meet customer demands in a timely manner. Consequently, the relentless volatility in steel prices serves as a deterrent to potential investors and poses a substantial obstacle to the sustained expansion of the market.
Opportunities:
Renewable energy
Renewable energy is a significant catalyst for creating opportunities in the steel wire market. As the world accelerates its transition towards cleaner energy sources, the demand for steel wires has surged within the renewable energy sector, particularly in wind energy applications. Wind turbines, crucial for harnessing wind power, rely extensively on steel wires for their construction and operation. These wires are used for structural reinforcement, supporting the immense weight and forces experienced by the turbines. Additionally, steel wires are employed in the transmission of electricity generated by wind turbines to power grids.
As governments and organizations worldwide invest heavily in renewable energy projects to reduce carbon emissions and combat climate change, the steel wire market stands to benefit immensely. The continued expansion of wind energy, coupled with potential growth in solar power infrastructure, offers a promising avenue for steel wire manufacturers. Moreover, innovations in steel wire materials and designs tailored for renewable energy applications can unlock further opportunities in this evolving and environmentally critical sector.
Impact of COVID-19:
In the early stages, lockdowns and disruptions to supply chains led to reduced production and logistical challenges. A decrease in construction activities and automotive manufacturing further dampened demand. However, as the pandemic progressed, the market rebounded due to increased infrastructure investments and growing demand for renewable energy projects.
Moreover, the need for steel wires in medical equipment production and the construction of healthcare facilities presented new opportunities. Overall, while COVID-19 initially posed challenges, the resilience of the steel wire industry, coupled with evolving market dynamics, contributed to its recovery and adaptation to changing circumstances.
Segments Insight:
Material Insights:
According to the Material, the carbon steel sector has held a 63% revenue share in 2022. The carbon steel segment holds a major share in the steel wire market due to its widespread use across various industries. Carbon steel wires are known for their high strength, durability, and cost-effectiveness, making them a preferred choice in construction, automotive, and manufacturing sectors. Additionally, they offer excellent corrosion resistance when properly coated. Their versatility, coupled with competitive pricing, has contributed to their dominant market position. While specialty alloys and materials are gaining prominence, carbon steel wires remain a staple due to their reliability, meeting the diverse needs of industries, and maintaining a substantial market share.
The stainless steel sector is anticipated to expand at a significantly CAGR of 6.7% during the projected period due to its remarkable attributes. Stainless steel wires are prized for their outstanding corrosion resistance, rendering them indispensable in demanding settings like marine, chemical, and food processing industries. Their robustness and endurance ensure prolonged service life, making them a preferred choice across diverse applications, from construction to automotive components. Furthermore, stainless steel's aesthetic appeal and hygienic properties enhance its popularity in architectural and healthcare applications. Its adaptability, coupled with an extensive array of grades, solidify stainless steel's commanding position within the steel wire market.
Application Insights:
In 2022, the construction sector had the highest market share of 35.8% on the basis of the Application. The construction segment holds a significant share in the steel wire market due to its wide-ranging applications in the construction industry. Steel wires are crucial for reinforcing concrete structures, providing durability and structural integrity in buildings, bridges, and infrastructure projects. The robust demand for construction materials, driven by urbanization, infrastructure development, and renovation projects globally, sustains the market's growth. Additionally, steel wires are indispensable in areas prone to seismic activity, further amplifying their importance in construction. As a result, the construction sector's reliance on steel wires cements its dominant position within the market.
The Energy segment is anticipated to expand at the fastest rate over the projected period. The energy segment holds a significant growth in the steel wire market due to its integral role in various energy-related applications. Steel wires are essential components in renewable energy sectors, especially wind energy, where they are used in the construction and reinforcement of wind turbines. Additionally, steel wires are crucial for power transmission lines, supporting the reliable distribution of electricity. The global shift towards cleaner and sustainable energy sources has fueled substantial investments in energy infrastructure, driving the demand for steel wires. This, in turn, has made the Energy segment a major contributor to the market's overall growth.
Regional Insights:
The Asia-Pacific steel wire market size was valued at USD 46.31 billion in 2022 and is projected to surpass around USD 70.21 billion by 2032, expanding at a CAGR of 4.3% between 2023 and 2032.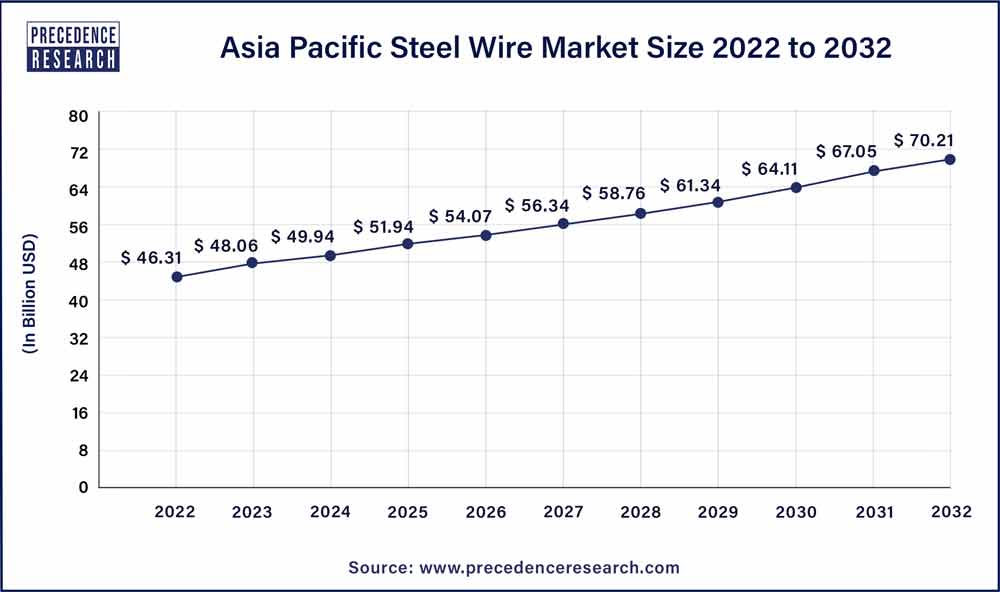 Asia-Pacific has held the largest revenue share 45% in 2022.
The region's rapid urbanization and infrastructure development, particularly in countries like China and India, have driven substantial demand for steel wires in construction and manufacturing.
Additionally, the automotive industry's robust growth in Asia-Pacific has further increased the need for steel wires in vehicle production. Moreover, the expanding renewable energy sector, including wind power, has bolstered demand for steel wires in the region.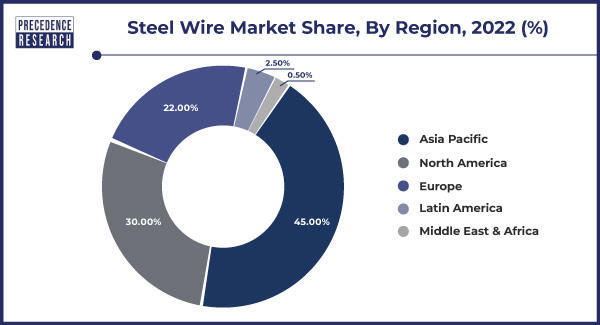 North America is estimated to observe the fastest expansion.
The region boasts a robust construction and infrastructure sector, continually driving the demand for steel wires in various applications. Additionally, the automotive industry, a major consumer of steel wires, remains well-established in North America.
Furthermore, stringent quality standards and technological advancements in steel wire manufacturing contribute to the region's dominance. Government initiatives promoting infrastructure development and renewable energy projects further bolster the market.
Recent Developments:
In 2022: Kobe Steel purchased 25% of Millcon Steel's issued share in Kobelco Millcon Steel Co., Ltd. (KMS), a Thai company that produces wire rods. In the ASEAN region, KMS is the only manufacturer of special steel wire rods.
In 2020: Insteel Industries, Inc. invested USD 22.5 million to acquire the assets of strand-tech manufacturing, which produces prestressed concrete strands, particularly for concrete construction applications.
In 2022, Bridon-Bekaert Ropes Group (BBRG) announced the acquisition of VisionTek Engineering Srl. This acquisition was an important strategic step towards in developing and providing advanced services in the steel wire and rope market.
In 2018, Bekaert SA reached to and acquisition agreement with Bridon-Bekaert Ropes Group and took full ownership. The company adopted this strategy to grow their business globally and to create significant value over the period.
Key Market Players:
Arcelor Mittal
Bekaert
JFE Steel Holdings
Kobe Steel Limited
LIBERTY Steel Group
Nippon Steel Corporation
Tata Steel Limited
VAN MERKSTEIJN INTERNATIONAL
Henan Hengxing Science & Technology Co., Ltd.
Tianjin Huayuan Metal Wire Products Co.Ltd.
Segments Covered in the Report:
(Note*: We offer reports based on sub-segments as well. Kindly, let us know if you are interested)
By Material
Carbon Steel
Stainless Steel
Alloy Steel
By Application
Construction
Automotive
Energy
Industrial
Agriculture
Others
By Geography
North America
Europe
Asia-Pacific
Latin America
Middle East and Africa