The global supercapacitors market size was valued US$ 5 billion in 2021 and expected to hit US$ 25 billion by 2030, growing at a CAGR of 23.5% from year 2022 to 2030. Increased demand for supercapacitors in automotive applications, increased demand for renewable energy systems, and favourable government regulations are the most prominent factors driving the growth of the supercapacitor market.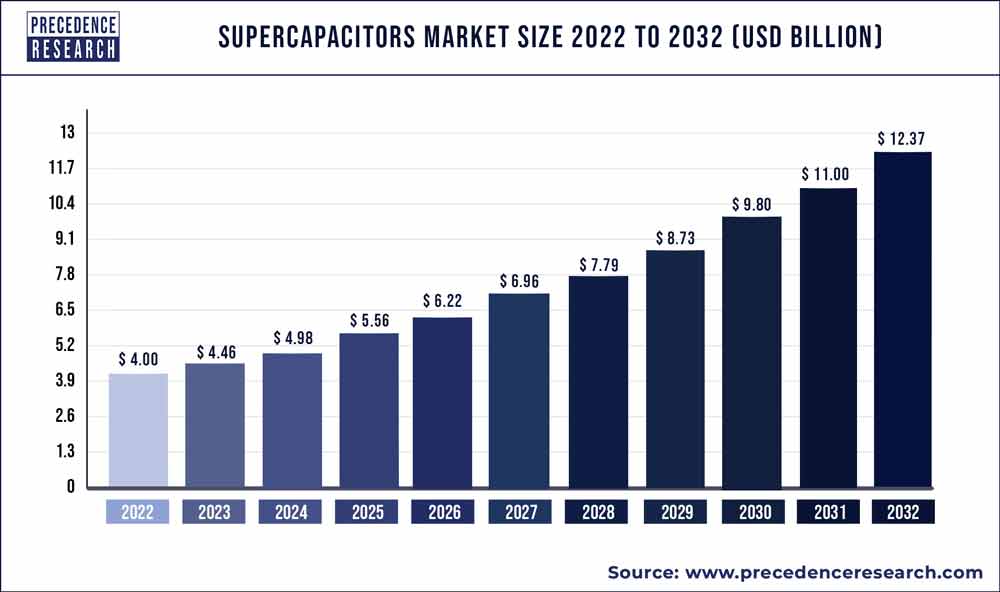 Advanced advances in storage technology with emerging market segments such as hybrid electric vehicles (HEV), smart grids and renewable energy systems and the capacity of supercapacitors to provide emergency shutdown power or backup to low-power equipment such as RAM, SRAM, microcontrollers and PC cards are the major driving factors for the global supercapacitors market. However, the factors expected to hamper market growth are high initial costs of materials and poor knowledge of supercapacitors. In addition, an increase in demand for newer solar and wind energy applications and an increase in demand for micro supercapacitors are expected to provide lucrative prospects for the future growth of the supercapacitor industry.
Product Insights
It is fragmented into double-layer capacitors, pseudocapacitors, and hybrid capacitors by product form. The pseudocapacitors segment dominated the market in terms of revenue in 2021, and the same trend is expected to follow during the forecast period.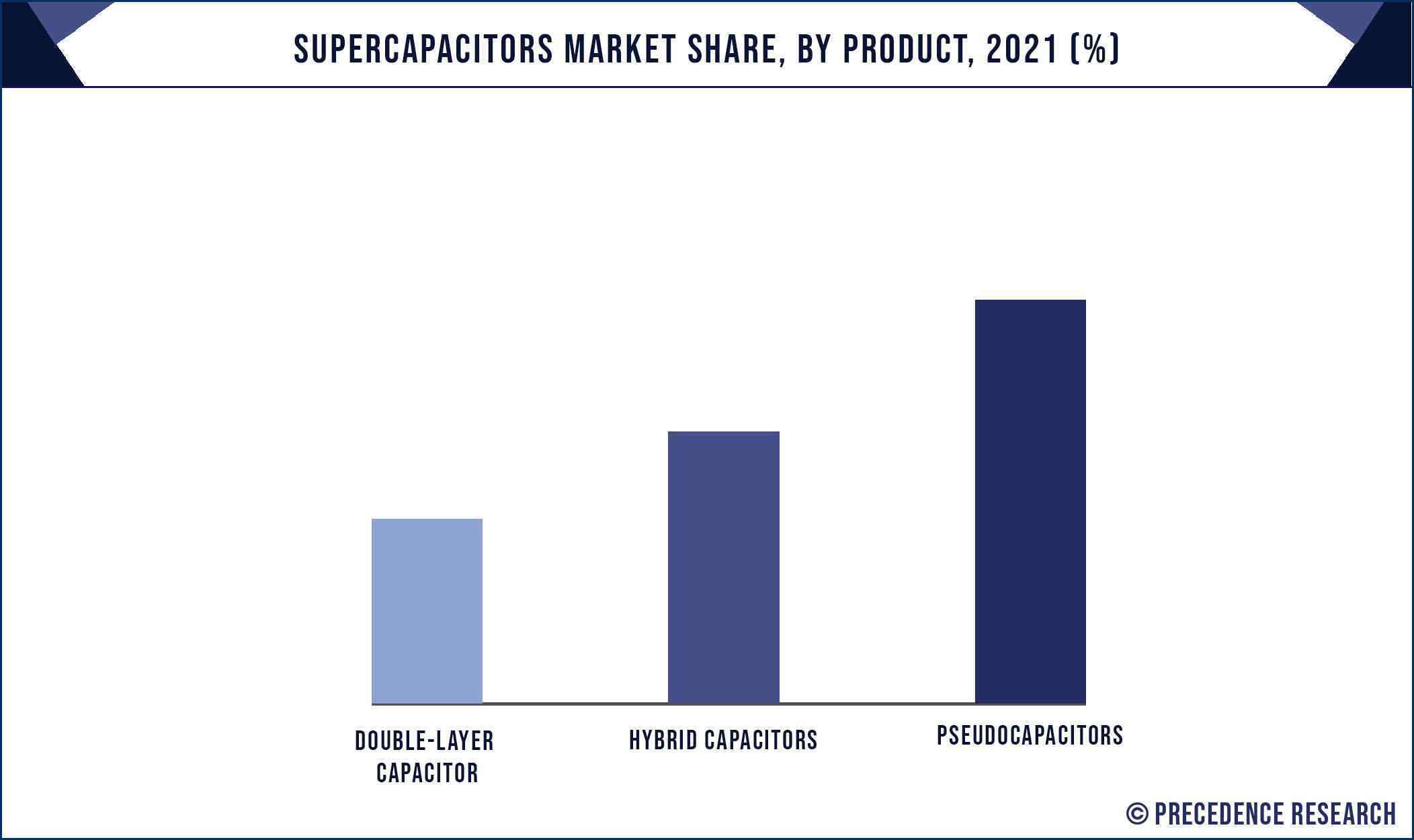 During the forecast period, the hybrid capacitors segment is projected to rise at the highest CAGR. In various consumer electronics, such as cell phones, tablets, wearable devices, LED flashlights, thermal printers, barcode scanners, and GPS chips, hybrid capacitors are used.
Module Insights
By module type, the market is divided into modules with less than 10 volts, modules with 10 volts to 25 volts, modules with 25 volts to 50 volts, modules with 50 volts to 100 volts and modules with more than 100 volts. The 10-volt to 25-volt modules segment had the highest market share in 2021, while the above 100-volt modules segment is projected to rise at the highest CAGR between 2020 and 2027.
Material Insights
By material the market is categorized into activated carbon, carbide derived carbon, carbon aerogel, and others. A supercapacitor differs in two ways from a standard capacitor: the surface area of the supercapacitor plates is greater and the gap between them is much smaller than that of traditional capacitors. In a different way than the traditional dielectric, the separator between these plates acts. A supercapacitor works like an ordinary capacitor, but incredibly large quantities of energy can be stored. A normal supercapacitor, however, can store a charge of up to several thousand farads.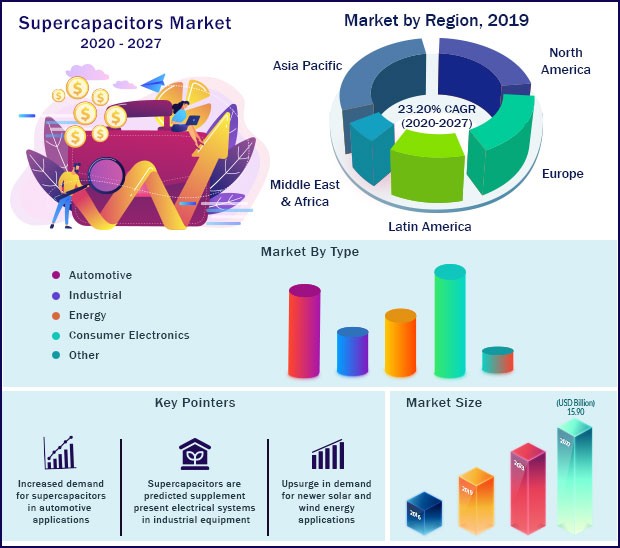 Application Insights
It is divided into automotive, manufacturing, oil, consumer electronics, and aerospace & defence by application. In the demand for supercapacitors, railways and electric buses play an important part. With the increased deployment of metro trains in urban areas, protection, efficiency, energy conservation, energy quality and monitoring of freight wagons are significant. This is contributing to an increase in railway demand for supercapacitors.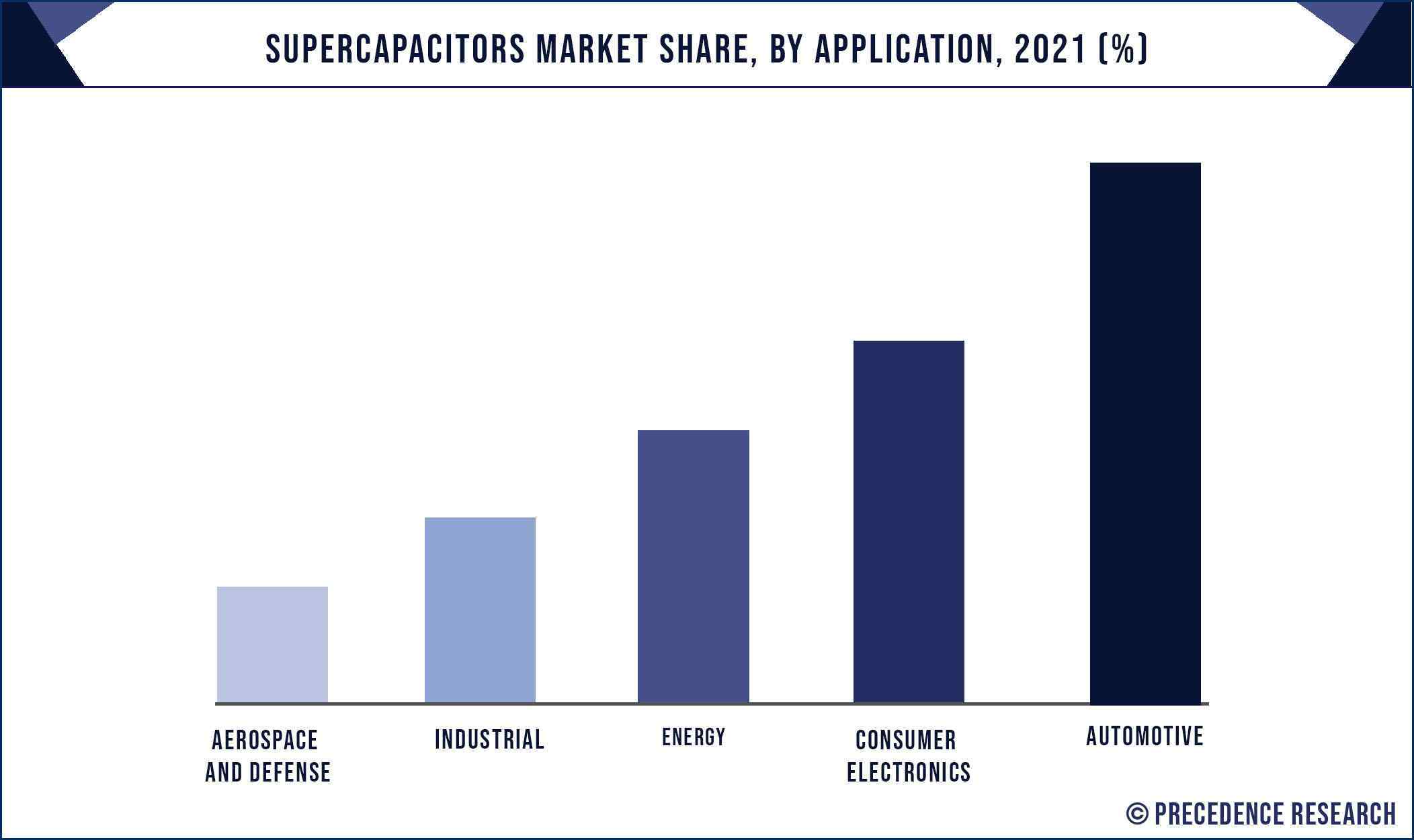 Among the main applications of supercapacitors in the automotive industry are power recovery and dynamic brake energy storage. It is anticipated that the COVID-19 outbreak will affect public transportation and the shared mobility market. In turn, this is expected to impact the output of cars, as well as the demand for supercapacitors.
Regional Insights
Asia-Pacific accounted for the highest share in 2021, as China and India have fostered the growth of the supercapacitor industry in recent years due to a rise in automotive market and growth in the electronics sector. In terms of sales, North America was the second largest contributor and is expected to see substantial growth during the forecast period, as demand for supercapacitors in the large and medium-sized automotive industries has complemented the growth of supercapacitors. The sudden onslaught of the COVID-19 pandemic caused APAC to suffer massive financial losses.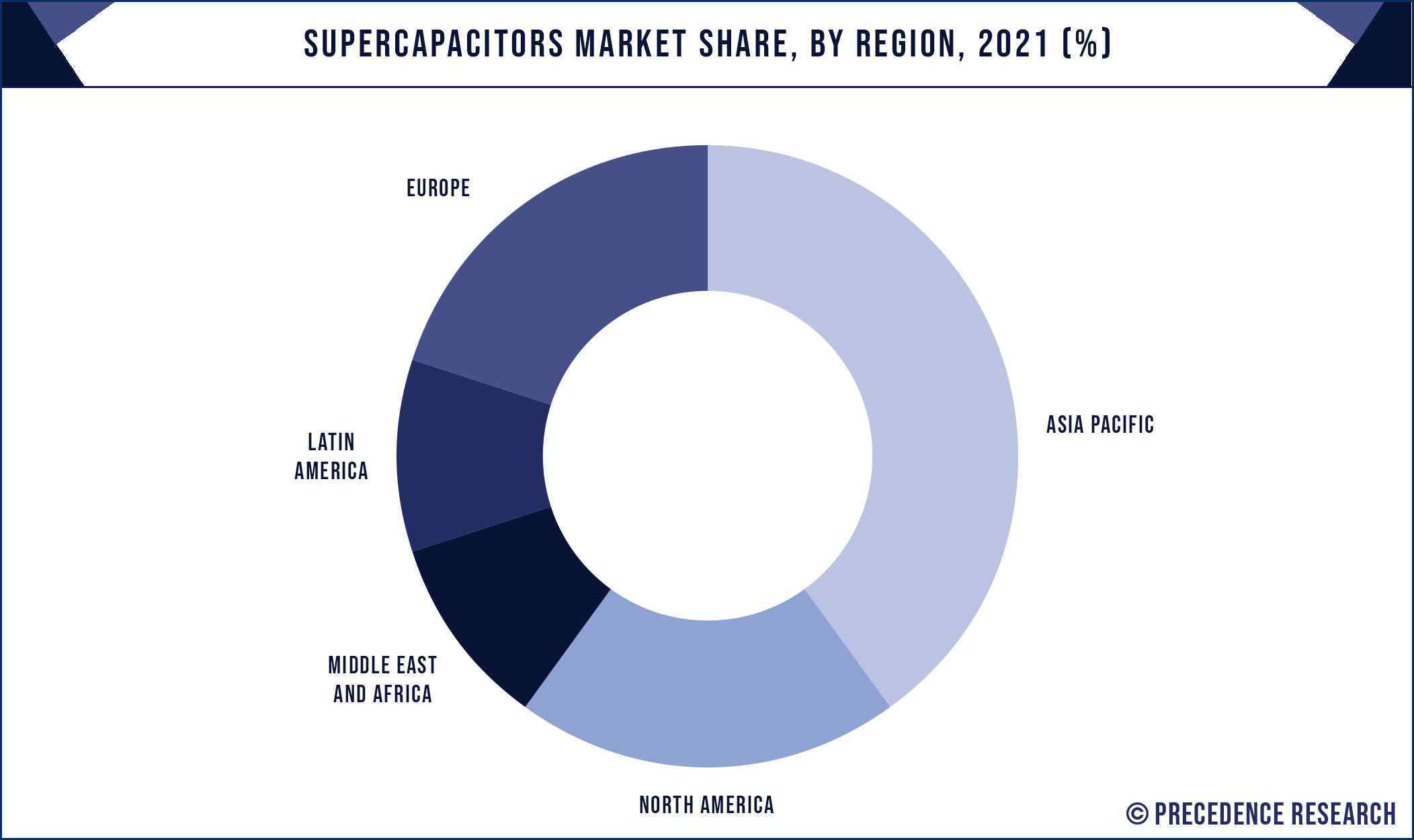 Because of the orders given by the country's government, most of the production facilities in mainland China have suspended their production activities. This has created tremendous disruptions across the country in the supply chain of different goods, thereby affecting the market for supercapacitors from different end-use industries.
Key Companies & Market Share Insights
The global Supercapacitors market seeks intense competition among the market players owing to rapid changing consumer preference. Further, the industry participants are prominently adopting growth strategies that include partnership, collaboration, merger & acquisition, and many others to maintain their competitive edge in the global market. Apart from this, they invest prominently in the R&D activity for new product development & advancements.
Some of the prominent players in the Supercapacitors market include:
AVX Corporation
Panasonic Corporation
Cap-XX Limited
SPEL Technologies Private Limited
Nippon Chemi-Con Corporation
Skeleton Technologies
Ioxus Inc., LS Mtron Ltd.
Evans Capacitor Company
KORCHIP Corporation
Nesscap Energy, Inc.
Advanced Capacitor Technologies, Inc.
Maxwell Technologies
FastCAP Systems, Inc.
Report Scope of the Supercapacitors Market
| | |
| --- | --- |
| Report Highlights | Details |
| Market Size | USD 25 Billion by 2030 |
| Growth Rate | CAGR of 23.5% from 2022 to 2030 |
| Largest Market | North America |
| Fastest Growing Market | Asia Pacific |
| Base Year | 2021 |
| Forecast Period | 2022 to 2030 |
| Segments Covered | Product, Module, Material, Application, Region |
| Companies Mentioned | Tesla, CAP-XX, LS Mtron, AVX Corporation, Panasonic Corporation, SPEL Technologies Private Limited, Nippon Chemi-Con Corporation, Skeleton Technologies, Ioxus Inc., LS Mtron Ltd., Evans Capacitor Company, and KORCHIP Corporation |
Segments Covered in the Report
This research study comprises complete assessment of the market by means of far-reaching qualitative and quantitative perceptions, and predictions regarding the market. This report delivers classification of marketplace into impending and niche sectors. Further, this research study calculates market size and its development drift at global, regional, and country from 2016 to 2027. This report contains market breakdown and its revenue estimation by classifying it on the basis of material, application, and region:
By Product Type
Double-Layer Capacitor
Pseudocapacitors
Hybrid Capacitors
By Module Type
Less Than 10 Volts Modules
10 Volts To 25 Volts Modules
25 Volts To 50 Volts Modules
50 Volts To 100 Volts Modules
Above 100 Volts Modules
By Material
Activated carbon
Carbide derived carbon
Carbon aerogel
Others
By Application
Automotive
Industrial
Energy
Consumer Electronics
Aerospace and Defense
By Regional
North America
Europe
Asia Pacific

China
India
Japan
South Korea

Rest of the World