The global telecom analytics market size was estimated at USD 6.19 billion in 2022 and it is expected to hit around USD 23.66 billion by 2032, poised to grow at a CAGR of 14.35% during the forecast period from 2023 to 2032.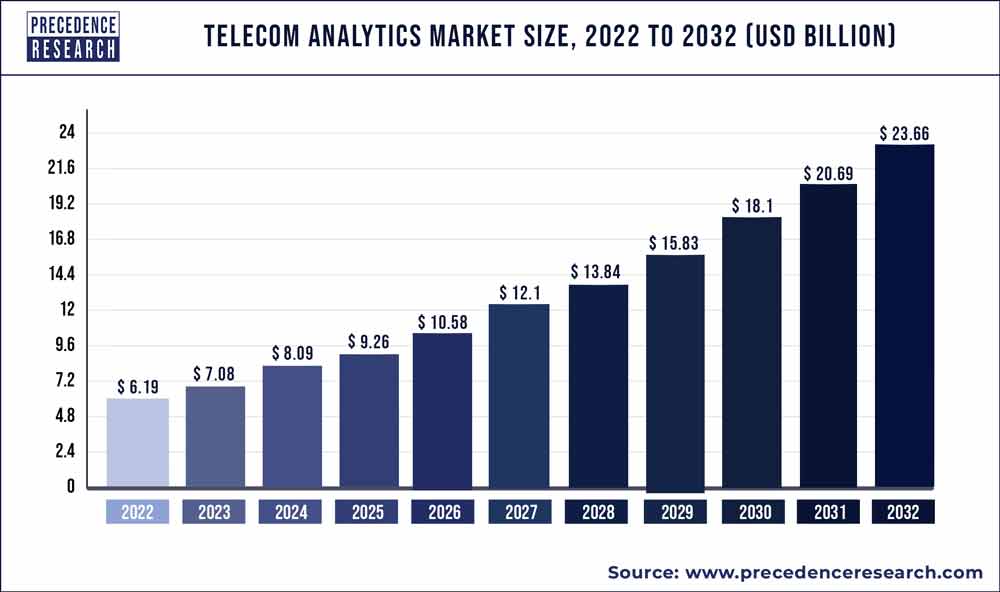 Key Takeaways:
North America contributed more than 41% of revenue share in 2022.
By Enterprise Size, the SMEs segment captured more than 80% of revenue share in 2022.
Market Overview:
The telecom analytics Market is the process of collecting, analyzing, and interpreting vast amounts of data generated within the telecommunications industry. This data can come from various sources, such as network equipment, customer interactions, billing systems, and other operational processes. The primary goal of telecom analytics is to derive valuable insights and actionable intelligence from the data to improve operational efficiency, enhance customer experience, and drive business decision-making.
The telecom industry is experiencing significant changes due to the widespread adoption of 5G technology, enabling faster speeds, lower latency, and increased network capacity. This has resulted in a massive influx of data from connected devices and IoT applications, which can be effectively harnessed through telecom analytics. Telecom companies are focusing on leveraging analytics to optimize network performance, personalize services, and create new revenue streams.
Additionally, there is a growing emphasis on improving customer experience by gaining deep insights into customer behavior and preferences through analytics. Advanced network optimization, facilitated by analytics, allows telecom companies to analyze traffic patterns, identify bottlenecks, and proactively address network issues. The integration of artificial intelligence and machine learning technologies enhances predictive capabilities, network security, and fraud detection.
Furthermore, Revenue assurance and cost optimization are critical areas where analytics solutions help identify revenue leakage, optimize pricing strategies, and streamline operations. Cloud-based analytics platforms offer scalability, cost-effectiveness, and real-time insights, driving their adoption in the telecom industry. Lastly, analytics plays a crucial role in ensuring regulatory compliance, data privacy, and security, protecting against cyber threats, and facilitating adherence to regulations.
Telecom analytics has diverse applications in the industry. It aids in optimizing network performance by analyzing traffic and resource allocation. Customer experience management utilizes analytics to personalize offerings and improve support. Churn prediction helps retain customers through targeted strategies. Revenue assurance and fraud detection prevent leakage and ensure billing accuracy. Pricing and revenue management optimize pricing strategies. Operational efficiency is enhanced by analyzing supply chain and resource utilization. Network security is improved by detecting threats and fraud. Predictive maintenance minimizes equipment failures and network downtime. Overall, telecom analytics enables companies to optimize network performance, enhance customer experiences, prevent fraud, improve operational efficiency, and maximize revenue generation.
Report Scope of the Telecom Analytics Market:
| | |
| --- | --- |
| Report Coverage | Details |
| Market Size in 2023 | USD 7.08 Billion |
| Market Size by 2032 | USD 23.66 Billion |
| Growth Rate from 2023 to 2032 | CAGR of 14.35% |
| Largest Market | North America |
| Base Year | 2022 |
| Forecast Period | 2023 to 2032 |
| Segments Covered | By Components, By Deployment, By Enterprise Size |
| Regions Covered | North America, Europe, Asia-Pacific, Latin America, and Middle East & Africa |

Market Dynamics:
Driver:
Focus on customer-centric strategies: Telecom companies are increasingly prioritizing customer satisfaction and loyalty. Telecom analytics provides deep insights into customer behavior, preferences, and needs, allowing companies to personalize offerings, provide targeted marketing campaigns, and enhance customer experiences. This customer-centric approach is a key driver for the adoption of telecom analytics. Also, advanced technologies such as 5G, IoT, artificial intelligence (AI), and machine learning (ML) technologies generate significant data and require advanced analytics capabilities to optimize network performance, improve customer experiences, and manage operational processes.
Apart from this, Telecom analytics provides insights into supply chain management, workforce optimization, and network utilization, contributing to cost reduction and operational excellence. Analytics solutions enable companies to identify cost-saving opportunities, streamline operational processes, optimize resource allocation, and improve overall efficiency. Furthermore, Telecom analytics provides real-time visibility into network performance, customer behaviors, and operational metrics, empowering companies to respond quickly to issues, identify opportunities, and make timely decisions.
Restraint:
Data privacy and security: Telecom companies handle a massive volume of customer data, including personal information, call records, location data, and browsing history. Any breach of this data can lead to severe consequences, including financial losses, damage to brand reputation, and legal liabilities. Striking a balance between leveraging customer data for analytics and ensuring data privacy is a challenge. Telecom companies are subject to various data privacy and security regulations, such as the general data protection regulation (GDPR) in the European Union and the California Consumer Privacy Act (CCPA) in the United States. Complying with these regulations requires significant efforts and resources, impacting the implementation of certain analytics processes.
Furthermore, telecom companies often collaborate with third-party vendors or partners for analytics purposes. However, sharing data with external entities can introduce additional security risks and raise concerns about data ownership and control. Not only this but also, the telecom industry faces constant threats from cyberattacks, including phishing, malware, and ransomware. A successful cyberattack can compromise data privacy and disrupt analytics operations.
Opportunity:
Customer experience enhancement: Telecom analytics allows companies to gain deep insights into customer behavior, preferences, and needs. By leveraging these insights, telecom companies can personalize offerings, improve customer support, and deliver targeted marketing campaigns. Enhanced customer experiences can lead to higher customer satisfaction, loyalty, and revenue growth. Moreover, telecom analytics aids in network quality improvement by assessing network performance and identifying areas that require enhancements.
Analyzing data from network equipment and customer complaints enables companies to prioritize upgrades and optimize network performance. Improving network quality directly impacts customer satisfaction and reduces churn. To seize this opportunity, telecom companies can invest in advanced network analytics solutions and predictive maintenance, ensuring continuous enhancement of network performance.
Challenges:
Telecom companies generate massive volumes of data in real time. Analytics solutions need to handle the scalability requirements of processing and analyzing data at high velocities.
Implementing telecom analytics solutions can involve significant costs, including technology investments, infrastructure upgrades, and skilled resources. Organizations need to justify these investments by assessing the return on investment (ROI) and the potential benefits derived from analytics.
shortage of skilled professionals with the necessary capabilities in areas such as data science, statistics, machine learning, and telecom domain knowledge. Finding and retaining talent with the right skill set can pose a challenge for organizations.
Segments Insight:
Component Insights:
The software segment of the telecom analytics market is witnessing trends such as the adoption of cloud-based analytics platforms, the integration of AI and ML technologies, and the development of advanced analytics tools. These trends are driven by the increasing need for real-time analytics, personalized customer experiences, and optimized network performance. Additionally, the proliferation of IoT devices generates massive volumes of data, creating opportunities for software solutions to analyze and derive insights. Opportunities in the software segment include the development of innovative and scalable analytics software tailored for the telecom industry and leveraging AI and ML for enhanced predictive analytics and real-time insights.
In the services segment, there is a growing demand for consulting and professional services to guide organizations in implementing and optimizing analytics solutions. Managed services, including data management and ongoing support, are also gaining traction. The drivers for services in telecom analytics include the complexity of data integration, shortage of skilled resources, and the need for expertise in analytics implementation. Service providers can capitalize on these opportunities by offering end-to-end consulting, implementation, and managed services to meet the analytics needs of telecom companies.
The hardware segment is witnessing trends such as the adoption of high-performance computing infrastructure to handle large-scale data processing. The drivers for hardware in telecom analytics stem from the need for robust infrastructure to support telecom data volume, velocity, and complexity. Opportunities lie in providing specialized hardware solutions optimized for telecom analytics workloads, including high-performance servers, storage systems, and networking equipment. Collaborations with software and service providers can create comprehensive solutions tailored for the specific needs of the telecom industry.
Deployment Insights:
The telecom analytics market can be segmented by deployment type into on-premises and cloud-based deployments. In the on-premises segment, there is a trend towards hybrid models that combine on-premises infrastructure with cloud-based capabilities, allowing organizations to benefit from control and security while leveraging scalability and flexibility. On-premises deployments are driven by data privacy and security concerns, regulatory compliance requirements, and the need for full control over analytics infrastructure and data. This presents opportunities to provide robust and secure on-premises analytics solutions tailored for telecom companies. In the cloud-based segment, there is a strong trend towards cloud adoption, driven by scalability, cost optimization, rapid deployment, and the ability to access analytics capabilities from anywhere. Cloud-based deployments offer opportunities to provide scalable and secure analytics platforms, catered to telecom industry needs, and to offer cloud-based managed services and support for data integration and analytics operations. The trends and drivers in both deployment types reflect the demand for data privacy, scalability, real-time insights, and cost optimization in the telecom analytics market.
Enterprise Size Insights:
The telecom analytics market can be segmented by enterprise size into small and medium-sized enterprises (SMEs) and large enterprises. SMEs are driven by the need to enhance operational efficiency, compete with larger players, and improve customer experiences. They seek cost-effective analytics solutions to optimize network performance, manage customer relationships, and comply with regulations. Cloud-based analytics platforms are trending among SMEs due to their affordability, scalability, and user-friendly interfaces. Opportunities in this segment include offering cost-effective and intuitive analytics solutions tailored to SMEs' needs, as well as providing consulting and support services to help them overcome implementation challenges.
On the other hand, large enterprises aim to gain a competitive edge and optimize customer experiences through advanced analytics capabilities. They invest in big data infrastructure, integrate AI and ML technologies, and leverage predictive analytics and real-time insights. Opportunities in the large enterprise segment involve providing comprehensive and scalable analytics solutions, developing AI-driven capabilities, and collaborating with industry leaders to address specific enterprise requirements. Understanding the drivers, trends, and opportunities in each enterprise size category enables solution providers to develop tailored offerings that cater to the distinct needs of SMEs and large enterprises in the telecom analytics market.
Regional Insights:
In North America, the telecom analytics market is witnessing an increasing adoption of analytics solutions driven by the demand for data-driven decision-making, advanced network optimization, and improved customer experiences. Cloud-based analytics solutions and the integration of AI and ML technologies are gaining momentum in the region. The drivers for telecom analytics in North America include the need to manage large volumes of data, optimize network performance, and deliver personalized customer experiences while complying with regulatory requirements. There are opportunities to provide comprehensive and scalable telecom analytics solutions in North America, offering advanced capabilities such as real-time network optimization and predictive maintenance. Partnerships with telecom service providers and data-driven organizations can unlock growth opportunities.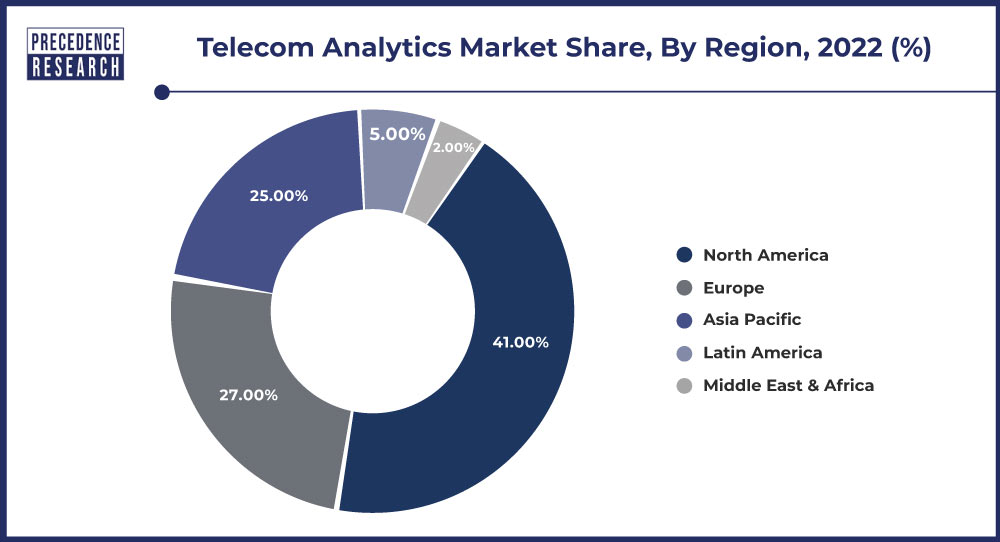 In Europe, there is a trend toward using analytics to improve network efficiency, comply with data protection regulations, and optimize pricing strategies. Drivers in the European market include the need for high-quality services, regulatory compliance, and gaining insights from diverse data sources. Opportunities lie in providing analytics solutions that address data privacy and compliance requirements, enhancing customer satisfaction, and collaborating with telecom operators and regulators. In the Asia Pacific region, telecom analytics is adopted to manage high data volumes, improve network performance, and support digital services. Opportunities include offering scalable and cost-effective solutions tailored for diverse markets, developing analytics capabilities for network optimization and fraud detection, and collaborating with telecom operators and technology providers.
Recent Developments:
In May 2023, Microsoft announced a new partnership with Orange to help Orange improve its network analytics capabilities. The partnership will use Microsoft's Azure cloud platform and Azure Machine Learning to help Orange analyze its network data and identify opportunities to improve performance and customer experience.
In February 2023, Google Cloud announced a partnership with Ericsson to help telecom operators improve their network performance and customer experience. The partnership will focus on using Google Cloud's analytics and machine learning capabilities to help Ericsson's customers gain insights into their network data.
In Feb 2022, IBM announced a new partnership with AT&T to help AT&T improve its network analytics capabilities. The partnership will use IBM's Watson AI platform to help AT&T analyze its network data and identify opportunities to improve performance and customer experience.
Key Market Players:
Sisense
Micro Focus
SAS Institute
Adobe
OpenText
SAP
Oracle
Tableau
Alteryx
IBM
Teradata
TIBCO
Segments Covered in the Report:
(Note*: We offer reports based on sub segments as well. Kindly, let us know if you are interested)
By Components
Software
Services
Hardware
By Deployment
By Enterprise Size
By Geography
North America
Europe
Asia-Pacific
Latin America
Middle East and Africa