The global thyristor market size reached USD 1.38 billion in 2022 and is projected to be worth around USD 2.02 billion by 2032, poised to grow at a CAGR of 3.9% during the forecast period 2023 to 2032.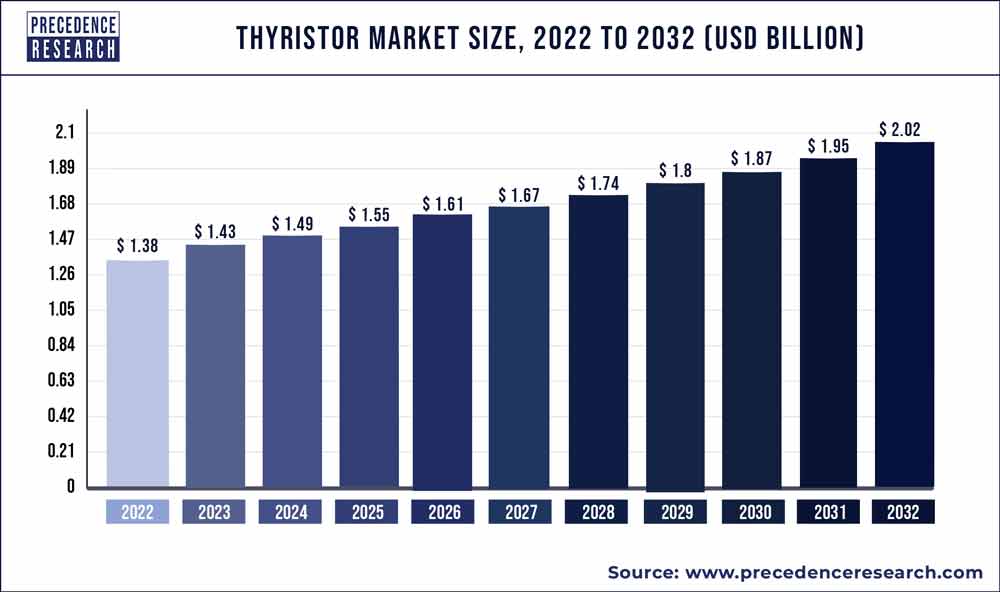 Key Takeaways:
Asia-Pacific generated more than 38% of revenue share in 2022.
By Power Rating, the 500 MW segment contributed more than 45% of revenue share in 2022.
By End Use, the automotive segment is expected to expand by double digits in 2022.
A thyristor is a solid-state semiconductor device along with four layered alternating p-type and N materials. The thyristor with three-lead is designed for controlling large current with the help of its two leads by combining the current with that of a smaller current from its other lead which is known as the control lead. The two-lead thyristor are used in switching if the potential difference between its lead is large. The thyristor is also known as a silicon-controlled rectifier.
Growth Factor:
The pace of power consumption has grown due to an increase in population and quick technological advancements in the electronics sector (especially in consumer electronics and industrial electronics). Power grid building must thus rise as a result of this. Additionally, there are several prospects for market growth due to the development of the Internet of Things (IoT) and artificial intelligence (AI). Future market demand is also probably going to be stimulated by growing government initiatives for HDVC installations. One of the key factors driving the need for high power electronics goods throughout the industrial sector is the increased desire for devices that use less energy. Additionally, the demand for thyristors is being driven by the need for voltage beyond 1000 MW in smart industries, where robots and computers are used. Countries in APAC, such as China, are concentrating on the adoption of HVDC systems due to their large populations, which require a significant amount of power supply, which is anticipated to drive the thyristor market.
The market is being driven by an increase in consumer demand for smart gadgets and innovations in smart manufacturing. The current focus is on power conditioning using power semiconductor devices in modernizing industry technology. To reduce overall losses and increase the device's power rating, new thyristor devices are continually being developed.
The expansion is ascribed to upgrading deteriorating electricity infrastructure, especially in industrialized economies.
The expanding population in developing nations is driving up the demand for electricity. To fulfill the present need for electricity, metal-oxide-semiconductor field-effect transistors (MOSFET) are switched on and off quickly using thyristors. They are thus in high demand in developing economies.
The steps governments in many nations have taken to replace deteriorating electricity infrastructure
The growing use of electric motors in business, industry, and domestic settings.
Report Scope of the Thyristor Market:
| | |
| --- | --- |
| Report Coverage | Details |
| Market Size in 2023 | USD 1.43 Billion |
| Market Size by 2032 | USD 2.02 Billion |
| Growth Rate from 2023 to 2032 | CAGR of 3.9% |
| Largest Market | Asia Pacific |
| Base Year | 2022 |
| Forecast Period | 2023 To 2032 |
| Segments Covered | By Power Rating and By End Use |
| Regions Covered | North America, Europe, Asia-Pacific, Latin America, and Middle East & Africa |

Key Market Drivers:
Developing economies have increasing demand for advanced power infrastructure
The conventional and deteriorating power infrastructures in many affluent nations face issues as a result of the increasing reliance on energy. Thyristors' low power consumption and wide range of functions make the worldwide thyristor market interesting. A semiconductor called a thyristor has four layers of alternating P- and N-type materials within. This gadget only conducts electricity in one direction since it is unidirectional. They function as switches to regulate electric current and power. The products in the worldwide thyristor market are used in a wide range of devices, including basic circuits like burglar alarms for homes and businesses and high-power circuits like electricity transmission lines. They are used in many industry verticals, including but not limited to power and energy, networking, industrial electronics, medical and healthcare, telecommunications, aerospace and military, automotive, and consumer electronics, and are small in size and need minimal maintenance.
Thyristors' robust yet small design and the rising demand for superior electrical power infrastructure in various developed countries are the primary drivers of the worldwide thyristor industry. As the population grows, so does the need for electrical energy, placing further strain on aging power infrastructure. When compared to the mechanical switches utilized in the bulk of conventional power infrastructures, thyristors consume less power and generate less heat. Switch, diodes, and rectifier functions can all be performed by thyristors. In the upcoming years, the worldwide thyristor market is anticipated to increase as a result of the flexible nature of thyristors.
Key Market Challenges:
High manufacturing cost to lessen market availability
There are several factors that could affect the global thyristors devices market growth. The major hindrance would be caused due to the massive manufacturing cost. Since the implementation of the infrastructure is expensive; it poses a definite hinder to the market share. Furthermore, the lack of awareness among industry specialists and consumers. The benefits of thyristor modules are not spread across the people. These shortcomings could impact the adoption of amorphous metal ribbons in the future.
Key Market Opportunities:
Increased production of electric vehicles due to stringent emission norms and improved charging infrastructure:
The new rule (EU) 2019/631, which primarily aimed to reduce CO2 emissions from automobiles, was recently released by the EU. The manufacture of fuel-efficient automobiles is expected to suffer as a result of this regulation's implementation. Given this, the automakers want to expand the number of electric vehicles they produce, which will progressively increase the use of IGBTs. Similar to this, growing investments and activities to establish additional charging stations by important companies like Charge Point, Electrify America, and Volkswagen are considerably boosting the market for charging stations for electric vehicles. With a $2 billion investment, Charge Point and Electrify America joined in 2019 with the goal of installing 30,000 Level 2 and DC fast charging stations across the US by 2023. Volkswagen announced plans to build 484 electric car charging stations with more than 2,000 dispensers around the United States by June 2019. According to the Department of Energy (DOE), over the 2019–2020 timeframe, there will be 24,807 more electric vehicle charging stations in the United States, which is expected to propel the Thyristor market.
Segments Insight:
Power Rating Insights:
Based on the power rating, the thyristor market is divided into three categories: below 500W, 500 to 900MW, and over 1000MW. In 2022, the income from thyristors rated below 500 MW accounted for more than 45% of the total. The widespread use of thyristors in consumer electronics applications is credited with driving the market's expansion. On the other hand, it is anticipated that thyristors rated between 500 and 900 MW would have substantial growth throughout the projection period. The industry is being propelled by the rising demand from power producers.
End Use Insights:
Due to its low statistical failure probability, thyristor modules are essential in power applications. To transform electrical energy from one form to another for diverse electrical applications, thyristor modules are widely employed in the power sector. A thyristor module uses the best on-load tap-changer and saturable reactor configuration to efficiently and economically manage wide-range voltage. Systems using thyristor rectifiers offer smooth step-less control from zero to the rated voltage using thyristor gate control. Thyristors are increasingly being used in automotive ignition systems, which has further fueled the market's growth. The global automobile market will expand by double digits in 2022. Sales of new cars will rise by 15% in 2021 after falling by 18% in 2020. Sales of commercial vehicles will increase by 16% in 2021 after declining by 16% in 2020.
Thyristors are employed as a type of "circuit breaker" or "crowbar" in the power supplies for digital circuits to stop a power supply failure from harming subsequent components. Additionally, producers of thyristor modules are always working to develop new versions of these parts. These factors have increased the need for thyristor modules for long-distance power transmission, which is likely to fuel the growth of the worldwide thyristor module market during the course of the forecast period. Additionally, thyristor modules with cutting-edge technology for a range of electrical applications. Thus, it is anticipated that the market will rise as the power sector places more emphasis on developing thyristor modules.
Additionally, for decades, autotransformers and rheostats have been replaced by thyristors as lighting dimmers in television, cinema, and theater. Additionally, they have been employed in photography as a crucial element of flashes (strobes).
Regional Insights:
Asia-Pacific has the highest concentration of thyristor module producers, making it the thyristor market with the quickest rate of expansion. The development of the region's thyristors market would be further aided by the emphasis of numerous well-established manufacturers on technical breakthroughs in semiconductor goods throughout the projected period.
Due to the large number of thyristor module manufacturers operating in the area, Asia-Pacific is predicted to dominate the worldwide thyristor module market throughout the projected period. In addition, several well-known manufacturers from the Asia Pacific region are concentrating on technical progress in semiconductor goods as a result of the expanding potential, which is anticipated to positively impact the area's thyristor module market throughout the course of the projected year.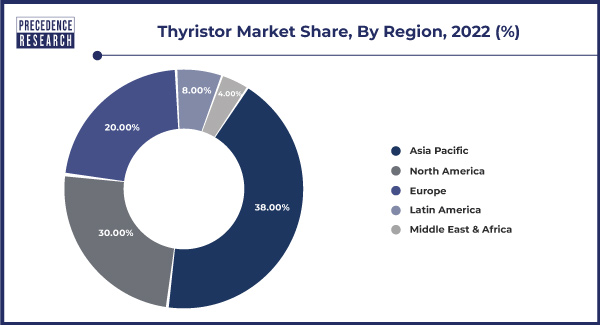 The market for thyristors is benefiting from the rising use of HDVAC in developing nations. For instance, India is concentrating on direct high-voltage current (HVDC) transmission lines, according to Powerline Magazine, since they enable power to be delivered across great distances with little loss. HVDC transmission lines now make up 4% of the length of all transmission lines. Additionally, 400 kV transmission lines, which make up 43% of the country's total line length, will be the most common voltage type in India in 2020. It is followed by 220 kV transmission lines with 42%.
Recent Developments:
New BiPolar power modules with the lowest losses and greatest working temperatures were released in May 2021 with industry-standard housings. The 60Pak module family offers the highest level of dependability and is the pinnacle of excellence. In terms of industry-standard housing, it has the lowest losses and greatest working temperatures. Failure is not an option, whether it's giving power to demanding applications or seamlessly regulating fans and industrial motors. These new solutions give the greatest performance, exceptional dependability, and greater overload capability by encasing Hitachi Energy's best-quality products in conventional industrial housing.
Key Market Players:
ABB Ltd
Siemens AG
Schneider Electric SE
Eaton Corporation Plc.
Honeywell International Inc.
Analog Devices, Inc.
STMicroelectronics N.V.
Infineon Technologies AG
ON Semiconductor
Fuji Electric Co., Ltd.
Mitsubishi Electric
NXP
Power Semiconductors
Bourns
Nihon Inter Electronics Corporation
SanRex Corporation
Dynex Semiconductor
Hind Rectifiers Limited.
Semikron
NTE
Naina Semiconductor ltd.
Segments Covered in the Report:
(Note*: We offer reports based on sub segments as well. Kindly, let us know if you are interested)
By Power Rating
500 MW
500 MW-1000 MW
1000 MW
By End Use
Consumer Electronics
Telecommunication & Networking
Industrial
Automotive
Aerospace & Defense
Others
By Geography
North America
Europe
Asia-Pacific
Latin America
Middle East and Africa