The global discrete semiconductor market size was estimated at USD 53.1 billion in 2022 and it is projected to surpass around USD 121.51 billion by 2032, poised to grow at a CAGR of 8.63% during the forecast period from 2023 to 2032.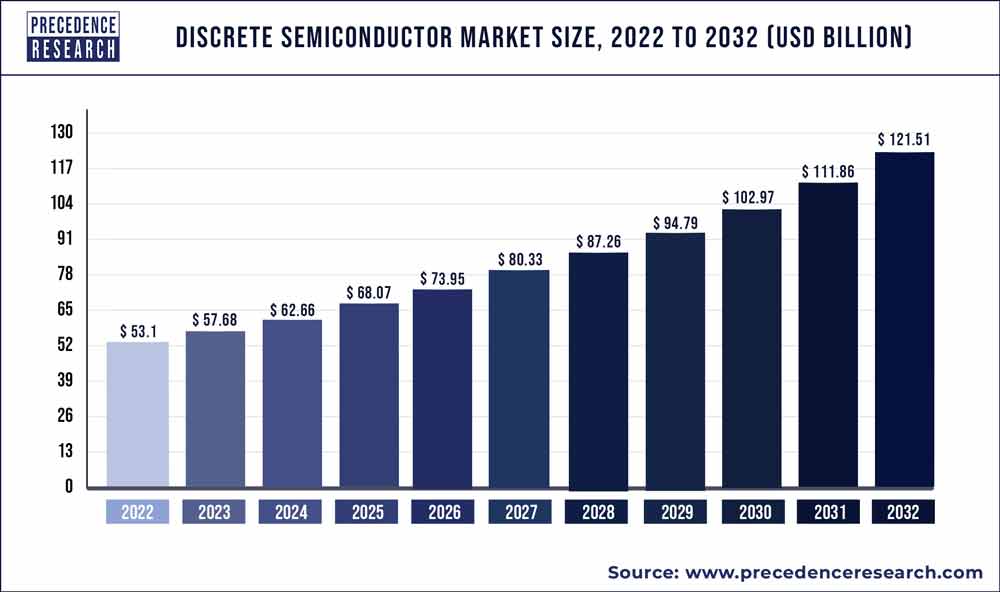 Access our Premium Real Time Data Intelligence Tool, Visit: Precedence Statistics
Key Takeaways:
North America is expected to lead the market from 2023 to 2032.
Asia Pacific is expected to expand at the fastest CAGR between 2023 and 2032.
By Type, The MOSFET segment is predicted to dominate the market from 2023 to 2032.
By End User, The automotive segment captured more than 37% of revenue share in 2022.
Market Overview:
Small electronic tasks are often handled by discrete semiconductors. The creation of electrical products is one of the many uses for these semiconductors. Bipolar transistors, metal-oxide-semiconductor field-effect transistors (MOSFETs), insulated-gate bipolar transistors (IGBTs), and thyristors are examples of typical products. Additionally, it can be found in laptops, hybrid vehicles, cell phones, tablets, LED lighting, and portable medical equipment. Discrete semiconductors are quick to operate, portable, reliable, and simple to replace. They also require less power. The demand for components that are quick, small, and can boost manufacturing efficiency is driving the growth of the discrete semiconductor industry among electronic makers. These specifications are met by discrete parts such as modules, transistors, diodes, and thyristors.
The discrete semiconductor market is also anticipated to be driven by industrial components such as transportation, security, automation, solid-state lighting, and energy management as well as automotive parts such as safety, navigation, entertainment, and fuel efficiency. For instance, an EV power electronics system needs an insulated gate bipolar transistor (IGBT). Due to the surge in EV sales across the globe, IGBTs are anticipated to be in high demand.
According to the International Energy Agency, in 2022, electric car sales in Europe, the second-largest market, climbed by over 15%, resulting in the sale of more than one in every five electric vehicles.
The Japan Automobile Dealers Association (JADA) estimates that close to 1.4 million new electric vehicles were sold in 2020. As a percentage of all new automobile sales, electric vehicles represented 36.2%, up from 32.9% in 2017 and 35.2% in 2019. Since the Toyota Prius originally debuted here in Japan in 1997, there has been a significant increase in the demand for HEVs. HEVs accounted for 97.8% of all new electric vehicle sales in 2020, with PHEVs accounting for 1.1%, BEVs for 1.1%, and FECVs for 0.1%.
All new cars sold in Japan will be environmentally friendly by 2035, according to a goal recently announced by the country's government (GOJ). Clean Energy Vehicles, or CEVs, are the name given to eco-friendly automobiles in Japan to distinguish them from those powered by fossil fuels. For CEVs including battery electric vehicles (BEVs), plug-in hybrid electric vehicles (PHEVs), and fuel cell electric vehicles (FCEVs), the GOJ is willing to pay a portion of the purchase price. The most that can be spent on CEV subsidies per vehicle in 2021 is 800,000 Japanese Yen or roughly USD 7,200. Hybrid Electric Vehicles (HEVs) are regarded as environmentally beneficial automobiles, although they are not qualified for the CEV subsidy scheme.
Report Scope of the Discrete Semiconductor Market:
| | |
| --- | --- |
| Report Coverage | Details |
| Market Size in 2023 | USD 57.68 Billion |
| Market Size by 2032 | USD 121.51 Billion |
| Growth Rate from 2023 to 2032 | CAGR of 8.63% |
| Largest Market | North America |
| Fastest Growing Market | Asia Pacific |
| Base Year | 2022 |
| Forecast Period | 2023 to 2032 |
| Segments Covered | By Type and By End User |
| Regions Covered | North America, Europe, Asia-Pacific, Latin America, and Middle East & Africa |

Market Dynamics:
Driver:
The increasing demand for discrete semiconductors
The increasing demand for high-energy and power-efficient devices as well as the surge in interest in green energy power generation drives are expected to be the primary drivers affecting the growth of this market. Together with the continued requirement for semiconductors from the automotive industry, there is also a growing demand for MOSFETs and IGBTs in electronics and automobiles. Additionally, the market is growing as a result of the widespread use of wireless and portable gadgets, the robust demand from emerging economies, and the explosive growth of the automotive sector.
Restraints:
Price pressure
It is anticipated that rising prices will limit market growth. Because the leading manufacturers are having difficulty obtaining the components they need. The COVID-19 pandemic has exacerbated the problem. The import and export of components are being impacted by tariff interruptions and the trade dispute between the nations, which in turn affects how much it costs to produce discrete devices. Thus, the price pressure is expected to hamper the growth of the market over the forecast period.
Opportunities:
Increasing demand for consumer electronics such as smartphone
The growing accessibility of the internet and the rising number of smartphone users throughout the world are expected to increase demand for discrete semiconductors in the near future. In 2020, 3.6 billion people will use smartphones worldwide, according to Oberlo's research. The amount increased by 16.86% year from 2013 to 2020. Additionally, as per Statista, the predicted 6.23 billion smartphone subscriptions in use as of 2021 are anticipated to increase to 7.7 billion by 2027. The potential of the market is therefore increased over the projection period as a result of the rising smartphone user base.
Segments Insight:
Type Insights:
Based on the type, the global discrete semiconductor market is segmented into MOSFET, IGBT, Bipolar Transistor, Thyristor, Rectifier, and Others. The MOSFET segment is expected to dominate the market over the forecast period. The MOSFET (Metal Oxide Semiconductor Field Effect Transistor) transistor is a semiconductor component that is frequently used in electrical devices for switching and signal amplification. Due to its small size, a MOSFET is either a core or an integrated circuit that is designed and manufactured on a single chip. The area of switching in electronics has changed as a result of the invention of the MOSFET device. Thus, this is expected to drive the segment growth over the forecast period.
End User Insights:
Based on the end user, the global discrete semiconductor market is divided into automotive, consumer electronics, communication, industrial, and others. The automotive segment is expected to hold the largest market share over the forecast period. The segment growth is attributed to the growing demand for discrete semiconductors in electric vehicles. The International Energy Agency (IEA) predicts that customers worldwide spent close to US$250 billion on electric vehicle purchases in 2022. Increased sales of EVs caused an abrupt rise in end-use investments in electrification, which in 2022 represented more than 65% of all end-use investments in the transportation industry and were projected to reach 74% in 2022.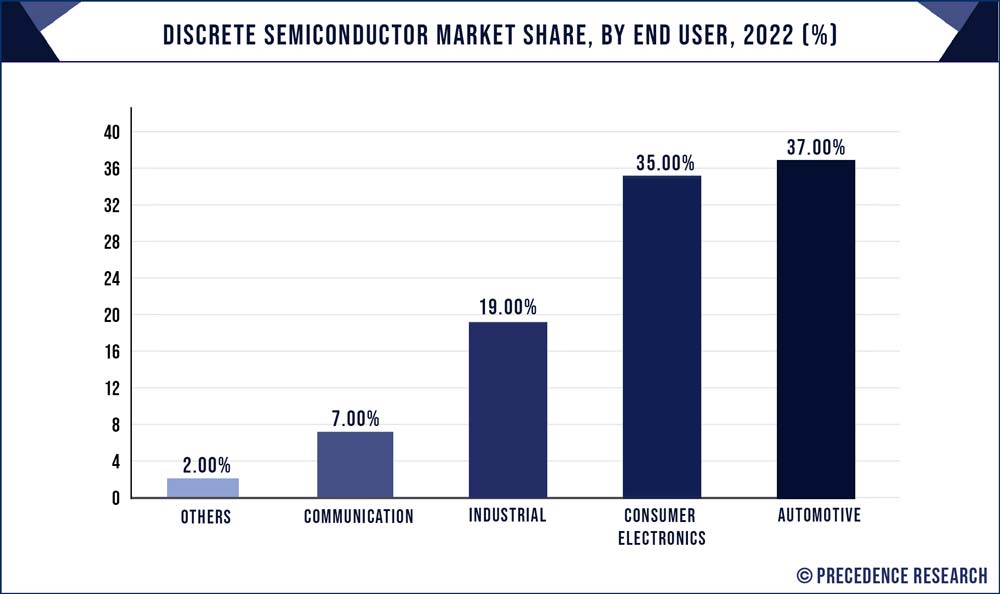 Sales of discrete semiconductors, which are essential for creating advanced driver assistance systems (ADAS), regenerative braking systems, sensors & cameras, and other electrified and electric vehicle technologies, have increased dramatically as a result of the rapid expansion of EVs and electrification. Additionally, discrete semiconductors are efficient for parts that can withstand high voltages and harsh environmental conditions. Thus, the growing demand for electric vehicles across the globe is expected to drive the segment growth.
Regional Insights:
North America is expected to dominate the market over the forecast period. The growth in the region is due to the presence of major players including Diodes Incorporated, On Semiconductor and D3 Semiconductor LLC. These key players perform various strategies in the market such as product launch, acquisition, and R&D investment to remain competitive in the region. For instance, in May 2023, The establishment of the onsemi Silicon Carbide Crystal Center (SiC3) at Penn State's Materials Research Institute (MRI) is part of an $8 million strategic partnership that Penn State and Onsemi, a pioneer in intelligent power and sensing technologies, have agreed to through a memorandum of understanding (MOU). Over the next ten years, SiC3 will be funded by Onsemi with $800k annually.
The decarbonization of the global economy is facilitated by silicon carbide (SiC), which is essential for enabling efficiency in electric cars (EVs), EV charging, and energy infrastructure. SiC academic research made significant strides in the late 1990s and early 2000s but has subsequently slowed down in the United States. This partnership will revive interest in SiC crystal research in the United States. Thus, the increasing collaboration in the region is expected to offer enormous potential for the growth of the discrete semiconductor market over the forecast period.
The Asia Pacific is expected to grow at the highest CAGR during the forecast period. The regional growth is attributed to the increasing penetration of electric vehicles along with growing support from government bodies. For instance, According to the India Energy Storage Alliance (IESA), the Indian EV market would grow at a CAGR of 36%. Because India imports about 80% of its crude oil needs, dependency on conventional energy sources is not a viable choice as population growth and vehicle demand increase. By 2030, NITI Aayog intends to see EV sales penetration for all commercial vehicles reach 70%, for private vehicles reach 30%, for buses reach 40%, and for two- and three-wheelers reach 80%. The objective of achieving net zero carbon emissions by 2070 is consistent with this. According to the Ministry of Heavy Industries, 0.52 million EVs have been registered in India over the last three years. EVs experienced strong growth in 2021, which was aided by the government's adoption of beneficial laws and initiatives. Thus, the aforementioned facts support the market expansion in the region.
Recent Development:
In August 2022, Bourns, Inc. made an impact in the insulated-gate bipolar transistor (IGBT) industry with its first high-efficiency 600-V/650-V discrete products co-packaged with a fast recovery diode (FRD). The five brand-new discrete devices in the Model BID Series are built on cutting-edge trench-gate field-stop technology, which is claimed to give users more control over dynamic properties.
In May 2022, a line of quad-output step-down converters with the fastest dynamic voltage scaling (DVS), transient response, and extensive fault protection have been introduced by Empower Semiconductor, Inc., the market leader in integrated voltage regulators (IVRs). The new digitally customizable EP71xx series, like earlier members of Empower's IVR family, can provide full voltage regulation and protection capabilities without the use of external discrete components. Furthermore, by integrating certain system functions, the EP71xx series can get rid of other system components that add to the cost and space requirements.
In October 2022, Vishay Intertechnology, Inc., the pioneer manufacturer of discrete semiconductors and passive electronic components acquired MaxPower Semiconductor Inc. The acquisition of MaxPower Inc. strengthens Vishay's MOSFET products offering.
In August 2022, Fabless semiconductor company Steradian Semiconductors Private Limited ("Steradian"), based in Bengaluru, India, announced that it has entered into a definitive agreement to be acquired by Renesas Electronics Corporation, a leading provider of advanced semiconductor solutions. Steradian offers 4D imaging radar solutions. Renesas will be able to expand its radar market presence and expand its selection of automotive and industrial sensing solutions through the acquisition of Steradian's radar technology.
Key Market Players:
NXP Semiconductors
Infineon Technologies AG
Semiconductor Components Industries, LLC
Fuji Electric Co., Ltd.
Toshiba Electronic Devices & Storage Corporation
ABB
Diodes Incorporated
Nexperia BV
D3 Semiconductor
Eaton
Hitachi Ltd.
Mitsubishi Electric Corporation
STMicroelectronics NV
Taiwan Semiconductor Manufacturing Company Limited
Vishay Intertechnology Inc.
Segments Covered in the Report:
(Note*: We offer reports based on sub segments as well. Kindly, let us know if you are interested)
By Type
MOSFET
IGBT
Bipolar Transistor
Thyristor
Rectifier
Others
By End User
Automotive
Consumer Electronics
Communication
Industrial
Others
By Geography
North America
Europe
Asia-Pacific
Latin America
Middle East and Africa