The global transportation analytics market size was evaluated at USD 15.59 billion in 2022 and it is expected to hit around USD 71.78 billion by 2032 with a noteworthy CAGR of 16.50% between 2023 and 2032.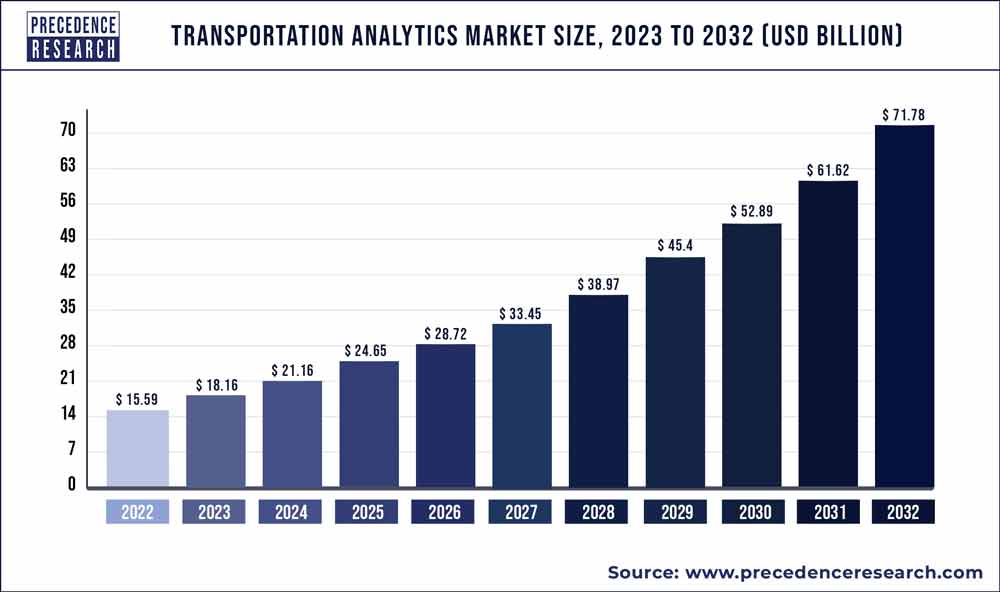 Key Points:
By geography, North America and Europe holds the largest market share from 2023-2032.
By geography, Asia Pacific region is predicted to be the fastest growing from 2023-2032.
By type, the descriptive segment holds the maximum market share in 2022.
By deployment mode, the cloud segment dominates the global market.
By application, the traffic management segment leads the market and is predicted to grow at a remarkable CAGR of 15.3% from 2023-2032.
Market Overview
The key factors encouraging market expansion include expanding acceptance of advanced traffic management systems (ATMs) and smart transportation initiatives implemented globally. Some advantages of these analytics systems include decreasing fuel use, trip time, and air pollution. Market expansion is projected to be aided by a move toward operational process automation using machine learning (ML) and artificial intelligence (AI).
Traffic monitoring is made simple by the use of transport analytics systems in comparison to intelligent transportation systems (ITS), which lowers traffic accidents and damaging carbon emissions. Americans squander more than 3 billion gallons of fuel annually, sit in traffic for an average of 42 hours each year, and spend a total of 160 billion dollars regionally, or 960 dollars for each commuter.
Furthermore, the market for traffic solutions will likely be impacted by the expanding population and quick urbanization in emerging economies, and these factors should promote the growth potential shortly.
The market will likely increase due to numerous government programs for creating smart cities, which will also encourage the adoption of transportation analytics tools in connection with intelligent transportation systems. For instance, the US Department of Transportation donated over USD 63 billion to significant infrastructure projects for the transportation sector nationwide in 2018.
A rise in business and passenger cars has also exacerbated traffic congestion. The need for analytics in intelligent transportation systems will reroute traffic, help to lessen traffic congestion, and lessen the chances of collisions. However, data security and privacy are the most important issues that analytics companies will need to deal with in the upcoming years.
China's Intelligent Transport System Association has set a goal of investing USD 30 bn in intelligent transport by 2020 as part of various smart city efforts made by other nations worldwide. Similarly, the government of Dubai wants to alter the transportation and other physical amenity infrastructure as part of the Dubai Plan 2021 plan.
In addition, a Canadian regional transportation authority, Translink, chose Cellint Corporation to supply travel patterns analytics for its multibillion-dollar North Shore Transportation Planning Project in January 2019. Thus, the worldwide implementation of smart transportation and smart city programs will undoubtedly boost the implementation of transportation analytics for the ensuing years.
The data gathering and analytics solutions now on the market provide various features, such as vehicle classification counts, traffic volume counts, parking studies, and travel time and delay studies. City planners monitor traffic volume and other characteristics to construct models that optimize traffic flow and public transportation, ensuring improved connection and safety for commuters.
For instance, more than 10 billion data points were gathered for the Citi Logik and Vodafone initiative with Transport for London (TfL). These data points were used to power numerous algorithms that produced journey matrices of roughly 1.2 billion journeys.
The same data was also used to supplement the data from the current roadside sensor network for additional activities. As a result, for the forecast period, analytics applications will quickly enhance operational and management tasks in the transportation sector.
Report Scope of the Transportation Analytics Market
| | |
| --- | --- |
| Report Coverage | Details |
| Market Size in 2023 | USD 18.16 Billion |
| Market Size by 2032 | USD 71.78 Billion |
| Growth Rate from 2023 to 2032 | CAGR of 16.50% |
| Base Year | 2022 |
| Forecast Period | 2023 to 2032 |
| Segments Covered | By Type, By Deployment Mode and By Application |
| Regions Covered | North America, Europe, Asia-Pacific, Latin America and Middle East & Africa |

Covid-19 Impact
The global COVID-19 outbreak has significantly impacted businesses all across the world. Though the COVID-19 pandemic outbreak will likely create profitable chances for market expansion, the transportation analytics market research has experienced a significant increase in recent years. This is attributable to most governments putting their citizens under lockdown and halting international travel to stop the virus's spread. This has impacted several industries' supply chains.
Nevertheless, after the COVID-19 epidemic has passed and the market for transportation analytics has recovered, growth is anticipated in the following years. Additionally, several businesses have started implementing cloud-based transportation analytics solutions to handle important data for businesses and manufacturing processes, creating a profitable possibility for the market to grow throughout the projected period.
Moreover, the necessity to manage the growing number of data produced by various business operations is a major reason propelling the development of the transportation analytics sector. Transportation analytics quickly enhances mobility insights and information, changing transportation planning by facilitating faster, cheaper, and safer access to essential data collection and comprehension.
The industry is expanding as more cities, transit systems, transportation departments, and other organizations use transportation analytics to address problems, decide where to focus their investments, and win over stakeholders.
Furthermore, the monitoring technology has propelled the company beyond straightforward track-and-trace data into a new supply chain awareness realm in just a few years. The usage of technologies in fleet management is also enhancing the effectiveness of transportation. Additionally, data enables greater control in the transportation sector. With the Internet of Things (IoT) sensors installed in trailers, drivers and dispatchers can now monitor and report humidity, temperature, movement, and other crucial factors in real-time, enabling them to take action before a problem develops.
Digital freight platforms allow businesses to look beyond today's cargo by enhancing transparency in the transportation industry. Due to such cutting-edge technology, carriers may obtain specifics like loading/unloading times and lane history data. At the same time, shippers can view regional trends, particular lane cost information, and driver preferences.
All of this data can help reduce operating costs without sacrificing service. During the anticipated term, these advantages will present an attractive potential for market expansion.
Even though COVID-19 has had a significant impact on many different sectors, the market for transportation analytics is predicted to experience a moderate COVID-19 impact because of a significant shift toward digital transformation, an increase in data analytics investments, a rise in the adoption of AI and ML, the introduction of drones and autonomous vehicles, and a rise in the demand for tracking real-time information. During the anticipated period, these developments will likely accelerate market expansion.
Market Drivers
Need to enhance transportation systems in line with continued urbanization
Although transportation systems are critical for economic growth, uncontrolled growth in traffic volumes has triggered various issues, such as traffic congestions, delays, accidents, rising vehicular emissions, escalating fuel prices, and deteriorating quality of life, in different parts of the world. Moreover, these issues are expected to aggravate further in line with the continued population growth and urbanization, according to the UN Population Fund and Population Bureau. Nevertheless, enhancing the safety and efficiency of transportation can help in addressing these issues; and rolling out analytical solutions supported by big data analytics would be one of the potential measures to improve the efficiency and safety of transportation. Furthermore, insights obtained from the analysis of the transportation data can also be utilized to ensure efficient transportation of people and goods.
Advances in information and communication technologies have opened immense opportunities for developing sustainable Intelligent Transport Systems (ITS) capable of accessing and collecting vital data and processing that data accurately. The data collected from the sensing platforms, particularly the intravehicular and urban sensing platforms, can be analyzed to obtain deeper insights into the movement of traffic, which forms the primary objective of transportation analytics. All these factors are expected to drive the adoption of transportation analytics over the forecast period.
Increasing implementation of smart, connected technologies in transportation infrastructure
Advances in Information and Communication Technologies (ICT) can play a decisive role in realizing sustainable urban development. For instance, transportation analytics can enhance the efficiency, safety, and reliability of transportation networks, particularly in metropolitan cities. Similarly, intelligent transport systems, such as Area Traffic Control, can also help in adjusting the traffic signal timings based on realtime traffic information. On the other hand, computer-aided bus dispatch, bus priority signals, and realtime passenger information systems can potentially help in improving bus services.
Open–source transport applications currently deployed in the U.S. in Boston, New York City, and in Manila, Philippines are helping in collecting public transport routing data. This data can be used in improving the design of the transportation network, simulating vehicle sharing systems, assessing the accessibility of public transport, providing accurate time travel route data, and maintaining road safety data. These systems hold the potential to realize a digital infrastructure and transform urban mobility. Big data analytics is also being used in different countries to analyze the changing behavior and travel needs of citizens, identify the patterns, and subsequently, ease traffic congestion.
Having realized that ICT solutions can play a vital role in fostering urban mobility, several governments across the world are aggressively pursuing intelligent transportation initiatives, which bodes well for the growth of the transportation analytics market over the forecast period.
Growing need for enhanced transportation system
An effective transportation system is critical to the socio-economic development of any country. Traffic congestions can typically increase travel time, fuel consumption, and subsequently, vehicular emissions. However, ITS associations estimate that ITS solutions, such as Advanced Traffic Management Systems (ATMS), can effectively reduce the travel time by 25% and the waiting time at traffic signals by 20%-30%, thereby helping in reducing vehicular emissions. Similarly, Electronic Tolling Systems (ETS) and ramp metering systems can potentially help in lowering congestions at toll booths and maintaining the overall traffic flow. Given the limited space for the expansion of the transportation network and the rising costs stemming from congestion, the demand for transportation analytics solutions is expected to increase over the forecast period.
The continued expansion of commercial fleets in line with the growing volumes of manufactured goods and the growth of the e-commerce industry show no signs of abating. At this juncture, an efficient transportation management system can potentially ease the transportation of raw materials, fuel, equipment, and other items required at the manufacturing sites while opening access to remote places, connecting various production resources, and subsequently, helping in realizing economies of scale.
The growing instances of road accidents are also prompting various governments to invest aggressively in intelligent transportation systems. Countries, such as the U.S., India, and Germany, among others, are particularly confronting high accident mortality rates. For instance, according to The Hindu, India recorded around 0.12 million deaths due to traffic negligence in 2020. Hence, these countries have made telematics installation mandatory in many vehicle segments. Transportation analytics would play a niche role in analyzing the data collected by the vehicular telematics systems.
Market challenge analysis
Concerns over reliable data collection, data security, and privacy protection while implementing data analytics
Implementation of big data analytics in transportation may have led to significant developments; however, a few challenges need to be addressed to ensure sustainable growth in the long term. The primary challenges transportation agencies are confronting while implementing analytics solutions include data collection and data privacy. Big data analytics envisages collecting large volumes of data and processing it to derive valuable insights using analytical tools. However, a major concern when it comes to the collection of transportation data is that transportation data can be incomplete, inaccurate, or unreliable at times, particularly owing to the frequent movement of pedestrians and vehicles. Nevertheless, advances in data collection and sensing technologies can potentially help in improving the quality and reliability of transportation data collection.
Addressing the growing concerns over data security and privacy protection are also emerging as potential challenges restraining the growth of the market. Ideally, the data collected by transportation management systems needs to be non-personal data, such as traffic flow and vehicle location data. However, concerns over privacy protection are rising as data collection by both private and public institutions has increased over time. Nevertheless, concerns over privacy protection and data security can be addressed if transport departments regulate personal data, tighten the management of data security certification, and mandate the use of advanced algorithms to enhance the data security levels. Advances in security technologies used in analytical solutions can also help in addressing the growing concerns over data security and privacy protection.
Market opportunity analysis
Government initiatives and measures to promote intelligent transport systems
Continued urbanization and the unabated increase in the number of vehicles plying on the roads are posing various challenges, such as heavy traffic congestion, vehicular emissions, and safety, for urban planners and transportation policymakers. Handling the road congestion costs around 1% of the GDP in Europe, according to the European Joint Research Centre (JRC). Addressing the growing concerns over traffic congestion and safety is turning out to be a priority of most urban infrastructure planners worldwide. At this juncture, the aggressive adoption of intelligent mobility solutions supported by big data analytics is expected to open immense opportunities for the growth of the transportation analytics market over the forecast period.
Several governments across the globe are investing aggressively in the transportation sector. For instance, in the U.S., annual investments in the transportation industry account for around 1.6% of the GDP. At the same time, incumbents of the automotive industry are also investing aggressively in enhancing the safety, comfort, and performance of vehicles using different types of sensors. The data collected by these sensor systems can be analyzed to obtain actionable insights, which can be further utilized in developing intelligent transportation systems, thereby opening new opportunities for the growth of the transportation analytics market over the forecast period.
Aggressive investments in smart mobility solutions
Developing and deploying new, innovative smart mobility solutions can play a vital role in rolling out an effective transportation system. Innovative mobility solutions can particularly help in addressing the issues related to the growing traffic congestion and vehicular emissions, and road safety, among others. Hence, the strong emphasis various governments are putting on deploying intelligent mobility solutions is creating opportunities for the adoption of intelligent transportation solutions, and subsequently, for the growth of the transportation analytics market.
The UAE is considered to be at the forefront in the adoption of intelligent transportation solutions. For instance, Dubai has announced plans to collaborate with Hyperloop One Inc., a smart transportation solutions provider based in the U.S. Meanwhile, Dubai's Roads and Transport Authority (RTA) already has a smart transport strategy 2017–2021 in place and envisages transforming 25% of the vehicular systems into autonomous systems by 2030. Adopting autonomous drones and self-driving buses and taxis is also being considered under the project expansion plans that are expected to be executed shortly.
Similarly, in India, the government's National Electric Mobility Mission Plan 2020 envisages incentivizing the adoption of green and electric vehicles and ramping up domestic vehicle production. The initiative would be complemented by the rollout of multi-modal transport solutions and intelligent traffic management systems. China also envisages having the sales of fully-autonomous vehicles accounting for 10% of the total car sales by 2030. The Chinese government is also looking forward to developing a 100- mile intelligent highway system, specifically for self-driving cars, by 2021. Such initiatives are expected to present immense growth opportunities for the transportation analytics market.
Segments Insight
Type Insights
Due to the widespread implementation of smart transportation and smart city concepts, the market's predictive and descriptive type segment for transportation analytics has seen a consistent demand. Due to the expanding adoption of big data, which has resulted in the rising volumes of generated data and developments in digital technology, descriptive analytics held the greatest market share in 2019.
Most suppliers provide integrated suites of solutions that combine descriptive analytics with prescriptive and predictive analytics. However, using descriptive analytics is important for transportation companies solely interested in optimizing their sales and operational processes and avoiding making significant investments.
Transport businesses and other stakeholders employ sophisticated analytics (prescriptive and predictive) to assist them in projecting future trends to gain a competitive edge. Forecasting helps businesses make wise decisions that reduce carbon emissions and traffic congestion, increase profitability, and enhance road safety.
Additionally, traffic information has played a major role in the developing market for Advanced Traffic Management Systems (ATMS). Understanding the potential for future ATMS goods and services can be gained by studying the commercial traffic information and data sector.
Application Insights
Traffic management dominates the market and will likely grow at a noteworthy CAGR of 15.3% during the forecast period. Traffic jams and accidents brought on by improper traffic management can be addressed with the help of solutions like integrated video analytics and video management software. Additionally, traffic management analytics will decrease vehicle carbon emissions, resulting in environmentally beneficial traffic solutions.
Over the forecast period, the planning and maintenance segment will likely increase significantly. To enhance the financial and operational health of the transportation sector over time, asset planning and its management and maintenance are becoming crucial. For instance, a large rail network with a track more than 20,000 miles has installed thousands of roadside sensors with IBM's assistance to monitor the health of the train's wheels and axles. Due to predictive modeling and machine learning, the business can conduct preventive inspections and maintenance and lower operational equipment failure.
Deployment Mode Insights
Industry participants use three deployment techniques: on-premise, cloud, and hybrid. The most popular method for deploying this technology is through the cloud, and this method will likely continue to dominate in the upcoming years. Some key characteristics that will increase the usability of cloud technology in the use of transportation analytics solutions include its scalability and flexibility, security considerations, and control over the data center. As of 2022, more than 61% of workloads are performed on a hosted cloud service, according to specialists in the computer sector.
During the projected period, hybrid clouds with integrated environments that include on-premises, private, and public clouds will exhibit high growth rates. Consolidating clouds and analytics assists businesses in storing, processing, and interpreting their data to better fulfill the needs of their customers. Cloud computing is supporting company efficiency.
In the transportation sector, there has been a dramatic increase in the amount of data collected from several sources, including data collecting sites and onboard sensors introduced by vehicle positioning systems, passenger counting systems, fare collection, and ticketing systems, among others. Cloud computing and analytics have an unrivalled potential in planning and administering transportation networks over time.
Regional Insights
Due to the early acceptance of transportation analytics solutions, North America and Europe will likely be the primary areas over the projected period. The region with the fastest predicted growth will likely be Asia Pacific, thanks to the region's expanding smart transportation and smart city efforts.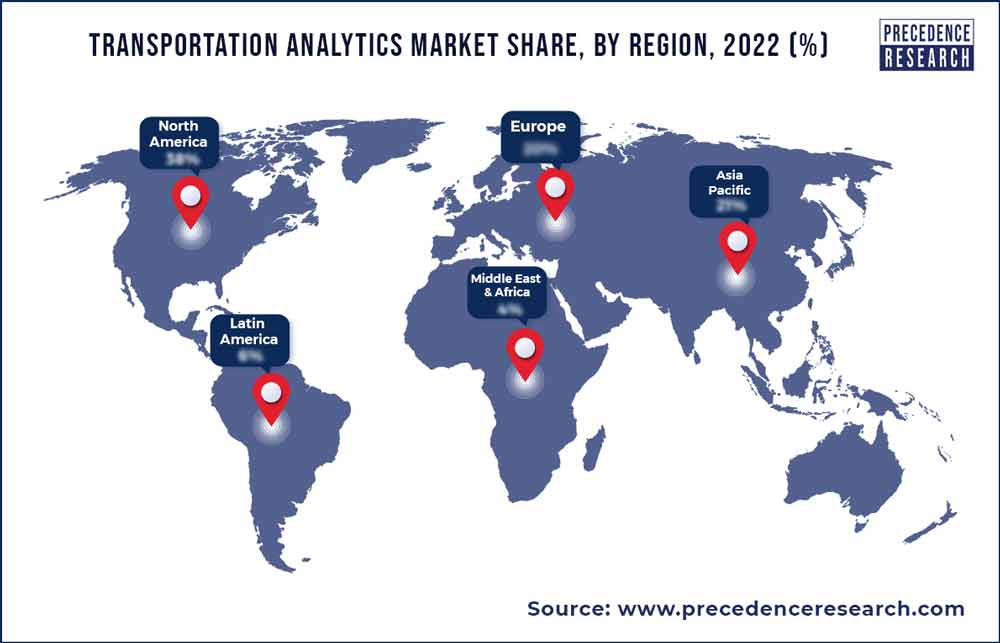 Likely, nations like Taiwan, South Korea, Australia, South Korea, Japan, and China will take the lead in transportation and traffic management projects. For instance, China's Modern Comprehensive Transportation System's 13th Five-Year Plan, unveiled in February 2017, aims to create an integrated, effective, secure, and modern transportation system by 2020.
State and local governments all around the world are currently pursuing numerous programs to improve intelligent transportation practices. For instance, the Automated Traffic Surveillance and Control system, which spans 469 square miles and has about 4,500 traffic lights, was introduced in Los Angeles in 2013. Over time, it has evolved into one of the most complex systems for reducing traffic and congestion. These global initiatives will increase the long-term usefulness of transportation analytics services and improve the sustainability of transportation infrastructure.
Key Companies
Strategic mergers, partnerships, and acquisitions will likely be the most efficient means for business players to expand their technology capabilities and access growing markets quickly. Product innovation and differentiation will likely open up new business opportunities. Additionally, there will be potential rivalry due to the growing startup scene and transport analytics startups like Populus.ai, TERAKI, Conduent, Sixgill, Motion tag, Urbanlogiq, Immense simulations, IoTium, Emu Analytics, Cyberowl, and B-Line Transportation, among others.
GRIDSMART Technologies Inc., a manufacturer of video tracking technologies for the market of intelligent traffic systems, was bought by Cubic in January 2019. Utilizing computer vision modeling and machine learning, GRIDSMART Technologies Inc. is an expert in video detection at traffic crossings, which will expand Cubic Corporation's product line and clientele. Similar to this, in January 2020, Sisense and Periscope Data combined. As a result, Sisense for cloud data teams is now marketed and sold. For its clients, the two businesses' combination will help create a standalone, integrated, end-to-end data analytics platform. The following are a few of the leading companies in the transportation analytics market:
Cubic Corporation
IBM Corporation
Oracle Corporation
SisenseInc.
CellintCorporation
Inrix Corporation
Hitachi Ltd.
AlteryxInc.
OmnitracsLLC
SmartDrive Systems Inc.
Segments Covered in the Report:
(Note*: We offer report based on sub segments as well. Kindly, let us know if you are interested)
By Type
Descriptive Analytics
Predictive Analytics
Prescriptive Analytics
By Deployment Mode
By Application
Logistics Management
Traffic Management
Planning & Maintenance
Others
By Geography
North America
Europe
Asia-Pacific
Latin America
The Middle East and Africa