The global ultrasound devices market size accounted for USD 10.5 billion in 2022 and it is projected to hit around USD 22.98 billion by 2032, growing at a CAGR of 8.2% during the forecast period 2023 to 2032.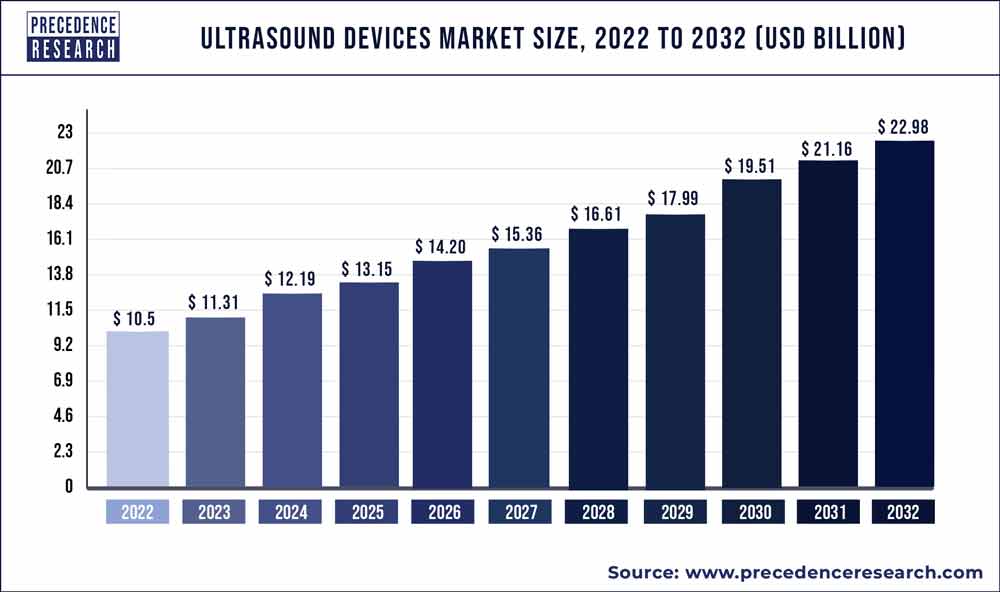 Access our Premium Real Time Data Intelligence Tool, Visit: Precedence Statistics
Increases in targeted and chronic diseases, road accidents, other accidents, cancer cases, and healthcare innovations are all factors driving the growth of the ultrasound devices market. Furthermore, the growing technological and digital world, as well as advancements in healthcare, fuel market growth.
Key Takeaways:
North America generated more than 32% of the revenue share in 2022.
By technology, the diagnostic segment is predicted to dominate the market between 2023 and 2032.
By application, the radiology segment is projected to dominate in the forecast period.
By end user, the hospital segment is expected to dominate the market between 2023 and 2032.
Report Scope of the Ultrasound Devices Market
| | |
| --- | --- |
| Report Coverage | Details |
| Market Size in 2023 | USD 11.31 Billion |
| Market Size by 2032 | USD 22.98 Billion |
| Growth Rate from 2023 to 2032 | CAGR of 8.2% |
| Largest Market | North America |
| Base Year | 2022 |
| Forecast Period | 2023 to 2032 |
| Segments Covered | By Technology, By Application, and By End User |
| Regions Covered | North America, Europe, Asia-Pacific, Latin America, and Middle East & Africa |

Market Dynamics:
Drivers:
Ultrasound devices are less expensive.
With a rise in persistent diseases comes an increase in healthcare advancement. The ultrasound method is the oldest and most effective for patient pre-diagnosis. There are other methods for pre-diagnosis detection, such as computed tomography (CT) scans and magnetic resonance imaging (MRIs), although they are relatively expensive, and the new technological advancements and techniques make them costly. Furthermore, as technology progresses, ultrasound technology develops, with new AI integration features and high image quality, but ultrasound devices remain relatively inexpensive compared to other methods. As a result, the market's expansion is driven by the low-cost and reliable old method.
Development of advanced healthcare systems
Increases in technological advancements, the digital world, the IT industry, and artificial intelligence are key market growth factors. Furthermore, population growth and the need to expand treatment methods with technological advancement can treat a greater number of patients with positive outcomes. In addition, the quality of the treatment provided to the patient is critical, and the pre-diagnosis detection should be accurate and clear to proceed with the diagnosis.
Ultrasound technology advancements such as the incorporation of artificial intelligence, improved quality of 4D imaging, elastography methods, quantification, and selecting the ideal images are a few advancements that can enhance the quality of the results, resulting in market expansion.
Furthermore, advances in technology can provide more treatment options, thereby improving healthcare quality. According to Columbia University research news, a new ultrasound device offers a new treatment option for hypertension by calming the overactive kidney nerves with ultrasound, which consistently lowers blood pressure.
Safer than other technologies
Other imaging technologies depend on radiation, which really is harmful to human health. The ultrasound device does not use radiation, is non-invasive, and has a long track record of safety. Because of this safety feature, ultrasound is the most widely used medical imaging method for fetus during pregnancy. Ultrasound imaging is one of the best options for medical diagnosis because of its lack of harmful effects and high image quality. According to the FDA, medical professionals must consider ultrasound examinations, which use relatively little ionization radiation exposure, as part of the FDA's strategy to reduce unnecessary radiation exposure from medical imaging.
Restraints:
Lack of training
Healthcare is a large industry, and medical practices and training are critical to the effectiveness and quality of treatments. There are few guidelines for ultrasound imaging treatment and training. Point-of-care ultrasound is the use of ultrasound at the point of care to answer a diagnostic question or to help the effectiveness of an invasive procedure. It has the potential to improve clinical decision-making and accuracy. Although the prevalence of point of care in hospitals varies, it has seen less use in recent years due to a lack of training.
According to a survey conducted by VA medical centers, the most frequently reported barrier to POCUS used among hospitalists include lack of training due to funding and opportunities for training. As a result, a lack of training can impact the quality of treatment, stifling market growth.
Opportunities:
Integration of AI
With the growth of the IT industry and its applications in various other fields. For a long time, healthcare has led the way in technological developments, and it is now used in almost every clinical department and pharmaceutical and medical industries. AI-based solutions are being implemented to improve patient outcomes by increasing diagnostic accuracy and assisting in decision-making. For example, deep learning in medical imaging provides patients with a seamless, integrated, personalized treatment journey. With various applications of artificial intelligence integration, it may be a future opportunity for market growth.
Segments Insight:
Technology Insights:
The ultrasound devices market is divided into diagnostic and therapeutic segments. Diagnostic ultrasound technology is expected to dominate the market as the demand for ultrasound inspection grows, owing to its ease of use, lower implementation costs, and versatility. Considering these advantages, advances in diagnostic ultrasound imaging technology for improved diagnosis and immediate clinical information have been made.
Due to its efficacy, speed, low cost, and non-invasive nature, this technology is recommended over other imaging techniques. The diagnostic ultrasound industry will continue to evolve as the clinical application scope expands, including orthopedics, cardiology, obstetrics, gynecology, breast and prostate cancer detection, and emergency medicine.
Application Insights:
The application market of ultrasound devices is segregated into radiology, cardiology, gynecology, urology, and others. The radiology segment of the market is expected to dominate in the forecast period. Population growth, as well as the rising prevalence of cancer and chronic diseases, are factors influencing its expansion. Furthermore, because ultrasound devices are primarily used in the radiology segment, in vitro testing will increase demand for imaging workups due to its increased sensitivity and potential diagnoses.
Furthermore, as various advancements in imaging and capturing technology are made, the use of ultrasound devices will become more prevalent. In addition, many new features, such as harmonic tissue imaging, model-based segmentation and imaging, catheter-based ultrasound, and elastography, are increasing demand in the radiology ultrasound application.
End User Insights:
The market for ultrasound devices market is segregated into hospitals, surgical centers, diagnostic centers, and others. The hospital segment is anticipated to dominate the market in the forecast period. A few of the driving factors of the hospital ultrasound devices market are the rise in the number of patients, an increase in chronic diseases, a large population, more treatment options, and quality diagnosis. Furthermore, an increase in the number of clinical departments in hospitals that use ultrasound devices best boosts market growth in the hospital sector.
The rise in road accidents and the increase in orthopedic surgery and surgical procedures are driving the demand for ultrasound technology for pre-diagnosis and immediate and quality treatment. According to an orthopedic study, fractures were the most common type of injury, accounting for 71% of all total injuries. As a result, the number of accidents has increased, as have the number of surgeries and the use of ultrasound devices for pre-diagnosis.
Regional Insights:
North America region is expected to increase in the forecasted period. An increase in cancer and cardiovascular cases in the region works as a primary factor for the demand in the market. According to the National Cancer Institute, approximately 1.9 million people in the United States are predicted to be diagnosed with cancer in 2022. Breast cancer will be diagnosed in about 287,850 women, making it the most common cancer diagnosis.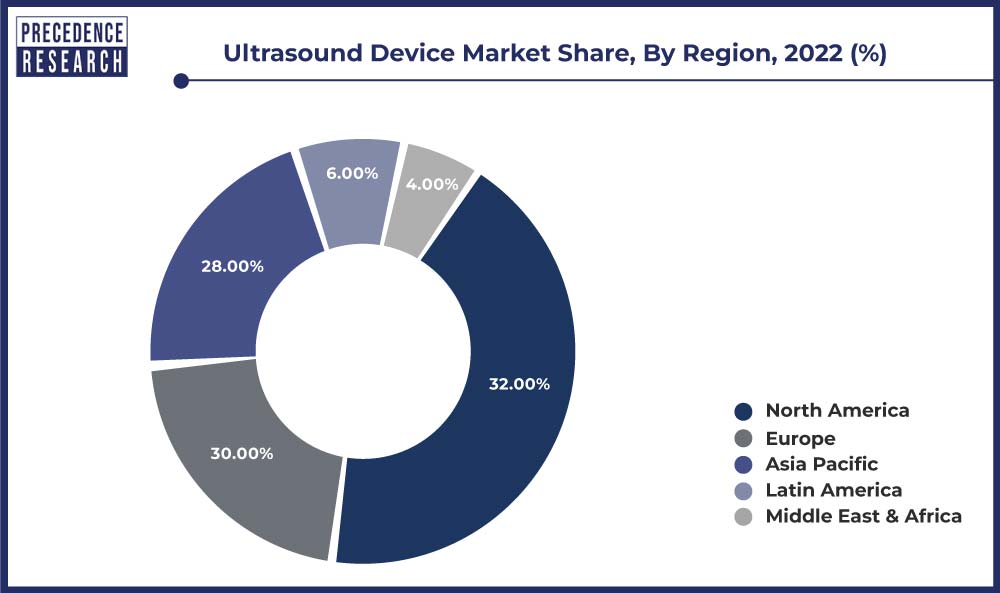 Furthermore, market participants in the ultrasound devices market are employing various strategies. There has been an increase in the number of additional features and technological updates, which has increased market demand. For example, Samsung Healthcare's recently launched R585 prestige has been revamped with novel diagnostic features across each application and aids in confirming the diagnosis with confidence, particularly in complex cases.
Recent Developments:
February 2023, GE HealthCare will acquire Caption Health, which will enlarge ultrasound to support the new users through FDA-approved, AI-powered diagnostic imaging.
January 2023, Fujifilm Sonosite Introduces a New Point-of-Care Ultrasound System Sonosite PX, featuring the most advanced image clarity in the Sonosite system, a toolkit of workflow effectiveness features, and an able to adapt form factor, has been introduced in India.
January 2023, Canon Medical Systems has accomplished a strategic partnership agreement with ScImage, Inc. This partnership includes the ScImage to provide Cloud-native company image management, PACS, as well as image transfer solution provider for the healthcare sector.
December 2022, Siemens Healthineers Ultrasound has launched an AWS Remote Services platform. It includes the systems that address any clinical area's diagnostic, functional, and financial requirements.
October 2022, Siemens Healthineers introduced its revised Acuson ultrasonic line at this year's European Congress of Diagnostic imaging in Vienna. The updates are aimed at enhancing clinical adaptability and address issues in a wide range of medical applications.
Company Profiles and Competitive Intelligence:
The key players operating in the global ultrasound devices market:
Koninklijke Philips N.V.
Samsung Medison Co., Ltd.
Siemens Healthineers AG
FUJIFILM SonoSite, Inc.
GE Healthcare
Canon medical system corporation
Hologic, Inc.
Terason
Analogic Corporation
Mindray Medical International Ltd.
Segments Covered in the Report:
(Note*: We offer report based on sub segments as well. Kindly, let us know if you are interested)
By Technology
By Application
Radiology
Cardiology
Gynaecology
Urology
Others
By End User
Hospitals
Surgical centres
Diagnostic centres
Others
By Geography
North America
Europe
Asia-Pacific
Latin America
The Middle East and Africa