The global wearable sensors market size was estimated at USD 978.86 million in 2022 and is projected to surpass around USD 4336.7 million by 2032, growing at a CAGR of 16.1% from 2023 to 2032.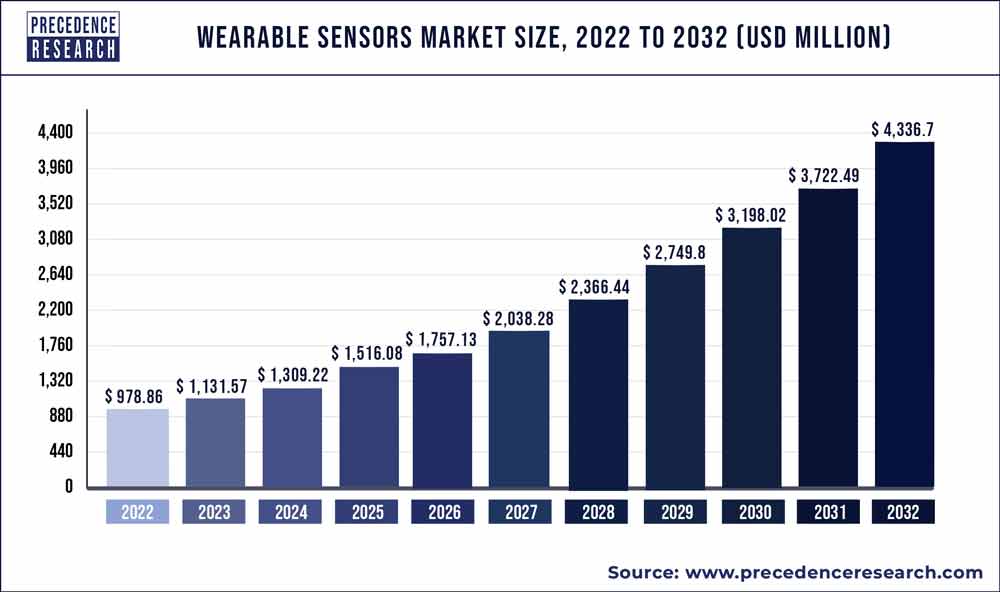 Key Insights:
On the basis of product, the gyroscope segment is projected to expand at the fastest rate from 2023 to 2032.
On the basis of application, the smart wristwear segments would grow significantly from 2023 to 2032.
The North America region captures the largest revenue share of over 60% in 2022.
Market Overview
People can track information about their health and fitness by wearing a wearable sensor, a technology device. These sensors are typically integrated into clothing or other fashion items, such as watches, and are used to track and diagnose metabolic processes as well as vital indications including heart rate, blood pressure, and blood oxygen saturation. Wearable technology is expanding as a result of rising health and safety awareness among individuals, increased consumer electronics expenditure, urbanization, and enhanced lifestyles of the expanding population. Affordability and ergonomics made possible by advancements in miniaturized electronics, the prevalence of smartphones and connected devices, and the growing demand for low power, smaller, lighter sensors with improved performance are additional factors driving the growth of wearable technology, including Fitbit, ear wears, and watches.
Report Scope of the Wearable Sensors Market
Report Coverage
Details
Market Size in 2023
USD 1,131.57 Million
Market Size by 2032
USD 4,336.7 Million
Growth Rate from 2023 to 2032
CAGR of 16.1%
Base Year
2022
Forecast Period
2023 to 2032
Segments Covered

By Product
By Application
By Vertical
By Technology

Regions Covered

North America
Europe
Asia-Pacific
Latin America
Middle East & Africa

Market Dynamics
Wristwear, bodywear, and eyewear are increasingly being used in healthcare and consumer information infotainment. Wearable product technology has steadily improved over time, and devices are becoming smaller.
With improvements in sensor technology, wireless communication devices/technology, power technology, and other areas, the market for wearable sensors is expanding steadily. Also. The market for wearable sensors is being pushed by developments in sensor technology, the growing usage of wearable sensors for newborns, and rising home and remote patient monitoring adoption. Additionally, since these sensors can be connected to other devices, the usage of smart consumer electronics devices like tablets and smartphones has made monitoring and data collection possible.
Other factors include advancements in technology that have led to the introduction of various new devices such as the smart shirt, smart ring, glasses, and more; and the increasing demand for the Internet of Things (IoT) is rising across a number of industries, including consumer electronics, healthcare, and fitness. However, wearable sensors' expensive price and concerns about privacy and data integrity are hampering the growth of the market. However, strict data storage regulations are expected to increase the popularity of wearables among the masses.
Microelectronics-based sensor downsizing has been essential to the creation of wearable technology. The size of the sensors is one of the biggest obstacles to the adoption of sensing technologies, particularly for wearable electronics. The hardware components gather movement and physiological data that is appropriate for long-term monitoring applications. Major players who extensively invest in R&D include STMicroelectronics, NXP Semiconductors, and Broadcom. Another important factor driving the market is the expanding use of sensors built with MEMS, Nano Electromechanical System (NEMS), and CMOS technologies.
The trend toward shrinking is also being driven by the quick uptake of smartphones and other connected devices, such as the rising demand for low-power, smaller, lighter sensors with better performance. Technological developments in nanotechnology and microfabrication have accelerated the miniaturization process, lowering the cost of smart sensors and ensuring the introduction of smart fabrics. A glucose monitoring device that can be used for up to 14 days was also exhibited by Abbott Laboratories in January 2022. The consumer demand for wearable devices in healthcare applications is propelling the growth of the global wearable sensors market. For instance, Relief band Technologies LLC showcased the Relief band Sport smartwatch at the Consumer Electronics Show (CES) 2022, which can prevent and treat nausea and vomiting caused by anxiety, hangovers, motion sickness, migraines diagnosed by a doctor, chemotherapy, and pregnancy-related morning sickness.
COVID-19 Impact
The COVID-19 pandemic had an impact on the economies and industries of numerous nations. The COVID-19 outbreak has a detrimental supply-side impact on the market for wearable sensors throughout the rest of the world. This barrier was brought about by the 2020 interruption in semiconductor and electronics supply lines. The market for wearable sensors, however, was unaffected from the standpoint of demand. For instance, Samsung said at the end of 2020 that it would be manufacturing smartwatches and fitness bands in Brazil and that it had seen a 218% rise in smartwatch revenue in Q1 2020 compared to Q1 2019.
Segments Insight
Product Insights
During the forecast period, the wearable gyroscope sensor market is anticipated to expand at the fastest rate. Smart watches, smart glasses, electronic pedometers, and other wearable tech are the most common examples. The demanding lifestyle in developing countries has contributed to the expansion of the wearable electronics market. As a result, there is a higher demand for wearable goods including boots, wristbands, and eyewear. In all applications for wearable technology, sensors including accelerometers, gyroscopes, pressure and force sensors, and medical sensors are frequently employed. The demand for the accelerometer sensor has increased as it is the most useful sensor for wearables for medical assistant measurement and evaluation in freelance/clinical or laboratory settings. Numerous businesses, like NXP Semiconductors NV, Analog Devices, ST Microelectronics, etc., are investing in the production of sophisticated accelerometers due to the rising demand for wearable technology. For instance, the InvenSense ICM-45xxx Smart MotionTM with Balanced GyroTM technology was introduced by TDK Corporation in 2022 for use in consumer applications.
Application Insights
During the projected period, it's anticipated that the smart wristwear applications market would grow significantly. Wearable technology performs a wide range of tasks, from basic ones like tracking heart rate and calories burned to sophisticated ones like delivering information on taste, hearing, smell, and vision. Half of the market for wearable sensors was made up of wristbands. Bodywear is further broken down into clothing and undergarments, arm and leg wear, smart socks, cameras that can be worn on the body, and chest straps.
Verticle Insights
Based on vertical, the market phase classes into Healthcare, Consumer Electronics Industrial Enterprise, and Others. Rising shopper demand for device-fused devices is driving the expansion of the market. Additionally, shoppers develop a lot of awareness of the advantages of remote observation of welfare and fitness. The consumer's stern issues involve technological advancements in sensors, retailers' skills to supply varied products, and several other wearables. Additionally, rising consumer demand for lifestyle trailing devices, wellness, and fitness has been a key positive factor rising the growth of the wearable sensor market. Increasing demands for VR headsets, and wrist-worn, sensible vesture are expected to considerably boost the wearable sensors market growth. Thus, major distinguished vendors finance expenditures on innovations and provide users with the best result or solutions conceivable. During this era, the commerce model of digitization, product, and services is introducing a democratic system within the gift health care systems with the assistance of connecting them with stylish technology. Henceforth, the trends in health technologies regarding artificial intelligence, wearables, and computer game telemedicine are driving the expansion of the market.
Additionally, those that support targeted health, still as well-being services, are boosting the growth of the market. For Example, healthcare wearable devices will be active in a range of applications for customized medical help of illness or treatment. It's used for reaching from trailing air quality with inhalers to police work carcinoma with brassiere inserts. The market is driving positive growth within the wearable device market because of the faster time to market, Lower regulative barriers, early diagnosis, and doctors' unmet wish for continued medical excellence knowledge from their patients. Advanced physical science carries effective technology in the field of health care nosology and monitoring.
Technology Insights
Based on technology, the market section is classified into MEMS, CMOS, and different Technologies. The employment of electronics to cut back sensors or shrink sensors is crucial in the development of wearable devices. The scale of sensors is one of the largest barriers to detection and distinguishing technology adoption, in the main wearable devices. The main hardware parts gather the knowledge on physiological and suppleness data that is employed for semi-permanent monitoring. The main distinguished vendors are finance expenditures in analysis and development love NXP Semiconductors, STMicroelectronics, and Broadcom.
The rising usage of sensors such as MEMS, nanoelectromechanical systems, and CMOS technologies are the factors that are expected to spice up the expansion of the worldwide wearable sensing element market throughout the forecast period. CMS sensors typically have lower resolution, lower quality, and lower sensitivity however currently makers are rising to the purpose wherever they'll reach near equality with CCD devices in varied applications.
CMOS camera ordinarily has excessive battery life still as pricely|more cost-effective} compared to the opposite devices. MEMS inclinometers and accelerometers are nice-accuracy mechanical phenomenon sensors, with very little cost that facilitate a widespread diversity of producing applications. MEMS is applied to the sensor; the deferred mass generates a variance in the potential drop that is restrained by an amendment in capacitance.
Regional Insights
North America accounted for the largest revenue share of over 60% in 2022 and is expected to show its dominance during the forecast period. Several reasons will propel the market for wearable sensors in North America. The launch of new products as a result of technological innovation and developments is one of the most crucial factors.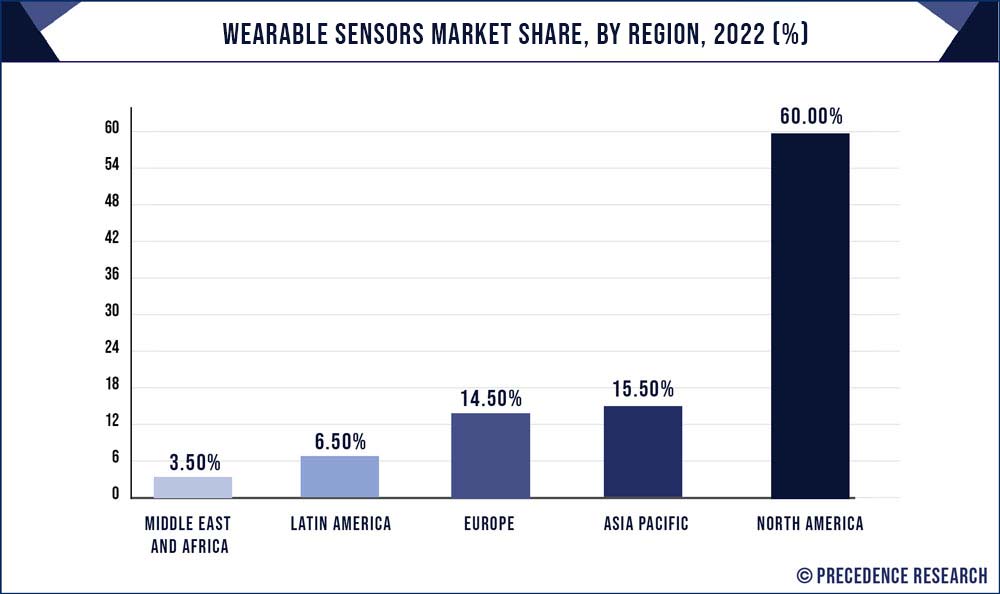 The market expansion in North America has also been fueled by rising consumer demand and medicinal applications. Incidences of chronic diseases are rising, which is another factor driving the market growth.
Recent Developments
In August 2021, Analog Devices obtained Maxim Integrated to reinforce its analog and mixed-sign portfolio, extend its attain in greater markets, and expand its virtual and sensor products, serving the communications, automobile, consumer, and commercial sectors end-markets.
In April 2020, Infineon Technologies AG obtained Cypress Semiconductor Corporation to bolster the structural boom on a broader variety of programs together with semiconductors, automobile microcontrollers, sensors, and safety solutions.
Key Market Players:
Robert Bosch GmbH
Infineon Technologies AG
InvenSense, Inc.
Knowles Electronics
Panasonic Corporation
Sensirion AG
General Motors
Asahi Kasei Corporation
TE Company LTD.
Analog Devices inc.
Segments Covered in the Report
(Note*: We offer reports based on sub-segments as well. Kindly, let us know if you are interested)
By Product
Temperature and Humid Sensor
Motion Sensor
Accelerometers
Magnetometers
Gyroscopes
Image Sensor
Medical Sensor
Pressure & Force sensor
Inertial Sensor
By Application
Smart bodywear
Smart Wrist Wear
Smart Eye Wear
Smart Neckwear
Smart Footwear
Others
By Vertical
Healthcare
Consumer Electronics
Industrial Enterprise
By Technology
MEMO
CMOS
Other Technology
By Geography
North America
Europe
Asia-Pacific
Latin America
Middle East & Africa (MEA)