The global workflow management system market size was estimated at USD 10.3 billion in 2022 and it is projected to be worth around USD 98.6 billion by 2032, poised to grow at a CAGR of 25.34% during the forecast period 2023 to 2032.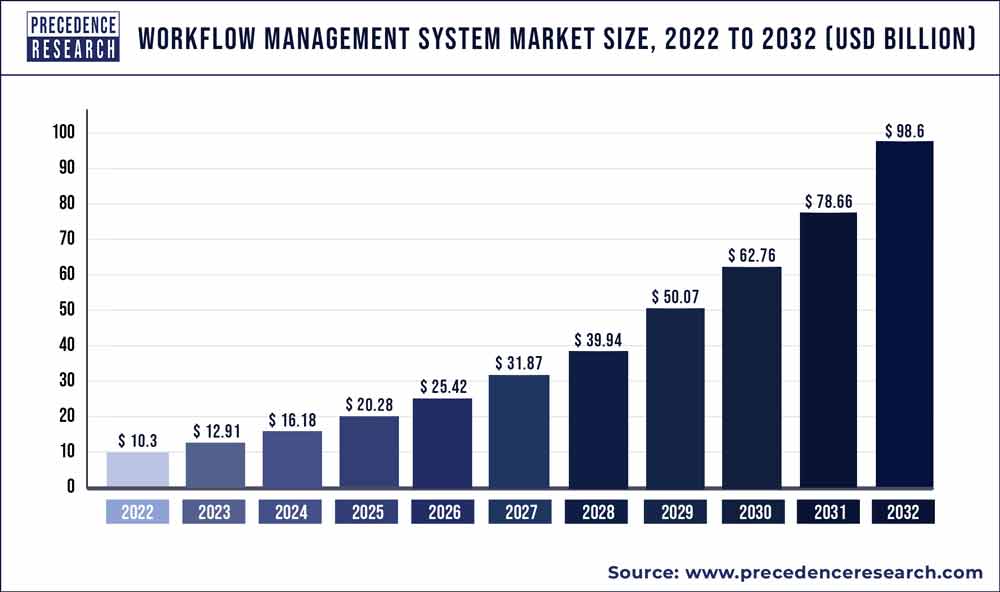 Key Takeaways:
North America region has accounted revenue share of 42% in 2022.
By component, the software segment has accounted revenue share of 66.4% in 2022.
By software, the production workflow system segment generated a revenue share of 36.3% in 2022.
By service, the consulting segment has held a revenue share of 40.9% in 2022.
By deployment, the cloud segment accounted for a market share of 67.9% in 2022.
By vertical, the BFSI segment has captured a revenue share of around 32.8% in 2022.
Market Overview:
A workflow management system (WFMS) is a specialized software tool utilized to establish, oversee, and execute workflows within organizations. This approach integrates both software programs and human resources into a cohesive process structure. By enhancing efficiency and cutting operational expenses, workflow management systems offer valuable business process management capabilities. These systems typically streamline workflows, processes, and automation.
The surge in demand for workflow management systems can be ascribed to the increasing necessity for corporate process modernization. Additionally, the ongoing digital transformation across industries has been a major driver for the adoption of WMS solutions. Organizations strive to modernize their processes and become more efficient, thus they are increasingly turning to WMS to automate workflows, reduce manual tasks, and improve overall productivity.
Growth Factors:
Workflow management systems offer robust process automation capabilities, allowing businesses to streamline their operations and achieve higher levels of efficiency. With automation, organizations can eliminate bottlenecks, reduce errors, and accelerate task completion, leading to cost savings and enhanced competitiveness. The growing popularity of cloud-based solutions has provided significant opportunities for the WMS market. Cloud-based WMS offers greater flexibility, scalability, and cost-effectiveness, making it accessible to businesses of all sizes. It also facilitates remote access, enabling organizations to manage workflows from anywhere, which became even more critical during the COVID-19 pandemic and the rise of remote work.
Furthermore, the implementation of workflow management software is expected to drive market growth, primarily due to its associated benefits, such as cost efficiency, improved resource utilization, and enhanced business processes. As businesses expand and encounter changes in their operations, the increased handling of larger data volumes and additional functionalities creates a demand for workflow management software. These factors are set to fuel the continued growth of the workflow management system market. Also, the integration of AI and machine learning technologies into WMS platforms offers opportunities for intelligent process automation, predictive analytics, and continuous improvement, further enhancing the value proposition of these systems.
Report Scope of the Workflow Management System Market:
| | |
| --- | --- |
| Report Coverage | Details |
| Market Size in 2023 | USD 12.91 Billion |
| Market Size by 2032 | USD 98.6 Billion |
| Growth Rate from 2023 to 2032 | CAGR of 25.34% |
| Largest Market | North America |
| Base Year | 2022 |
| Forecast Period | 2023 To 2032 |
| Segments Covered | By Component, By Deployment, and By Vertical |
| Regions Covered | North America, Europe, Asia-Pacific, Latin America, and Middle East & Africa |

Market Dynamics:
Driver:
Increasing need for transforming customer and employee experience
Undoubtedly, once individuals experience the convenience of mobile apps they become unwilling to revert to the old ways. As a result, expectations for interfaces and overall service excellence escalate, necessitating companies to adapt to stay competitive. Surveys show that 84% of organizations that prioritize enhancing customer experience observe a subsequent increase in revenue. It is no surprise that customer experience has become the new battleground, with 89% of businesses soon expected to compete primarily based on this factor, according to Gartner surveys. Additionally, meeting employee expectations is equally crucial, as failing to do so can lead to reduced loyalty, increased turnover, and related expenses.
Companies recognize the importance of structured onboarding programs, as employees who undergo such programs are 58% more likely to remain with the organization for three years. In response to new employee expectations, many companies are implementing automated onboarding processes, supported by workflow management software, to streamline and expedite employee assessment, hiring, training, and onboarding workflows. Furthermore, employees expect a unified platform for accessing IT, procurement, HR, and other internal services. This trend revolves around integrating user-friendly interfaces, customer mapping, multi-device accessibility, artificial intelligence, and various other features to continuously enhance services for both customers and employees. When selecting a workflow management tool, it is essential to ensure its capacity to support service improvement initiatives. However, workflow management systems is significant in this transformation by automating and optimizing workflows, allowing organizations to deliver faster, more personalized, and efficient services to their customers.
Restraints:
Data privacy and security issues
Amidst the emergence of a new breed of online criminals during the pandemic, many business leaders continue to rely on manual processes to safeguard against online data theft. By depending solely on physical security measures, they may avoid the need to adapt to ever-evolving hacking techniques. However, while manual workflows may offer short-term protection, they do not absolve businesses of potential risks, including data loss and potential downtime. To address these challenges, it is imperative to select a workflow automation tool equipped with advanced security features to safeguard the collected data.
A prudent approach involves opting for a solution with top-tier workflow automation features, such as database encryption, password protection, and workflow tracking. By ensuring these innovative security measures are in place, businesses can gain real-time insight into the status of their workflows, promptly identify any threats, and swiftly take action to resolve them. Embracing such a security-focused workflow automation tool empowers organizations to proactively protect their data and defend against evolving cyber threats, ensuring a more robust and secure operational environment.
Opportunities:
Collaboration of RPA and workflow management
The collaboration of RPA and workflow management is likely to offer growth opportunities for the workflow management system market in the years to come. The adoption of RPA (Robotic Process Automation) is rapidly increasing due to the efficiency of bots in handling low-level and repetitive tasks, often replacing human involvement. Early adopters in shared services and administrative organizations have already experienced significant benefits from RPA implementation. According to the 2018 Deloitte Global RPA Survey, 53% of respondents had embarked on their RPA journey, with substantial improvements observed across various dimensions, including enhanced compliance (92%), improved quality/accuracy (90%), increased productivity (86%), and cost reduction (59%).
However, it is essential to recognize that bots are limited when dealing with implicit processes, a capability humans possess. As a result, many businesses are adopting a combined approach, leveraging both RPA and workflow management technologies. In this model, bots and humans collaborate to complete workflow tasks, with task assignment and flow control managed by the workflow management solution. This integrated approach is gaining popularity, and it is foreseeable that future scenarios will require close cooperation between humans and bots. Therefore, it is crucial for businesses to ensure that their workflow management software offers an open API for seamless integration with RPA systems and supports effective human-bot collaboration.
Impact of COVID-19:
The COVID-19 pandemic significantly disrupted traditional business processes across various industries, prompting a reevaluation of business continuity strategies. One crucial area under scrutiny was workflow management, which involves coordinating interconnected activities across the enterprise. The pandemic fundamentally altered how people work and how organizations manage resources, necessitating a highly responsive and dynamic approach. However, the pandemic underscored the critical importance of workflow management solutions that capture and integrate information from diverse data sources, providing aggregated reporting structures for informed decision-making at an enterprise-wide level. These solutions demand flexibility, extensibility, and adaptability beyond the limitations of static reporting systems, especially in the context of a global pandemic.
Also, workflow management capabilities were been developed to track COVID-19 information within organizations. This included swiftly adapting resource planning to ensure safety, health, and security, establishing new workflows in response to rapidly changing conditions, and facilitating comprehensive statistics and reporting at both site and organization levels. Enterprises were in need to understand the number of employees and contractors affected by COVID-19 to redistribute tasks effectively. Additionally, tracking trends in cases, recoveries, and hospitalizations over infection waves helped define customized triggers to initiate targeted business actions. Thus, it is anticipated that the market will continue to grow in the future.
Segments Insight:
Product Insights:
On the basis of software, the production workflow system segment held a considerable revenue share in 2022. Implementing production workflow software leads to reduced overhead costs, time savings, increased profitability, and improved visibility into the production processes within the business. It significantly reduces overhead costs by streamlining and automating production processes, eliminating the need for excessive manual interventions and optimizing resource allocation. This reduction in overhead expenses allows businesses to allocate their financial resources more efficiently, thereby enhancing overall financial health and sustainability.
As businesses seek to optimize their production workflows, they are turning to advanced software solutions that streamline operations, reduce manual interventions, and enhance overall efficiency. These factors are likely to create opportunities for the segment growth of the workflow management system market during the forecast period.
Application Insights:
Based on the application, the BFSI segment held the largest market share in 2022. Utilizing workflow management software enables the banking industry to streamline and optimize various processes. Traditional credit card application processing often consumes significant time, leading to customer dissatisfaction. However, with the implementation of hyper-automation, banks can expedite this workflow. By collating and verifying information, running background checks, and assessing customer eligibility within a few hours, the workflow management software facilitates faster credit card processing, ultimately enhancing customer satisfaction and retention.
Furthermore, ensuring accurate and up-to-date general ledgers is crucial for effective financial information tracking in banks. Hyperautomation proves instrumental in improving the accuracy and efficiency of general ledger management. Equipped with predefined rules, the workflow management software automates the process of updating liabilities, assets, expenses, and revenue in the general ledger. This reduction in manual data entry and automated calculations results in maintaining error-free general ledgers with an impressively quick turnaround time. Embracing hyper-automation in this aspect significantly contributes to improved financial reporting and regulatory compliance, solidifying the overall efficiency and reliability of banking operations.
Regional Insights:
North America held the largest revenue share in 2022. The US dominated the North America region in 2022. The increasing adoption of digital transformation strategies along with rapid integration of process automation in the region has created a favorable environment for the growth of the workflow management system market during the forecast period. Furthermore, the increasing focus on data security is also likely to support the regional growth of the market. During the transition from legacy to new-age technologies, a workflow management system solution is significant in ensuring the security and safety of data.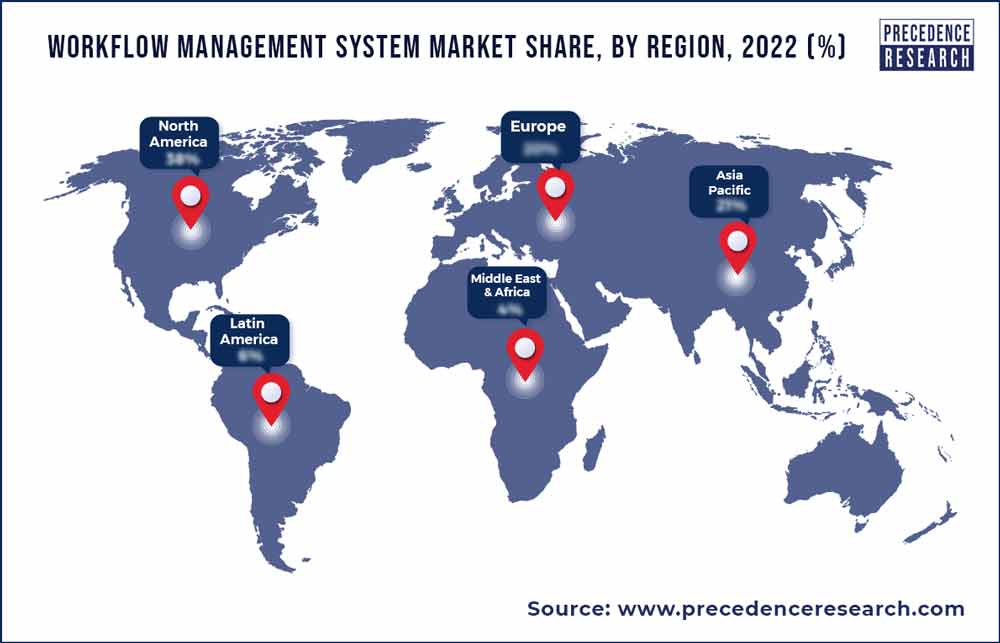 Asia-Pacific is expected to grow at the fastest CAGR during the forecast period. The regional growth of the workflow management system market is expected to be boosted during the forecast period due to the rising demand for eliminating task redundancies and promoting productivity and efficiency. Furthermore, the region is witnessing economic growth as well as industrial development creating an environment for the adoption of advance technologies. This is also expected to support the growth of the market within the estimated timeframe. Additionally, the rising need for collaboration and communication along with growing IT infrastructure is also anticipated to contribute to the growth of the market in the region.
Recent Developments:
In May 2023, Monday.com Ltd. unveiled monday dev, an innovative product that consolidates software development tracking in one unified platform, fostering seamless collaboration among developers, engineers, and administrators. Through monday dev's integration with Work OS, product and development teams can effortlessly collaborate with other departments, enabling them to effectively strategize product roadmaps, manage sprints, plan releases, gather customer feedback, and handle backlogs. This integration is anticipated to empower organizations to channel their development efforts and resources towards achieving product success.
In November 2021, Harbinger Group entered into a strategic partnership with Workato, a prominent intelligent integration and automation platform. This collaboration aims to expedite integration processes and automate intricate HR and business workflows for enterprise and software product companies. In the realm of HRTech, this partnership will facilitate seamless connections with over 60+ HCM platforms, streamlining customer acquisition with embedded integrations.
Key Market Players:
Microsoft Corporation
IBM Corporation
SAP SE
Oracle Corporation
Salesforce.com, Inc.
ServiceNow, Inc.
PegaSystems Inc.
Nintex Global Ltd.
Appian Corporation
Zoho Corporation Pvt. Ltd.
Software AG
Xerox Corporation
Segments Covered in the Report:
(Note*: We offer reports based on sub-segments as well. Kindly, let us know if you are interested)
By Component
Software

Production Workflow Systems
Messaging-based Workflow Systems
Web-based Workflow Systems
Suite-based Workflow Systems
Others

Service

Consulting
Integration
Training & Development
By Deployment
By Vertical
IT & Telecommunication
BFSI
Healthcare
Retail
Transportation
Others
By Geography
North America
Europe
Asia-Pacific
Latin America
Middle East and Africa