The global 3d printed wearable market size was reached at USD 4.02 billion in 2022 and it is projected to hit around USD 7.5 billion by 2032, expanding at a CAGR of 6.43% over the forecast period 2023 to 2032.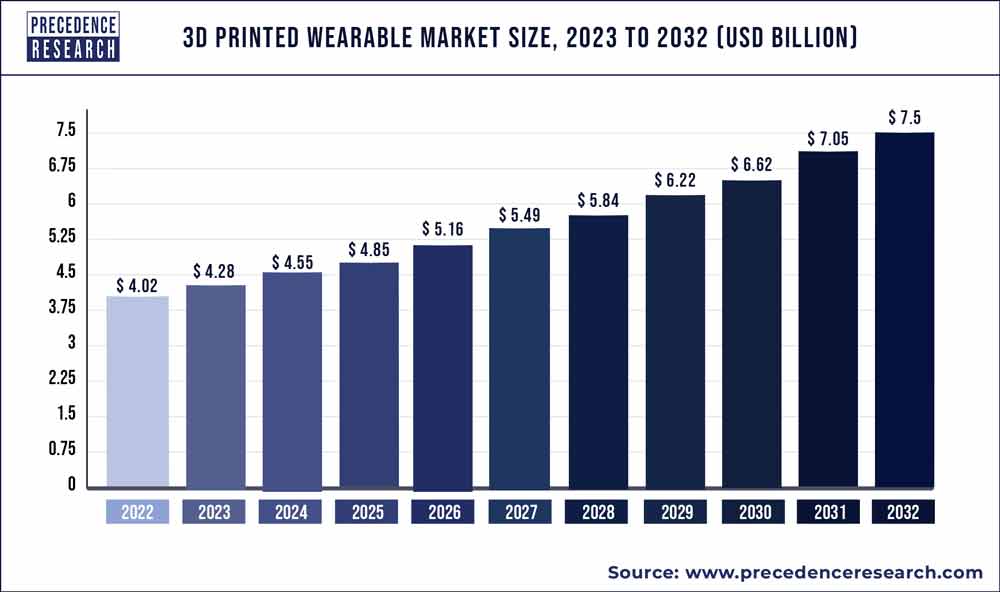 Access our Premium Real Time Data Intelligence Tool, Visit: Precedence Statistics
Key Takeaways:
North America dominated the market and contributed around 42% of global sales in 2022.
By product type, the prosthetics segment generated more than 36% of revenue share in 2022.
By end-user, the hospitals segment captured the highest revenue share in 2022, more than 36%.
Market Overview:
The invention of 3D printing allows for the layer-by-layer production of various products, including medical tools. This market is predicted to expand due to manufacturers placing more prominence on 3D-printed wearable products. Established 3D-printed wearables are predicted to overcome the drawbacks of conventional items in recent years, and sales of these products are expected to increase soon.
The growing demand for intriguingly designed goods is the primary factor propelling the market for 3D-printed wearables. Businesses can create a device that meets the needs of their customers with the help of 3D printing.
The growing emphasis on health by the general populace and customer innovation organizations is one of the other factors propelling the market for 3D-printed wearables. For instance, the sports shoe industries need to develop shoe soles that improve diabetics' sensations with 3D printing technology. Patients with diabetes can walk more easily with the help of these shoes, which can also be made specifically for each patient.
The government and customers are putting more pressure on companies that produce medical equipment and pharmaceuticals to be environmentally and socially responsible. Consequently, the transportation expense is significantly reduced success can be attributed to 3D printing. Although the market is still a niche, growth is anticipated over the next few years.
The 3D-printed medical equipment can record data such as the number of steps a person has taken each day and their heart rate. Current innovation research focuses heavily on flexible materials, sensors, and their flexibility and bendability. These characteristics are perfect for wearables, especially smartwatches and small discrete sensors.
Report Scope of the 3D Printed Wearable Market
| | |
| --- | --- |
| Report Coverage | Details |
| Market Size in 2023 | USD 4.28 Billion |
| Market Size by 2032 | USD 7.5 Billion |
| Growth Rate from 2023 to 2032 | CAGR of 6.43% |
| Largest Market | North America |
| Base Year | 2022 |
| Forecast Period | 2023 to 2032 |
| Segments Covered | By Product Type, By End-User |
| Regions Covered | North America, Europe, Asia-Pacific, Latin America and Middle East & Africa |

Market Dynamics:
As venous diseases become more prevalent and more new products are approved to maintain its market share, the industry for 3D-printed wearables is anticipated to increase significantly over the forecast period. The market is predicted to increase as a result of rising disease awareness, expanding the value of early diagnosis, and rapidly increasing spending on chronic conditions.
Additionally, the main competitors are spending money on the development and research of cutting-edge products, which will boost the use of 3D-printed wearables in both developing and developed nations.
Market Drivers
RISING PREVALENCE OF DIABETES
Rising prevalence of diabetes worldwide is anticipated to boost market growth. Antimicrobial resistance, alcohol consumption, adoption of unhealthy & sedentary lifestyles, and smoking are some of the major factors contributing to the rise in the prevalence of diabetes. As per the WorldAtlas, in 2018, the top 10 countries with the highest prevalence rate of diabetes include Saudi Arabia (17.7%), Soloman Islands (18.7%), Guam (21.5%), Mauritius (22%), French Polynesia (22.6%), Kiribati (22.7%), New Caledonia (23.4%), Nauru (24.1%), Tuvalu (27.3%), and Marshall Islands (30.5%). Therefore, this is one of the major factors likely to drive market growth over the forecast period.
INCREASE IN THE PREVALENCE OF CHRONIC CONDITIONS
The rising prevalence of chronic conditions across the globe is anticipated to positively impact market growth over the forecast period. According to the WHO, currently, chronic diseases—such as respiratory disorders, diabetes, cancer, & cardiovascular diseases—account for nearly 60.00% of the total number of deaths and 43.00% of the global burden of diseases. These percentages are likely to increase to about 73.00% and 60.00%, respectively, by 2021. The increasing prevalence of chronic conditions is expected to boost the demand for effective treatment options. According to the American Society of Nephrology and ERA-EDTA, in 2018, nearly 850.00 million individuals suffered from some form of kidney disease and nearly 10.5 million individuals required transplant or dialysis worldwide. In addition, more than 113,000 people in the U.S. were awaiting transplant as of 2019 and nearly 20 people die each day waiting for transplant, according to the U.S. Government Information on Organ Donation and Transplantation. Thus, high prevalence of kidney diseases along with shortage of organ donors is expected to boost the need for advanced regenerative medicines and tissue engineering technologies and devices, such as 3D printed wearables, thereby propelling market growth.
DEMAND FOR CUSTOMIZED ADDITIVE MANUFACTURING
Additive manufacturing, also known as 3D printing, is regarded as the next industrial revolution in manufacturing, with high potential to provide cost-effective methods to achieve complex and customized medical components & parts, such as organs, orthopedic & cranial implants, tissues, dental prosthetics, and others. High demand & unmet needs identified in the healthcare sector due to rise in the number of surgeries and increasing prevalence of chronic disorders are anticipated to aid the growth over the forecast period. With increase in the number of surgical procedures, the need of customized services grew significantly, which is to be catered through additive manufacturing or 3D printed wearable devices. Moreover, technological advancements, increasing adoption, and growing consumer awareness regarding technologically advanced products are anticipated to increase scope of bioengineered healthcare products, thereby driving the growth of 3D printed wearables. For instance, medical technology firms such as Stryker came up with precise medical parts of titanium-based anterior and posterior cervical cages, developed using 3D printing.
Market Restraint:
The acceptance of 3D-printed wearables items is constrained in developing countries worldwide due to high product costs, low disease awareness, poor economic conditions, and a lack of supportive insurance systems.
However, introducing new low-cost products and enhanced market penetration efforts in these localities may present profitable growth opportunities for the industry's players for 3D-printed wearables.
Market Opportunity:
Fashion: Designs that are complicated and cutting-edge can be produced using 3D printing, which would be challenging or impossible using conventional manufacturing techniques. Due to the significant demand for distinctive and striking designs in the fashion industry, 3D-printed wearables are thus exceptionally well suited for that sector of the economy.
Healthcare: The use of 3D-printed wearables is expanding in the healthcare sector, particularly in prosthetics and orthotics. The comfort and functionality of these devices can be improved by being specially made to fit each patient.
Customization: Wearables can be explicitly made for the user's needs and preferences using 3D printing to create one-of-a-kind, personalized items. This is especially useful for prosthetics, where tailored fits and designs can significantly increase comfort and functionality.
Sports and fitness: Products that are breathable, lightweight, flexible, and well-suited products for sports and fitness activities can be made using 3D-printed wearables. This covers everything from protective gear and helmets specially fitted to specialty apparel and footwear.
Overall, it is anticipated that the market for 3D-printed wearables will keep expanding as more people adopt the technology and new uses are found for it.
COVID-19 Impact:
The long-term effects of COVID-19, an unimaginable worldwide public health emergency that affected almost every company, are anticipated to influence the expansion of several end-use companies throughout the projected timeframe. To guarantee the inclusion of inherent COVID-19 problems and potential future directions, this continuous research expands the research methodology.
The report provides information on COVID-19 while taking into account changing customer demands and behavior, buying habits, supply chain reconfiguring, market dynamics, and substantial government involvement.
An in-depth analysis of the effects of COVID-19 and its resulting variant outbreaks on demand, price, supply, and manufacturer uptake is revealed in the report's specific section, which also offers suggestions for long-term solutions. Regarding the effect of COVID-19 on the global market for 3D-printed wearables, the updated research provides insights, projections, analysis, and growth projections.
Segments Insight:
Product Type Insights
With over 36% of total revenue in 2022, the prosthetics segment had the highest revenue share. The significant market share of this category is explained by the rapidly increasing incidence of chronic diseases and the growing adoption of implants used to support prosthetic limbs in developing nations. Other factors predicted to drive segment expansion over the forecast period include an increase in limb amputations caused by cardiovascular disease and an increase in the number of amputation cases around the world.
The market will grow as consumers become aware of this technologically superior product. The popularity of such devices has increased due to the expanding use of connectivity technologies like Bluetooth, microprocessor controllers, and myoelectric technology. The orthopaedic implants market is anticipated to expand at a 10.2% CAGR throughout the forecast period due to the numerous benefits orthopaedic implants offer, including increased efficiency, relative abundance, comfort, and long shelf life.
Prosthetics market growth from $1,086.1 million in 2022 to $2,112.3 million in 2032 with CAGR 8.7% from 2023 to 2032.
The orthopedic implants market was valued at USD 542.2 million in 2022 and is expected to grow at a CAGR of 8.1% during the forecast period.
The surgical instruments market was valued at USD 324.1 million in 2022 and it is growing at a CAGR of 8.9% during the forecast period.
The smart watches market was valued at USD 589 million in 2022 and is expanding at a CAGR of 7.8%.
End-User Insights
The sector with the highest revenue share in 2022, more than 36%, is hospitals. This results from the growing number of chronic disease cases, constantly increasing patient admissions, and expanding investment in the research and development of wearable 3D printed devices. Each hospital room, including the operating room, nurse's station, outpatient clinics, emergency room, and the hospital's ambulatory facilities, requires a significant number of these devices.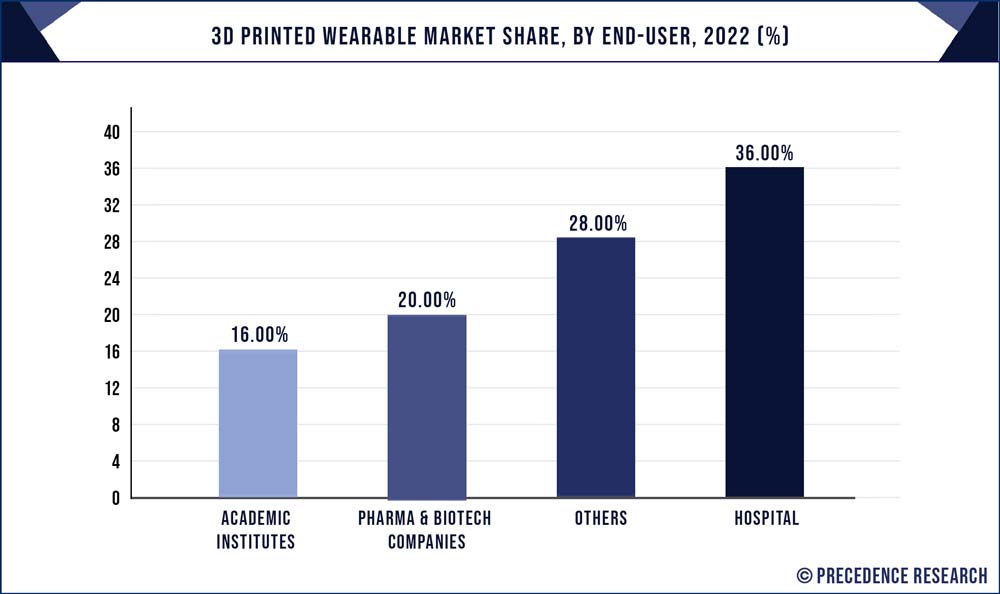 The wireless 3D printed devices should make it easier to maintain patient records in a more organized way. Rising R&d spending and a growing emphasis on 3D-printed wearables are the two main drivers of this market's expansion. As 3D printing provides numerous advantages to medical practice and the pharma and biotech industry, including reduced total price and accelerated development time for manufacturing drugs, the pharma and biotech industries are anticipated to experience the most significant increase during the forecast period.
The hospitals market was valued at USD 581.3 million in 2022 and poised to grow at a CAGR of 8.7%.
The pharma and biotech companies market was valued at USD 706.5 million in 2022 and is poised to reach at a CAGR of 7.9% over the forecast period.
The academic institutes market was valued at USD 1,327.3 million in 2022 and anticipated to grow at a CAGR of 8.6%.
Regional Insights
North America dominated the market with 42% of global sales for 3D-printed wearables in 2022. It is anticipated that it will continue to dominate in the future. This is a result of the rapid development of wearables made from 3D Printing Materials to meet the expanding demand for high-quality healthcare, robust R&D, and the promotion of novel treatments. The most advanced, dependable, and complex 3D-printed medical devices and wearables are produced in North America, and this will fuel the market expansion for wearables made by 3D printing.
Clinics and hospitals with multiple specialties are part of the American healthcare system. The increased income per capita and customer awareness of emerging technologies contribute to this. With robust distribution networks, the nation is home to many 3D-printed wearables businesses.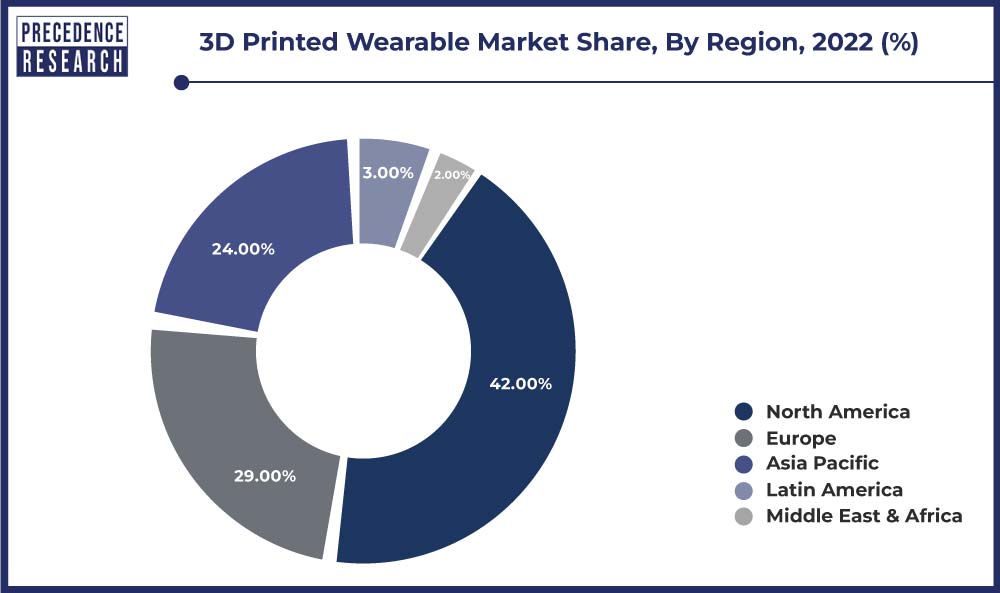 One of the oldest and most technologically advanced public healthcare systems is found in Germany. It has a strong national social insurance system that covers excluded groups, and this has improved access to more cutting-edge therapies. Due to Germany's strong support from the government and the existence of both big and small 3D printing industries, it is a fantastic place to invest. For instance, the Fraunhofer advance manufacturing alliance brings together 18 Fraunhofer institutes from all over the nation to address problems with 3D printing and the entire value chain.
Progressive technological advancements and the growing demand for wearable devices made of 3D-printed materials are predicted to drive the market. Numerous manufacturers of medical devices are now concentrating their efforts on this market due to the expanding healthcare industry in the area. The market is expanding due to growing investment opportunities in 3D printing and Research and development.
The North America 3D printed wearables market was valued at USD 1,520.2 million in 2022 and is expected to reach at a CAGR of 9.2%.
The Europe 3D printed wearables market was valued at USD 959.1 million in 2022 and is expected to hit at a CAGR of 7.6%.
The Asia Pacific 3D printed wearables market was valued at USD 657.8 million in 2022 and is expected to hit at a CAGR of 7.9%.
The conflict between Russia and Ukraine's cumulative effects on 3D printed wearable market:
The Russia-Ukraine conflict caused ongoing economic and political unpredictability. Around the world, adverse effects are anticipated, particularly in the European Union, Eastern Europe, Eastern & Central Asia, and the United States. This claim has significantly disrupted trade dynamics and has had a negative impact on people's lives and means of subsistence.
It is anticipated that the ongoing conflict and unpredictability in Eastern Europe will negatively affect Ukraine and have severe, long-lasting effects on Russia. In light of the most recent information on the conflict and the reactions from around the world, the report examines the implications for requirement balances, pressure on pricing variations, effect on import/export and trading, and short-term advice to the worldwide 3D-printed wearables market.
Recent Developments:
Jun-2020: The GE Additives subsidiary Arcam worked with the Italian company Rejoint to produce medical implants. As a result of this partnership, Rejoint is now producing knee implants additively using GE Additive's Electron Beam Melting technology. Rejoint uses the Arcam EBM Q10plus system with artificial intelligence to create specialized components for knee replacement surgeries, such as femoral condyles and tibial plates.
Key Market Players:
General Electric (GE) Co.
Everist Health, Inc.
Medtronic PLC
BioTelemetry, Inc.
Koninklijke Philips N.V.
Omron Corporation
Cyfuse Biomedical K.K.
Under Armour, Inc.
Nike, Inc.
3D Systems Corporation
Segments Covered in the Report:
(Note*: We offer report based on sub segments as well. Kindly, let us know if you are interested)
By Product Type
Prosthetics
Fitness Trackers
Surgical Instruments
Orthopedic Implants
Smart Watches
By End-User
Hospital
Academic Institutes
Pharma & Biotech Companies
Others
By Geography
North America
Europe
Asia-Pacific
Latin America
The Middle East and Africa