The global wearable medical devices market size was estimated at USD 28.15 billion in 2022 and is expected to hit over USD 169.58 billion by 2030 with a registered CAGR of 25.6% from 2022 to 2030. Growth of market is driven by increasing focus on fitness and a healthy lifestyle orientation.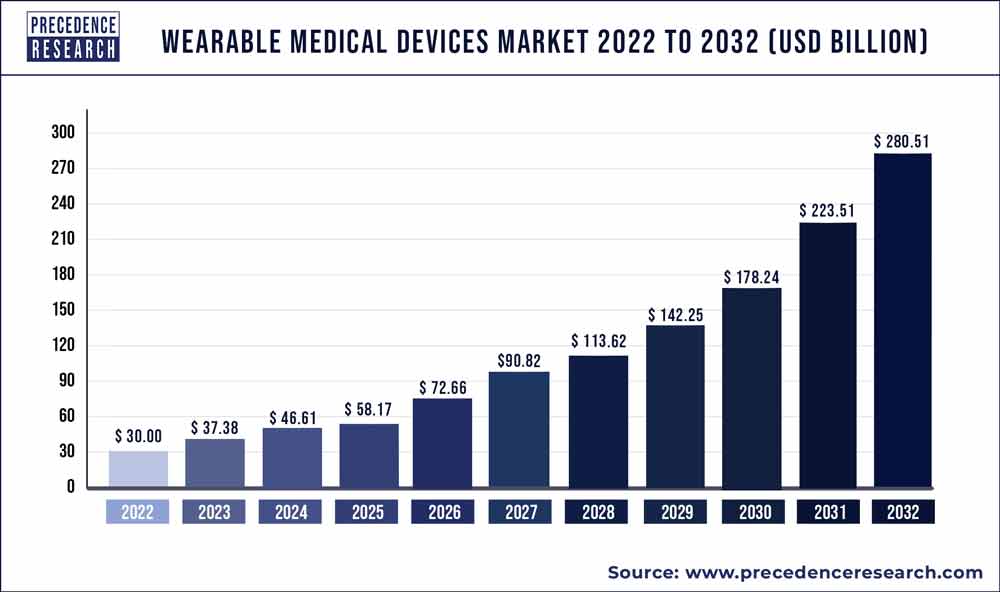 The medical equipment that customers can wear, such an activity trackers and smartwatches, are examples of wearables in healthcare. They're made to track and collect information on a user's health and fitness. The growing investments, funding, and grants, as well as a growing preference for wireless connectivity among healthcare providers, are driving the growth of the wearable medical devices market. Wearable devices will gain popularity in the near future due to their numerous features, technological advancements, and wide range of uses in remote healthcare settings and at home. Furthermore, the rising frequency of chronic diseases is expected to wearable medical devices market growth over the forecast period.
Rising demand for remote patient monitoring devices along with home healthcare solutions anticipated to positively influence the market growth for wearable medical devices. In addition, rising consumer focus towards fitness as well as effort for leading a healthy lifestyle expected to be the other main factor that fuels the product demand.
Rise in data and their complexity in healthcare industry have increased significantly over the recent past because of the introduction of advanced data collection and analysis tools in the industry. On-going research to develop a viable solution by integrating Artificial Intelligence (AI) and machine learning in wearable medical devices anticipated to further boost the size of data generation from the industry. This amalgamation of technologies will assist physicians to detect any changes in the heart functioning at its early stage and to initiate the required interventions that could prevent the re-hospitalization as well as reduces the heart failure rate.
Market Dynamics
Drivers: Growing consumer awareness for health and fitness
The wearable medical devices market has grown significantly in recent years, owing to the growing geriatric population, the rising prevalence of chronic disorders, and the availability of advanced medical devices such as wearable medical devices that enable the delivery of high-quality care outside of hospitals. As a result, the growing consumer awareness for health and fitness is driving the growth of the wearable medical devices market during the forecast period.
INCREASING DEMAND FOR HEALTH DATA TRACKING
There has been an increase in the interest of people in recording & tracking information about their health habits. The personal informatics movement gained popularity initially by the introduction of mobile apps that made it easier for people to keep track of miles run & calories consumed per day, among others. Data journaling, life tracking, and health quantification are other words used or given to this activity. As many companies launched devices that incorporate accelerometers & sensors to capture data automatically, users are freed from filling information on their own. More companies are introducing wearable devices that sense blood oxygen & respiration level, heart & pulse rate, heat flux, galvanic skin response, and skin temperature, among others. Hence, interest in tracking of health data has increased.
Consumers can now regulate their health with the help of various wearables, smartphone apps, and other connected devices. Moreover, it is not easy to improve sleep, count calories, lose weight, and get fit. This kind of modest & instant access is also changing the attitude & expectations of consumers when it comes to healthcare.
The focus is on developing products that enable automatic tracking of physiological signals. This can be achieved by advancements in sensor technology. Nanoscale stress sensors, implantable sensing chips, optical biosensors, electronic biosensors, and other technologies are being developed that will allow automatic capture of various physiological functions.
Automatic capturing of data will ultimately extend to devices & sensors that are embedded within the objects of our environment, thus making us from worn devices completely. For instance, high-speed video can be used to image the flow of blood in a person's face and those pictures can then be translated to pulse rate. In the shorter term, the design of wearable devices will be made in forms that are more like jewelry & adhesive patches that include flexible electronics.
Tracking of individual health data will be augmented by intelligent advisory/coaching software that can be customized and can interpret the data & offer alerts along with explanation & suggestions. Such systems & devices can be used to increase athletic and physical performance. For instance, electronic biosensors can sense lactic acid level in sweat. This enables athletes to improve training to make their anaerobic metabolism more efficient.
SENSOR INNOVATION & MINIARTURIZATION
As medical device manufacturers emphasize on improving sensor accuracy, the performance gap between non-medical-grade & medical wearables is reducing, fueling the growth of numerous wearable devices categories. The capability of embedded sensors is generally the determining factor in the usefulness & reliability of a wearable product. Given the improvements in sensors observed in the last few years, sensors built into wearables will likely be capable of more precise readings, hence driving the market growth in the coming years.
Moreover, advancements in miniaturization & integration are likely to boost the adoption of smart patches, ingestible, printed wearables, & smart garments. These discrete & nearly invisible wearable devices will be particularly significant & accepted by traditionally reluctant users; for example, elderly patients that require medical applications but do not want to call attention to the device or their ailment.
The trend in medical device design & development industry is of small & portable products that need more components, & sophisticated manufacturing technologies along with automation systems. Medical products including a variety of life assist devices, drug delivery devices, therapeutic devices, and patient monitors are all becoming smaller in size, while features & performance are improving. Wearable as well as implantable devices that monitor, administer, treat, & track patient conditions are increasingly common requirements for complex and large instruments that up until recently only a technician or physician would typically use. As these products are wearable, portable, or implantable, designers look for simple user interfaces, rugged designs, long-life rechargeable batteries, and low power components along with low costs.
Furthermore, with patients as intended users, these new products increasingly comprise design considerations usually associated with consumer-type products such as portability, user interface, wireless connectivity, ruggedness, and industrial design. Likewise, manufacturing requirements for these new product designs are beginning to look more like those for consumer products such as sophisticated test techniques, high-volume automated assembly, and fine pitch component placement. Five noteworthy trends in medical device designs are smaller, wearable/implantable, wireless, reliable, and intelligent.
RISING DEMAND FOR ROUND-THE-CLOCK MONITORING
Owing to sedentary lifestyle, the prevalence of diseases, such as hypertension & diabetes, is expected to increase over the forecast period. These diseases require round-the-clock monitoring of various physiological parameters, such as blood pressure & blood sugar levels. This increases the need for integration of healthcare data with portable devices, which can be provided to physicians real-time, reducing errors and boosting the industry demand. Moreover, increase in mortality due to growing prevalence of noncommunicable diseases is a major concern boosting the demand for remote monitoring devices. These factors are anticipated to further increase the demand for wearable medical devices.
Growing prevalence of chronic diseases and increasing mortality are major concerns among people as well as government organizations. Thus, healthcare providers are now focusing on personalized care, including continuous monitoring of patients. Wearable medical devices offer round-the-clock monitoring of patients, as many of these devices can be worn 24x7. As a result, the demand for wearable devices is anticipated to increase over the forecast period.
Furthermore, technological advancements & attractive product features, such as smartphone connectivity, are boosting the adoption of medical wearables. They are being developed to address various problems such as pain management, heart arrhythmia, asthma, and COPD. For instance, people suffering from potentially life-threatening heart conditions may use wearable electrocardiograph (ECG) devices that can monitor heart rate to check arrhythmias. These can record events such as shortness of breath, chest pains, and other concerning symptoms. When the events are recorded, the device then measures vital parameters, such as skin temperature, blood oxygen level, & heart rate. Another example includes devices for pain management. Wearable devices that can deliver pain medication or transcutaneous electrical nerve stimulation are frequently used in the medical industry.
GROWING INCLINATION TOWARDS FITNESS
Growing inclination toward staying fit is a high-impact rendering driver for the wearable medical devices market. With the majority of the population realizing the benefits of healthy living, there has been a mounting need for devices & gadgets that can efficiently monitor the physiological fluctuations. This in turn has increased the demand for fitness wearable, considering their real-time ability to track metrics such as step count, heartbeat, sleep patterns, calories burned & so on.
Increasing prevalence of obesity together with rising awareness about physical fitness is boosting people to adopt fitness-related activities. Wearable devices such as smart bands and smartwatches help in monitoring fitness parameters, including calories burned, footsteps taken, and distance covered. Moreover, these wearable devices companies also provide guidance through experts like dieticians or nutrition consultants, which increases their adoption. The demand for these devices is expected to increase over the forecast period.
While some consumers' motivation behind investing in these wearables may be sheer convenience or style statement, the prime motivation for the majority of consumers is HEALTH. Given the accuracy with which these fitness wearable are programmed to track physical activities, they are fast becoming an integral & dependable part of most fitness regimes. People are enjoying the luxury to track their daily fitness measures resulting in quicker attainment of fitness goals. Moreover, the fact that these real-time fitness metrics can easily be synced with computer systems and smartphones, adds to the convenience factor of these wearables.
As per the 2018 survey conducted by Valencell, "The State of Wearable Today" on 826 U.S. consumers above 18 years of age & older people, more than 2-3rd of consumers having wearables believe that the device has had a positive impact on their health. Heart rate tracking & step counting were considered the most useful wearable functionality.
Restraints: High cost of maintenance
Due to substantial technological advancements in wearable medical devices market, several constraints limit their use. One of them is the wearable medical devices' overall high cost. These gadgets frequently come with sensors, batteries, and chips that must be replaced on a regular basis. When the expenses of these accessories are factored into the devices' life cycle, the overall cost is much greater. These concerns, together with the lack of payment regulations for these wearable medical devices, have contributed to the relatively low adoption of wearable medical devices in both developed and developing nations. Thus, the high cost of maintenance is a restricting factor for the growth of the wearable medical devices market.
DATA SECURITY & PRIVACY ISSUES
Although wearable devices enable continuous data collection, they pose an issue related to security and confidentiality. Using wearable medical devices with Bluetooth & cloud connectivity, hospitals and clinics generate a pool of data. Rise in incidents of cybercrime and hacking are major restrains for the wearable medical devices market. To combat this challenge, the Health Insurance Portability and Accountability Act (HIPAA) was established in 1996, which protects the right to confidentiality of patient information. The violation of this act may result in a fine of up to USD 4 million. For gaining trust and authenticity of these data, the U.S. Government introduced HIPAA rules in 2009, which were assigned by President Barack Obama. The violation of this act may lead to monetary fines up to USD 4 million.
NON-AVAILABILITY OF REIMBURSEMENT
Lack of reimbursement facilities coupled with increasing cost of medical diagnosis & therapies affects adoption of healthcare services. It helps lower healthcare expenditure by promoting early detection of diseases and timely intervention. Wearable medical devices such as fitness trackers, smart watches, wrist bands, and head gears, which are used for activity tracking, routine monitoring, and data collection of vital parameters, are not reimbursed. As a result, individuals with high disposal income are currently the only potential consumers of these devices, limiting its growth.
Certain products, such as sensors/chips like insulin pumps, are embedded into a patient's body and release drugs dosages at fixed intervals for management of chronic conditions, are reimbursed by agencies in the U.S. and Europe. However, these require extensive documentation and supportive scientific data in order to be eligible for this reimbursement.
Opportunities: Technological advancements in the field of artificial intelligence
The growing volume and complexity of data in the healthcare industry has encouraged research into building feasible artificial intelligence solutions for wearable medical devices. The growing popularity of mobile platforms, as well as increased awareness and preference for remote monitoring at home, are driving up demand for artificial intelligence and other innovative technologies. As a result, the technological advancements in the field of artificial intelligence are creating lucrative opportunities for the growth of the wearable medical devices market during the forecast period.
Challenges: Lack of awareness in developing countries
The lack of understanding among the populace in underdeveloped or developing regions could be a big concern for the global wearable medical devices market in the coming years. In these locations, limited access to smart phones and other advanced technologies may provide a challenge to the wearable medical devices market expansion.
Scope of the Wearable Medical Device Market Report
| | |
| --- | --- |
| Report Coverage | Details |
| Market Size | USD 169.58 Billion by 2030 |
| Growth Rate | CAGR of 25.6% From 2022 to 2030 |
| Base Year | 2021 |
| Historic Data | 2017 To 2020 |
| Forecast Period | 2022 To 2030 |
| Segments Covered | Site, Product, Application |
| Regional Scope | North America, APAC, Europe, Latin America, MEAN, Rest of the World |
| Companies Mentioned | Koninklijke Philips N.V., Medtronic Plc, Sotera Wireless, Omron Corporation, Polar Electro, Everist Health, Intelesens Ltd, Fitbit Inc., Withings, Vital Connect, and Garmin Ltd. |
Product Insights
The diagnostic devices segment has garnered largest revenue share of 63% in 2021.
The therapeutic device anticipated to exhibit the fastest growth rate among product segment throughout the analysis period due to the rising influx of these products over the recent time. Moreover, a strong product pipeline of therapeutic devices for example wearable pain reliever devices, intelligent asthma management devices, and insulin management devices estimated to assist the market growth.
Within the therapeutic segment, insulin monitoring device emerged as a market leader in 2021 and predicted to continue the same trend over the upcoming years because of increasing prevalence of diabetes.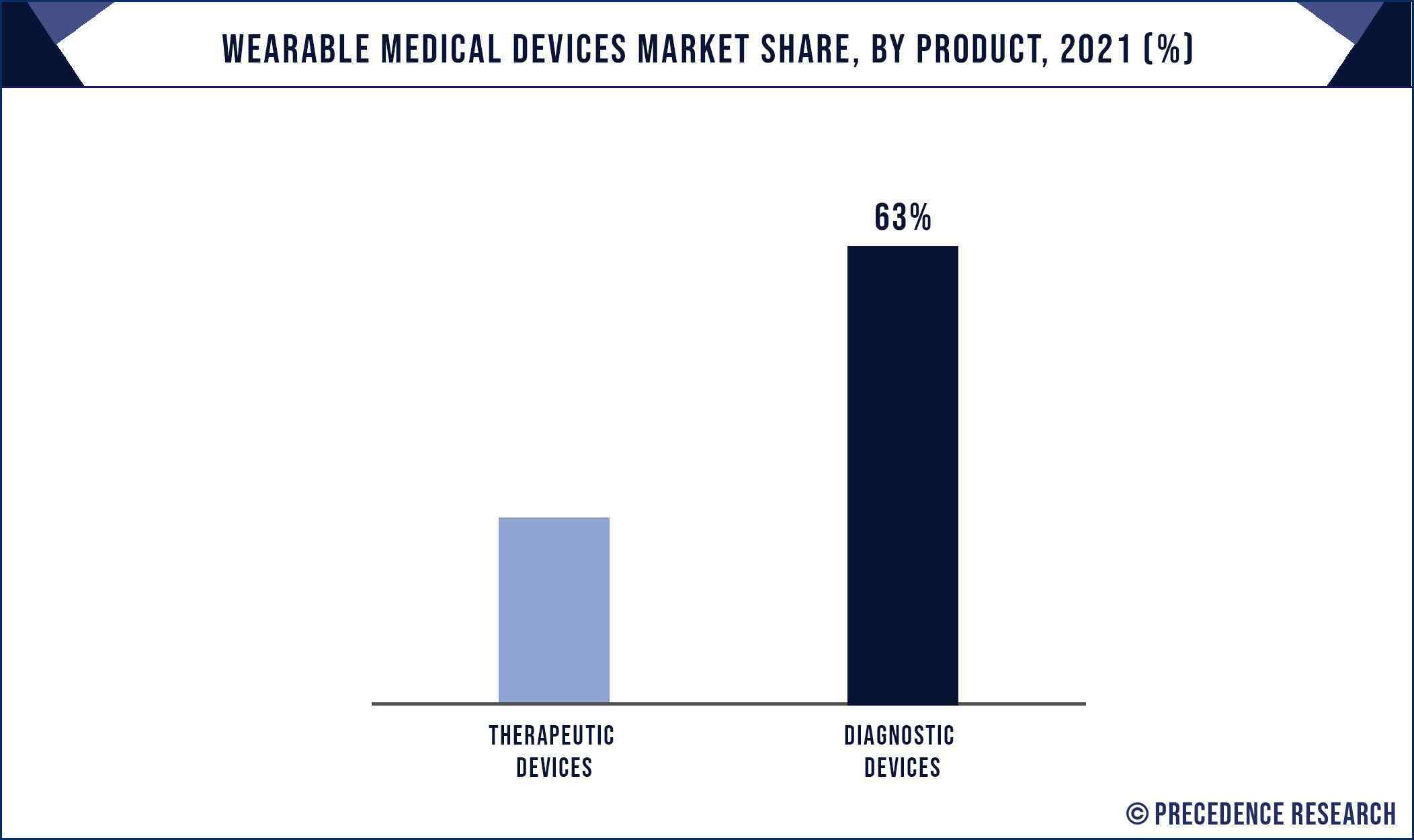 Besides this, Neuromonitoring captured the largest value share in the diagnostic device segment in 2021. Rising prevalence of neurological disorders attributed as the major factor that positively affects the growth of the segment. Additionally, growing awareness among consumers related to the ability of neurological wearable devices in order to continuously assess the cognitive capabilities of a person during their everyday activities estimated to be a prime factor that drives the market.
Application Insights
Home healthcare dominated the market in the year 2021 with revenue share of over 54% owing to the rising geriatric population that triggers the prevalence of chronic diseases coupled with the increasing need to curb the rising healthcare expenditure as home healthcare is an economically viable initiative.
Due to factors such as increased usage of activity trackers in home healthcare in developed countries and increased investment by major market players in developing innovative devices for home healthcare, the home healthcare segment held the highest share in 2022.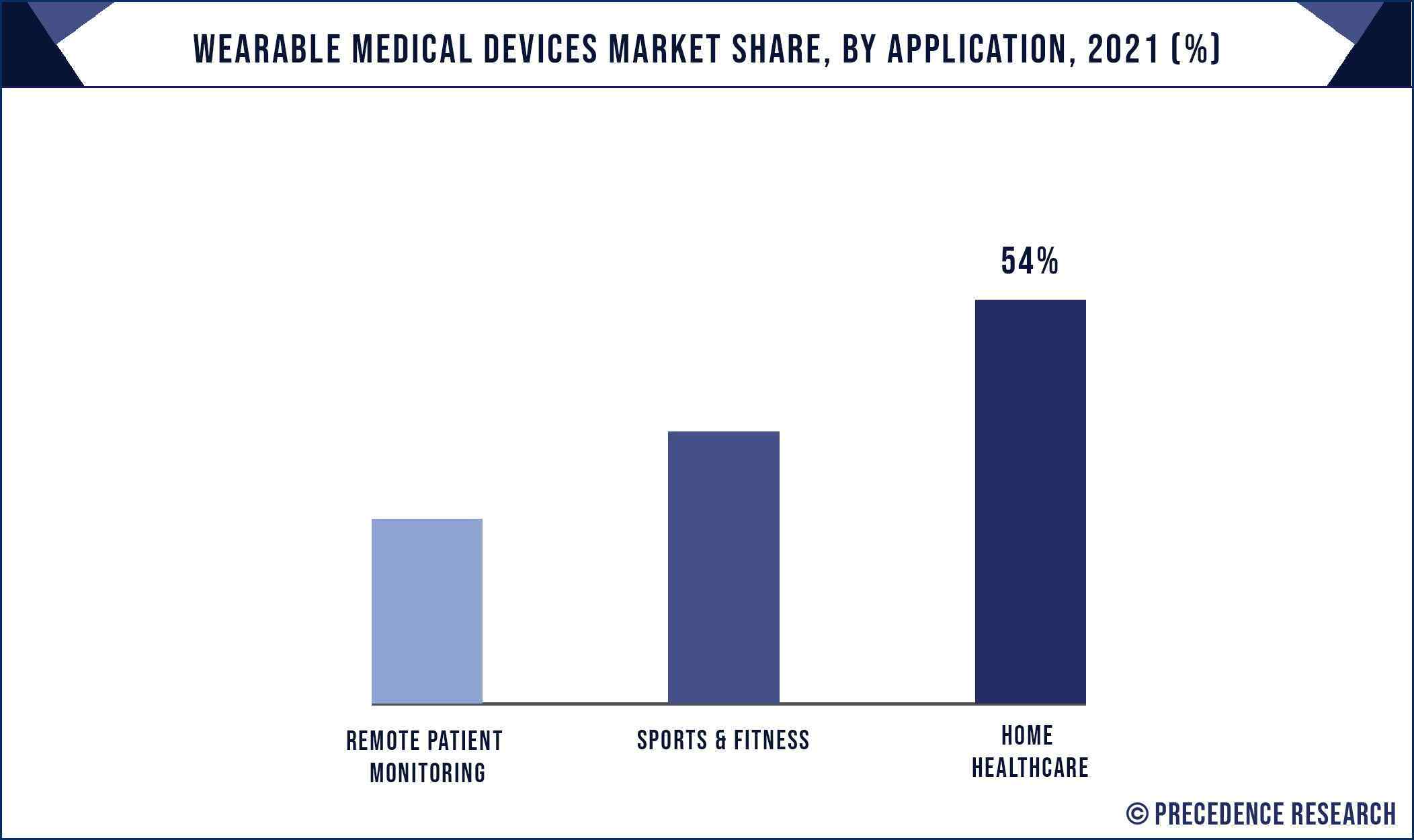 The remote patient monitoring application anticipated to grow at the fastest rate over the forecast timeframe. Globally increasing geriatric population coupled with the prevalence of chronic diseases projected as few high impact rendering drivers for the growth of the segment over the analysis time period.
Distribution Channels Insights
The online platforms, hypermarkets, and pharmacies are all major distribution channels in the global wearable medical devices market. Due to the growing use of electronic devices such as smartphones and tablets, as well as the growing number of technology aware consumers globally, the online channels are gaining traction during the forecast period.
Regional Insights
North America accounted largest market share of around 38.5% in 2021 because of the increasing prevalence of diabetes, cardiovascular disorders, and cancer within this region. In addition to this, significant rise in the chronic diseases that require routine and continuous monitoring along with the presence of well-established healthcare infrastructure are further expected to propel the market growth during the upcoming period.
This is attributed to the rising prevalence of cancer, diabetes, and cardiovascular diseases in the North America region. Furthermore, the rise in chronic diseases that require regular monitoring, as well as the presence of modern healthcare infrastructure, are expected to drive the wearable medical devices market expansion throughout the forecast period.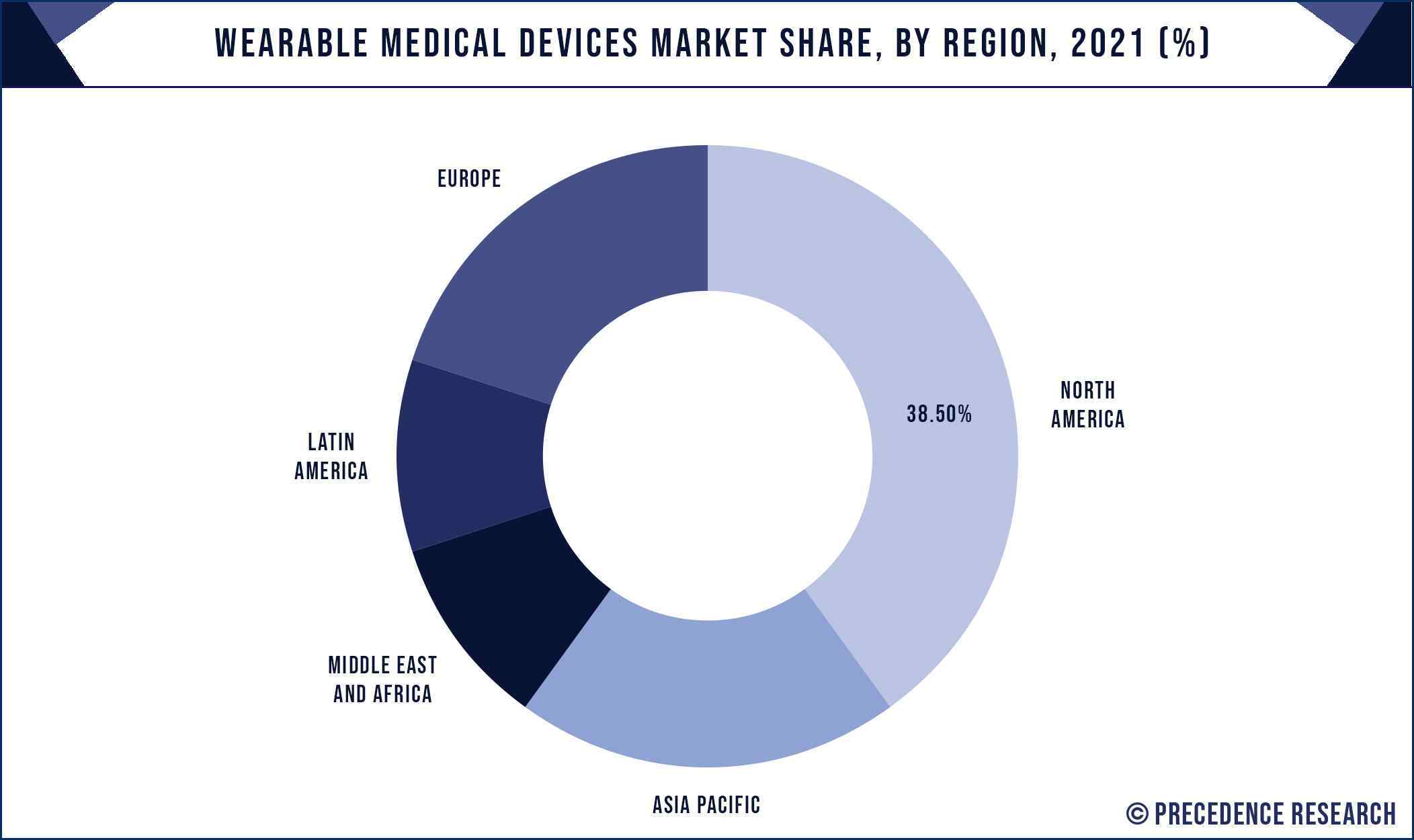 The Asia Pacific however witnesses an exponential growth rate over the analysis period owing to favorable government initiatives for the adoption of such devices, rising geriatric population, and increase in healthcare expenditure within the region. Apart from this, the region offer immense opportunity for the infrastructure development related to construction and healthcare for upgrading the medical research & services in the region.
The growing favorable government activities and initiatives for the usage of wearable medical devices, an increasing senior population base, and rising healthcare expenditures in the Asia-Pacific region are all driving the wearable medical devices market expansion.
Key Companies & Market Share Insights
The global wearable medical device market faces intense competition among the market players owing to significant spending in Research & Development (R&D) sector to upgrade and enhance the product continuously to cater the rapid changing consumer demand and need. Further, these industry participants are also largely adopting inorganic growth strategies such as merger & acquisition, partnership, and collaboration to retain their competitive edge in the global market. For instance, in 2020, Fitbit Inc. introduced Fitbit Charge 4 to continuously track the activities of the user and provide relevant information in real-time.
Some of the prominent players in the wearable medical device market include:
Koninklijke Philips N.V.
Medtronic Plc
Sotera Wireless
Omron Corporation
Polar Electro
Everist Health
Intelesens Ltd
Fitbit Inc.
Withings
Vital Connect
Garmin Ltd.
Segments Covered in the Report
This research study comprises complete assessment of the market by means of far-reaching qualitative and quantitative perceptions, and predictions regarding the market. This report delivers classification of marketplace into impending and niche sectors. Further, this research study calculates market size and its development drift at global, regional, and country from 2020 to 2032. This report contains market breakdown and its revenue estimation by classifying it on the basis of site, product, application, and region: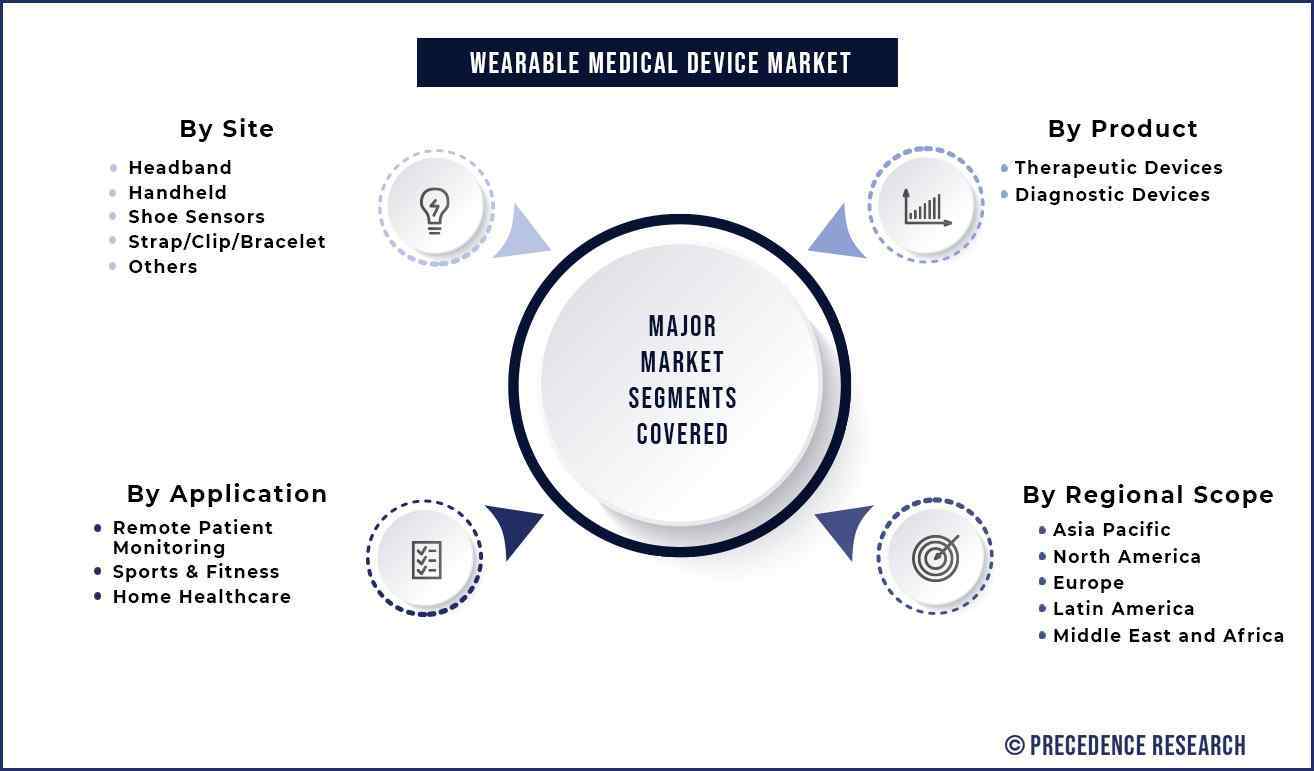 By Site
Headband
Handheld
Shoe Sensors
Strap/Clip/Bracelet
Others
By Product
Therapeutic Devices

Insulin/Glucose Monitoring Devices
Pain Management Devices

Neurostimulation Devices
Others

Respiratory Therapy Devices

Portable Oxygen Concentrators
Positive Airway Pressure (PAP) Devices
Ventilators
Others

Rehabilitation Devices

Sensing Devices
Accelerometers
Ultrasound Platform
Others

Diagnostic Devices

Sleep Monitoring Devices

Polysomnographs
Wrist Actigraphs
Sleep Trackers
Others

Vital Sign Monitoring Devices

Activity Monitors
Heart Rate Monitors
Electrocardiographs
Spirometers
Pulse Oximeters
Blood Pressure Monitors
Others

Neuromonitoring Devices

Electromyographs
Electroencephalographs
Others

Electrocardiographs Fetal & Obstetric Devices
By Application
Remote Patient Monitoring
Sports & Fitness
Home Healthcare
By Grade Type
Consumer-Grade Wearable Healthcare Devices
Clinical-Grade Wearable Healthcare Devices
By Distribution Channel
Pharmacies
Online Channel
Hypermarkets
By Geography
North America
Europe
Asia-Pacific

China
India
Japan
South Korea
Malaysia
Philippines

Latin America

Brazil
Rest of Latin America

Middle East & Africa (MEA)

GCC
North Africa
South Africa
Rest of the Middle East & Africa