The global 3D printed surgical models market size was reached at USD 529.94 million in 2022 and is projected to hit around USD 2,147.65 million by 2032, poised to grow at a CAGR of 15.02% during the forecast period from 2023 to 2032.
Access our Premium Real Time Data Intelligence Tool, Visit: Precedence Statistics
Key Takeaways:
North America dominated the market and generated more than 35% of the revenue share in 2022.
By Specialty, the orthopedic surgery segment captured more than 33% of the revenue share in 2022.
By Technology, The fused deposition modeling (FDM) segment is expected to expand at a remarkable CAGR between 2023 and 2032.
By Material, the plastics material segment generated more than 34% of total revenue in 2022.
As a result of increased demand for high-tech advancements in surgical instruments, techniques, 3D printed resources, and individualized healthcare, the market for 3D printed surgical models has grown. The medical industry's use of 3D-printed surgical models for the preparation of endovascular aneurysm restoration, tumor excision, and the treatment of trauma damages in orthopedic operations has improved market statistics for 3D-printed surgical models.
The market is expanding due to technological advancements and advances in medical sciences. An aging population and a global demand for nominally invasive surgery drive the industry share. On the other hand, the high rate of technology is expected to limit demand. Increased use of refurbished and recycled equipment will likely constrain industry growth during the forecast period. The pandemic has reduced demand for goods and equipment, affecting innovative investments in the healthcare area.
Report Scope of the 3D Printed Surgical Models Market:
| | |
| --- | --- |
| Report Coverage | Details |
| Market Size in 2023 | USD 609.54 Million |
| Market Size by 2032 | USD 2,147.65 Million |
| Growth Rate from 2023 to 2032 | CAGR of 15.02% |
| Largest Market | North America |
| Base Year | 2022 |
| Forecast Period | 2023 to 2032 |
| Segments Covered | By Specialty, By Technology, and By Materials |
| Regions Covered | North America, Europe, Asia-Pacific, Latin America and Middle East & Africa |

Drivers: Increased prevalence of osteoarthritis and other musculoskeletal conditions driving the market growth
One of the major factors driving the growth of the 3D printed surgical models market is the increasing prevalence of osteoarthritis and other musculoskeletal conditions. Osteoarthritis is a condition that causes pain, stiffness, and loss of joint function by damaging the joint cartilage and surrounding tissues. 3D printing medical devices enable the creation of a replica of a patient's joint, which can provide surgeons with critical information that a 2-dimensional scan may not reveal.
The probability of developing osteoarthritis rises with age. According to the US National Library of Medicine, by 2040, it is expected that approximately 78 million (26%) US adults aged 18 and above will have doctor-diagnosed arthritis. As a result, the adoption of 3D-printed medical devices is increasing, positively impacting market growth.
Restrains: Regulatory challenges restrain the market growth
The regulation on 3D Printed surgical model products hinders the industry growth. Bioprinter tissue is a "custom-made device" due to the high degree of personalization in construct shape and genetic material. The addition of biological material complicates matters, and regulatory bodies worldwide, such as the FDA, need to catch up with the rapidly evolving field of bioprinting, with currently unclear guidance and regulations for such technology.
The classification and ultimate regulation of regenerative medicine and tissue-engineered technologies and their components is challenging in all design, production, and handling aspects. These technologies' seemingly never-ending innovation and advancement exemplify the convergence of several different pathways covering a broad taxonomy of perceived utility, cost-effectiveness, and biography.
Opportunities: Increase the use of patient-specific implants future for 3D-printed surgical models
Patient-specific Implant is the most recent and progressive application of 3D printing in the surgical field. Based on accurate 3D imaging, patient-specific implants are planned, resulting in perfectly fitting implants that restore appropriate anatomy, relation, and function. In craniomaxillofacial surgery, PSI is becoming increasingly popular, with many companies offering various implants made of multiple materials for operation and restoring anatomy and symmetry.
Titanium implants combined with autogenous bone grafts for load-bearing reconstruction following mandibular resections and avulsion injuries and personalized PSI integrated with dental implants for future dental arch and occlusion restoration.
In orthopedics, patient-specific implants were used for bony reconstruction following tumor resections, the production of customized external fixators used in fracture treatment, and cervical spine renovation. To repair skull defects, PSI technology is also used in neurosurgery, primarily in cranioplasty. PSI results in a more precise and long-lasting reconstruction method, with less morbidity and a shorter operation time.
Covid 19 Impact:
Medical devices showed fewer sales and revenue in the first quarter of 2020 due to the country's strict lockdown restrictions and the product's disrupted supply chain. The COVID-19 pandemic harmed the industry in 2020, causing delays in elective procedures and increasing the financial burden on hospitals. However, there was an increase in elective processes in 2021, indicating an increase in surgical procedure demand following COVID-19, which is expected to benefit industry growth.
Due to severe shortages of hospital beds and medical equipment during the pandemic, global healthcare systems were severely strained. Patients with COVID-19, a severe acute respiratory syndrome coronavirus-caused disease, are at risk of developing acute respiratory distress syndrome (ARDS). A subset of these patients will require high-level respiratory support to survive. Due to such equipment shortages, the demand for 3D printing has skyrocketed.
Segments Insight:
Specialty Insights:
The orthopedic surgery segment dominated the global industry, accounting for more than 33% of the total revenue share in 2022. The growing elderly population and the rising prevalence and incidence of orthopedic ailments are the primary factors influencing the market growth of orthopedic surgery.
According to the WHO, around 1.71 billion people worldwide suffer from musculoskeletal disorders. Lower back pain is the foremost cause of disability in 160 countries, and musculoskeletal diseases are the leading cause of disability globally. The neurosurgery segment is expected to grow rapidly during the forecast period. This is due to technical advancements in 3D printing methods and materials, the increasing incidence of neurological diseases, and the delicate architecture of the brain's vasculature, which requires high degrees of accuracy in neurosurgery.
Technology Insights:
The FDM segment is expected to grow significantly in the coming years due to the printers' widespread use and low cost. FDM technology, which belongs to the material extrusion technology class, is ideal for physicians interested in 3D printing because it is office-friendly, simple to use, fast, and allows for low-cost prototype creation. Others include powder bed fusion technologies, directed energy deposition technologies, and other related technologies. The other segment is expected to grow rapidly due to the increasing popularity of HP's MultiJet fusion technology, which belongs to the powder bed fusion class of technologies.
Materials Insights:
In 2022, the plastics material segment dominated the global market, accounting for more than 34% of total revenue. The segment is expected to grow fastest, retaining its leading position throughout the forecast period. Plastics have the highest revenue share due to the availability of improved thermoplastic resin and biodegradable plastics, the material's low cost, reusability, and compatibility with a variety of 3D printing technologies.
Plastics have remained used in a diverse and ever-increasing variety of goods due to their small cost, easiness of manufacture, versatility, and water resistance. The polymers category is expected to grow significantly during the forecast period due to the introduction of desktop resin-based 3D printers and the versatility of these materials. The polymers are also expected to grow at the -fastest rate during the forecast period, while the metals segment will have the second-highest revenue share by 2032.
Regional Insights:
In 2022, North America dominated the global industry, accounting for more than 35% of overall revenue. According to forecasts, the local market will grow due to a rising geriatric population and the high frequency of illnesses associated with sedentary living. The region's growth will be driven by the most progressive healthcare set-up, including clinics and clinics, and extensive use of cutting-edge medical amenities and products such as 3D printing.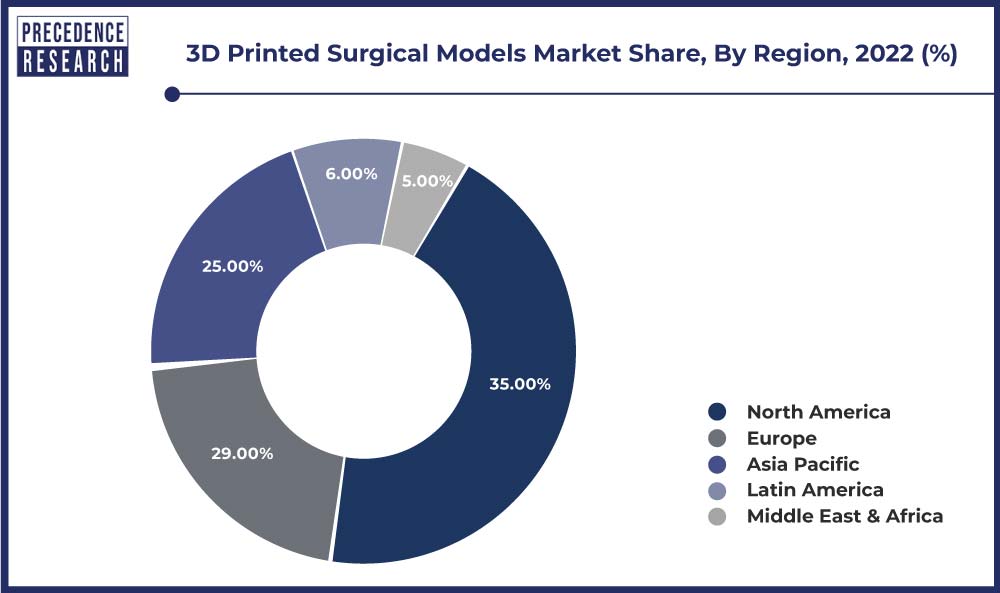 A favorable compensation system and the presence of well-established participants are expected to increase the region's industry share. In Asia Pacific, the industry is expected to grow significantly in the coming years. The demand for 3D-printed surgical models is likely to rise due to rising per capita income levels, significant unmet medical needs, technological advancements, and the economic development of emerging nations such as India and China.
Recent Development:
In 2022, Axial 3D collaborated with Radius, NC. a digital manufacturing and supply chain company, helping physicians visualize patient anatomy to produce intricate surgical models. Axials 3D is creating customized 3D-printed models to improve surgical planning and patient outcomes.
In 2022, Albany New York-based startup Lazarus 3D raised USD 6 million. Lazarus 3D creates realistic-looking organs to enable surgeons to practice surgery.
In 2020, Medtronic, an American Irish-domiciled medical device company, paid an undisclosed sum to Medicare International. The acquisition of Medicare expands Medtronic's already extensive portfolio by adding to its spinal solution profile as new digital technology allows for the customization of spinal implants. Medicare International is a spinal surgery company that has 30+ FDA-approved spinal implant technologies in use in over 150,000 spinal surgeries to date.
Key Market Players:
3D Systems, Inc.
Lazarus 3D, LLC
Osteo3D
Axial3D
Onkos Surgical
Formlabs
Materialise NV
3D LifePrints U.K. Ltd.
WhiteClouds Inc.
Segments Covered in the Report:
(Note*: We offer reports based on sub segments as well. Kindly, let us know if you are interested)
By Specialty
Cardiac Surgery/Interventional Cardiology

Annuloplasty (mitral valve repair)
Repair Coronary Aneurysm
Replacement of Aortic Valve
Stent Insertion
Repair Congenital Heart Defects

Gastroenterology Endoscopy of Esophageal

Endoscopy of Esophageal lesion
Splenectomy

Neurosurgery

Repair Aneurysm
Transsphenoidal Excision of Pituitary Gland
Remove Brain Tumor

Orthopedic Surgery

Repair Scoliosis
Repair Clavicle Fracture
Hip Repair
Repair Intervertebral Disc
Hip Replacement Revision
Repair Leg Fracture
Osteotomy
Reconstructive Surgery
Facial Reconstruction
Hand Reconstruction
Breast Reconstruction
Mastoidectomy
Cleft Palate Correction

Surgical oncology

Removal of Adrenal Tumor
Removal of Liver Tumor
Endoscopic Removal of Cardiac Lesion
Thoracic Removal of Lung Tumor
Removal of Renal Tumor

Transplant Surgery

Cardiac Surgery/ Interventional Cardiology
Heart Transplant
Liver Transplant
Lung Transplant
Kidney Transplant
By Technology
Stereolithography (SLA)
ColorJet Printing (CJP)
MultiJet/PolyJet Printing
Fused Deposition Modeling (FDM)
By Material
By Geography
North America
Europe
Asia-Pacific
Latin America
The Middle East and Africa