The global 3D printed prosthetics market size was valued at USD 1.54 billion in 2022 and is expected to hit around USD 3.28 billion by 2032, growing at a CAGR of 7.84% over the forecast period 2023 to 2032.
Prosthetics created through 3D printing are artificial devices that can replace a missing body part. They are produced by adding consecutive layers of material based on inputs from a digital 3D model.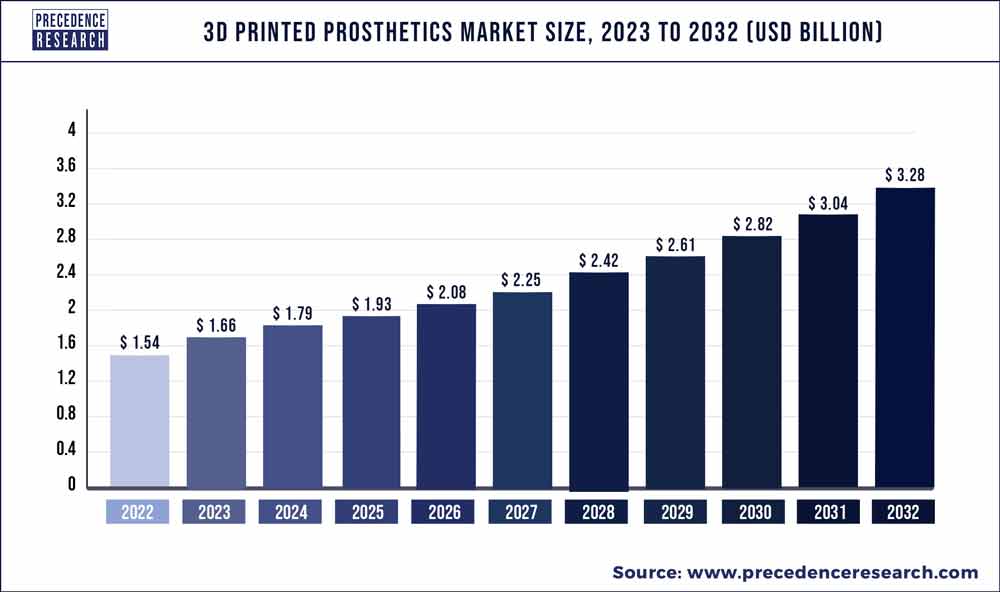 Key Takeaways:
North America region generated more than 40% of the revenue share in 2022.
By Type, the limbs segment captured more than 34% of revenue share in 2022.
By Material, the polypropylene segment contributed more than 33% of revenue share in 2022.
By End-use, the hospitals segment recorded more than 40% of revenue share in 2022.
Growth Factor:
The rising incidence of limb loss due to accidents, injuries, and medical conditions such as diabetes and peripheral arterial disease is a significant factor driving the demand for 3D-printed prosthetics. The focus of market players on producing 3D-printed prosthetics is expected to propel the market's growth. It has been acknowledged that 3D-printed prosthetics are likely to overcome the limitations of traditional products, which is why their sales are anticipated to increase in the near future.
The production and shipping of raw materials for 3D printed prosthetics goods had been significantly affected by the COVID-19 epidemic. During the COVID-19 pandemic shutdown in several nations, the supply network was disrupted. Market participants noticed a decline in the sales of 3D-printed prostheses goods. However, sales of 3D printed prosthetics increased following the COVID-19 pandemic as the need and desire for the devices increased along with customer knowledge of prosthetics. Additionally, the market experienced rapid development after the epidemic as many producers stated that the need for 3D printing grew significantly as a result of the ability to create components on demand in a quicker amount of time and the ability to reduce waste and overstock.
The market for 3D printed prosthetics is expected to grow significantly as a result of factors including rising demand for specially designed prosthetic products, an increase in sports injuries and auto accidents, and rising private and public spending leading to improved R&D. Additionally, advantageous reimbursement policies, government efforts, and a preference for cutting-edge innovative goods along with increased R&D spending for the creation of highly sophisticated prosthetics all contribute to the market's expansion. Many businesses are developing a novel approach to prosthetics that is useful and aesthetically pleasing by combining the benefits of additive manufacturing and generative design. Prosthetics can be 3D made from materials like acrylic, polyurethane, polyethylene, and polypropylene.
The market for 3D-printed prosthetic products is expanding due to the increase in unintentional accidents. Accidental wounds can be very damaging to a person, and they occasionally result in amputation. The number of fatalities from automobile accidents in the US rose to 42915 in 2021, the greatest number in 16 years. Amputation instances increase by about 50,000 per year in the US, according to a study from the National Centre for Health Statistics. Sales of 3D-printed prostheses are increasing as a result of an increase in amputation instances caused by other medical conditions like diabetes and vascular illnesses. For instance, a study that appeared in the American Journal of Managed Care estimated that 85% of patient limb amputations resulted from diabetic foot ulcers, with one patient leg being removed worldwide every 30 seconds.
Increased instruction and practice using 3D-made surgical models for doctors
The high prevalence of surgical treatments and the desire for individualized healthcare
Widespread use of fused deposition modeling technique
A prominent provider of 3D-printed prosthetic devices is increasingly focusing on working with hospitals and rehabilitation facilities.
Using 3D printing to create novel goods that encourage bone ingrowth and enhance implant fixation to spinal bone
Report Scope of the 3D Printed Prosthetics Market:
| | |
| --- | --- |
| Report Coverage | Details |
| Market Size in 2023 | USD 1.66 Billion |
| Market Size by 2032 | USD 3.28 Billion |
| Growth Rate from 2023 to 2032 | CAGR of 7.84% |
| Largest Market | Asia-Pacific |
| Base Year | 2022 |
| Forecast Period | 2023 to 2032 |
| Segments Covered | By Type, By Material, and By End-use |
| Regions Covered | North America, Europe, Asia-Pacific, Latin America and Middle East & Africa |

Key Market Drivers:
Constant Research And Development
A prosthetic process will soon be accessible to the average individual due to the increasing use of 3D printing in prostheses. People who need prosthesis operations would be happy with the price because the conventional approach has been very pricey. The price has dropped considerably thanks to 3D printing. With CAD, it is very simple to change the designs, and manufacturing costs are also very cheap. Due to this, it provides a more believable option for bionic limbs. Speed is a crucial factor when it comes to 3D printing and prosthesis uses. prostheses can be produced more quickly than conventional prostheses when using 3D printing. Making a single prosthesis requires weeks or even months for conventional prosthetic manufacturers. With the advent of 3D printers, this is altering. According to the Amputee Coalition, there are almost 2 million individuals living without a leg in the United States alone. In the United States, there are roughly 185,000 amputations carried out annually due to a range of reasons.
Many businesses are now making investments in 3D-printed prostheses and expanding their availability. Scientists at the Israel Institute of Technology plan to create an automatic manufacturing line for low-cost, customized prosthetic arms in March 2021. At CES 2020, prosthetic limb manufacturer Unlimited Tomorrow unveiled TrueLimb, a completely remote 3D mechanical arm that amputees can purchase by entering into their online accounts. Additionally, in August 2021, a group of scientists from Shanghai Jiao Tong University and MIT developed an inflatable artificial hand that is much less expensive than similar prostheses. However, the inflatable hand costs $500 instead of US$10,000 for metal limb neuroprosthetics and is composed of a light, pliable substance. Companies are continuously introducing new technologies and creating new goods as a result of the rising demand for 3D prosthetics, which is fueling the market's expansion.
Key Market Challenges:
Durability
The longevity of artificial appendages is still a worry despite their relatively cheap cost. The prosthetic arms created by hobbyist printers fail more frequently than conventional ones do. A 3D-printed limb's longevity is tested, but the FDA does not accept it.
Regulatory Challenges
One of the major challenges facing the 3D-printed prosthetics market is the lack of regulatory guidelines and standards. The production of 3D-printed prosthetics involves several complex processes, including design, printing, and assembly. However, there are currently no standardized guidelines or regulations for these processes, leading to variations in quality and safety across different products. This lack of regulation can create challenges for patients and healthcare providers who are trying to determine the safety and effectiveness of 3D-printed prosthetics.
Lack Of Widespread Acceptance
Another challenge facing the 3D-printed prosthetics market is the lack of widespread acceptance and awareness among healthcare providers and insurance companies. Traditional prosthetics have been in use for decades and are widely accepted by the medical community, with established reimbursement policies by insurance companies. On the other hand, 3D-printed prosthetics are relatively new, and there may be skepticism or reluctance among healthcare providers to adopt them. Additionally, insurance companies may not have established policies for reimbursement of 3D-printed prosthetics, which can make it difficult for patients to access these devices.
Key Market Opportunities:
Rising demand for customization and personalization
One of the biggest advantages of 3D printing technology is the ability to customize and personalize prosthetics according to the individual needs of the patient. Traditional prosthetics are often expensive and may not fit perfectly, leading to discomfort and limitations in movement. With 3D printing, prosthetics can be designed and manufactured to fit the exact specifications of the patient, allowing for greater comfort and mobility. This presents an opportunity for 3D printing companies to focus on providing customized and personalized prosthetics for individuals with specific needs, such as amputees or those with disabilities.
Rising customer preference toward affordable prosthetics
Another opportunity in the 3D-printed prosthetics market is the ability to provide affordable prosthetics to those who may not have access to traditional prosthetics due to cost constraints. 3D printing technology has significantly lowered the cost of producing prosthetics, making them more accessible to a wider range of individuals. This presents an opportunity for 3D printing companies to focus on providing affordable prosthetics to individuals in developing countries or those without insurance coverage. Additionally, 3D printing technology allows for the production of prosthetics on demand, reducing the need for large inventories and lowering the overall cost of production.
Segments Insights:
Type Insights:
The driving factors for the growth of the 3D printed prosthetics market include the increasing demand for personalized and affordable prosthetics, advancements in 3D printing technology, and the ability to produce prosthetics with complex geometries and internal structures. As 3D printing technology continues to improve and become more accessible, it is likely that the market for 3D-printed prosthetics will continue to grow, with a focus on providing customized, personalized, and affordable solutions to individuals with specific needs.
The limbs sector led the international market in 2022 and accounted for 34% of total revenue and the segment is anticipated to maintain its leadership position throughout the forecast period. The driving factors for the growth of this segment include the increasing demand for personalized and affordable prosthetics, advancements in 3D printing technology, and the ability to produce prosthetics on demand.
Additionally, industry participants in 3D-printed prostheses are focusing on the creation of waterproof prosthetic appendages. The purpose of the innovation is to give users greater mobility, particularly in sports. The prosthetic appendages made using 3D printing have benefits like not hurting the user, being comfier, and being very adjustable.
Material Insights:
With a 33% revenue share, the polypropylene sector commanded the majority of the worldwide market in 2022. Over the forecast period, it is expected that the sector will experience profitable development. The main drivers of the market's growth during the forecast period are the rising demand for polypropylene material in the production of 3D printed prosthetics, low manufacturing costs, the material's superior durability, rising R&D investment, and an increase in preference for polypropylene globally.
The advantages of polypropylene include its lightweight, which allows for greater weight reduction than other materials, and its ability to be sterilized without losing its qualities. It also has superb mechanical qualities, which makes it a wonderful substance for 3D printing prostheses. Therefore, the aforementioned elements fuel the market's expansion.
End Use Insights:
In 2022, hospitals held the largest portion of the worldwide industry, accounting for 40% of total revenue. This is brought on by the sharp rise in patient admissions, the rise in accident reports, and the growing expenditure in 3D R&D. Additionally, the market is being driven by an increase in the use of 3D printed prosthetics by both small and big institutions as well as an increase in hospital availability, particularly in industrialized nations.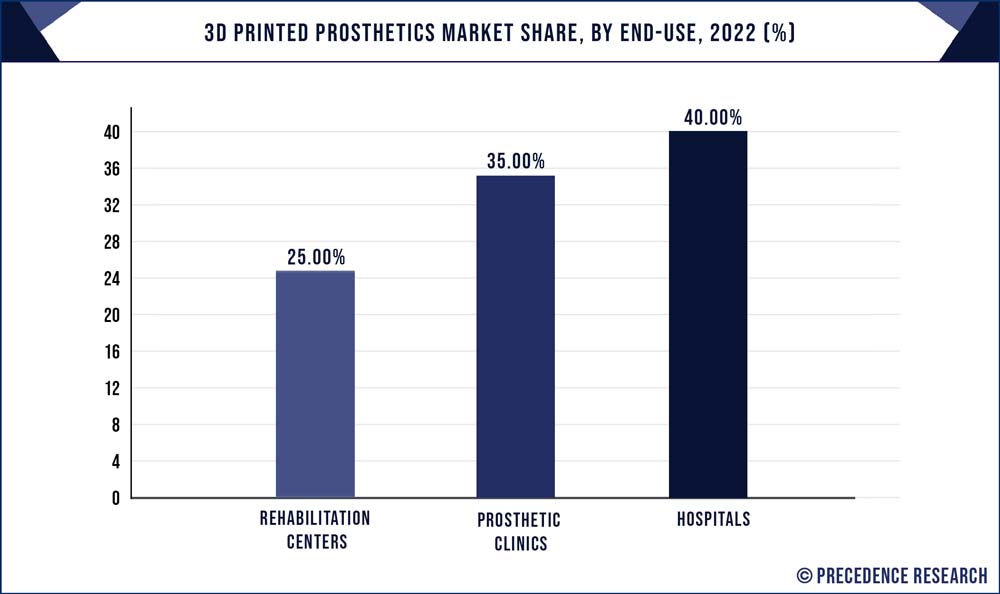 Over the course of the forecast period, prosthetic clinics are anticipated to experience the highest growth due to the rising demand for 3D printed prosthetics in these facilities, an increase in the number of patients in need of affordable prosthetics, an increase in cases of amputation, and an increase in the prevalence of chronic diseases globally.
Regional Insights:
In 2022, North America held a commanding position in the world market and contributed more than 40% of global income. The rise in sports injuries, the rising need for high-quality healthcare services, the existence of several major market participants in this area, and the well-established healthcare infrastructure all contribute to the market's expansion. Additionally, encouraging government programs to support R&D activities and incentives to increase the uptake of 3D-printed prosthetics are probably going to drive market expansion in the area.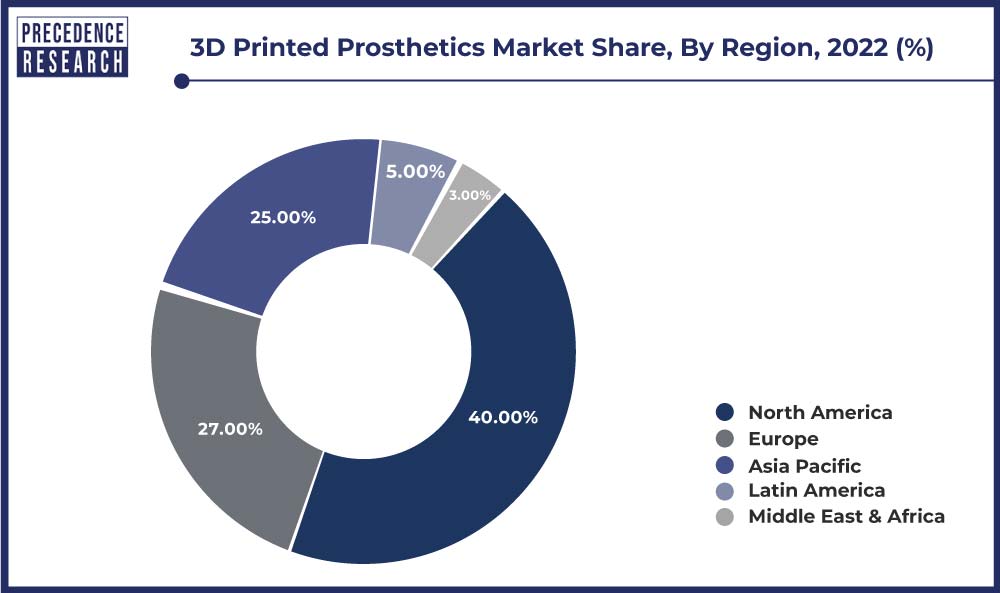 During the projection era, a rapid rate of growth is anticipated for the Asia Pacific region. The primary driver of the market's expansion has been identified as an increase in the number of significant key players investing in R&D in this area. Additionally, the rise in accidental instances and the existence of a sizable portion of the population that belongs to the middle-income group significantly increase the demand for affordable and cutting-edge 3D-printed prosthetics in order to draw important medical device businesses to the area. Countries such as China, Japan, and India are expected to be major contributors to this growth. The European market for 3D-printed prosthetics is also experiencing significant growth, with a focus on providing personalized and customized solutions for patients. Countries such as Germany, France, and the UK are leading the way in this market, with increasing investments in research and development.
Key Market Players
3D Systems Corporation
EnvisionTEC
Stratasys Ltd.
Bionicohand
YouBionic
UNYQ
Mecuris
LimbForge, Inc.
Open Bionics
Create Prosthetics
Bio3D Technologies
Laser GmbH
Prodways Group
Protosthetics
3T RPD Ltd.
Formlabs
Recent Developments
In order to be used in orthotics and prosthetics (O&P) operations, Protosthetics, a maker of 3D printed prosthetics, started its internal 3D printing program in 2022.
A major competitor in 3D printed prostheses, YouBionic, is concentrating on making their 3D printed prosthetic hand strong, flexible, and mobile. In order to improve its usability, the business is incorporating artificial intelligence.
Prodways Group, another significant participant in the market for 3D printed prosthetics, provides patients of all ages with technologically cutting-edge limbs. The business is concentrating on providing the same to a larger customer group by expanding into various regional areas.
Segments Covered in the Report:
(Note*: We offer report based on sub segments as well. Kindly, let us know if you are interested)
By Type
Sockets
Limbs
Joints
Others
By Material
Polyethylene
Polypropylene
Acrylics
Polyurethane
By End-use
Hospitals
Rehabilitation Centers
Prosthetic Clinics
By Geography
North America
Europe
Asia-Pacific
Latin America
Middle East and Africa