The global 5G in healthcare market size was estimated at USD 48.25 billion in 2022 and is projected to hit around USD 459.71 billion by 2030, growing at a CAGR of 32.55% during the forecast period 2022 to 2030.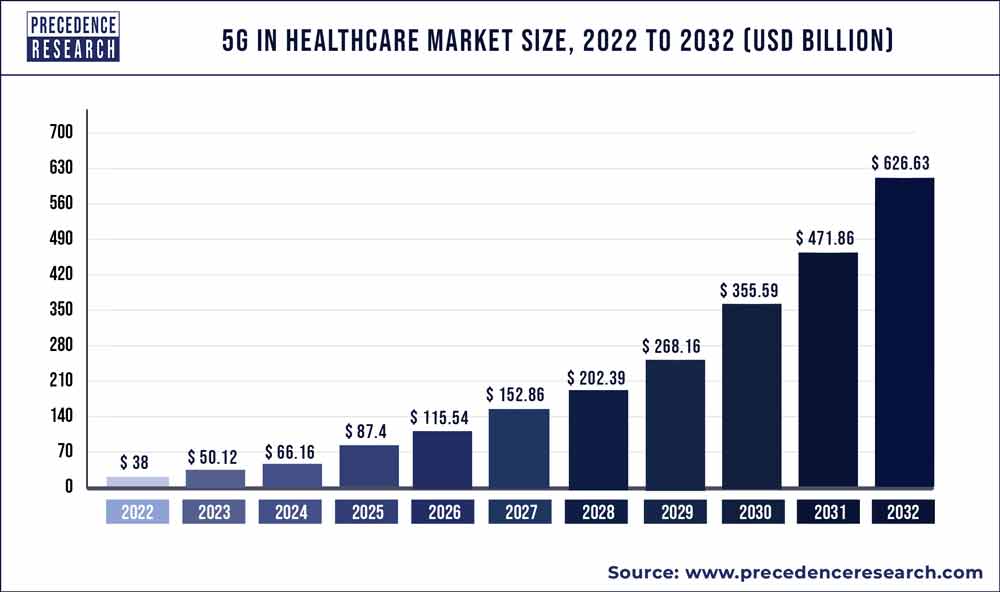 Key Takeaway:
The Asia Pacific 5G in healthcare market is projected to grow at a register CAGR of 36.8% from 2022 to 2030.
By component, the hardware segment has captured revenue share of 71% in 2022.
The services segment is expanding at the CAGR of 35.9% over the forecast period.
By application, the remote patient monitoring segment has contributed revenue share of 61% in 2022.
The connected medical devices segment is growing at a CAGR of 36.4% between 2022 to 2030.
By end-user, the healthcare providers segment has accounted revenue share of 62% in 2022.
The healthcare payers segment is expanding at a CAGR of 35.4% during the the forecast period.
Market Overview
The fundamental components of healthcare could all be changed and enhanced by 5G networks. Over the past several years, the use of 5G networks in healthcare has increased, and their applications have been strengthened by advancements in robotics, IoT, and AI that will change healthcare systems into a new connected ecosystem. The main challenge faced by healthcare systems is the fastest transmission of data.
The healthcare industry produces a vast amount of data. One patient may generate hundreds of gigabytes of data every day, which may include everything from patient medical records to the enormous image files generated by Magnetic resonance imaging, CAT, or PET scans. When the network capacity is constrained, the transfer of those massive data is slow or fails, which significantly slows the delivery of patient care.
The availability and capability of care can be improved by integrating high-speed 5G networks into current designs to help promptly and reliably move big data files of medical pictures. Therefore, the rising adoption of 5G networks in healthcare systems is expected to be the main driver of market growth in the next years.
Report Scope of the 5G In Healthcare Market
| | |
| --- | --- |
| Report Coverage | Details |
| Market Size in 2022 | USD 48.25 Billion |
| Market Size by 2030 | USD 459.71 Billion |
| CAGR | 32.55% from 2022 to 2030 |
| North Ameerica Market Share | 36% in 2022 |
| Hardware Segment Market Share | 71% in 2022 |
| Remote Patient Monitoring Segment Market Share | 61% in 2022 |
| Healthcare Providers Segment Market Share | 62% in 2022 |
| Segment Covered | Component, Application, End User, Region |
Market Dynamics
Rapid Transition to Smart Healthcare from Conventional Healthcare Systems
Distributed patient-focused solutions are fast replacing the old hospital-focused smart healthcare systems. The shift in the healthcare sector has accelerated due to numerous technological advancements. Smart healthcare systems use new diagnostic technologies to provide patients with cutting-edge therapies and improve the bar of care by providing real-time information. It enables remote check-up services that reduce treatment times and costs and aid medical personnel in reaching patients outside of their local area. Better network performance and broader cellular coverage are required to support a mix of IoT devices and 5G capable smart healthcare equipment. 5G networks, that are being developed to satisfy the various communication needs of healthcare applications, will support these devices.
Growing Demand for Dependable and Quick Data Transmission
The healthcare industry is growing at the fastest pace due to the rise in the number of applications and their reliance on the network. Numerous types of data are being used and that come in various sizes and formats, this will result in complex demands being placed on the network in terms of bandwidth, data rate, and latency, among other things. The 5G technology fills many new demands for connectivity services among healthcare providers. These include the ability to guarantee the quality of service (QoS) necessary to create new use cases, as well as increased connection density, faster speeds, lower latency, and decreased lag. Due to the advancement of new 5G technologies, IT applications, and services for the healthcare industry are anticipated to be more connected than before. Cellular technology will dramatically increase the speed, coverage, and responsiveness of wireless networks in the healthcare industry. As a result, market growth in the coming years is expected to be driven by the growing demand for faster and more reliable data transmission in the healthcare sector.
The coronavirus is currently a threat to both people and the global economy. Implementing measures like lockdowns and social seclusion to curb its spread caused serious social and economic ramifications in several nations. The healthcare industry has taken initiative to develop current infrastructure in order to stop the disease's spread while adopting all COVID-19 safety measures.
With a larger emphasis on deploying remote care/telehealth services and thermal imaging solutions, preventing future health crises, and leveraging innovative technology, the ongoing crisis has sped up the shift to the digital transformation of the healthcare systems.
All of the aforementioned services, especially online medical consultations that incorporate real-time video conferencing and image transmission, demand a sizable amount of bandwidth. With 5G networks, reliable and high-bandwidth data connectivity services are possible. The market for 5G in healthcare has reportedly grown dramatically over the last five years, with a CAGR of over xx%, according to estimates.
However, during the pandemic, the 5G in the healthcare sector increased by around xx% to xx% in Q1–Q3 2020, and it is predicted to have high growth in the following quarters of 2021. The low latency and high connection density provided by 5G networks, which enable seamless, error-free interactions and speedy transmission of vital medical data, are extremely advantageous to any linked medical devices.
Component Insights
The hardware segment accounted for the largest revenue shareholder segment comprising around 70% market share in 2022. This is attributed to the requirement for continuous technology upgrades or replacements in order to avail the best possible advantage of the market's latest technology. In addition to this, the growing adoption of ultra-high bandwidth, ultra-low latency, and technological advancements are anticipated to expand the growth opportunities in the hardware segment.
The service segment is projected to register the fastest growth with a CAGR of 35.7% over the forecast period. The increasing demand for quicker and more reliable data transfer options, the rising demand for a better connection for medical devices, and the need for enhanced mobile broadband and higher frequencies offered by 5G are some of the prominent factors prospering the growth of the service segment.
By Application Insights
AR/VR, Virtual Consultations
Virtual reality is utilized for trauma crisis simulation and paramedic emergency training. Surgical guidance using augmented reality for working on human body regions AR-based surgical support for the use of appropriate surgical instruments for surgeons and their support staff using virtual reality for human anatomy research and dissection experiments.
A marketing tool for hospitals' medical facilities based on virtual reality Tto give their patients a more engaging and delightful experience of a fantasy world that they appreciate as a distraction from the therapeutic setting, several hospitals use virtual reality. Virtual reality is used in hospitals to help trauma victims overcome phobias like a fear of heights, being in public, etc.
Pediatricians include VR content in their gaming and use it to administer shots to newborns and young toddlers.
It is also feasible to use VR in the instruction and training of medical students. Through VR, they will be able to gain knowledge about previously inaccessible subjects. Furthermore, they are not required to work on the actual problem to obtain exposure. With the aid of the internet, remote surgeries are currently conceivable, but with the advent of AR, surgeons would have a far better comprehension of the topic.
Remote Patient Monitoring
RPM, or remote patient monitoring, is a word used to describe a style of healthcare delivery in which patient data is gathered outside of traditional healthcare settings using the most modern advancements in information technology.
In this exclusive video, Care Innovations COO Marcus Grind staff describes how remote patient management involves moving more healthcare into people's homes and places where they often live, work, and play. It also involves using technology to connect the traditional physical locations for treatment with the daily lives that people desire to lead.
But don't be misled by the emphasis on technology: The most effective remote patient monitoring systems, such as Care Innovations' own Health Harmony platform, rely on modern, consumer-friendly personal tech products rather than the sterile, alienating, wire-laden medical devices of the past.
The Health Harmony RPM platform uses technology in a way that encourages patients to take an active role in managing their health. It is similar to the smartphones and tablets that are popular nowadays among the users of all ages, including elders.
Naturally, this comfort increases their levels of participation, and led to remote patient monitoring further help in improving the quality of care. Patients are encouraged to take a more active role in their health because of the comfort of excellent RPM models, and physicians are better equipped to understand and manage their patients' health conditions because a more continuous stream of data creates a clearer picture of the patient's health.
Connected Ambulance
The 5G linked ambulance provides a creative new way to connect patients, ambulance staff, and distant medical specialists in real-time owing to a collaboration between Ericsson, University Hospital Birmingham NHS Foundation Trust (UHB), and King's College London.
Using a live 5G network in Birmingham that is maintained by BT, healthcare practitioners have finished the first remote diagnostic procedure through 5G in the UK. The trial shows that clinicians and paramedics may collaborate haptically even when they are hundreds of kilometers apart thanks todue to the advent of 5G technology.
By enabling crucial efficiencies and eliminating the need for patients to visit A&E, this innovative 5G application has the potential to transform healthcare in the future.
Smart wearables
The next generation of mobile communications networks, known as 5G, promises faster data transfers, more bandwidth, and the ability to connect a significant number of devices to the internet. Worldwide mobile network operators are now putting it into practice. This will enable devices to get smaller while enhancing their functionality, revolutionizing wearable technology. Particularly in the health and wellness industry, people will be able to receive real-time feedback on everything from exercise routines to chronic medical conditions. However, not all of this will take place simultaneously worldwide. The capability and accessibility of 5G vary widely from nation to nation. However, it appears that the wait will be worthwhile.
By End-User Insights:
Healthcare processes can be seamlessly digitalized thanks to 5G gear
The idea of remote patient monitoring caught on among hospitals because of the beginning of COVID-19 pandemic's travel and mobility limitations in 2020. It encouraged the use of the 5G connection. A few examples of 5G gear are Wi-Fi, network equipment, and 5G small cells. A few uses for 5G hardware include data transport, telediagnosis, wearable technology, and telerobotic surgery.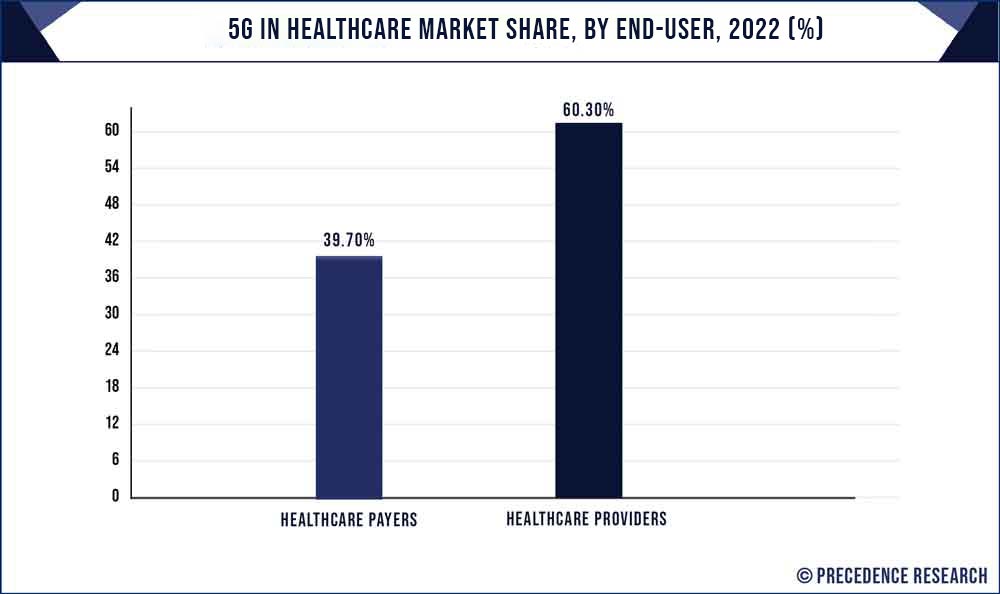 5G virtual consultations will increase the accessibility of healthcare services
The World Health Organization (WHO) advised medical institutions to conduct virtual consultations and use telemedicine as a key practice since the COVID-19 pandemic offers numerous challenges. Since then, several administrations have used motivating strategies to start public dialogues. For instance, according to the U.S. Office of Health Policy, telehealth visits increased significantly in 2021; a significant number of those visits were funded by Medicare, which was not a common practice before the pandemic.
By Regional Insights:
The North America region accounted the market revenue share of 36% in 2022. Numerous variables, such as the rising incidence of coronary artery diseases (CAD), the growing aging population, and the development of novel products by significant market rivals, are having an impact on the area industry's growth. As the benefits of embedding 5G technology into healthcare products and services become more widely known, the adoption of the technology will quicken.
Because of crucial lifestyle issues, the number is progressively rising every year. Innovative and reliable remote patient monitoring technologies are needed, driving regional industry trends, for better, continuous, and effective supervision of these patients.
Recent Developments in 5G in Healthcare Market:
Toto enhances communications, data processing requirements, and the patient experience, Rush University Medical Center teamed with AT&T (US) in January 2019 to provide the most recent mobile communications technology to clinical care based on 5G.
In May 2019, Ooredoo (Qatar) and Ericsson (Sweden) developed a 5G-enabled haptic glove that enables doctors to treat patients remotely. The glove is worn by the paramedic on the scene.
Verizon and Emory Healthcare entered a partnership in February 2020. (US). Emory Healthcare is enhancing diagnostic and imaging systems from ambulances to emergency rooms by utilizing Verizon's 5G Ultra-Wideband for augmented reality and virtual reality (AR/VR) applications for telemedicine, remote monitoring, and medical training.
The key players operating in the 5G in Healthcare market are:
AT&T Inc.
Verizon Communications
NEC Corporation
Cisco Systems, Inc.
SK Telecom Co., Ltd.
Fibocom Wireless Inc.
Qualcomm
Ericsson
Nokia Corporation,
Huawei Technologies Co., Ltd.
China Mobile Limited
Samsung Electronics Co., Ltd.
BT Group
Deutsche Telekom AG
Vodafone
China Mobile Limited
China Unicom
Saudi Telecom Company (STC) and
T-Mobile
Segments Covered in the Report:
(Note*: We offer reports based on sub-segments as well. Kindly, let us know if you are interested)
By Component
By Application
AR/VR
Virtual Consultations
Remote Patient Monitoring
Connected Medical Devices
Connected Ambulance
Home Healthcare
Telemedicine
Smart Wearables
Others
By End-User
Healthcare Providers
Healthcare Payers
By Geography
North America
Europe
Asia Pacific
Latin America
MEA