The global aesthetic fillers market was worth USD 5.30 billion in 2022 and is expected to surpass around USD 10.67 billion by 2032, registering at a 7.30% CAGR over the forecast period 2023 to 2032.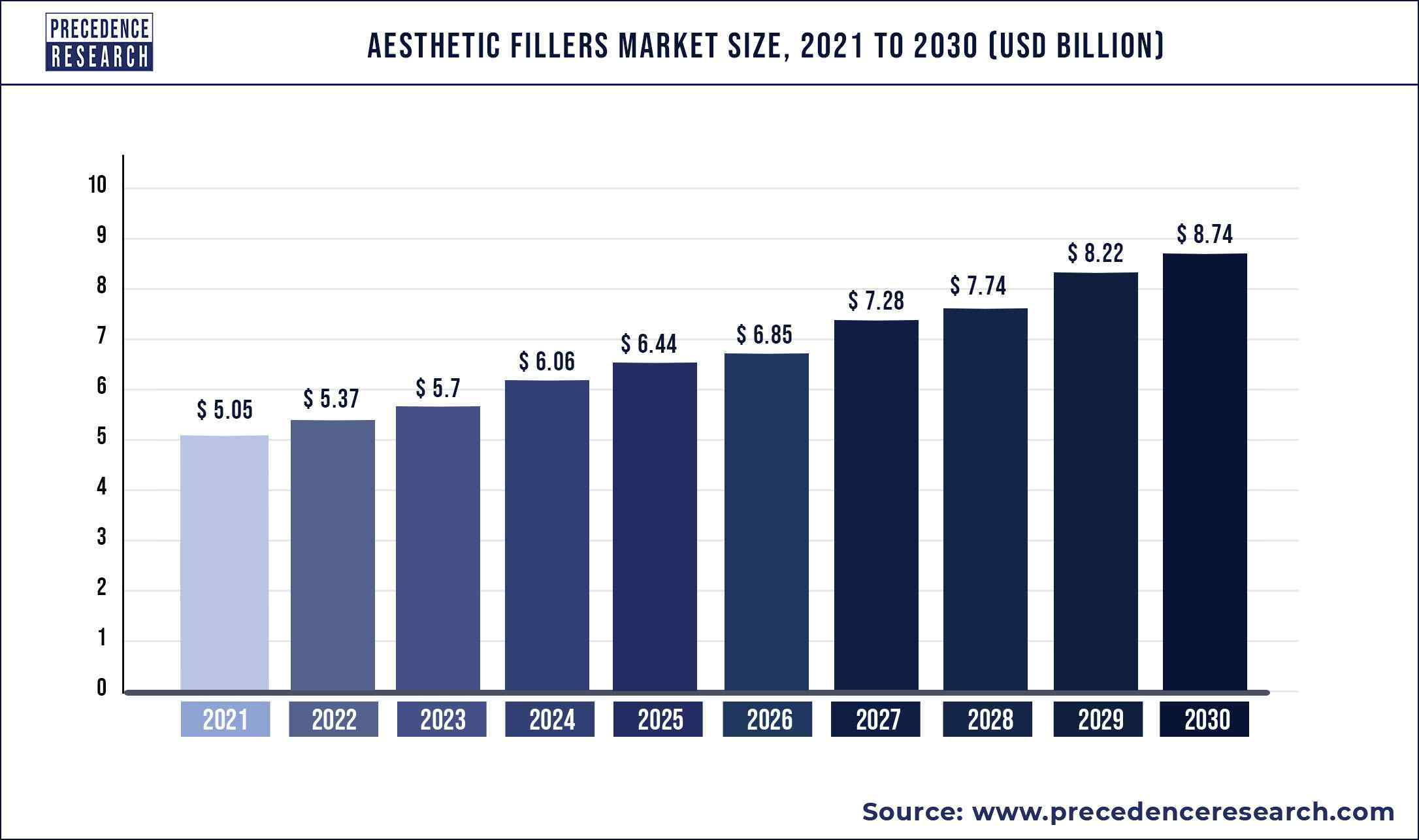 Access our Premium Real Time Data Intelligence Tool, Visit: Precedence Statistics
Market Overview
Aesthetic fillers are components present in the form of gel that are jabbed under the skin to enhance volume and facial silhouettes, and smoothen lines and crimps. Non-surgical aesthetic padding treatments make use of polymers, hyaluronic acid, particles, and collagen to give skin an experience of a youth. These treatments are the most commonly used amongst all. In the markets of cosmetic fillers, numerous material types, involving as polymers, hyaluronic acid, particles, and collagen, are being brought in. Dermal fillers made of hyaluronic acid are among the most famous fillers within the groups of patient and industry skilled professionals. This is the most usually used to treat scars, acne, and crimps and the expansion of cheek, lip, and chin. It dampens the skin, invigorates the production of new collagen adds volume to the face, as well as makes softer fine lines.
Growth Factors
The worldwide covid-19 pandemic has been unusual and astounding, with lower-than-expected demand across all areas compared to pre-pandemic levels. According to data, the worldwide market fell by -24.9 percent in 2020 compared to 2019. Fillers are gel-like compounds that are injected into the skin to restore lost volume, smooth lines, reduce wrinkles, and improve face features. The most common non-surgical cosmetic filler approaches are those that employ hyaluronic acid, collagen, polymers, and particles to add volume to the skin. Polymer and particle materials, collagen, and hyaluronic acid are among the new materials being launched into the cosmetic filler industry.
Hyaluronic acid dermal fillers are widely used by patients and dermatologists. This is most commonly used to treat acne, wrinkles, scars, and to enlarge the lips, chin, and cheeks. It moisturises, encourages new collagen production, volumizes, and softens fine face wrinkles. This treatment's effects might last anywhere from 6 to 12 months. Because they are created from pure collagen from cows, collagen fillers are the most natural fillers. They might decay quicker since they are natural. Collagen injections might deteriorate as early as a month after the initial injection. There's also the chance of an allergic response.
The trend of adopting anti-aging therapies and the demand for a much younger lifestyle are the main reasons to the rise of the cosmetic fillers industry. Furthermore, the number of non-surgical aesthetic operations performed yearly is growing. It is established in the report, published by International Society of Aesthetic Plastic Surgery's 2018 report, there were 12,659,147 non-surgical aesthetic procedures performed worldwide. As a result, the market's growth has been fuelled by the increasing demand for dermal fillers and the number of procedures conducted. The market is expanding due to rising demand for facial aesthetics and greater than ever average expenditure per patient in clinics. These elements are boosting market expansion. In the future years, advancements in filler materials are projected to have an impact on market growth. The US Food and Drug Administration (FDA) have approved a wide number of products for specific facial locations, allowing dermatologists to provide consumers with targeted treatment. The filler is approved to treat moderate to severe creases and folds on the face.
Report Scope of the Aesthetic Fillers Market
| | |
| --- | --- |
| Report Coverage | Details |
| Market Size by 2032 | USD 10.67 Billion |
| Growth Rate from 2023 to 2032 | CAGR of 7.30% |
| Largest Market | North America |
| Fastest Growing Region | Europe |
| Base Year | 2022 |
| Forecast Period | 2023 to 2032 |
| Segments Covered | Material, Application, Product Type, End User, Geography |
| Companies Mentioned | Allergan, Integra Lifesciences, Galderma Pharma SA, Teoxane, Sinclair Pharma PLC, Laboratories Vivacy SAS, Merz Pharma, Sinclair Pharma, SunevaMedoical Inc., Dr. Koreman laboratories |
Launches of new products to bolster the Market Growth:
Major market manufacturers have been fastening on adding research and development (R&D) events and manufacturing new product results for specific operations as there exist changing demands on the basis of application. Prominent players in the market have acted on how advanced delicacy can be poignant in numerous operations. Allergan has announced the launch of its new device UVEDERM in the year 2018. This device has a base made by adding hyaluronic acid and is injective in form. This is being employed to refurbish facial silhouettes and enhance signs of fading. It is a procedure that primarily centers on the features of the face, particularly around the mouth, lips, and cheeks. The treatment to adjust the product does not take further than an hour. Integra Life Wisdom has announced the launch of its device Accell Evo3. This device is launched to extend bone graft in the pelvis, extremes, and the spine. It is also being utilized as a bone void padding for pelvic bones and extremes. Merz Pharma has announced the launch of Juvederm in the year 2019, which is a beauty aids treatment appertained to as a padding that concentrates on the face primarily around the mouth, cheeks, and lips. It is being employed to recollect facial silhouettes and ameliorate signs of fading. It is an injective dermal fillermade using hyaluronic acid. Toxane has announced the launch of its new product named as RHA hydrogel mask in the year 2019. This product is being utilized as a counterpart to a supervisory aesthetic treatment to make it smooth and console acclimatized skin following the operation of the post treatment care.
Material Insights
Due to its prominence as a gold standard for fillers, the hyaluronic acid (HA) sector emerged as the leading segment in 2022. In addition, new product introductions in this area are propelling the segment forward. Hyaluronic acid-based solutions are becoming increasingly popular because to their safety and relative lifespan. Furthermore, during the forecast period, prominent firms selling hyaluronic acid products in high-growing countries such as Europe, such as ALLERGAN (AbbVie, Inc.), are likely to fuel the segment's growth. Due of its safety qualities, the calcium hydroxylapatite sector had the second-largest market share in 2022. The debut of new products in this area by important players also contributes to the segment's growth.
Because of its safety qualities, the calcium hydroxylapatite category held the second-largest market share in 2022. Furthermore, the debut of new goods in this market by important companies drives segment growth. For example, Allergan Aesthetics will offer HArmonyCa with Lidocaine in April 2022. The injectable dermal filler has two active ingredients: CaHA for long-term collagen activation and hyaluronic acid for instant lift. Due to an increase in the number of fat filler operations in key areas such as North America, the fat fillers sector is expected to grow at a rapid CAGR during the forecast period.
Application Insights
Due to increased demand for these operations, the wrinkle repair segment was the leading section. Furthermore, new product launches aimed towards this market sector are expected to boost growth. Teoxane's RHA Redensity, which can be used to minimise the appearance of facial lines and wrinkles, was authorised by the US FDA in January 2022.Due to the high volume of lip procedures, the lip enhancement segment accounted for the second-largest segment. The segment is expected to be driven by rising demand for aesthetic lip enhancements, which is being driven by the development of minimally invasive procedures. For example, Merz Pharma announced the launch of Belotero Lips in April 2018, which is specifically designed for lip enhancement and the treatment of perioral lines.
Due to the high amount of lip treatments, the lip augmentation segment accounted for the second-largest section. The industry is likely to be driven by increased demand for aesthetic lip enhancements, which is being pushed by the development of minimally invasive treatments. For example, Merz Pharma announced the launch of Belotero Lips in April 2018, which is especially designed for lip augmentation and the treatment of perioral lines.
Region Insights
The total aesthetic filler market was controlled by North America, with the United States accounting for the majority of market contributions. Globally, consumers are increasingly more concerned about their physical appearance. Nonsurgical aesthetic filler methods that employ hyaluronic acid, collagen, polymers, and particles to enhance the look of the skin or a feature are used. The United States had the most nonsurgical aesthetic operations in 2018, with 2,869,485 procedures, according to the International Society of Aesthetic Plastic Surgery 2018 report. As new items are released, these statistics are projected to climb. This will help the region's market flourish.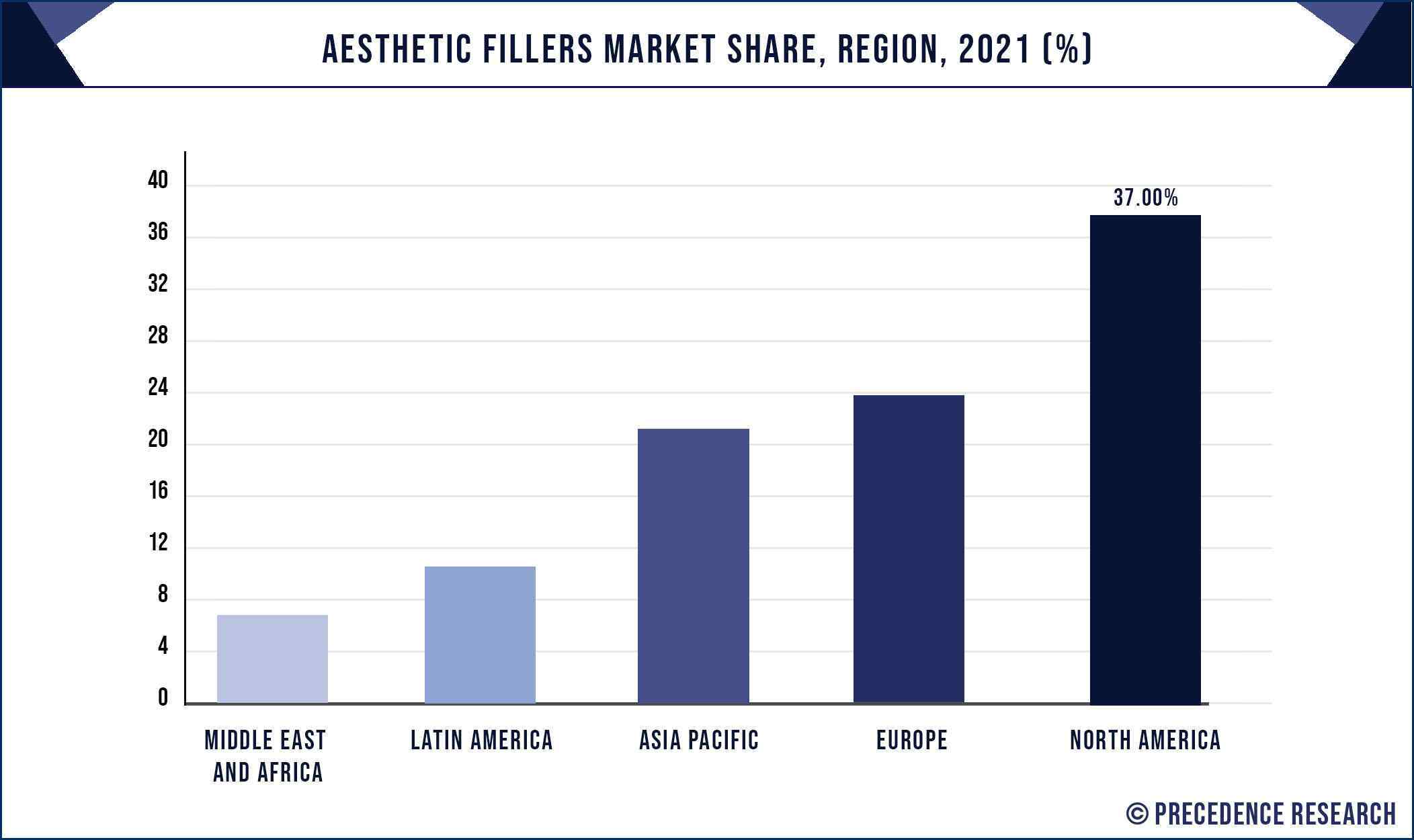 Europe held the second largest market share in 2022, owing to an increase in individual preference for dermal filler treatments in major European nations and increased R&D spending in Europe. According to the ISAPS Global Survey Results 2020, around 284,407 hyaluronic acid operations were conducted in Germany, making it one of the primary European nations with the biggest number of aesthetic procedures. During the projection period, Latin America and the Middle East and Africa held a comparatively smaller proportion of the dermal fillers market. However, the development of healthcare infrastructure in these nations, as well as the increasing intake of companies with unique products in these areas, may be critical in driving market expansion in these countries in the future throughout the projection period. According to the International Society of Aesthetic Plastic Surgery (ISAPS), the total number of hyaluronic acid treatments performed in Turkey in 2020 would be 162,240.
COVID-19 Impact Analysis
The demand for medical supplies up surged in order to take care of the infected populace. A few devices like life support machine, monitor, atomizer, and oxygen generator were the most utilized devices at the time of pandemic. Moreover, the demand for protective equipment like gloves, protective eyeglasses, and masks was at peak during this period. The demand for these supplies went on increasing with the number of COVID-19 cases across the globe to take precautionary measures.
The explosion of the COVID-19 pandemic affected the whole industry of medical devices. Aesthetic fillers was not an exception to this. All the treatments, whether it is surgical or non-surgical were being stopped as the spread of this viral infection was at its peak, due to which several governments across the globe announced a partial or full lockdowns. This has impacted the demand side dermal fillers as well as supply chains of the associated products with this treatment. Leading market players have lost their businesses due the impact of this virus on the demand and supply chains.
Key Market Developments
In October 2018, Allergan-AbbVie introduced its JUVEDERM, an injectable dermal filler, which is used as anti-aging filler.
Some of the prominent players in the global aesthetic filler market include:
Allergan
Integra Lifesciences
Galderma Pharma SA
Teoxane
Sinclair Pharma PLC
Laboratories Vivacy SAS
Merz Pharma
Sinclair Pharma
SunevaMedoical Inc.
Dr. Koreman laboratories
Segments Covered in the Report
(Note*: We offer report based on sub segments as well. Kindly, let us know if you are interested)
By Material
Hyaluronic Acid
Calcium Hydroxylapatite
Poly-L-Lactic Acid (Plla)
Pmma (Poly (Methyl Methacrylate))
Fat Fillers
Others
By Application
Scar Treatment
Wrinkle Correction Treatment
Lip Enhancement
Restoration of Volume/Fullness
Others
By Product Type
Absorbable

Non-absorbable
By End User
Specialty & Dermatology Clinics

Hospitals & Clinics

Research & Academic Institutes
By Geography
North America
Europe
Asia-Pacific

China
India
Japan
South Korea
Malaysia
Philippines

Latin America

Brazil
Rest of Latin America

Middle East & Africa (MEA)

GCC
North Africa
South Africa
Rest of the Middle East & Africa