The global medical aesthetic devices market size was valued at US$ 16 billion in 2022 and it is expected to reach US$ 43.23 billion by 2032, growing at a CAGR of 10.50% from 2023 to 2032.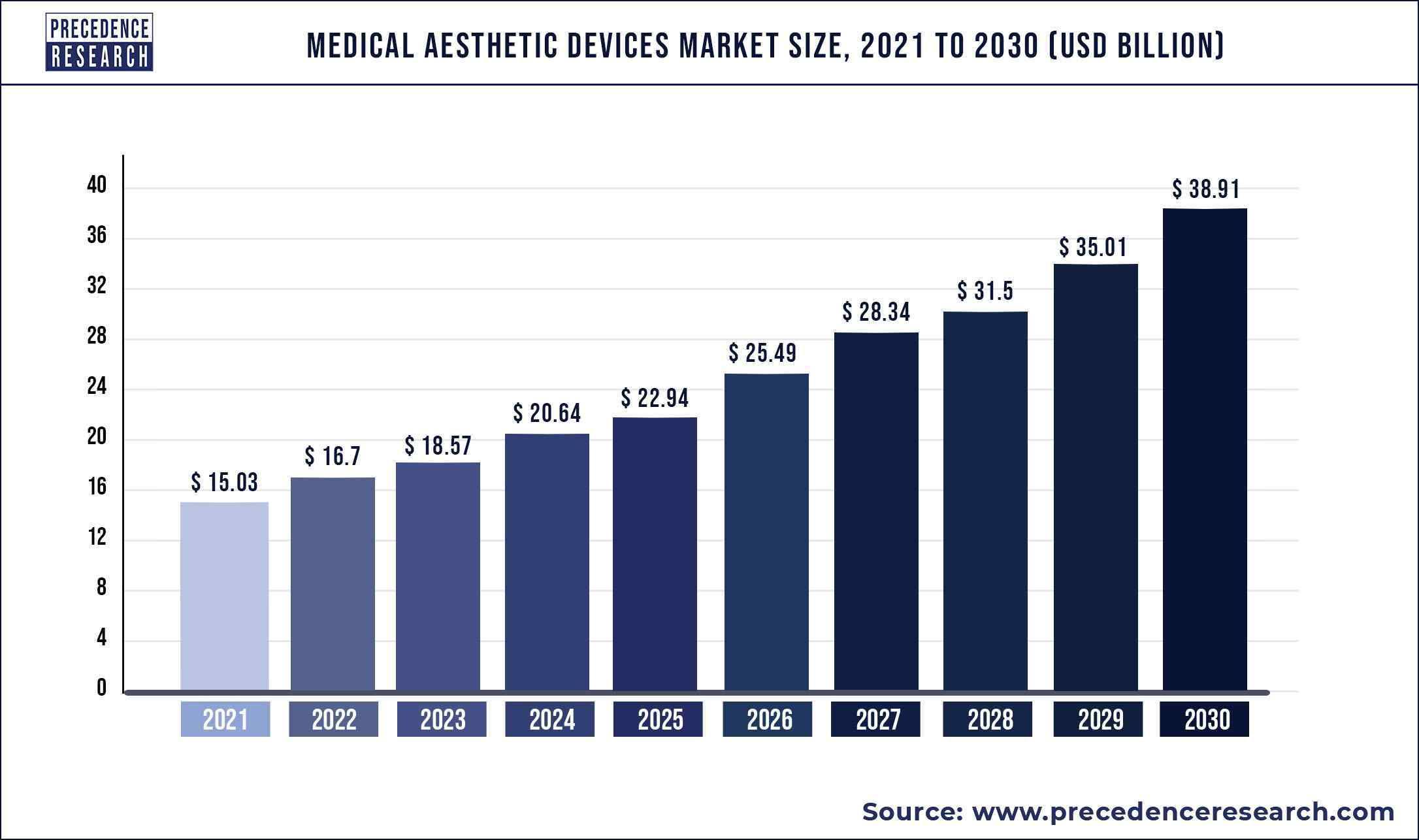 Access our Premium Real Time Data Intelligence Tool, Visit: Precedence Statistics
Market Overview
Medical aesthetics is a method which involves technically advanced facial beauty cleansing over the usage of irregular surgical and non-surgical treatments. It is an inclusion of the blend of appeal and medical labors. Medical aesthetic devices are being utilized to cope with injuries connected with particular aesthetic occurrences such as crimps, exaggerated fat, scar operation, hair replant, hair loss, and skin discoloration. As per the study conducted by the International Society of Aesthetic Plastic Surgery (ISAPS), in 2015, approximately 38,097,209 aesthetic/cosmetic treatments were prosecuted across the world.
Growth Factors
Medical aesthetic devices include all medical devices used for body beauty, correction, and improvement operations such as excess fat removal, anti-aging, aesthetic implants, undesirable hair removal, skin tightening, cosmetic surgery, permanent tattoo removal, and more. Medical aesthetic methods might differ depending on the therapy and kind of condition being addressed.Surgical techniques, laser treatments, skin patch removal, and medicines are all possible. Lesions, discolouration, varicose veins, and rosacea can all be treated with such procedures. Such medicated operations are carried out using a variety of instruments. The latest aesthetic gadgets may also be utilised to regenerate healthy skin on the face, giving clients a non-invasive option for facial rejuvenation.
The utilization of several surgical and non-surgical treatments to improve the look of the skin on the face is known as medical aesthetics. It involves the integration of medical and cosmetic treatments. Cosmetic devices are used to address scar management, hair loss, skin discoloration, excess fat, wrinkles, and hair transplant.According to the International Society of Aesthetic Plastic Surgery (ISAPS), roughly 38,097,209 aesthetic treatments were performed worldwide in 2015. An increase in demand for minimally invasive procedures, surging prevalence of congenital tooth, rising incidences of face deformities, technological advancements in aesthetic device, and rise in the number of cosmetic surgeries are the prominent factors that are boosting the global aesthetic devices market growth.
Increased obesity, increased awareness of cosmetic operations, rising acceptance of minimally invasive tools, and technological progress in instruments are some of the elements boosting market growth. People's concerns about their aesthetics are constantly increasing in both developed and developing countries. As a result, the volume of cosmetic procedures performed each year is increasing. Even if the rate of increase in developing nations is not very noteworthy, the reality remains that individuals are becoming more concerned about their looks, particularly as their living standard rises. Cosmetic surgery has been a common practice in Asia, with countries like South Korea, China, and India being Asia's largest cosmetic surgery markets.
The industry is also driven by the increased popularity of minimally invasive and non-invasive aesthetic procedures. With the introduction of the internet, information became more widely available, and individuals became more aware of aesthetic operations. All of these variables combined raised public awareness of medical aesthetic procedures, resulting in increased demand forperiod medical aesthetic devices and a massive increase in the market size for medical aesthetic devices. Customers are also seeking for online cosmetic home treatments as that of the danger of infection reduces, more consumers will seek aesthetic counsel from the comfort of their homes, giving cosmetic firms the chance to revamp their online offers, offer e-consultation services, and invest in the relevant technology, such as chatbots and augmented/virtual reality. Some lasers, such as ablative fractional lasers and high-peak-power ultrashort-pulsed lasers like nano- and picosecond lasers, are linked to airborne pollutants, according to a research published in the Journal of Cutaneous and Aesthetic Surgery (September 2020).
Report Scope of the Medical Aesthetic Devices Market
| | |
| --- | --- |
| Report Coverage | Details |
| Market Size by 2032 | USD 43.23 Billion |
| Growth Rate from 2023 to 2032 | CAGR of 10.50% |
| Largest Market | North America |
| Fastest Growing Region | Asia Pacific |
| Base Year | 2022 |
| Forecast Period | 2023 to 2032 |
| Segments Covered | Type, Application, End User, Region |
| Companies Mentioned | Allergan plc, Dentsply Sirona Inc., Johnson & Johnson, LUMENIS LTD, MERZ PHARMA GMBH & CO. KGAA, Hologic, Inc., Sientra Inc, SYNERON MEDICAL LTD, VALEANT PHARMACEUTICAL INTERNATIONAL, INC, Zimmer Biomet Holdings, Inc. |
Type Insights
Due to increased awareness about cosmetic operations, the aesthetic implant category was the leading revenue contributor in 2022, and this trend is expected to continue during the projection period. Device demand is expected to grow at remarkableCAGR the projection period, due to an ageing population, the availability of user-friendly products, and rising trend to appear aesthetically appealing.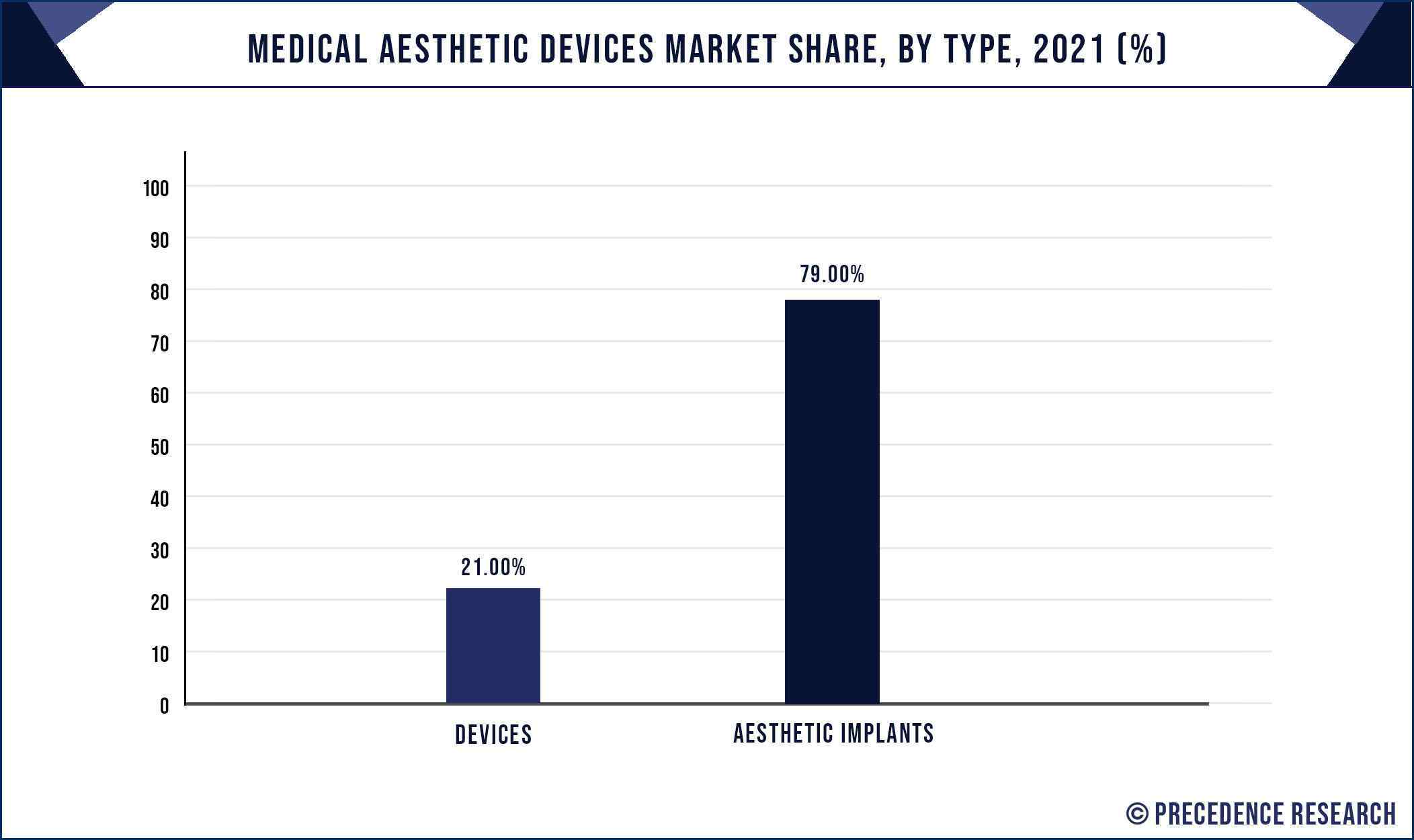 Implants segment held a 79% share of the aesthetic medicine industry in 2022, owing to increased use of face surgery such as rhinoplasty, blepharoplasty, and breast augmentation treatments. According to the American Society for Aesthetic Plastic Surgery, about 185,957 breast augmentation operations will be done worldwide in 2020. Increased acceptability of breast augmentation treatments among females aged 22-40 would increase demand for breast aesthetics, boosting industry income.
Application Insights
In 2022, the non-surgical sector accounted for more than 63% of the market. The rising availability of non-surgical aesthetic gadgets, as well as public awareness of less invasive treatments, will fuel the expansion of non-surgical operations. Non-invasive procedure technology advancements, which focus on shorter operation times and faster recovery, are also influencing procedure uptake.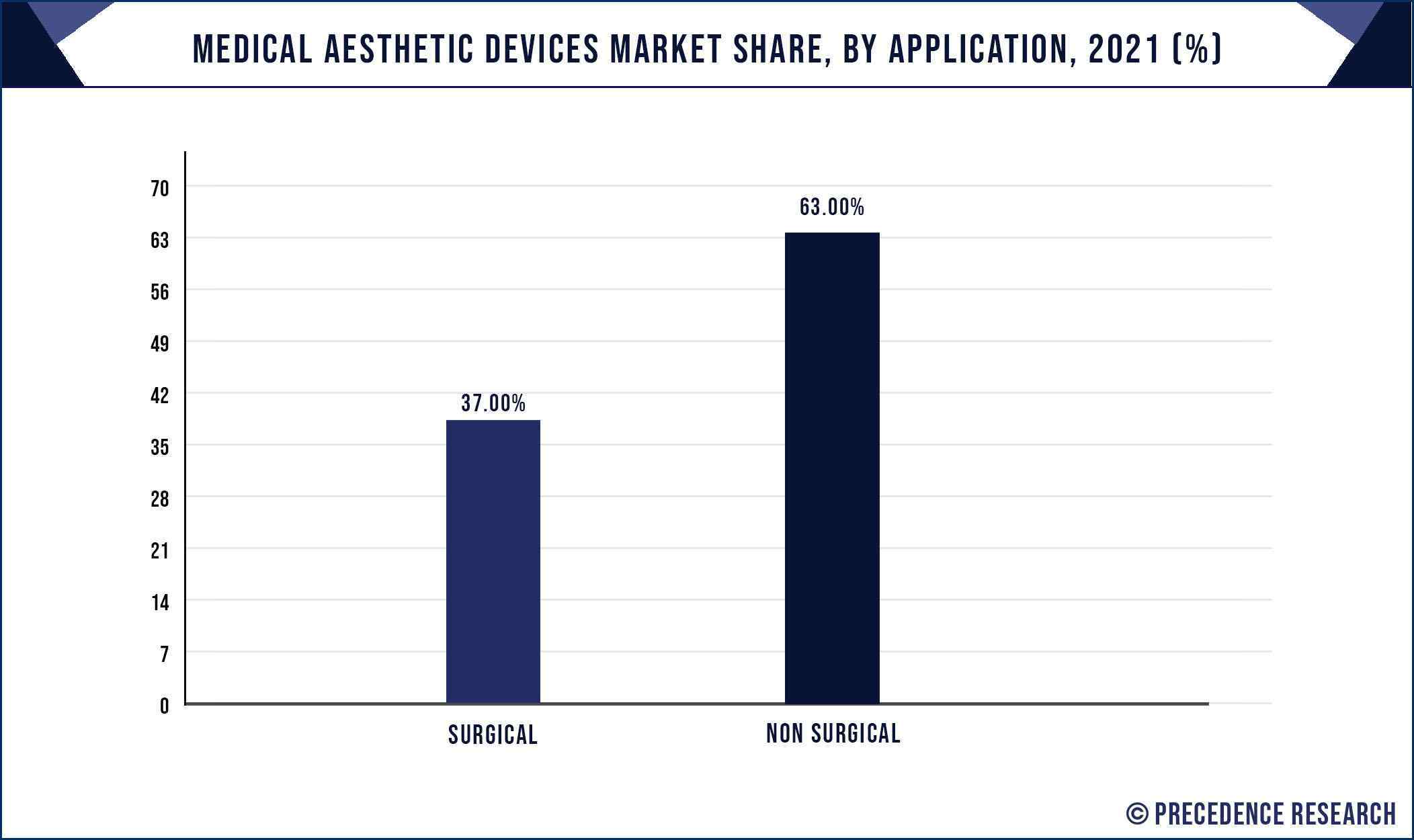 Due to rising demand for facial aesthetic procedures and non-invasive cosmetic procedures, the facial aesthetics segment accounted for the majority of revenue in 2020. Another factor influencing market growth is the growing geriatric population, which requires these operations, as well as innovation. Medical spas and clinics are expected to grow the most during the forecast period, due to an increase in the number of medical spas and clinics, as well as a rise in the number of experienced professionals performing aesthetic procedures, as well as an increasing demand for minimally invasive and non-invasive aesthetic procedures. Non-surgical therapies include, among others, face injectables and cryolipolysis. Such operations help to address facial lines, wrinkles, cellulite, and unsightly fat in a short amount of time and with minimum side effects. Furthermore, during the last several years, there has been a significant growth in the desire to overcome the indications of ageing. As a result of the rising baby boomer generation base, acceptance of non-surgical anti-aging techniques will drive category expansion during the projection period.
Region Insights
Medical aesthetic technique has progressed in North America, notably in the United States, over the previous two decades. Technological developments in equipment, increased awareness of aesthetic procedures, increased usage of minimally-invasive methods, and a growing obese population in the region are all expected to have a beneficial influence on the examined market growth in the region. As per the report published by American Society of Plastic Surgeons, 18.1 million cosmetic operations were conducted in 2019, a rise of 2% over 2018. This included 1.8 million cosmetic surgeries and 16.3 million minimally invasive cosmetic treatments. Furthermore, a growth in the senior population, advantageous reimbursement rates, the frequency of congenital tooth and facial defects, and sophisticated healthcare infrastructure are projected to boost the medical aesthetic Devices business.
As a consequence of improved knowledge and information about medical aesthetic treatments, the Latin American market accounted for a moderate revenue share in 2022. Leading market companies are concentrating their efforts on LATAM in order to provide cost-effective technologies and increase their market share. LATAM has evolved as a major medical tourism destination.
Cosmetic surgery has been a common practice in Asia, with nations such as South Korea, China, and India being Asia's largest cosmetic surgery markets. The market is also being driven by the increasing acceptance of minimally invasive and non-invasive aesthetic procedures. With the introduction of the internet, information became more widely available, and people became more aware of cosmetic operations.
COVID-19 Impact Analysis
The impact of COVID-19 pandemic on the medical aesthetic devices market was negative. Luxury and beauty sector underwent different challenges in managing their supply chain as well as formulation plants, namely components to be delivered to the end users in specific time span and the occurrence of an uneven demand for goods and services. The medical aesthetic devices market witnessed a span of descending growth for a time being, which is in account of the factors such as falloff in the goods demand from considerable end buyers, minimal functioning in most of the sectors, temporary stoppage of significant end use amenities like beauty centers and spas, perturbed supply chain, and disputes in relation with offering important/post sale outputs owing to the lockdowns declared by several governments across the nations.
Key Market Developments
Bausch Health Companies Inc. together with Solta Medical launched an excellent touch laser Clear+Brilliant. This product is organization's next gen laser in the year 2021.
Salient Medical launched the Reveal Skin Analyserin April, 2019. This analyser utilizes a skin care photogenic imaging device and offers a remedial dimension of individual's skin background employing computerized photographic technologies.
Lumenic Inc. launched an inventive solution for a body and face procedures named as Legend PRO+ in April, 2019.It is made for those who want their skin healthy with a very less pain.
Lumenis Inc. launched a new product "Splendor X" in October, 2018. It is new laser hair removal treatment for fast and effectual for hair removal.
SharpLight technologies Limited added two more innovative products to its product line in April, 2018, namely Rapid Series, and Omnimax Series. These products are made for the procedures of skin rejuvenation, treatments of crimps, among others and has Dynamic Pulse Control (DPC) technology installed in it.
Competitive Landscape
The nature of the global medical aesthetic devices market is fragmented in account of presence of several dominant players in it. Major manufacturers in this market are using diverse strategies such as mergers, acquisitions, partnerships, and collaborations in order to maintain leading positions. Furthermore, industry leaders are also concentrated on new product launches in order to expand their product offerings.
The global medical aesthetic devices market appears to be fragmented in account of the presence of numerous dominant market players in it. Crucial manufacturers in this market are making use of diverse strategies such as acquisitions, collaborations, mergers, and partnerships in order to remain leaders in the market positions. In addition, these market players are also concentrated on launching new products to expand their product offerings thereby increasing their portfolio.
Associations in the medical aesthetic devices industry are rigorously working on their policies which are aiding them in prolonging in unfavorable conditions occurred owing to the impact of COVID-19. Companies in this market are keeping their regular activities intact with all the safety norms formed by the government authorities of different regions.
Some of the prominent players in the global Medical Aesthetic Devices Market include:
Allergan plc
Dentsply Sirona Inc.
Johnson & Johnson
LUMENIS LTD
MERZ PHARMA GMBH & CO. KGAA
Hologic, Inc.
Sientra Inc
SYNERON MEDICAL LTD
VALEANT PHARMACEUTICAL INTERNATIONAL, INC
Zimmer Biomet Holdings, Inc.
Segments Covered in the Report
(Note*: We offer report based on sub segments as well. Kindly, let us know if you are interested)
By Type
Devices

Energy-based Aesthetic Device

Laser-based Aesthetic Device
Radiofrequency (RF)-based Aesthetic Device
Light-based Aesthetic Device
Ultrasound Aesthetic Device

Non-energy-based Aesthetic Device

Botulinum Toxin
Dermal Fillers and Aesthetic Threads
Microdermabrasion
Other

Aesthetic Implants

Facial Implants
Breast Implants
Others
By Application
By End User
By Geography
North America
Europe
Asia-Pacific

China
India
Japan
South Korea
Malaysia
Philippines

Latin America

Brazil
Rest of Latin America

Middle East & Africa (MEA)

GCC
North Africa
South Africa
Rest of the Middle East & Africa