The global AI in medical coding market size was valued at USD 2.06 billion in 2022 and is expected to be worth around USD 7.15 billion by 2032, poised to grow at a CAGR of 13.3% during the forecast period from 2023 to 2032.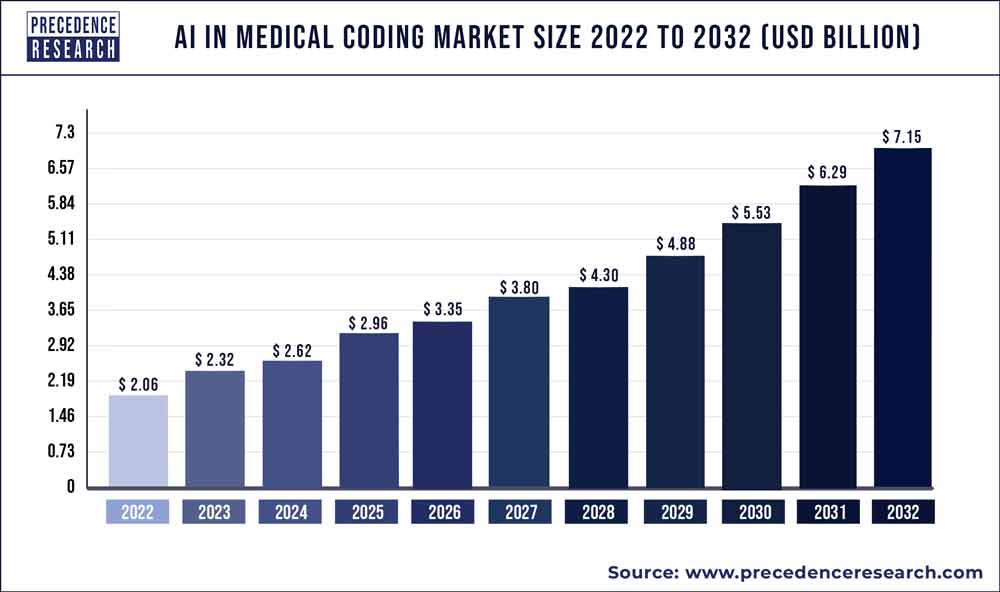 Access our Premium Real Time Data Intelligence Tool, Visit: Precedence Statistics
Key Takeaways
By region, North America contributed more than 32% of revenue share in the AI in medical coding market in 2022. Whereas Asia-Pacific is estimated to witness the fastest CAGR between 2023 and 2032.
By component, the outsourced segment has held the largest market share of 68% in 2022. On the other hand, the in-house segment is anticipated to grow at a remarkable CAGR of 20.8% between 2023 and 2032.
By end user, the healthcare providers segment generated over 45% of market share in 2022. Whereas the payers segment is expected to expand at the fastest CAGR over the projected period.
AI In Medical Coding Market Overview
The AI in medical coding market has witnessed significant growth in recent years. AI technologies, such as natural language processing and machine learning, are being employed to automate the complex and time-consuming process of medical coding. These advancements enhance accuracy, reduce errors, and improve coding efficiency. Additionally, AI-driven coding solutions help healthcare facilities streamline revenue cycle management and billing procedures. With the increasing adoption of electronic health records and the growing demand for healthcare services, the AI in medical coding market is projected to witness continued expansion, offering substantial benefits to healthcare providers, insurers, and patients alike.
AI in Medical Coding Market in the U.S. 2023 To 2032
The U.S. AI in medical coding market size was estimated at USD 0.40 billion in 2022 and is expected to grow to USD 1.38 billion by 2032, growing at a CAGR of 13.4% from 2023 to 2032.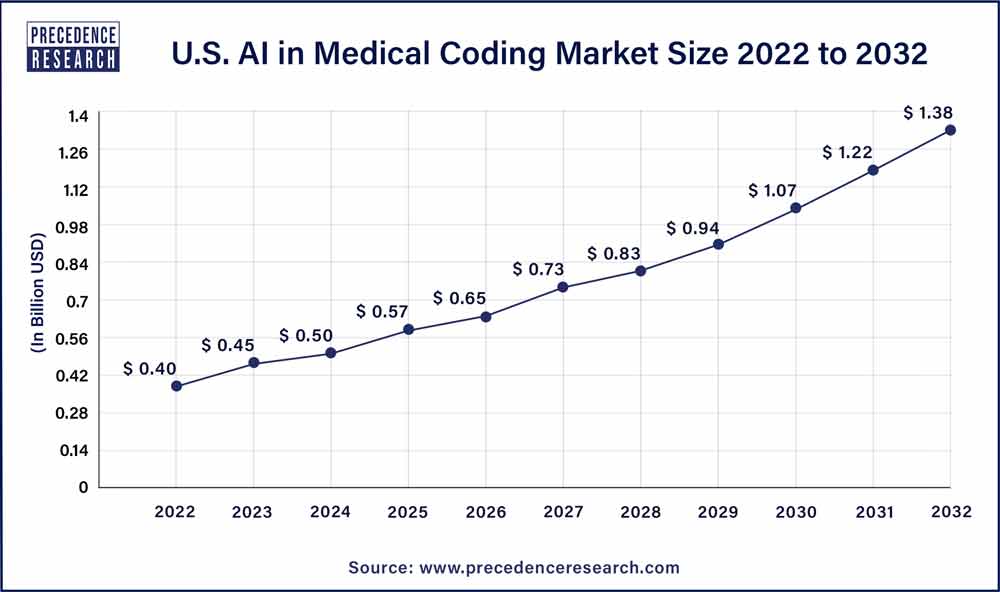 North America held dominating share of over 32% in the AI in medical coding market in 2022; the region is observed to sustain the trend throughout the forecast period. North America invests significantly in research and development, including in the healthcare and AI sectors. This investment fuels innovation and the development of AI applications in various medical fields, including medical coding. The region has access to substantial capital for startups and technology companies. This financial support encourages the growth of AI startups specializing in healthcare, including medical coding solutions. North American healthcare institutions, technology companies, and startups often collaborate on AI projects. These collaborations foster the development of cutting-edge solutions for medical coding.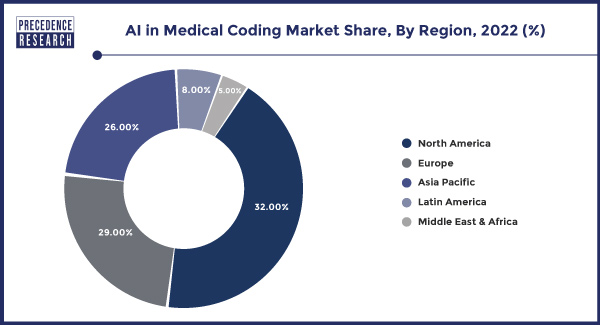 Asia Pacific is observed to witness the fastest rate of growth in the Ai in medical coding market throughout the forecast period. Asia Pacific, including countries like China and India, has been experiencing substantial economic growth. As a result, healthcare expenditures have been increasing, creating a greater demand for advanced technologies, including AI in medical coding. The Asia-Pacific region is home to a significant portion of the world's population. This, combined with the high prevalence of various diseases, has led to a growing need for efficient healthcare solutions. AI in medical coding can help streamline administrative tasks and ensure accurate billing and coding in large healthcare systems.
Growth Factors
AI streamlines medical coding processes by automating the identification and assignment of appropriate codes to diagnoses and procedures. It eliminates manual errors and significantly accelerates the coding workflow. This improved efficiency reduces costs and accelerates the revenue cycle.
The global demand for healthcare services continues to increase, resulting in larger volumes of medical data. AI systems can handle this surge in data more effectively, ensuring accurate and timely coding. This growth factor aligns with the need to improve healthcare delivery.
The healthcare industry is subject to complex and evolving regulatory standards. AI helps healthcare providers maintain compliance by ensuring that codes and documentation adhere to the latest regulations. This reduces the risk of penalties and audits.
The widespread adoption of electronic health records (EHR) provides a rich source of structured patient data. AI can leverage this data to enhance coding processes, offering a seamless connection between clinical documentation and coding.
AI-driven coding solutions play a vital role in revenue cycle management. They optimize billing procedures, reduce coding backlogs, and accelerate reimbursement processes, leading to enhanced financial performance for healthcare organizations.
The growth of telemedicine has created the need for remote coding solutions. AI facilitates remote coding, enabling medical coders to work from different locations, ensuring uninterrupted coding services.
AI in Medical Coding Market Scope
| | |
| --- | --- |
| Report Coverage | Details |
| Growth Rate from 2023 to 2032 | CAGR of 13.3% |
| Market Size in 2023 | USD 2.32 Billion |
| Market Size by 2032 | USD 7.15 Billion |
| Largest Market | North America |
| Base Year | 2022 |
| Forecast Period | 2023 to 2032 |
| Segments Covered | By Component and By End User |
| Regions Covered | North America, Europe, Asia-Pacific, Latin America, and Middle East & Africa |

AI In Medical Coding Market Dynamics
Driver
Increasing healthcare data volume
The burgeoning healthcare data deluge stands as a potent catalyst propelling the accelerated adoption of AI within the intricate landscape of medical coding. Within the healthcare realm, institutions grapple with an incessant inflow of data, spanning patient records, diagnostic reports, treatment chronicles, and administrative intricacies. This formidable challenge casts a shadow upon traditional manual coding processes, beset by inefficiencies and error susceptibility. AI-driven solutions excel in managing this data avalanche, swiftly and precisely parsing information, adept at discerning pertinent codes, and seamlessly applying them to procedural and diagnostic contexts.
This mechanized approach not only elevates the pace and efficiency of coding but also confers uniformity while mitigating the prospects of inaccuracies. Furthermore, the widespread proliferation of electronic health records (EHRs) plays a pivotal role in the ever-swelling healthcare data reservoir. AI seamlessly harmonizes with EHR systems, adeptly extracting and coding data directly from the realm of digital records. With the relentless expansion of healthcare data, the demand for precise and efficient coding solutions, ably facilitated by AI, is poised to intensify, securely establishing it as a cornerstone driving the burgeoning AI in medical coding market.
Restraint
Data privacy and security concerns
Privacy and security issues exert notable limitations on the growth of the AI in medical coding market. The healthcare industry is the guardian of sensitive patient data, encompassing medical histories and personal particulars. AI systems handling this data must rigorously adhere to stringent privacy regulations such as HIPAA in the United States, while concurrently establishing robust security protocols. The threat of data breaches and unauthorized access looms large, with even minor lapses in security potentially leading to severe legal and financial consequences for healthcare providers. The prospect of compromising patient data can erode trust, casting a shadow over an institution's reputation.
Furthermore, healthcare regulations are intricate and ever evolving, necessitating that AI systems continually adapt to stay compliant. Balancing compliance with the imperative to safeguard patient data against breaches creates a formidable challenge for healthcare organizations keen on adopting AI in medical coding. Often, considerable investments in cybersecurity and comprehensive staff training are imperative, acting as a deterrent to market expansion.
Opportunity
Increased efficiency is creating opportunities
Increased efficiency is a primary catalyst for opportunities in the AI in medical coding market. AI-driven coding systems can significantly expedite the coding process by automating the assignment of codes to diagnoses and procedures. This efficiency improvement translates into various benefits for healthcare providers. Firstly, it allows healthcare organizations to process a higher volume of medical records and claims in a shorter time, reducing backlogs and accelerating the revenue cycle. This increased throughput can result in higher revenue and reduced administrative costs.
Furthermore, improved efficiency permits healthcare professionals to dedicate more time to patient care and complex medical tasks rather than labor-intensive coding. This shift in focus ultimately enhances the quality of patient care and leads to better healthcare outcomes. As the demand for healthcare services continues to grow, AI-driven efficiency ensures that healthcare organizations can meet the challenge, making AI in medical coding a crucial tool to address the industry's evolving needs.
Impact of COVID-19
The COVID-19 pandemic expedited the adoption of AI in medical coding. With healthcare facilities experiencing an influx of patients and an increased need for efficient coding, AI systems became vital in managing the surge in medical data. These technologies assisted in faster diagnosis, improved revenue cycle management, and streamlined healthcare operations during a challenging period.
The pandemic necessitated remote work options in the healthcare industry. AI-powered medical coding systems supported this transition by enabling coders to work from home. This not only ensured uninterrupted coding services but also underscored the importance of AI in adapting to changing work environments.
The pandemic led to a surge in telehealth and digital health services, necessitating efficient and real-time coding. AI solutions played a crucial role in providing accurate coding for virtual consultations and remote monitoring, contributing to the success of telehealth initiatives.
The increased reliance on AI in medical coding heightened concerns about the security and privacy of patient data. Ensuring compliance with data protection regulations, especially in the context of remote work and telehealth, became a major focus, leading to substantial investments in data security and privacy measures.
Component Insights
The outsourced segment has held 68% revenue share in 2022. The outsourced segment holds a significant share in the AI in medical coding market due to several key factors. Outsourcing medical coding services to specialized vendors allows healthcare providers to access the benefits of AI-driven coding without the initial capital investment. It provides cost-effective solutions, especially for smaller healthcare facilities.
Outsourced coding services can swiftly integrate AI technologies, ensuring coding accuracy, scalability, and compliance, while also relieving in-house staff of coding burdens. This approach enables healthcare organizations to streamline their operations, reduce costs, and focus on core healthcare functions, making outsourcing a preferred choice in the evolving landscape of AI in medical coding.
The in-house segment is anticipated to expand at a significantly CAGR of 20.8% during the projected period. The in-house segment dominates the growth of AI in medical coding market due to factors such as data security and customization. Healthcare organizations prefer in-house solutions as they provide greater control over patient data, ensuring compliance with stringent privacy regulations. In-house systems can also be tailored to the specific needs of the organization, seamlessly integrating with existing workflows and electronic health records. Additionally, they offer real-time access to coding services, facilitating quicker turnaround times. These advantages make in-house AI coding solutions the preferred choice, holding a major share in the market.
End User Insights
The healthcare providers segment hold the largest market share of 45% in 2022 due to its pivotal role in implementing and benefiting from these technologies. Healthcare providers, including hospitals, clinics, and medical centers, are keen to improve operational efficiency, reduce coding errors, and enhance revenue cycle management. AI in medical coding enables them to streamline the coding process, ensure accurate code assignments, and expedite billing procedures. This not only results in cost savings and increased revenue but also allows healthcare providers to redirect their resources towards delivering superior patient care, making it a key driver of AI adoption in the industry.
On the other hand, the payers segment is projected to grow at the fastest rate over the projected period. The payers segment holds a significant share in the AI in the medical coding market due to its critical role in healthcare revenue management and claims processing. Payers, including health insurance companies, utilize AI-driven coding systems to accurately process.
Medical claims and identify fraudulent activities, reducing costs and improving operational efficiency. The automation of coding procedures within the payers segment ensures quicker reimbursements to healthcare providers, enhances accuracy in claims processing, and minimizes claim denials, making it a pivotal component in the broader ecosystem of healthcare cost optimization and revenue cycle management.
Recent Developments
In May 2023, Codametrix partnered with Henry Ford Health to launch their Autonomous Bedside Pro (ABP) medical coding solution. This cutting-edge system empowers clinicians to capture real-time clinical documentation, which is then subject to analysis by AI algorithms to produce precise and compliant codes. The result is a transformative solution that effectively eradicates coding backlogs, amplifies operational efficiency, and elevates coding accuracy by eradicating the need for manual coding while streamlining workflows.
In March 2023, Clinion, a prominent healthcare technology company, rolled out an AI-driven medical coding solution tailor-made for clinical trials. This remarkable offering significantly enhances the efficiency, precision, and speed of medical coding within clinical trials. The advanced AI algorithms swiftly decipher and interpret copious amounts of clinical trial data, extracting pertinent information and allocating appropriate codes, thus drastically reducing the time and effort required for coding tasks.
AI In Medical Coding Market Players
3M Health Information Systems
Optum360
M*Modal
TruCode
Cerner Corporation
nThrive
Dolbey Systems, Inc.
Streamline Health
M-scribe Technologies
Talix
HRS Coding
Saince
Flash Code
ZyDoc
Aviacode
Segments Covered in the Report
By Component
By End User
Healthcare providers
Medical billing companies
Payers
By Geography
North America
Europe
Asia-Pacific
Latin America
Middle East and Africa