The global analytics as a service (AaaS) market size was estimated at USD 7.43 billion in 2022 and it is anticipated to reach around USD 74.5 billion by 2032, poised to grow a CAGR of 25.9% during the forecast period 2023 to 2032.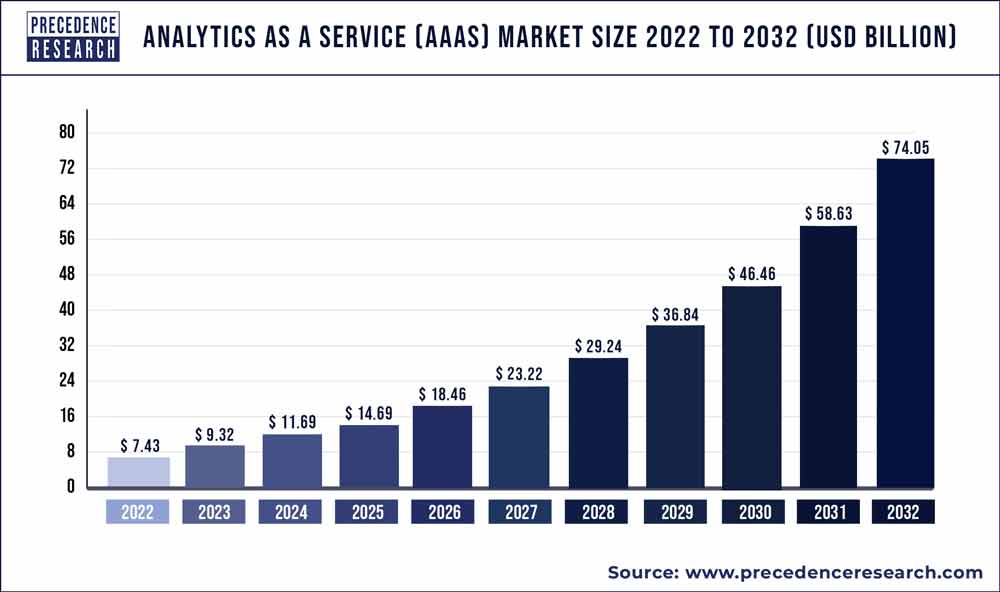 Access our Premium Real Time Data Intelligence Tool, Visit: Precedence Statistics
Key Takeaways:
North America contributed more than 43% of revenue share in 2022.
By Type, the predictive segment is expected to be dominant in the analytics as a service (AaaS) market during the predicted period.
By Deployment Mode, the public cloud segment shows a dominant position in the analytics as a service (AaaS) market during the forecast period.
By Component, the solutions segment is expected to be dominant in the analytics as a service (AaaS) market during the predicted period.
By Application, the telecommunication and IT segment is expected to be dominant in the analytics as a service (AaaS) market during the predicted period.
U.S. Analytics as a Service (AaaS) Market Size By 2032
The U.S. analytics as a service (AaaS) market size was valued at USD 1.91 billion in 2022 and is projected to surpass around USD 19.07 billion by 2032, expanding at a CAGR of 25.9% between 2023 and 2032.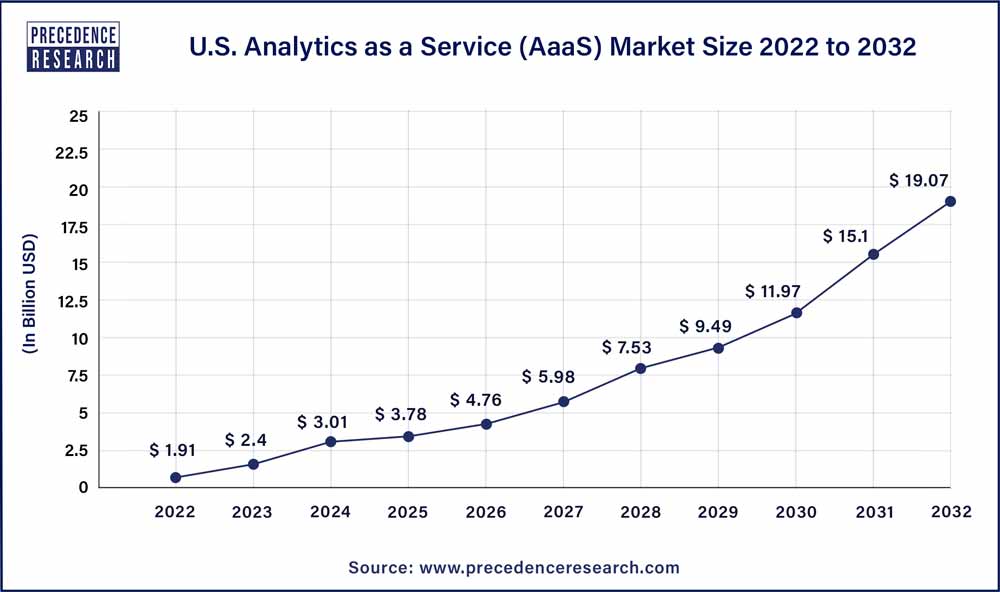 North America had the largest revenue share in 2022 and is expected to sustain its position throughout the forecast period. Countries in the region have led the way in technical innovation. The area boasts an established ecosystem of IT companies, startups, research organizations, and an advanced IT infrastructure, which fosters an environment favorable to developing and using analytics solutions.
The area has a robust investment ecosystem with access to plenty of private equity and venture capital investments. This strengthens North America's position in the industry and enables startups and existing businesses to innovate and scale their AaaS products. Companies in North America from various sectors, including manufacturing, e-commerce, healthcare, and finance, have realized the importance of data-driven decision-making. Due to this, there is a significant need for sophisticated analytics products and services.
Regulations such as HIPAA (Health Insurance Portability and Accountability Act) and GDPR (General Data Protection Regulation), which control data privacy and security, are established throughout North America, particularly the United States. This legal framework offer assurance regarding the utilization of AaaS.
Asia Pacific is Expected to be the Fastest Growing Region in the Market
Asia Pacific is expected to be the fastest-growing region in the analytics as a service (AaaS) market during the predicted timeframe. Data collection has increased dramatically across several industries, including retail, healthcare, finance, and manufacturing, due to technology's quick digitalization and acceptance. Many Asian countries are undergoing a cultural transition towards data-driven decision-making. Companies are becoming more aware of the benefits of using data to their advantage. New technologies have been quickly embraced, including cloud computing and sophisticated analytics tools.
There is an increasing focus on data privacy and security due to the increased reliance on data. Due to this, there is a desire for advanced analytics solutions that can offer insights while guaranteeing data security and legal compliance. For the AaaS industry to expand, a competent data science and analytics workforce must be accessible. Significant funding has been allocated to data analytics education and training initiatives in Asia Pacific.
Market Overview:
Analytics as a service platforms offer powerful BI features, including reporting, data visualization, and dashboard development, to assist businesses in gaining actionable insights from their data. AaaS market on global level emphasizes on creating industry-specific solutions that cater to the particular requirements and difficulties of various sectors, such as healthcare, banking, and manufacturing. A noteworthy development is incorporating machine learning and artificial intelligence into AaaS products.
This enables more complex data analysis, such as automated pattern detection, natural language processing, and image recognition. AaaS allows businesses forecast future trends, consumer behavior, and market dynamics by applying sophisticated algorithms and models to past data. There is an increasing requirement for analytics to be carried out near the data source as IoT devices multiply.
Advanced analytics solutions are now required due to the exponential development in data collection from numerous sources, such as social media, IoT devices, and digital transactions. Businesses can handle and glean insights from this massive volume of data owing to AaaS. AaaS offers a more affordable option for constructing and maintaining internal analytics infrastructure.
Growth Factors:
Enterprises can scale their analytics capabilities in response to unique requirements without incurring the high initial cost and continuous maintenance expenses of on-premises solutions. The cost factor offered by such solutions create a growth factor for the market to expand.
The expansion of AaaS has been made possible by the growing use of cloud computing. The infrastructure and resources required for analytics processing are provided by cloud platforms, which makes it simpler for enterprises to implement analytics solutions without needing to make significant hardware investments.
In June 2023, a complete labeling solution for the life sciences sector, IQVIA RIM Smart Labeling started offering an intelligence-driven strategy for more effective and consistent worldwide label management. Life sciences businesses may streamline the planning, tracking, execution, and workflow processes for regulatory labels using this innovative technology.
The capabilities of AaaS have been improved by advances in data science, particularly machine learning algorithms, and AI techniques. More advanced analysis, predictive modeling, and usable insights are made possible by these technologies, which increases demand for AaaS solutions. Real-time analytics are becoming increasingly necessary in today's fast-paced business climate to make quick judgments. Platforms that are offered as a service (AaaS) can handle streaming data and deliver real-time insights, which is essential for sectors including e-commerce, finance, and IoT.
Report Scope of the Analytics as a Service (AaaS) Market:
| | |
| --- | --- |
| Report Coverage | Details |
| Market Size in 2023 | USD 9.32 Billion |
| Market Size by 2032 | USD 74.05 Billion |
| Growth Rate from 2023 to 2032 | CAGR of 25.9% |
| Largest Market | North America |
| Base Year | 2022 |
| Forecast Period | 2023 to 2032 |
| Segments Covered | By Type, By Deployment Mode, By Component, and By Application |
| Regions Covered | North America, Europe, Asia-Pacific, Latin America, and Middle East & Africa |

Market Dynamics:
Driver:
Growth in data volume
Businesses are producing and gathering unprecedented data because of the growth of digital technologies. This data comes in various formats, including semi-structured data from sources like XML and JSON, unstructured data from text, photos, and videos, and structured data from databases. Businesses no longer need to invest in and maintain expensive IT infrastructures owing to AaaS. Instead, they can use cloud-based platforms, which provide the processing and storage capacity required to process and analyze massive datasets without incurring the capital costs related to in-house infrastructure. Increased data volume makes it harder to maintain good data governance processes and ensure compliance with data privacy laws.
Data protection, encryption, and compliance management tools are frequently included by AaaS providers, assisting enterprises in meeting legal obligations. The data environment is becoming more diversified and sophisticated. Such a diversified dataset requires sophisticated analytical techniques and experience to manage and derive insights. Thereby, the element is expected to drive the growth of the market.
Restraint:
Limited control over infrastructure
The underlying infrastructure for AaaS is primarily hosted, maintained, and managed by external service providers. This dependence may cause problems when the service provider has downtime, network failures, or other technical challenges. Users may only have limited troubleshooting alternatives in case of technical problems or breakdowns.
Skepticism regarding personal data handling, processing, and storage comply with applicable laws and organizational policies also limit the adoption of such services. When several clients share the infrastructure, users could face performance problems. They might not oversee how resources are distributed, which could result in competition for computing resources.
Opportunity:
Rising emphasis on customer experience
Delivering outstanding client experiences is vital to modern organizations. Companies depend increasingly on understanding client behavior, tastes, and attitudes as e-commerce and online services expand. Customers demand personalized service and products. The ability to customize products, services, and marketing initiatives based on consumer preferences increases customer happiness and loyalty. An unprecedented amount of customer data has been produced by expanding digital touchpoints, including websites, mobile apps, social media, and IoT devices.
Sophisticistic analytics tools and services are required to extract valuable insights from this flood of data. Customers and businesses communicate through a variety of online and offline platforms. Data from these sources can be integrated via aaaS solutions, giving a complete picture of customer journeys and touchpoints. This all-encompassing viewpoint is crucial for developing seamless, multichannel experiences.
Type Insights:
The predictive segment is expected to dominate the global market throughout the forecast period. Businesses are becoming increasingly aware of the significance of predictive analytics in making wise choices. They can foresee trends, spot opportunities, and reduce risks, all essential for establishing a competitive edge. The accuracy and capabilities of predictive analytics models have considerably improved owing to ongoing improvements in machine learning algorithms and processing capacity, which have enhanced model adoption and prediction confidence. Due to user-friendly interfaces and visualization features, predictive analytics platforms are becoming more accessible for non-technical consumers.
As a result, utilizing these services within various organizational departments becomes more democratic. As a service provider, analytics has strived to ensure that its products comply with industry standards and legal requirements in light of the growing emphasis on data protection and regulatory compliance.
The prescriptive segment is expected to witness a significant rate of growth during the forecast period. By offering recommendations and valuable insights, prescriptive analytics goes beyond descriptive and predictive analytics. This allows businesses to make more informed and efficient decisions, enhancing results and competitive advantages. Real-time data processing and analysis are now essential for many sectors.
Prescriptive analytics solutions are crucial in dynamic and quick-paced situations because they can quickly analyze incoming data, find pertinent trends, and offer relevant recommendations. Implementing rigid analytics can result in cost savings and increased return on investment (ROI). Process, resource, and decision-making optimization can help businesses minimize inefficiencies and improve operational performance. Prescriptive analytics solutions may now be deployed and scaled more quickly because of the development of cloud computing and advanced analytics platforms.
Deployment Mode Insights:
The public cloud segment is expected to dominate the market during the forecast period. Public cloud solutions have unmatched scalability, enabling businesses to increase or decrease their analytics capabilities instantly in response to demand. This is essential for managing enormous datasets and adjusting to changing workloads. A broad spectrum of advanced analytics tools and services are available on public cloud platforms. This comprises tools like machine learning, AI, data visualization, and several data processing frameworks that enable businesses to gain insightful knowledge from their data.
Public cloud service providers offer a wide range of services that can easily be integrated with the infrastructure and programs already in place on-premises. This makes it simpler for businesses to switch to cloud-based analytics without experiencing any disruptions to their daily operations. Public cloud platforms include robust data redundancy and disaster recovery techniques, so enterprises may swiftly restore their data even during a hardware failure with little to no downtime. All these elements promote the segment's expansion in the market.
Component Insights:
The solutions segment is expected to hold the dominating share of the market during the forecast period. The most effective AaaS products are built to grow with an organization's data needs. This indicates that they can handle growing data quantities without degrading performance or necessitating substantial infrastructure modifications. Leading AaaS providers make significant R&D investments to stay on top of new trends and technologies, keeping their products state-of-the-art and giving organizations access to the most recent developments in analytics.
Advanced analytics methods such as machine learning and predictive modeling are frequently used in AaaS solutions. This allows companies to delve above descriptive analytics and uncover insightful information from their data, such as future trends or patterns.
The services segment shows significant growth in the analytics as a service (AaaS) market during the forecast period. The demand for advanced analytics tools and services grows as firms produce and gather larger volumes of data. AaaS companies offer specific knowledge for effectively handling and processing enormous amounts of data. Most AaaS solutions are cloud-based, making them accessible from anywhere with an internet connection.
Application Insights:
The telecommunication and IT segment is expected to dominate the market during the predicted timeframe. Telecommunications networks are the foundation of data generation. Mobile devices, IoT sensors, and different digital platforms regularly produce a remarkable amount of data. This data comes from various sources, including social media, e-commerce transactions, sensors, and more, and are gathered, aggregated, and stored by IT systems. IT is essential in implementing modern analytics tools and machine learning algorithms.
This makes it possible for enterprises to gain insightful knowledge from the gathered data. Analytics are used by telecommunications businesses to enhance customer service and customize services depending on user behavior and preferences. Customer Data Platforms (CDPs) and analytics tools can be implemented for this purpose because of IT systems.
The bandwidth required to handle rising data loads and enable applications with different processing requirements is provided via telecommunications networks. These networks provide the bandwidth for sending data to analytics systems and obtaining real-time findings. Analytics solutions are scaleable owing to IT infrastructure. Platforms for cloud computing offer the freedom to scale resources up or down in response to demand.
The banking, finance services, and insurance (BFSI) segment shows significant growth in the analytics as a service (AaaS) market during the forecast period. Financial firms can uncover patterns, trends, and client behaviors by analyzing enormous amounts of data, resulting in more strategic and well-informed decisions. Financial institutions can improve operations, simplify procedures, and cut expenses through analytics. This covers resource allocation, personnel management, and branch network optimization. Cyber-attacks frequently target the BFSI sector. Sensitive financial data is kept safe through analytics, which aids in detecting and mitigating security breaches. Utilizing data analytics to remain ahead is common in a highly competitive business.
The BFSI sector can better manage lending, investment, and other financial transaction risks thanks to analytics. Predictive analytics assists in reducing losses, spotting potentially fraudulent activity, and protecting assets. Financial firms can learn more about the preferences and behaviors of their customers by using AaaS. This information is utilized to provide individualized services, targeted marketing, and customized financial products to increase client happiness and loyalty.
Recent Developments:
In June 2023, the Wipro Industry Development Experiences for Financial Services, which includes a new set of banking and financial services products built on the Microsoft Cloud, was introduced by Wipro. Wipro Full Stride Cloud and Microsoft Cloud capabilities will be combined in the Innovation Experience, using Wipro and Capco's extensive financial services industry knowledge. Microsoft and Wipro will create new solutions to aid clients in the financial services industry in accelerating growth and strengthening client connections. Financial services companies can investigate novel solutions in a 3D environment.
In April 2022, an expanded strategic relationship between Kyndryl and SAP was launched to create innovative solutions to assist clients in overcoming their most difficult digital business transformation issues. The expanded relationship will use Kyndryl's strong expertise in artificial intelligence (AI), data, cyber resiliency services, and SAP's Business Technology Platform (SAP BTP) to accelerate and facilitate a customer's cost-effective route to the cloud.
Key Market Players:
IBM
Oracle
SAS Institute
Google
Amazon Web Services (AWS)
Computer Science Corporation (CSC)
Hewlett-Packard Enterprise (HPE)
EMC
GoodData
Microsoft
Market Segmentation:
(Note*: We offer reports based on sub-segments as well. Kindly, let us know if you are interested)
By Type
Predictive
Prescriptive
Diagnostic
Descriptive
By Deployment Mode
Public Cloud
Private Cloud
Hybrid Cloud
By Component
By Application
BFSI
Retail and Wholesale
Telecommunication and IT
Government
Healthcare and Life Sciences
Manufacturing
Others
By Geography
North America
Europe
Asia-Pacific
Latin America
Middle East and Africa