The global prescriptive analytics market size was evaluated at USD 6.21 billion in 2022 and it is expected to hit around USD 54.24 billion by 2032, growing at a CAGR of 24.2% during the forecast period from 2023 to 2032.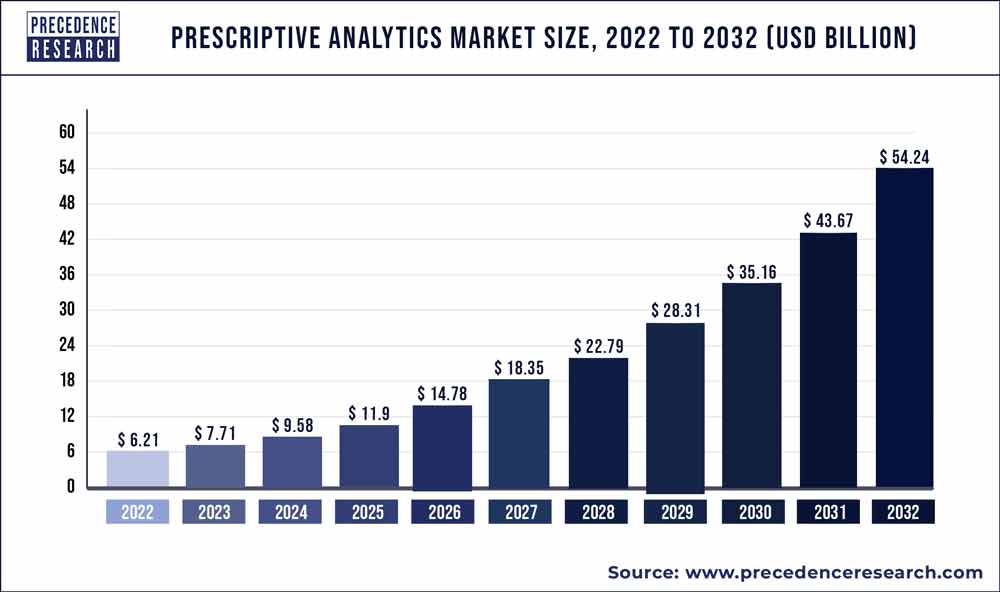 Key Takeaways:
North America held the maximum revenue share in 2022.
By Components, the service segment held the largest revenue share in 2022.
By Deployment, the on-premises segment is expected to expand at the fastest CAGR during the forecast period.
By Data Type, the unstructured data segment held the highest market share in 2022.
By Business Function, the operation segment is expected to expand at the fastest CAGR during the forecast period.
By Application, the supply chain management segment is predicted to grow at the fastest CAGR during the forecast period.
By Industry, the retail segment is expected to expand at the fastest CAGR during the forecast period.
Market Overview:
Prescriptive analytics uses descriptive, diagnostic, and predictive analytics methods to suggest some potential upcoming outcomes for given circumstances. Prescriptive analytics often offers insights such as data on potential outcomes, prior results, and available resources and suggests a course of action or strategy that must be implemented or changed. Additionally, prescriptive analytics not only forecasts potential outcomes but also explains why they are likely to occur. Consequently, a prescriptive model is frequently utilized to provide insight into recommendations related to activities that can benefit from the forecasts. Since prescriptive analytics can quantify the impact of future actions and offer guidance on potential outcomes, the demand for them among organizations throughout the world is thus anticipated to grow significantly.
Growth Factors:
The rise in demand for comprehensive market analytics solutions among businesses across the world for product differentiating solutions and to remain competitive in the global market is one of the key factors driving the growth of the worldwide prescriptive analytics market. The widespread usage of linked devices like smartphones, robotics, and sensors is accelerating industrial transformation across all industries, which is projected to fuel market growth. Enterprises are evolving from production facilities to smart organizations as a result of the use of analytics across several industrial verticals. Additionally, throughout the projected period, factors including the emergence of cutting-edge technologies and the introduction of the Internet of Things (IoT) are anticipated to drive market expansion.
Report Scope of the Prescriptive Analytics Market:
| | |
| --- | --- |
| Report Coverage | Details |
| Market Size in 2023 | USD 7.71 Billion |
| Market Size by 2032 | USD 54.24 Billion |
| Growth Rate from 2023 to 2032 | CAGR of 24.2% |
| Largest Market | North America |
| Base Year | 2022 |
| Forecast Period | 2023 to 2032 |
| Segments Covered | By Component, By Deployment, By Data Type, By Business Function, By Application, and By Industry |
| Regions Covered | North America, Europe, Asia-Pacific, Latin America, and Middle East & Africa |

Market Dynamics:
Drivers:
Empowering organizations for decision-making through real-time data access
Access to real-time data offers organizations current and reliable information on different elements of their operations, such as customer behavior, market trends, operational efficiency, and financial success. Organizations may get useful insights and make timely choices by accessing and analyzing this data in real-time. This enables them to adapt quickly to market changes, recognize new possibilities, and manage possible risks or concerns before they become major ones. To provide meaningful suggestions, prescriptive analytics relies on the availability of real-time data. Organizations can identify trends, correlations, and anomalies that would not be visible in typical batch processing by continually monitoring and analyzing data streams.
This real-time analysis enables organizations to proactively determine the optimal course of action for optimizing operations, improving efficiency, and achieving strategic goals. In addition, combining business intelligence and analytical tools with real-time data access improves decision-making skills. Organizations may use these technologies to visualize and study data in dynamic dashboards and reports, enabling interactive and intuitive data discovery.
Decision-makers have real-time access to critical metrics and performance indicators, allowing them to make data-driven choices quickly and confidently. The rising need for real-time data access and predictive analytics is driven by organizations' desire to obtain a competitive advantage in a crowded market. Organizations may use prescriptive analytics to not only analyze past and present data but also predict future events and take proactive efforts to change their results. This proactive strategy assists firms in staying ahead of the competition, identifying new income sources, optimizing resource allocation, and improving overall performance.
Restraints:
Managing the complexity due to data's evolving nature
Data properties such as volume, diversity, velocity, unpredictability, and honesty make managing data collection difficult, especially when large volumes come from several sources. Organizations are transitioning towards data-driven decision-making processes as the amount of data grows. However, this change creates difficulties in properly using prescriptive analytics.
The rate at which data is collected complicates the prescriptive analytics process even more. Rapid analysis and decision-making are required for real-time data streams. However, since data is dynamic, it is continuously changing and evolving. This makes it difficult to capture and analyze data in real-time to deliver timely prescriptive advice. The capacity to respond fast to changing data patterns and trends is critical for effective prescriptive analytics, yet handling the velocity of data needs complex algorithms and infrastructure.
Verifying the quality and honesty of data is also an ongoing problem. As data is collected from diverse sources and transformed, there is a danger of data quality concerns such as mistakes, biases, or missing information. Incorrect or untrustworthy data might result in erroneous prescriptive insights and suggestions. The success of prescriptive analytics programs is dependent on ensuring data integrity and maintaining strong data governance practices. Also, the dynamic nature of data and a lack of effective techniques for getting reliable data are impediments to the development of the prescriptive analytics business. Organizations require accurate and up-to-date data to make educated decisions and offer significant suggestions.
Opportunities:
Addressing the shortcomings of existing business intelligence tools
Traditional business intelligence solutions fail to properly analyze and draw meaningful insights from growing volumes of data. This generates a need for better analytical tools that may solve these restrictions and enable organizations to respond in real time to operational problems, consumer interactions, commercial possibilities, and threats. Prescriptive analytics, as a more sophisticated type of analytics, supplements typical BI methodologies and enables organizations to make real-time choices. Prescriptive analytics goes beyond just describing previous occurrences and projecting future consequences by integrating descriptive and predictive analyses. It focuses on choosing the optimal course of action given the present situation, giving organizations practical advice to optimize operations, improve performance, and capitalize on opportunities.
While descriptive analysis helps organizations understand what has occurred and predictive analysis predicts what may occur, prescriptive analysis goes a step further by finding the optimal arrangement based on current conditions. This enables organizations to shape their outcomes and capitalize on possible possibilities. To develop optimum plans and suggestions, prescriptive analytics use specialized modeling approaches such as machine learning and artificial intelligence. Prescriptive analytics enables organizations to optimize their operations by determining the optimal resource allocation, minimizing risks, and maximizing efficiencies. Delivering ideal suggestions based on data-driven insights, it assists firms in navigating complicated decision-making scenarios such as supply chain management, pricing strategies, inventory optimization, and resource allocation.
The need for prescriptive analytics solutions is projected to expand dramatically as organizations recognize the limits of standard BI tools in dealing with data complexity and the necessity for real-time decision-making capabilities. The prescriptive analytics market can capitalize on this need by providing organizations with the advanced analytical tools they need to unlock the full potential of their data and create a competitive advantage in the market.
Impact of Covid-19:
Covid-19 has had a substantial amount of effect on the prescriptive analytics market. Supply chain management is one area where prescriptive analytics has had a significant influence. The epidemic produced disruptions in global supply chains, emphasizing the importance of real-time visibility, demand forecasting, and inventory optimization. Demand for some prescriptive analytics applications, such as those used in retail and hospitality, also decreased as a result of the pandemic.
However, the pandemic also highlighted some important applications of prescriptive analytics. Covid 19 increased the demand for healthcare applications, logistics applications, and customer service applications. The pandemic held a mixed impact on the prescriptive analytics market yet, the demand for prescriptive analytics is expected to increase due to factors like increasing focus on risk management which can increase the demand for prescriptive analytics in finance and healthcare; adoption of cloud computing to make it easier for organizations to access and analyze data; and security to protect the sensitive data.
Segments Insight:
Components Insights:
On the basis of components, the service segment held the largest revenue share in 2022. Service providers decrease the time and effort necessary for customers to gain value from software by handling implementation and setup, allowing them to make informed decisions and achieve business outcomes sooner. The desire for customized solutions and faster time to value creates a big potential for service providers to respond to the individual demands of their clients. The reduced total cost of ownership, customization and flexibility, demonstration of value and ROI; are the growth factors driving the growth of the service segment.
Deployment Insights:
Based on the deployment, on-premises segment is expected to grow at the fastest CAGR during the forecast period. On-premises deployment involves hosting the prescriptive analytics software and infrastructure within the organization's own data centers or servers. This configuration offers organizations complete control over their data, ensuring that sensitive information stays within the company's infrastructure. This degree of control and security is especially important in companies dealing with sensitive data, such as financial institutions, healthcare organizations, and government agencies, which are subject to stringent rules and compliance requirements.
Data Type Insights:
On the basis of data type, the unstructured data segment held the largest revenue share in 2022. The rise of social media platforms has resulted in an explosion of user-generated material, such as posts, photographs, videos, and comments. These platforms have become an intrinsic part of people's everyday life, offering a steady supply of unstructured data containing valuable insights about consumer behavior, preferences, and attitude. Businesses have discovered the value of this data in better understanding consumer demands and interacting with their target audience.
Business Function Insights:
Based on the business function, the operation segment is expected to grow at the fastest CAGR during the forecast period. Prescriptive analytics is useful in the operations sector for discovering inefficiencies in manufacturing processes, supply chain management, and resource allocation. Companies can adopt strategic improvements to increase operational performance and reduce overhead costs by identifying areas for improvement. Through data analysis, the ability to foresee equipment failures and maintenance needs guarantees prompt preventative actions, which decreases downtime and operating disturbances. As a result, it saves a lot of money and increases overall ROI.
Application Insights:
Based on the application, the supply chain management segment is expected to grow at the fastest CAGR during the forecast period. The aim for greater association gains is one of the key driving factors for the rising interest in prescriptive analytics for supply chain management. Businesses strive to improve productivity, decrease lead times, and provide better customer experiences, all of which have a direct influence on their market competitiveness. Prescriptive analytics in supply chain management is gaining momentum in a variety of organizational verticals, including discount, retail, and assembly, among others.
Industry Insights:
Based on the industry, the retail segment is expected to grow at the fastest CAGR during the forecast period. This is due to the fact that retailers offer personalized marketing, price optimization, fraud detection, and a competitive advantage over rivals. To forecast the best-selling goods, retailers use prescriptive analytics to optimize their inventory levels. Retailers may prevent overstocking as a consequence, cut waste, and boost profits. By studying data on customer behavior, competing businesses, and market trends, prescriptive analytics help merchants determine the appropriate pricing for their products. A rise in sales and profits may be attained by selecting the appropriate price. To facilitate operations, businesses are spending money building platforms for the retail industry.
Regional Insights:
Based on the region, the North America held the largest revenue share is expected to grow at the fastest CAGR. The highly developed IT infrastructure in the region is a reason for the widespread use of prescriptive data analytics solutions by local enterprises. The solid technological base allows for more seamless integration of analytics systems, enabling seamless data processing and rapid access to insights. Also, the market in North America is flourishing due to the presence of numerous rivals competing in this sector, which fosters an innovative environment. This competition drives service providers to continuously enhance their offerings and deliver cutting-edge solutions that cater to the specific needs of businesses.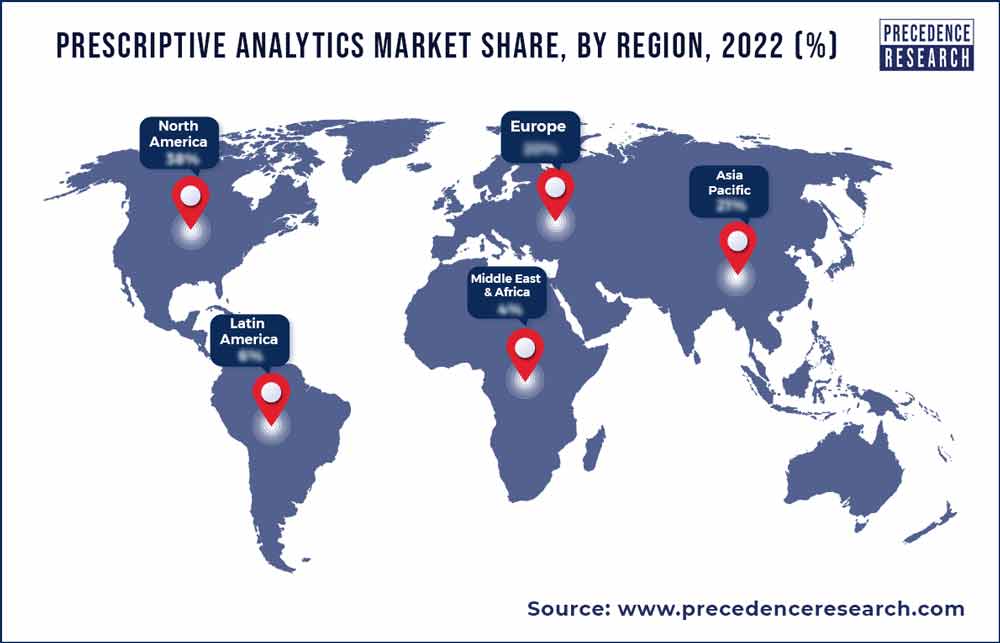 The Asia Pacific region is expected to grow at the fastest CAGR in the global prescriptive analytics market over the forecast period. This is owing to the increasing need for data-driven insights and their use in the detection of retail fraud, as well as the inclusion of numerous new technologies in analytics. The increasing popularity of ML, AI, and big data are also contributing to the growth of prescriptive analytics in this region.
Recent Developments:
In April 2023, using big data, statistical algorithms, and machine learning (ML), Certis Oncology Solutions unveiled CertisAl, a unique predictive medicine platform that forecasts the efficacy of medications using gene expression indicators. This holistic treatment for diverse cancers has the potential to speed up the creation of drugs and companion diagnostics.
In July 2022, Microsoft collaborated with Teradata, a multi-cloud platform supplier for business analytics, to integrate Teradata's Vantage data platform into Microsoft Azure.
In September 2021, the newest iteration of Infor's hospitality management system integrates mobile capabilities for outstanding
In May 2021, by combining new data management solutions into its cloud-native SASViya platform, SAS said that it will strengthen the basis for the success of data and analytics.
Key Market Players:
Microsoft
Salesforce
SAP
IBM
Talend
Rapid Miner
River Logic
FICO
Ayata
Sisense
Frontline Systems
Mitek Analytics
Happiest Minds
Netformx
Zebra
Segments Covered in the Report:
(Note*: We offer reports based on sub segments as well. Kindly, let us know if you are interested)
By Component
By Deployment
By Data Type
Unstructured Data
Semi-Structured Data
Structured Data
By Business Function
Human Resources
Marketing
Finance
Sales
Operations
By Application
Revenue Management
Network Management
Workforce Management
Supply Chain Management
Others
By Industry
Banking Financing Services & Insurance (BFSI)
Retail and e-commerce
Government and defense
telecommunications and Information Technology (IT)
healthcare and life sciences
travel & hospitality
media and entertainment
Others
By Geography
North America
Europe
Asia-Pacific
Latin America
Middle East and Africa