The global animal vaccine market size was exceeded at USD 14.27 billion in 2022 and it is projected to surpass around USD 36.91 billion by 2032, poised to grow at a compound annual growth rate (CAGR) of 9.97% during the forecast period 2023 to 2032.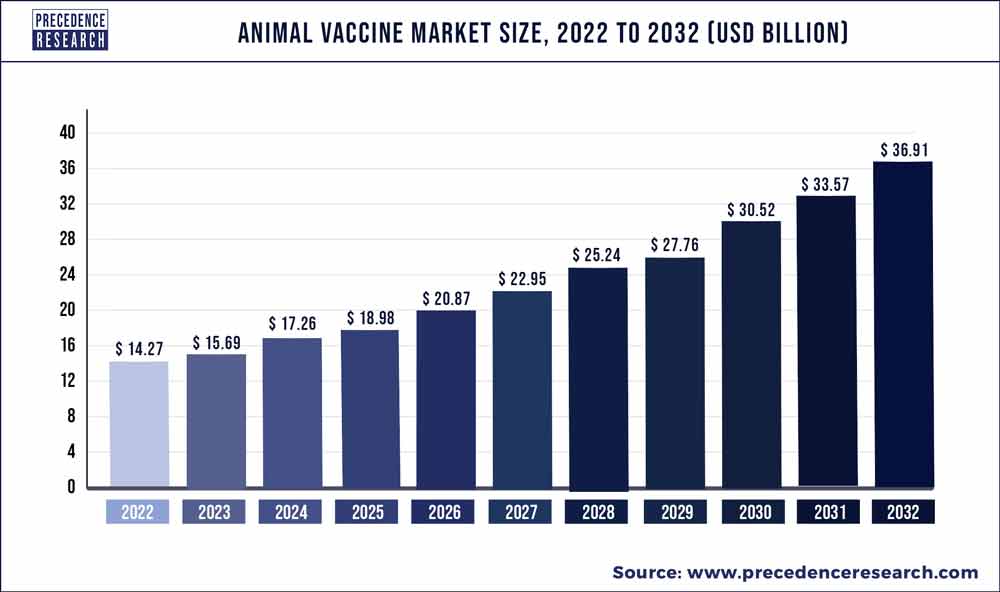 Key Takeaways:
North America dominated the market and captured more than 27% of revenue share in 2022.
Asia Pacific is expected to expand at the fastest CAGR from 2023 to 2032.
By Product Type, the attenuated live vaccines segment generated more than 36% of revenue share in 2022.
By Animal Type, the livestock segment led the market with more than 71% of the revenue share in 2022.
By Route of Administration, the subcutaneous segment dominated the market and contributed more than 41% of revenue share in 2022.
By Route of Administration, the intranasal segment is expected to expand at the fastest CAGR of 10.0% from 2023 to 2032.
Rising food security concerns and increased animal husbandry drive demand for livestock vaccines. Increased demand for animal products has resulted in increased livestock production globally. Furthermore, changing food preferences due to evolving lifestyles and population growth boosts the demand for livestock products. The continuous introduction of technologically advanced vaccines, as well as outbreaks of livestock diseases, have all contributed to shifting market dynamics.
Types
2022 (USD Millions)
2032
(USD Millions)
CAGR %
2022-2032
Food-producing animal vaccines (porcine, bovine, poultry, ovine, and fish vaccines)

5440.1

9204.1

4.8
Companion animal vaccines (canine, feline, and equine vaccines)

2258

3820.2

4.9
Other animal vaccines (rabbit, pigeon vaccines, etc.)

165

279.2
2.5

Covid 19 Impact:
In late 2020, incidents involving COVID-19-infected farmed minks were reported in several countries, including the United States and Denmark. As a result, such incidents have increased the demand for the COVID-19 animal vaccine. As a result, market participants are collaborating to develop veterinary vaccines against COVID-19. For instance, Zoetis is in the process of donating over 11,000 doses of its experimental COVID-19 vaccine to help protect Zoo animals' health and well-being. Conversely, Russia registered the world's first Covid-19 vaccine for animals, called Carnivac-Cov, in April 2021. As an outcome, the increasing number of COVID-19 infections in domestic and wild animals will increase the acceptance of animal vaccines for ensuring preventive animal healthcare, propelling industry growth.
Report Scope of the Animal Vaccine Market:
| | |
| --- | --- |
| Report Coverage | Details |
| Market Size in 2023 | USD 15.69 Billion |
| Market Size by 2032 | USD 36.91 Billion |
| Growth Rate from 2023 to 2032 | CAGR of 9.97% |
| Largest Market | North America |
| Fastest Growing Market | Asia Pacific |
| Base Year | 2022 |
| Forecast Period | 2023 to 2032 |
| Segments Covered | By Product Type, By Animal Type, By Route of Administration, and By End User |
| Regions Covered | North America, Europe, Asia-Pacific, Latin America and Middle East & Africa |

Driver:
Increase in livestock production boosting the market growth
In livestock farming, veterinary vaccinations increase overall productivity and ensure animal health. More efficient livestock production and improved access to high-quality protein are required to feed the world's growing population. According to an FAO High-Level Expert Forum, overall food production will need to increase by 70% between 2005 and 2050 to feed a predicted global population of 9.1 billion people, and vaccinations that protect animal health and increase supply are critical components in meeting this goal. Furthermore, they reduce the need for antimicrobials to treat infections in food-producing and companion animals, as there are growing concerns about antibiotic resistance linked to the introduction of antibiotics in human and veterinary medicine, as well as their ability to eliminate the thinning of organisms causing foodborne illness in humans boosting the market growth in the forecast period.
Restrain:
Stringent regulatory regulations restrict the industry's growth
A drug regulatory authority (DRA) ensures that all medicinal products are of acceptable quality, safety, and efficacy, that they are manufactured and distributed in such a way that their quality is maintained until they reach the consumer, and that valid commercial promotion is certified. DRAs' primary responsibilities include licensing products, inspecting and licensing manufacturers and distributors, conducting post-marketing surveillance, regulating claims made for the commercial promotion of products, and authorizing clinical trials. Receiving marketing approval for new vaccines from these regulatory agencies is costly and time-consuming; the financial position of companies involved in vaccine development is heavily influenced by their ability to obtain or maintain regulatory approvals.
Opportunities:
Increasing animal illness provides lucrative opportunities for the animal vaccine
As the number of animals suffering from various diseases rises, so does the demand for vaccines to prevent and treat such diseases, propelling the veterinary vaccines market. According to Animal and Plant Health Agency estimates, a total of 3289 new TB herd incidents were detected in England. Bovine tuberculosis is a chronic disease typically affecting cattle, but it can affect all mammals, causing general illness, coughing, and eventually death. However, the condition can be treated with antibiotics that kill the tuberculosis bacteria. During the forecast period, the rising prevalence of diseases in animals is expected to drive the veterinary vaccines market.
Increase in the number of R&D activities and the introduction of new products
An increase in research and development activities for designing an effective, efficient, and high-quality vaccine for companion and farm animals, as well as the launch of new products, will provide beneficial opportunities for the veterinary-animal vaccines market. Furthermore, technological advancements in the development of animal health vaccines, as well as an increase in the number of emerging markets, will provide additional opportunities for the growth of the veterinary-animal vaccines market during the forecast period. Furthermore, the increasing number of cattle and poultry in developing countries, as well as advancements in healthcare technology, will accelerate the growth rate of the veterinary-animal vaccines market in the future.
Segments Insight:
Product Insights:
Attenuated live vaccines dominated the market
In 2022, the attenuated live vaccines segment dominated the animal vaccines market, accounting for more than 36% of revenue. The oldest vaccination method used in the veterinary field is live attenuation. This method is also being tested for the Development of new applications. Some of these alternatives include the Development of intramuscular protein subunit vaccines for swine. These products help to reduce mortality and increase the life span of diseased vermin.
Over the forecast period, the recombinant vaccine segment is expected to grow rapidly. These vaccines aid in lowering the risk of pathogenicity in animals following vaccination. Because recombinant vaccines can carry multiple gene inserts, they are expected to aid in the immunization against multiple virus strains. These vaccine formulations can eliminate the need for adjuvants, increase vaccine viability, and improve vaccine stability. Vaccines against canine distemper, pseudorabies, Newcastle disease, Lyme disease, and avian influenza are among the recombinant vaccines available for veterinary medicine.
Animal Type Insights:
The livestock segment dominated the market
In 2022, the livestock segment dominated the market with a more than 71% revenue share. This can be attributed to the increased livestock population, supportive government initiatives, and disease outbreaks in cattle and sheep. Merck & Co., Inc. has developed vaccines to prevent E. coli, including Aviguard and Nobilis E. coli. Prevalence rates in various cattle categories (feedlot cattle, cattle on irrigated pasture, cattle at slaughter, and cattle grazing rangeland forages) range from 0.2% to 27.8%, according to Zoetis. The companion segment is expected to grow the fastest during the forecast period. Canine distemper virus is carried by both house pets and ferrets and requires only preventive vaccination because there is no post-infection treatment.
The Morbillivirus causes distemper in dogs, foxes, raccoons, and wolves and is spread through the air and other modes of contact between infected and healthy animals. Canine distemper is fatal because it destroys the respiratory, urogenital, and gastrointestinal tracts. Dogs with gastrointestinal tract bacterial infections and newborn puppies are more vulnerable to this disease. A few canine distemper vaccines on the market include Vanguard, DHPPi/L Vaccine, DHP, and Megavac.
Route of Administration Insights:
subcutaneous segment dominates the market
In 2022, the subcutaneous segment dominated the market for animal vaccines, accounting for more than 41% of total revenue. Subcutaneous injection sites are typically found behind the shoulder blades and in the neck of most animals. The ease with which drugs can be administered subcutaneously and slowly absorbed into the body is expected to drive market growth.
The subcutaneous route is also less painful for animals. Furthermore, training veterinary professionals to administer subcutaneous injections is simpler. Currently, intramuscular, and subcutaneous administration are the most common routes of administration in animals, and these elements contribute to market growth.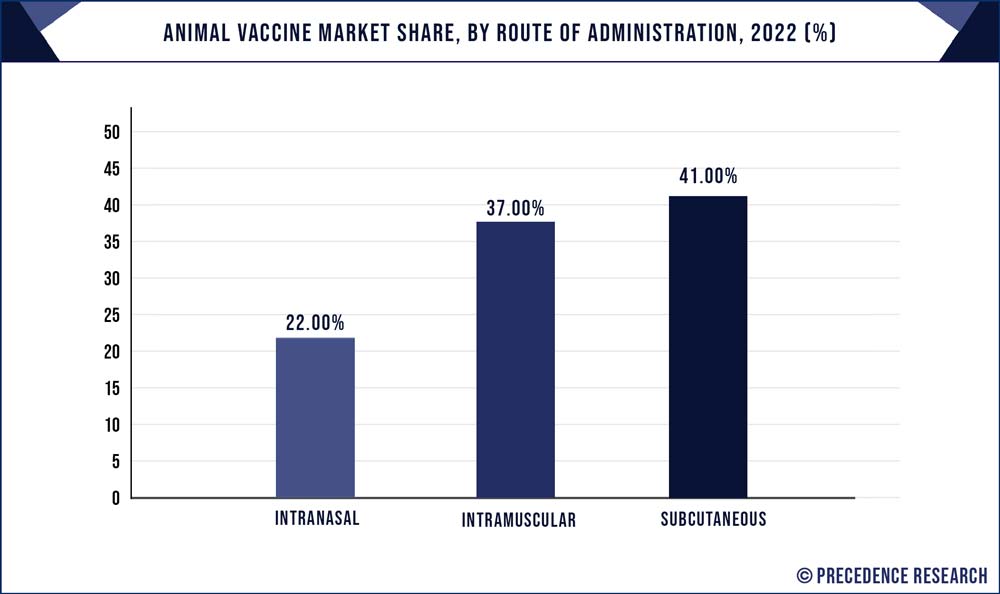 Due to its growing popularity, the intranasal segment is expected to grow at the fastest rate of 10.0% during the forecast period. Intranasal vaccines are typically limited to a single dose of vaccine. The rising prevalence of respiratory diseases in animals and increased research activities by market players to develop better vaccines are expected to drive market growth.
Regional Insights:
North America dominated the market, accounting for more than 27% of revenue in 2022. Throughout the forecast period, the region is expected to remain dominant. This large proportion can be attributed to the high prevalence of livestock and zoonotic diseases, which result in mass animal deaths. Furthermore, the significant presence of well-established pharmaceutical companies consistently striving for broad commercialization of their vaccines and expanding their geographical reach is expected to drive market growth. Again, the rising incidence of canine disorders, which is increasing the adoption of vaccination for the same, and the growing pet population in the United States are some key factors contributing to the regional market's expansion.
During the forecast period, Asia Pacific is expected to have the fastest growth rate. The anticipated increase in livestock population and government initiatives, particularly in developing economies, are among the primary factors expected to drive market growth in the region. The National Dairy Development Board reports that India's cattle population was 192.5 million in 2019, up from 190.9 million in 2012. As a result of the country's large cattle population, vaccine demand is high. The market is being driven by high R&D expenditure by many major players and increased attempts to commercialize veterinary vaccines and inoculations at tolerably low prices.
Top Markets for Animal Vaccine Patents:
The top priority countries can be investigated to determine where the initial patent applications are filed. Since organizations generally file patent applications first in the local territories where their research bases are located, this can be a good indicator of the countries where the majority of research and innovation in a particular technology field is taking place. Similarly, for universities, the priority country is usually the country in which they are based.
The top priority countries/regions for animal health patents include the United States, China, Europe, and Australia. The figure below compares these to the top countries where patents are subsequently filed for protection.
Recent Development:
In 2021, Zoetis introduced the Poulvac Procerta HVT-IBD vaccine to protect poultry from Infectious Bursal Disease (IBD). This was added to the company's existing portfolio of recombinant vector vaccines.
In 2021, The United Kingdom announced the establishment of a United Kingdom Animal Vaccine Manufacturing and Innovation Centre in Surrey to accelerate vaccine development for livestock and control the spread of viral diseases such as coronavirus. The UK government will contribute USD 24.79 million to establish this center, while the Bill & Melinda Gates Foundation will contribute USD 19.43 million.
IN 2021, Merck Animal Health joined forces with Automazioni VX, Inc. The main goal of this collaboration was to introduce Innoject Pro, a new subcutaneous chick vaccination technology. The technology will be combined with Merck Animal Health's Innovax vaccines to protect poultry against infectious diseases.
Company profiles and competitive intelligence:
A diverse range of competitors in the global animal health market offer companion and livestock vaccines. Merck, Zoetis, and Boehringer Ingelheim are among the major competitors. Virbac, Hipra, Ceva, Huvepharma, and Dechra are other market leaders in animal vaccines. Merck and Boehringer Ingelheim had the most extensive animal vaccine portfolios, with more livestock vaccines than companion animal vaccines and the most vaccines in poultry.
When it comes to livestock vaccines, Merck has the most licensed livestock vaccines, followed by Zoetis and Boehringer Ingelheim. There are similar trends in companion animal vaccines, with Virbac producing several.
Merck Animal Health is Merck's global animal health business unit. It is one of the world's leading animal health companies, researching, developing, manufacturing, and selling veterinary medicines such as anti-infective and anti-parasitic drugs, pharmaceutical specialty products, vaccines, and innovative delivery solutions. Merck Animal Health is in over 50 countries, with products available in approximately 150 markets. Merck serves all veterinary market segments, including companion animals, livestock, and aquaculture. Merck Animal Health reported USD 4.2 billion in revenue in 2021, with a CAGR of 10% between 2022 and 2032, accounting for 10% of Merck & Co.'s total income.
Key Market Players:
Merck & Co., Inc.
Zoetis
Boehringer Ingelheim International GmbH
Virbac
Biogénesis Bagó
Indian Immunologicals Ltd.
Elanco
Ceva
Phibro Animal Health Corporation
Neogen Corporation
Intas Pharmaceuticals Ltd.
Ourofino Saúde Animal
The animal Vaccine market is segmented as:
This report forecasts revenue growth at the global, regional, and country levels, as well as an examination of the most recent industry trends and opportunities in each sub-segment from 2023 to 2032. Precedence Research has segmented the global animal vaccines market report for this study based on product, animal type, route of administration, and region:
(Note*: We offer report based on sub segments as well. Kindly, let us know if you are interested)
By Product Type
Attenuated Live Vaccines
Inactivated Vaccines
Subunit Vaccines
DNA Vaccines
Recombinant Vaccines
By Animal Type
Livestock

Poultry
Aqua
Ruminants
Swine

Companion
By Route of Administration
Subcutaneous
Intramuscular
Intranasal
By End User
By Geography
North America
Europe
Asia-Pacific
Latin America
Middle East and Africa