The global automotive textiles market size was reached at USD 31.16 billion in 2022 and it is projected to hit around USD 45.55 billion by 2032, growing at a CAGR of 3.87% during the forecast period 2023 to 2032.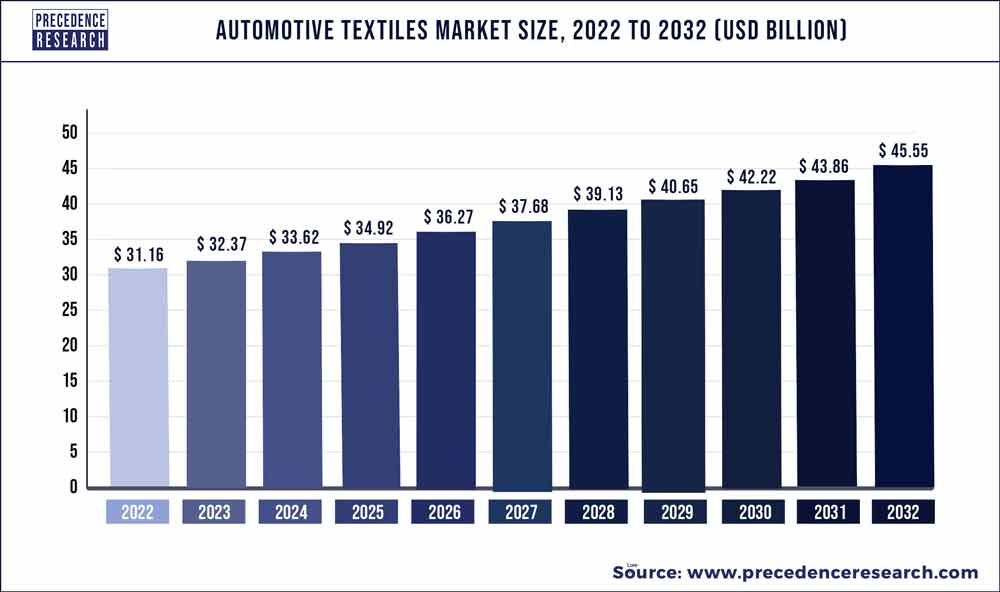 Access our Premium Real Time Data Intelligence Tool, Visit: Precedence Statistics
A car-specific cloth, filaments, and strands make up an automotive textile. These materials are used in car interior ornamentation to provide comfort and support. It is necessary to evaluate these fabrics' tensile strength, abrasion resilience, and other characteristics. These textiles are used in both small and large cars in the transportation sector. The goal of automotive textiles is to give travelers the most comfortable and enjoyable journey possible. It enhances the ambiance and protection of the car.
Key Takeaways:
Asia Pacific region dominated the global market and took in more than 48% of global revenue in 2022.
By Product Type, the woven segment gas generated more than 40% of revenue share in 2022.
By Application, the upholstery segment dominated the market and commanded more than 56% of the revenue share in 2022.
Growth Factor:
During the projection period, the market is anticipated to expand as a result of rising car output and a growing emphasis on safety devices. During the projection period, the market is anticipated to expand as a result of rising car output and a growing emphasis on safety devices.
The COVID-19 pandemic had a significant impact on the car industry, causing a sharp decline in vehicle sales as well as a shortage of basic materials. Additionally, the car fabric business has been impacted by the global decline of automakers. PPE packages, face masks, and safety shields are some of the products that producers are starting to produce to expand their companies.
Because most developing economies are experiencing an economic revival, the market for automotive textiles is approaching pre-COVID levels and is expected to expand rapidly over the forecast period. Due to the virus's high level of contagiousness and the frequent stoppage of public transit systems, demand for private cars increased, creating a demand for automotive textile products.
Increased customer desire in the United States for more contemporary automotive fabrics that give cars an attractive appearance and rising technological advancements in the automotive industry is likely to spur revenue growth in the sector. Furthermore, the U.S. automotive textile market is anticipated to develop as a result of the aforementioned aspect as demand for more effective and affordable automotive textiles increases in numerous countries around the world.
Market expansion is probably driven by worries about the impact of toxins released during the production of lightweight car fabrics as well as vehicle safety. The existence of key actors in the U.S. is also anticipated to boost demand for high-end, luxurious fabrics in automobile interiors and rapid urbanization.
In the upcoming years, the market for automotive textiles will expand due to an increase in car output, particularly in the Asia Pacific region where stringent regulations are in place.
As car output rises in nations like Indonesia, India, Thailand, and China, it is expected that the global market for automotive fabrics will expand.
It is anticipated that increased use of technical fabrics in the car sector will increase demand for the industry's textiles.
The growth of the global car textiles industry should be positively impacted by research and development initiatives targeted at producing better and more inventive textile products.
Report Scope of the Automotive Textiles Market:
| | |
| --- | --- |
| Report Coverage | Details |
| Market Size in 2023 | USD 32.37 Billion |
| Market Size by 2032 | USD 45.55 Billion |
| Growth Rate from 2023 to 2032 | CAGR of 3.87% |
| Largest Market | Asia Pacific |
| Base Year | 2022 |
| Forecast Period | 2023 to 2032 |
| Segments Covered | By Product Type and By Application |
| Regions Covered | North America, Europe, Asia-Pacific, Latin America, and Middle East & Africa |

Key Market Drivers:
Airbags, seat belts, and other safety equipment: Improving customer lifestyle and government regulations
There is a steadfast demand for vehicle safety features like airbags and seat belts as customers' discretionary income and living standards increase. The market for car textiles is expanding at a rapid pace as a result of these variables. Additionally, as customer lifestyles advance every day, personal cars are in greater demand. This will have a favorable secondary impact on the car textiles market's development rate.
The government-enacted safety laws that mandate airbags, seat belts, and anti-lock braking systems (ABS) be put in every car help the automobile industry. In order to help governments, strengthen safety regulations, original equipment marketplaces are supplying airbags and anti-lock braking systems (ABS) as standard features in automobiles in emerging nations. The quantity of cloth material needed for in-vehicle safety measures consequently rises. In these safety systems, various component uses call for various cloth materials. Government efforts have increased public awareness of safety features, which is causing the market for car fabric to expand.
Key Market Challenges:
Concerns regarding some car materials' inability to absorb much moisture
Global demand for automobile fabrics may be hampered by growing concerns about some car textiles' inadequate moisture absorption. Materials used in cars, such as carpets, seats, and insulation, are prone to collecting moisture over time, which can lead to mold and mildew growth, foul odors, and even health issues. Some materials used in car interiors, such as synthetic fibers, plastics, and leather, are hydrophobic, meaning they repel water and do not absorb moisture. This can lead to the accumulation of moisture in areas such as the carpet padding, leading to mold growth. To address these concerns, car manufacturers and suppliers are exploring new materials and technologies to improve moisture management in car interiors. Some options include using natural, moisture-absorbing materials such as wool or incorporating moisture-wicking fabrics into seat covers and carpeting.
Key Market Opportunities:
Rise in vehicle sale
Globalization is causing the car industry to change quickly. In most emerging nations like China, India, and Brazil, improvements in production infrastructure result in higher car sales. The development of the global automotive market is being driven by a variety of categories, including premium and four-wheelers, which offers improved efficiency and sales. This element significantly affects key participants in the automotive industry to spend and grow the company through various segments to improve profitability.
The demand for automotive cars is also fueled by rising customer discretionary income and increased sales of passenger vehicles around the world. Additionally, developing nations like Brazil, China, and India are the most hopeful for the car industry. As a result, the market for automotive cloth is expanding due to the rising demand for cars in the automotive industry.
The demand for cars with highly sophisticated features, low cost and upkeep requirements, and the greatest number of internal uses has increased in recent years. In turn, this expands the total use of cloth in automobiles. As a result, the increased demand for automobiles brought on by their sophisticated features is anticipated to open up a wide range of possibilities for market growth.
Segments Insight:
Product Type Insights:
The market's largest product category, woven fabrics, brought in more than 40% of all income in 2022. Strong demand as well as expanding urbanization and development are both responsible for this rise. In the near future, it is anticipated that the market demand for automotive fabrics will increase due to numerous government initiatives that promote the use of woven textiles rather than synthetic fibers.
During the projection period, the non-woven textile sector is anticipated to experience a CAGR of 3.5% in terms of value. This rise can be ascribed to rising auto output, which stimulated strong product demand. Since composites have superior mechanical qualities to braided materials, their use is predicted to rise.
Due to their superior mechanical qualities compared to other car fabrics, composite textiles are anticipated to experience the fastest growth during the projection period, expanding at a CAGR of 4%. The Asia Pacific area is anticipated to be the main driver of composites demand.
Due to increasing discretionary income and living standards across a number of emerging nations, the other sector is predicted to grow at a CAGR of 3.9% during the projection period. The increasing industrialization and urbanization are also predicted to boost the demand for other automotive fabrics.
Application Type Insights:
In 2022, the upholstery application sector dominated the market and commanded more than 56% of total income. Due to greater market penetration, which is linked to the rising appeal of automotive textiles in the upholstery application, upholstery ruled the North American automotive textiles application market. The increasing output and sales of autonomous cars with highly automated driving skills are expected to increase demand for automotive textiles in tire applications, which will support the rise in revenue for this application group.
During the projection period, the safety devices application sector is anticipated to grow at a CAGR of 4% in terms of value. The increased use of cloth in in-vehicle safety regulations has been blamed for this rise. The car industry benefits from safety regulations mandating the implementation of airbags, anti-lock brake systems and seat belts in every vehicle.
Safety mechanisms and engine parts are two important cloth uses in the car industry. Member states of the EU and EEA have adopted emission regulations, such as the Euro-VI petrol and diesel norms, which are expected to have a beneficial effect on the market for car textiles used in engine components.
Regional Insights:
In 2022, the Asia Pacific area dominated the industry and took in more than 48% of worldwide revenue. The automotive textile market will expand during the projection period as a result of factors such as rising population, urbanization, and major players expanding their activities in these areas. In addition, there are now tighter requirements for the use of safety harnesses and airbags in vehicles. Due to stringent government vehicle regulations across the entire nation, North America will also continue to show profitable development throughout the forecast time.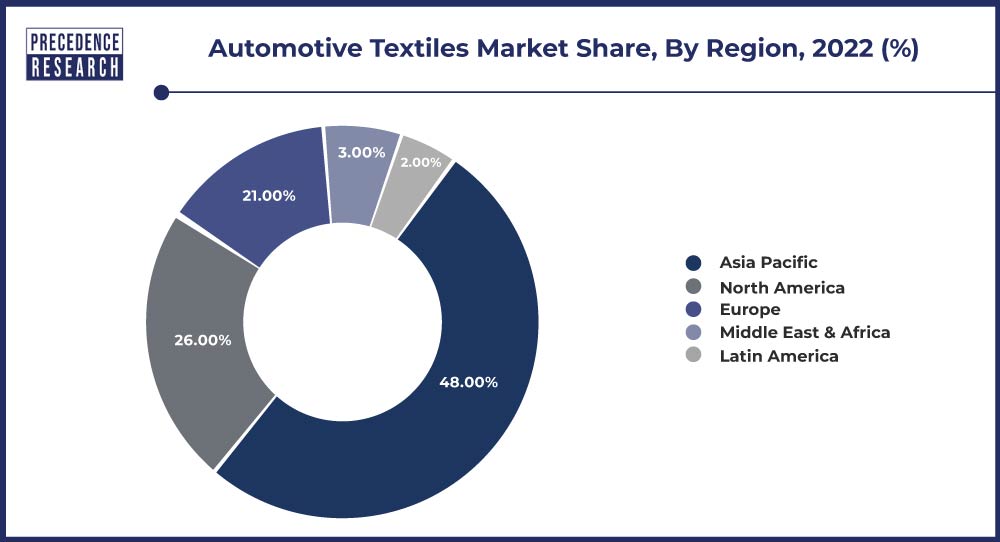 Due to the expanding benefits from rising utilization of car fabrics in upholstery uses with growing development and urbanization, the Europe area is predicted to grow at a CAGR of 2.9% during the projection period. The massive production of cars will promote the growth. The UK market is anticipated to expand considerably over the course of the projection period.
In 2022, the Middle East area contributed 3.0% of worldwide revenue. This is a result of increasing demand for passenger vehicles in emerging nations as well as higher demand brought on by an expanding middle-class population.
Recent Developments:
Mercedes-Benz hinted at the EQE SUV's cabin in August 2022. The interior of the all-electric SUV is designed with a mix of cold and warm color tones. A blend of contemporary and traditional materials, such as fine metal, anthracite, aluminum, and wood accents, will also be used in the SUV. It will also have a multipurpose steering wheel and dual-tone leather seating.
Supima and TextileGenesis partnered in June 2022 to establish a new industry benchmark for traceability. To create the new industry benchmark platform for cotton authentication, Supima, the trademark for Pima cotton that is grown in America, unveiled a strategic collaboration with TextileGenesisTM.
Key Market Players:
Lear Corporation
Johnson Controls
Acme Mills
Aunde SA
Toyota Boshoku Corporation
International Textile Group
Borgers AG
Dupont
Autotech Nonwovens
Suminoe Textile Co. Ltd.
CMI Enterprises Inc.
ASGLAWO Technofibre GmbH
Sage Automotive Interiors, Inc.
Baltex Inc.
Reliance Industries Limited
Auto Textiles S.A.
Global Safety Textile GmbH
SMS Auto Fabrics
Autoliv Inc.
Segments Covered in the Report:
(Note*: We offer report based on sub segments as well. Kindly, let us know if you are interested)
By Product Type
Woven
Nonwoven
Composites
Others
By Application
Upholstery
Tires
Safety Devices
Engine Components
Others Woven
By Geography
North America
Europe
Asia-Pacific
Latin America
Middle East and Africa