The global baby oral care market size was estimated at USD 1.28 billion by 2022 and is projected to hit around USD 1.62 billion by 2032, growing at a CAGR of 2.3% during the forecast period from 2023 to 2032.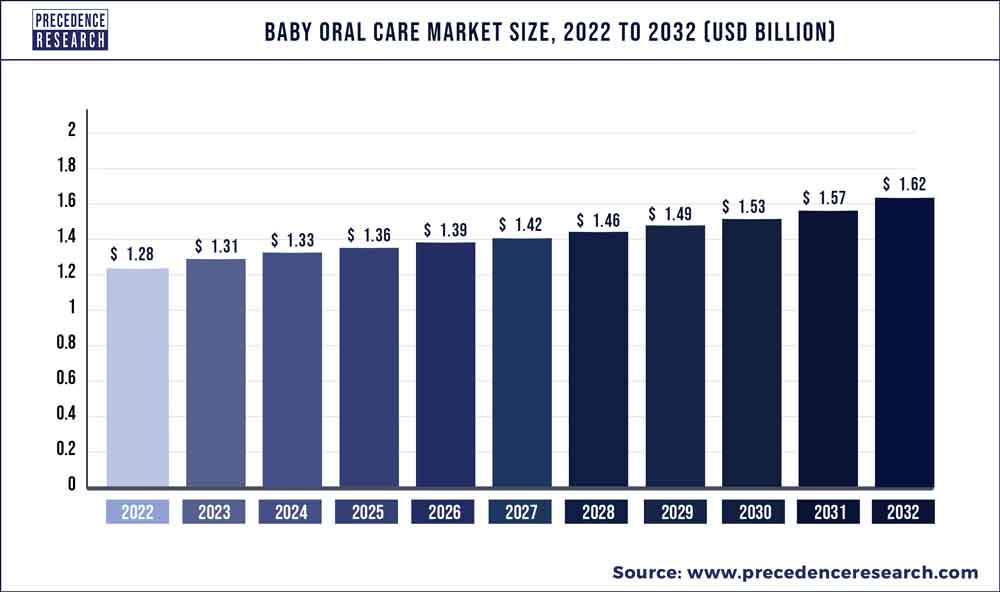 Oral care plays a significant role in infant health, due to which several companies have launched numerous products over the past few years. Moreover, these companies have invested heavily in research & development to launch innovative products. For instance, commercially available hand brushes are made of soft and gentle silicon, causing no abrasion or injuries on a baby's gum. Mild toothpaste and massagers are also available, made using herbal and natural ingredients. Baby oral care products can avoid most oral disorders that begin from a young age and help prevent gum diseases, cavities, decay, foul breathing, and tongue thirsting.
Key Points:
On the basis of product, the toothpaste segment dominated the market with highest revenue in 2022.
On the basis of application, the home segment predicted maximum sales of oral care products.
On the basis of distribution channels, the supermarkets & hypermarkets segment will have the largest market share from 2023 to 2032.
The Asia Pacific region will generate the highest revenues in the long run.
The North America region will also see steady growth from 2023 to 2032.
Growth Factors
Oral diseases are widespread in babies, and the chances of caries in childhood have also increased significantly in recent times. This is one of the key factors driving the market growth for baby oral care products.
Rising awareness among parents regarding their baby's oral care and increasing disposable income will lead to market growth. An increase in the consumption of sugar and bottled feed plays a significant role in increasing cases of oral diseases, due to which the demand for various premium products has grown. Consumers are inclined towards various products of premium quality to have the best for their children, which positively impacts market growth.
Market players have been diversifying their product portfolios by launching innovative products for babies in the oral care segment yearly. Toothpaste and toothbrushes are made using chemical-free natural products, which have zero side effects on babies' oral care. Toothpaste is made using fruits that are natural and free of chemicals. All of these factors will increase market profitability in the long run.
Distribution channels via convenience stores, grocery stores, hypermarkets, and departmental outlets, offer maximum opportunities for manufacturers. NGOs also play a significant role in educating individuals through offline and online campaigns to create awareness about the importance of oral hygiene in children.
Report Scope of the Baby Oral Care Market
| | |
| --- | --- |
| Report Coverage | Details |
| Market Size in 2022 | USD 1.28 Billion |
| Market Size by 2032 | USD 1.62 Billion |
| Growth Rate from 2023 to 2032 | CAGR of 2.3% |
| Base Year | 2022 |
| Forecast Period | 2023 to 2032 |
| Segments Covered | By Product, By Application, By Distribution Channel |
| Regions Covered | North America, Europe, Asia-Pacific, Latin America, Middle East & Africa |

Market Dynamics:
Drivers:
Organic oral care products for babies have a greater demand
The significant increase in parents' disposable income and awareness regarding the commercial availability of various organic products is driving the market growth. Furthermore, numerous offline and online campaigns conducted by multiple non-government organizations (NGOs) further provide an impetus to market growth. Although organic products are more expensive than conventional ones, most parents prefer the former due to natural ingredients with zero side effects, even with prolonged use.
Focus on research and development
Market players focus on investments in research & development to introduce innovative products to increase their foothold in the market. Manufacturers have successfully launched new products, such as silicon-based toothbrushes and toothpaste with a wide variety of flavors, encouraging oral hygiene habits in babies.
Restraints
COVID-19 impacting baby oral care production
The COVID-19 pandemic resulted in shutting down operations of non-emergency industries across the world in 2020 and 2021. Furthermore, there was a significant drop in spending on non-essential products and services. These factors resulted in a decline in sales of baby oral care products. Moreover, fluctuations in raw material availability and prices during the lockdown severely affected the production of these products, further plummeting market growth.
Opportunities
Lifestyle changes
Recently, chronic diseases have increased as children's eating habits become unhealthy due to the easy availability of processed and packaged foods. Furthermore, their lifestyle has significantly changed, with more babies relying on formulas rather than breast milk.
Poverty also increases the chances of oral diseases among children, especially in underdeveloped and developing economies. Most of the products are unaffordable for the parents, thus, adversely affecting the babies' oral hygiene. These factors can provide opportunities for manufacturers as they can focus on providing affordable products to the lower strata of the economy.
Segments Insight
Product Insights
Based on the product landscape, the toothpaste segment dominated the market with maximum revenue in 2022. Growing cases of tooth decay, gum problems, and cavities will drive the demand for toothpaste in the coming years. Different organic toothpaste flavors are being launched to appeal to the diverse preference of babies.
Toothbrushes are an essential part of oral care. The use of organic products in manufacturing toothbrushes, such as bamboo, will play a significant role in the market's growth. Silicon-based toothbrushes are also gaining popularity, which is biocompatible and have no abrasive effect on baby's gums. Electric toothbrushes are also available in the market, and consumers find these tools extremely attractive.
Application Insights
Based on application, the maximum sales of oral care products are in the home segment. Increased disposable income and spending on oral hygiene products will lead to the market's growth in the long run. The home segment utilizes maximum oral care products. The maximum use of these products at home is to reduce the money spent on visiting the dentist for various reasons. The dentist segment will also show significant growth as oral diseases have increased, and healthcare awareness will also increase routine checkups at the dentist's clinic.
Global Baby Oral Care Market, By Distribution Channel, 2021-2032 (USD Billion)
| | | | | | |
| --- | --- | --- | --- | --- | --- |
| Distribution Channel | 2021 | 2022 | 2023 | 2032 | CAGR (2023-32) |
| Supermarkets & Hypermarkets | 0.39 | 0.39 | 0.40 | 0.48 | 1.9% |
| Departmental Stores | 0.31 | 0.31 | 0.32 | 0.39 | 2.1% |
| Convenience Stores | 0.18 | 0.19 | 0.19 | 0.23 | 2.3% |
| Online | 0.25 | 0.25 | 0.26 | 0.35 | 3.3% |
| Others | 0.13 | 0.13 | 0.14 | 0.17 | 2.3% |
| Total | 1.26 | 1.28 | 1.31 | 1.62 | 2.3% |

Distribution Channel Insights
The supermarkets & hypermarkets segment will have the maximum share during the forecast period. The easy availability of different products and brands will drive the market growth of this segment.
The sales of oral care products through online retailers, specialty stores, and other outlets will also grow significantly. The online segment will register a higher growth rate as the number of online shoppers has increased post the pandemic. These platforms offer a wide range of products, and the orders are processed quickly. The option of getting the products delivered on the same day will also play a significant role in the growth of this segment.
Regional Insights
Asia Pacific will generate maximum revenues in the long run due to the large population and increasing awareness among parents regarding oral health, especially in China and India. A high disposable income and ease of availability of oral hygiene products catering specifically to babies are expected to drive market growth over the next few years. The increasing number of cavities and other dental issues in the younger population is driving the need for oral hygiene products.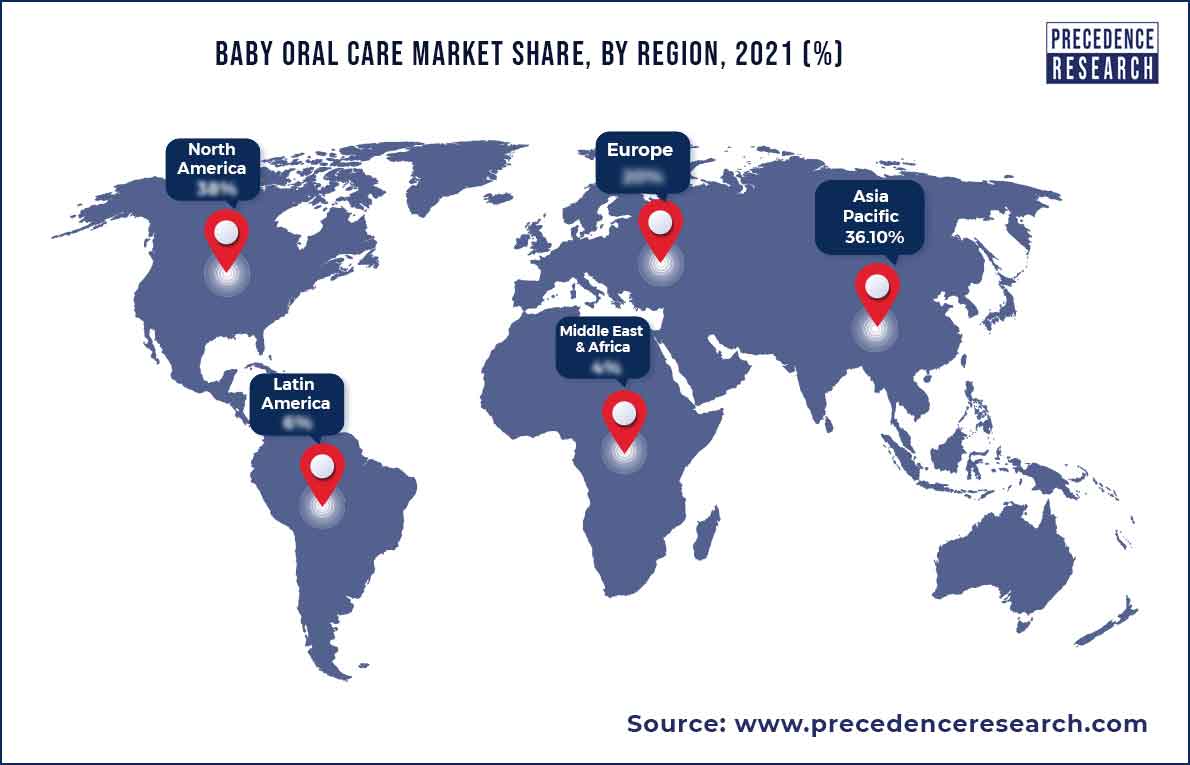 North America will also see steady growth during the forecast period due to introduction of innovative products in the market and constant research and development in the field. Manufacturers are constantly engaged in conducting awareness drives to increase the sales of oral care products and to create awareness regarding the importance of the usage of such products.
Key Market Developments
Companies are using non-traditional methods for marketing their products, such as social media. For instance, to encourage children to maintain a proper brushing routine, Colgate entered into a partnership with Ryan, a YouTube star, in 2019. New oral care products were launched, which were promoted by Ryan.
Key Market Players
Colgate-Palmolive Company
Johnson & Johnson
Church & Dwight Co. Inc.
Unilever
Proctor & Gamble
Pigeon Corporation
Anchor Group
Oriflame
Amway
Dr. Fresh
Chattem
Dabur
Splat Baby
Segments Covered in the Report
(Note*: We offer reports based on sub-segments as well. Kindly, let us know if you are interested)
By Product
Toothpaste
Toothbrush
Denture Products
Mouthwash
Others
By Application
By Distribution Channel
Hypermarkets/Supermarkets
Specialty Stores
Online Retailers
Others
By Geography
North America
Europe
Asia-Pacific
Latin America
Middle East & Africa (MEA)