The global blood glucose test strip market size accounted for USD 12.45 billion in 2022 and it is expected to hit around USD 28.25 billion by 2032, expanding at a CAGR of 8.54% during the forecast period from 2023 to 2032.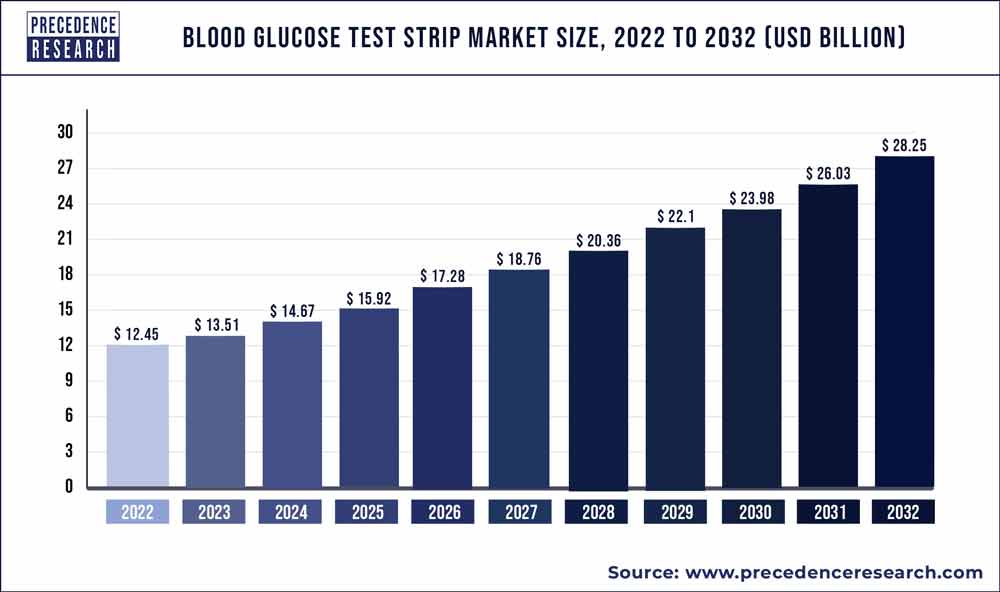 Key Takeaways:
North America region contributed the largest market in 2022.
By Technology, the electrochemical segment generated the maximum market share in 2022.
By End-User, the home care segment is expected to expand at the fastest CAGR from 2023 to 2032.
The market for blood glucose test strips refers to the sector involved in the production, distribution, and sale of strips used to measure blood glucose levels in people with diabetes. For example, the use of glucose meters and glucometers to produce a numeric reading of blood glucose levels are often combined with these test strips.
The blood glucose testing strips market is driven by the sector that manufactures, distributes, and sells test strips used to measure levels of sugar in people with diabetes. These test strips are usually used in conjunction with glucose meters or glucometers, which determine the level of blood glucose on a numerical basis. The increasing incidence of diabetes worldwide has been a major factor behind the demand for glucose test strips. The disease is a lifelong condition affecting the body's ability to regulate its blood sugar levels, which requires regular monitoring of glucose in order to effectively manage diabetes. Consequently, people with diabetes regularly use test strips to monitor their blood glucose levels several times a day. Technology advancements have made it possible to develop more advanced test tubes, which include features such as lower sample sizes and quicker results, Bluetooth connectivity with mobile devices for data transmission or compatibility with continuous glucose monitoring systems. This innovation is intended to enhance the user experience, allowing better management of diabetes.
Furthermore, the availability of testing strips varies between regions, depending on the degree of competition in certain markets where there is more differentiation and better access to low-cost alternatives, while others may face challenges related to prices, reimbursements, or availability. Market dynamics in the glucose test strips are also greatly influenced by government regulations, insurance coverage, and healthcare infrastructure.
Report Scope of the Blood Glucose Test Strip Market:
| | |
| --- | --- |
| Report Coverage | Details |
| Market Size in 2023 | USD 13.51 Billion |
| Market Size by 2032 | USD 28.25 Billion |
| Growth Rate from 2023 to 2032 | CAGR of 8.54% |
| Largest Market | North America |
| Base Year | 2022 |
| Forecast Period | 2023 to 2032 |
| Segments Covered | By Technology and By End-User |
| Regions Covered | North America, Europe, Asia-Pacific, Latin America, and Middle East & Africa |

Key Market Drivers:
Increasing prevalence of diabetes
The market for blood glucose test strips is experiencing strong growth due to an increased incidence of diabetes. Diabetes has reached epidemic proportions globally, with a substantial rise in the number of diagnosed cases over the past few decades. The major factors that contribute to this increase include a lack of exercise, poor diet, and an aging population. The demand for blood glucose testing strips is growing as the number of people with diabetes increases. The inability of the body to regulate blood sugar levels effectively is a chronic condition characterized by diabetes. To manage diabetes and make informed choices about diet, medication, or dietary practices, it is important to monitor the blood glucose level regularly in people with diabetes. In this monitoring process, glucose test strips play a crucial role.
Furthermore, over the years there has been a growing awareness about diabetes and its management. Educating people about diabetes and raising awareness of the importance to regularly monitoring blood glucose levels has been actively promoted by governments, health organizations as well as groups advocating for changes in policies. This increased awareness has led to more proactive approaches to self-care among individuals with diabetes, driving up the demand for blood glucose test strips. The importance of managing diabetes is recognized by governments and health systems all over the world, in addition to individual efforts. Initiatives and policies have been put in place by a number of countries for improving diabetes care, including improved access to basic healthcare products like blood glucose test strips. The growth of the market is supported by government reimbursement programs and insurance coverage for diabetes testing supplies.
Therefore, the growing incidence of diabetes is the key driving force behind the growth in the glucose test strips market. The demand for blood glucose measuring strips is expected to increase further due to the increasing prevalence of diabetic patients and increased emphasis on diabetes management. In order to meet the growing needs of individuals with diabetes worldwide, the market offers manufacturers and distributors a wide range of great opportunities in terms of developing creative, accurate solutions for testing strips that offer users an optimal user experience.
Increasing geriatric population
A significant driving factor for the market growth of blood glucose testing strips is the growing elderly population. With global demographics shifting towards an aging population, there has been a corresponding rise in the prevalence of age-related health conditions, including diabetes. Due to factors such as reduced physical activity, metabolism changes and imbalances of hormones associated with aging, people become more likely to develop diabetes when they get older. The demand for blood glucose testing strips is driven by this growing segment of the population requiring diabetes management. The elderly population often experiences a higher incidence of chronic diseases, including diabetes, which necessitates regular monitoring of blood glucose levels. This has led to an increase in demand for blood glucose test strips with a view to ensuring that older adults are regularly tested and manage their diabetes effectively.
Furthermore, Elderly people may have some other health problems that can make it difficult to work with complex instruments, e.g. visual impairment or muscle weakness. In order to accurately measure blood glucose levels independently in older adults, blood glucose test strips that offer user-friendly design, easy-to-read display, and simple operation are essential. The importance of active diabetes management in this age group is recognized by healthcare systems and providers as the aging population continues to grow. In addition, improving access to the provision of glucose testing strips at healthcare facilities, pharmacies, and home settings is a priority in terms of diabetes screening, diagnosis, and treatment. These initiatives address the specific needs of older people and provide the necessary tools to manage diabetes in a person's own time, thereby contributing to market growth.
Therefore, the development of the market is stimulated by efforts aimed at improving diabetes management in a growing elderly population coupled with medical technology developments, so that suitable test strips are available for this demographic. The increase in the elderly population is a driver for the growth of the glucose test strips market. In view of the growing incidence of diabetes among older adults and their specific health needs, there is a need to make blood glucose measurement solutions readily available for use by users.
Key Market Challenges:
Regulatory requirements
The development of the market for blood glucose testing strips is strongly hampered by regulatory requirements. In order to ensure that the safety, accuracy, and quality of these medical equipment is maintained, strict regulations are in place on the market. Manufacturers must comply with the relevant regulations if they wish to put their products on the market and remain active in this sector. However, it can be difficult to navigate the complex regulatory environment in particular for smaller businesses and new entrants. It may take a number of days and costs to obtain the necessary authorizations, certificates, and compliance. Barriers to entry, limiting competition or innovation in the market may arise as a result of strict regulatory requirements.
Moreover, for companies operating in more than one market, there may also be regulatory differences across different regions that add complexity to their activities. In order to meet regulatory requirements that could affect profitability and delay the introduction of new products, companies must invest significant resources in research, development and testing. It is a continuing challenge for market participants to keep up with the evolution of regulation and to ensure that they remain in full compliance. Collaboration between industry stakeholders, regulatory bodies, and standard-setting organizations' is critical for striking a balance in the blood glucose test strip market between patient safety and stimulating innovation.
Key Market Opportunities:
Growing demand for point-of-care testing
Significant opportunities for growth in the blood glucose test strips market are presented by increasing demand for point-of-care testing. Point-of-care testing means that it is possible to carry out rapid on-site analyses of blood levels immediately without the need for glucose processing at a laboratory and provide actual timely results. The benefits of this approach, which include convenience, quicker response times and instant adjustments in diabetes management strategies, are many. The popularity of Point-of-care testing is due to its ability to deliver prompt and accurate results. In traditional laboratory testing, results may take longer to obtain and this can lead to delays in making timely decisions regarding diabetes management. Patients can have their blood glucose levels measured in minutes with point-of-care and, where needed, they may immediately adjust to the diet, exercise or medication. This feedback empowers individuals with diabetes to manage their condition and take the right decisions concerning their health in a timely fashion.
Practical benefits for healthcare providers are also provided by point-of-care testing, in addition to convenience and speed. It provides valuable information about diagnosis, therapy adjustments, and monitoring during the clinic visit for healthcare professionals to monitor patients' blood glucose levels. Point-of-care tests reduce the need for referral to a lab, streamline procedures and improve patient care efficiency. In order to improve patients' experience and optimize healthcare delivery, healthcare facilities are increasingly integrating point-of-care testing into their existing clinical practice, including hospitals, clinic settings as well as ambulatory surgical centers. In the management of diabetes, test strips for blood glucose are an important part of point-of-care testing. For precise readings of blood glucose levels, these disposable strips shall be worn in conjunction with a glucose meter or glucometer. The need for compatible and accurate glucose strips has become increasingly important as the demand for point-of-care testing increases. The market opportunity is to develop test strips that are compatible with point-of-care devices, offer user-friendly features and provide accurate and consistent results.
Segments Insight:
Technology Insights:
By technology, the market is segmented into electrochemical, enzymatic, and colorimetric. The electrochemical segment is the largest segment of the market, accounting for a major share of the market in 2022. This is due to the high accuracy and convenience of electrochemical test strips. Furthermore, high accuracy, convenience, and speed are also some of the reasons for the dominance of the electrochemical segment.
End-Use Insights:
During the forecast period, the home care segment is projected to grow at a faster compound annual growth rate. This is due to the increasing prevalence of diabetes and the growing preference for home-based diabetes management. The largest segment of end users for the forecast period is estimated to be hospitals. This is due to the increasing number of patients who are being diagnosed with diabetes and the need for hospitals to monitor the blood glucose levels of these patients.
Regional Insights:
North America region has been the world's major market in 2022. The North American market for blood glucose test strips is the largest because of a range of factors, including the high prevalence of diabetes, increasing awareness about diabetes, payer availability, technological progress, high disposable income, and strong healthcare infrastructure.
Key Industry Developments:
May 2022: OmegaQuant has released an HbA1c blood sugar at-home testing kit that allows customers to test their hemoglobin A1c level in order to metabolize glucose. HbA1c testing often needs a blood draw and lab analysis, however, OmegaQuant's HbA1c test allows for a simple finger stick, allowing customers to conduct the test on their own time and at their leisure, at home.
March 2022: The Ministry of Health Canada announced modifications to the Health Network System (HNS) payment of blood glucose test strips under the Ontario Drug Benefit (ODB) Program. The HNS will apply the annual maximum quantity limit for blood glucose test strips based on online claims and documents submitted for reimbursement by ODB-eligible patients.
Key Market Players:
Roche
Lifescan
Bayer
Abbott
ARKRAY
I-SENS
Omron B. Braun
77 Elektronika
Nipro Diagnostics
AgaMatrix
Nipro
Segments Covered in the Report:
(Note*: We offer reports based on sub segments as well. Kindly, let us know if you are interested)
By Technology
Electrochemical
Enzymatic
Colorimetric
By End-User
Hospitals
Home Care
Diagnostic Laboratories
By Geography
North America
Europe
Asia-Pacific
Latin America
Middle East and Africa