The global blow molded plastics market size was reached at USD 86.7 billion in 2022 and it is projected to hit around USD 141.89 billion by 2032, growing at a CAGR of 5.1% throughout the projection period 2023 to 2032.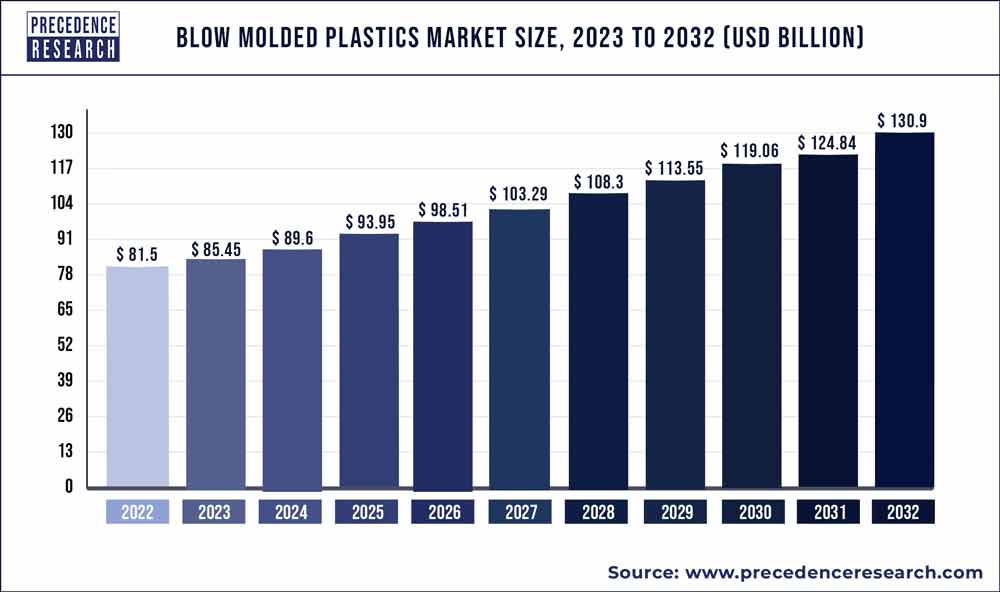 Key Takeaway:
Asia Pacific generated for more than 39% of the total revenue share in 2022.
By technology, injection blow molding segment has captured 29% of the overall revenue share in 2022.
By product, polyethylene (PE) segment has held revenue share of 21% in 2022.
By application, packaging segment has accounted for more than 40% of revenue share in 2022.
Automotive & transportation segment emerged as the leading application segment with over 21% revenue share in 2022.
Market Overview
Blow molding is building empty plastic portions by creating and gluing them together to produce glass bottles and open containers. The parison maintains the form of the metal mold, and then it demolds and trims the constructed portion to pull out the flash or trim. Extrusion blow formation, injection blow formation and injection stretch blow blowing are three types of blow formations.
The benefits of extrusion-blowing molding are low product cost, simple process, and high efficiency. However, its significant drawback is the wall thickness and yield uniformity. Extrusion blow molding usage has a lower pressure level, reducing manufacturing costs and making the product cost-efficient. In addition, using the blow molding procedure will permit producers to reduce high labour expenses.
Growth Factors
The medical field is projected to bolster the utilization of blow-molded plastic bottles as they are used for wrapping medicines and maintaining the property of the drugs without damage or degradation. The healthcare sector's expansion has vastly aided the development of the blow molding plastics market. Plastic packaging encourages hygienic practices and is less susceptible to detriment and drips than glass packaging. Syringes, cylinders, bottles, and medical vessels are healthcare supplies.
The rise in pharmaceutical equipment has led to an increase in the approval of blow-molded plastic bottles, contributing to the overall development of the blow-molded plastic bottle market. The experts also estimate that regulating and fulfilling regulation laws in the use of plastics have affected the general packing industry, with a rising need for more lasting solutions, pressuring producers to invest severely in biodegradable and economical packing solutions.
Report Scope of the Blow Molded Plastics Market
| | |
| --- | --- |
| Report Coverage | Details |
| Market Size in 2023 | USD 90.69 Billion |
| Market Size by 2032 | USD 141.89 Billion |
| Growth Rate from 2023 to 2032 | CAGR of 5.1% |
| Largest Market | Asia Pacific |
| Base Year | 2022 |
| Forecast Period | 2023 to 2032 |
| Segments Covered | By Technology, By Product and By Application |
| Regions Covered | North America, Europe, Asia-Pacific, Latin America and Middle East & Africa |

Market Dynamics:
Driver
The food and beverage sector accounts for over 70% of the blow molded container market worldwide, attributed to changing customer preferences for more eco-friendly and convenient packing solutions. Molded plastics are mainly utilized in the packaging and automobile sector, and the packaging manufacturing industry is a significant user of molded plastics.
The commonly used molded plastics in packing applications comprise PE, PET and PP. These rigid or flexible products rely on the end-user requirements and are used in various packaging usages, for example, food and beverage, cosmetics, and pharmaceutical.
Different molding technologies cover blow molding, injection molding, and extrusion molding, offering various advantages like durability, food preservation, medical safety and effectiveness. Plastic packaging has found universal use due to these benefits over other materials, and products manufactured over blow molding methods replace traditional materials.
Restraints
Plastic waste damages the ecological system as it takes decades to break down. Governments address this matter worldwide by imposing rigid laws that the plastics industry must adhere to. European governments have undertaken several measures to address packaging waste and recycling issues.
Opportunities
The growing approval of 3D printing methods in commercial uses supports the development of 3D printing plastic combined worldwide that grades perform optimistically in highly corrosive and high temperature/ pressure environments. After some value additions like carbon fibres, the composite grades of plastics offer improved performance. Usually used molded plastics comprise PC, ABS, and PA. Some popular qualities of 3D printing plastic composites cover carbon fiber-PLA and.
Significant producers of molded plastics, like SABIC, have started manufacturing 3D printing plastics with advanced integration in recent years. The advancement in the need for 3D printing plastic composites will provide growth provisions for the molded plastics market. The blow molding procedure affects quality output, so it is one of the most used in plastic production globally. With machines with 3D molding capacity, blow molding can help makers yield many units quickly.
Impact of COVID-19:
The novel coronavirus is an unmatched global pandemic that has spread to over 180 countries, resulting in massive loss of lives and the economy worldwide. The significant end-users of molded plastics, like packaging, building and construction, industrial, automotive, electrical, and electronics, have been adversely affected due to the ongoing COVID-19 outbreak. The constant health issues have increased the supply-demand gap, hindering the global molded plastics supply chain. As per the article by The Economic Times, the output of electronic products like semiconductors, wires and cables, and others has been immersed due to supply chain issues.
Numerous electronics firms have either stopped or shrunk their tasks due to the risk of infections among human resources, where molded plastics are extensively used as an insulating substance in various consumer electronics products. Furthermore, more than 100 countries have stuck their international borders for transport and non-essential trade actions, reduction in the usage of molded plastics. Additionally, the falling income of builders has led to a shrinkage of the upsurge for molded plastics in the building and construction field.
For example, according to a report by International Labor Organization, the influence on the construction business has been significant, with many facing liquidity troubles. In 2020, molded plastics prices rose in Asia due to sustained regional need trends and tight product presence. A strong downstream need for molded plastics and more robust upstream expenses are estimated to sustain the price gain.
Segments Insight:
Technology Insights
The injection blow molding section accounted for the maximum revenue of the overall market share. The expense of extrusion blow mold is less than the injection blow as per the lower pressure needed. The machinery expenses are also less for extrusion blow mold, which is an advantage.
The stretch blow molding method makes high-quality and high-clarity bottles with application limitations. It is applied for producing soda bottles, household cleaners, and personal care containers, and they are made mainly on customized orders from consumers.
Product Insights
The polyethylene (PE)section accounted for the overall market share in the revenue. PE compounds are commonly used in the packaging and electrical and electronics industries. The primary packaging uses of PE compounds comprise various grades of bottles for packing a wide range of food and chemical products.
It has numerous uses in the packaging industry, such as manufacturing bottles to pack food and beverage products. The requirement for polypropylene and polyethylene terephthalate is anticipated to grow due to the rising need for protective gowns, face masks, and packaging bottles for hand sanitizers during the pandemic.
Application Insights
Packaging evolved as the leading application section with a maximum revenue share of the entire blow-molded plastics market. The packaging industry is chiefly impelled by high consumerism in emergent economies. Expanding the packaging sector will likely boost the need for plastic compounds like polyethylene and PET in the upcoming years. The upsurge for blow molding plastics is growing primarily in packaging applications. This is due to the increasing demand for plastic bottles for disinfectants, household cleaning liquids, hand sanitizers, and others to tackle the pandemic.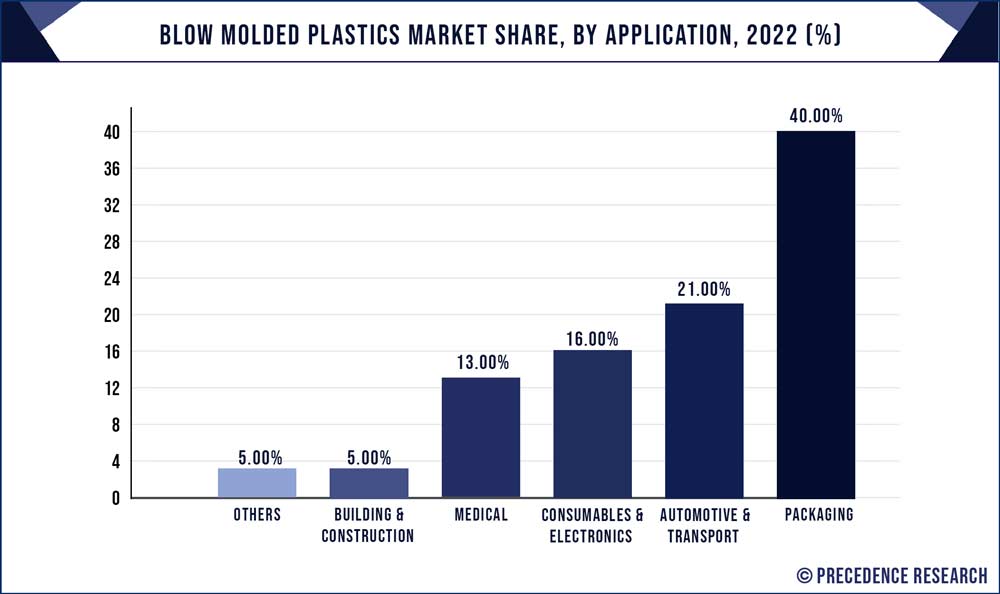 Automotive & transportation was the second-largest application section with a volume share. The rising integration of plastics in automotive elements and the simultaneous growth in the manufacture of electric passenger cars and heavy-duty automobiles, particularly in Asia and Central and South America, are predicted to propel the development of the automotive & transportation application section over the estimated period.
Regional Insights
Asia Pacific was the regional driving blow molded plastics market, accounting for total market revenue. Increasing framework spending, coupled with the expanding automobile need in countries like China, India, Indonesia, and Malaysia, is estimated to push the demand for blow-molded plastics in Asia.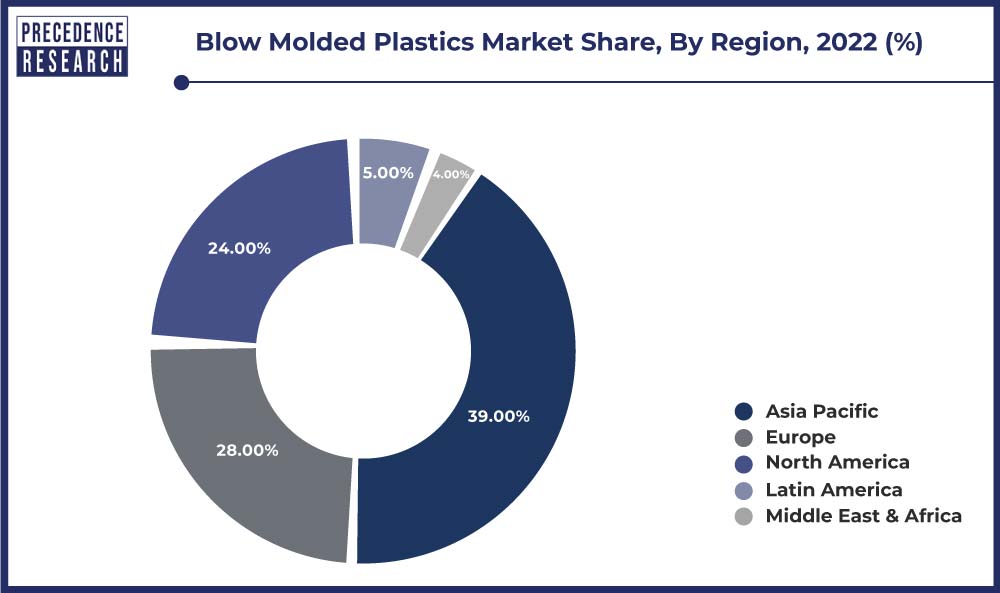 The blow molded plastics market in North America is predicted to grow slowly due to the COVID-19 outbreak as the cross-border trade amongst economies got damaged. The increasing need for polypropylene and ABS in the packaging use section for manufacturing bottles, face shields, face masks, and, among others, boosts the market.
The market is foreseen to grow slowly in Europe due to various elements, like stalled industrial output resulting from the pandemic, emerging unemployment, and debt crisis. However, a favorable scenario throughout Eastern Europe will drive the market in terms of consumerism and production. Landfill bans have existed in many European countries like France, Germany, Denmark, and Austria for decades. High landfill tipping fees, waste management, dumping tariffs, and closing costs of landfills have promoted the European population to change to recycled products.
Recent Developments
In February 2023, NOVA Circular Solutions – a new channel of business operating upon less-emission, recyclable solutions and home to the corporation SYNDIGO-brand recycled polyethylene was established by NOVA Chemicals Corporation.
In November 2022, the National Research Council of Canada (NRC) celebrated 30 years of collaboration to enhance blow molding design processes.
In July 2022, The Canadian corporation Heartland Polymers entirely ordered its polypropylene (PP) plant at the Heartland Petrochemical Complex in Alberta, Canada, with a scheduled production power of 525,000 tons/year of polypropylene.
In March 2022, Mauser Packaging Solutions reported receiving UN certification for the compound intermediate bulk vessel manufactured from post-customer resin.
Key Market Players
Rutland Plastics Ltd.
The Plastic Forming Company, Inc.
Agri-Industrial Plastics
Garrtech Inc.
Creative Blow Mold Tooling
North American Plastics, Ltd.
Machinery Center, Inc.
Magna International, Inc.
International Automotive Components Group, S.L. (IAC Group)
Berry Global, Inc.
Pet All Manufacturing, Inc.
Inpress Plastics Ltd.
Dow, Inc.
Comar, LLC
Custom-Pak, Inc.
APEX Plastics
INEOS Group
LyondellBasell Industries Holdings B.V.
Exxon Mobil Corporation
Gemini Group, Inc.
Segments Covered in the Report:
(Note*: We offer report based on sub segments as well. Kindly, let us know if you are interested)
By Technology
Extrusion Blow Molding
Injection Blow Molding
Stretch Blow Molding
Compound Blow Molding
By Product
Polypropylene
Acrylonitrile Butadiene Styrene
Polyethylene
Polystyrene Polyvinyl Chloride
Polyethylene Terephthalate
Polyamide
Others
By Application
Packaging
Consumables & Electronics
Automotive & Transport
Building & Construction
Medical
Others
By Geography
North America
Europe
Asia-Pacific
Latin America
The Middle East and Africa