The global breast biopsy devices market size was exhibited at USD 1 billion in 2022 and is projected to hit around USD 1.52 billion by 2032 with a registered CAGR of 4.3% during the forecast period 2023 to 2032.
Breast biopsy techniques employ medical instruments known as breast biopsy devices. A breast biopsy is a surgical procedure that removes tissue or fluid to be examined and checked for any illnesses. Under microscopes, the excised tissue is analyzed to see whether it contains cancer.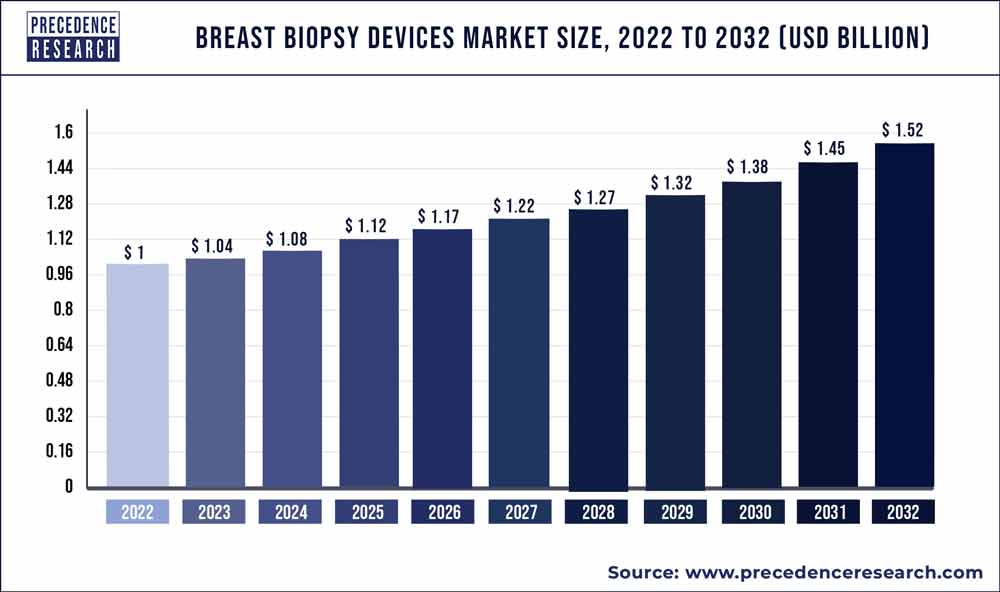 Key Insights:
By product type, the image-guided biopsy segment is predicted to account for a sizeable portion.
By guidance, the liquid biopsy segment is anticipated to grow the most from 2023 to 2032.
By type, the fine-needle aspiration segment is predicted to have the highest share in 2022.
North America contributed the largest revenue share in the worldwide market in 2022.
Growth Factor
Once a patient has a cancer diagnosis, a biopsy is a medical examination to analyze and remove the malignant tissue from the body. To obtain tissue samples for the diagnosis of the condition, a biopsy is used. Skin biopsy, shave biopsy, fine needle aspiration, incision, excision biopsy core, and vacuum-assisted biopsy are only a few of the biopsy procedures used in the diagnosis of malignancies. The main factor driving the growth of the global Breast Biopsy Device Market is an increase in the incidence of breast cancer. The market is now growing due to the expansion of breast cancer screening programs as well as the surgical acceptance of minimally invasive breast biopsies.
The market is expanding as a result of technical improvements and advancements in breast biopsy instruments. However, the expensive cost of breast biopsy and its numerous negative side effects might limit market expansion. Vendor promotion possibilities have been made essential by the increased prevalence of breast cancer. Important market players focus on expanding their product ranges and winning approvals for their goods. To spread the word and raise awareness about cancer, there are several platforms, including conferences that may be used.
Additionally, several public and private institutions sponsor and award grants to companies that develop novel goods with cutting-edge technology solutions to detect breast cancer in its early stages. These elements may have a major impact on market expansion throughout the anticipated term.
Market vendors are seeing tremendous potential for company expansion as a result of the increased incidence rate of breast cancer.
The population's growing preference for minimally invasive operations, which has a quicker recovery time and less discomfort, is driving the market's expansion.
The increase in financial and grant support for biomarker research also has an impact on the market's expansion.
Breast biopsy instruments' technical developments and advancements are promoting market expansion.
Report Scope of the Breast Biopsy Devices Market
Report Coverage
Details
Market Size in 2023
USD 1.04 Billion
Market Size by 2032
USD 1.52 Billion
Growth Rate from 2023 to 2032
CAGR of 4.3%
Largest Market
North America
Fastest Growing Market
Asia Pacific
Base Year
2022
Forecast Period
2023 to 2032
Segments Covered

By Product
By Guidance
By Type

Regions Covered

North America
Europe
Asia-Pacific
Latin America
Middle East & Africa

Key Market Drivers
Year to Year growth in the incidence of breast cancers
The market is expanding as a result of rising breast cancer incidence in women, particularly those over the age of 40, and raising awareness of breast cancer screening programs. The data states that in 2020, there would be an expected 48 000 non-invasive and 276 000 aggressive breast cancer cases in the United States. They also stated that in the United States, 1 in 8 women will likely acquire breast cancer at some point in their lives.
These untapped market prospects are anticipated to materialize with the introduction of technologically sophisticated, minimally invasive breast biopsy technologies. Additionally, increasing elderly female populations and increased global breast biopsy awareness are anticipated to accelerate the breast biopsy market's growth.
Key Market Challenges
Risks associated with the use of breast biopsy devices
The dangers associated with the operations will probably have a detrimental impact on the market for breast biopsy devices. The invasiveness of the method employed affects the risk level. Although surgical core techniques may be more precise and successful, they come with significant dangers. Additionally, between 60% and 80% of the biopsies taken are benign. Women are therefore advised to seek a second opinion before having any such surgical treatments due to such risks involved, which is anticipated to have a detrimental impact on market growth.
Key Market Opportunities
The burgeoning number of breast cancer patients
Over the past 40 years, there has been a sharp increase in the incidence of breast cancer in every part of the world. In addition, rising worldwide breast cancer rates have been linked to a rise in the adoption of western-style sexual and reproductive practices on a global scale. According to the American Cancer Society, breast cancer is the second-leading cause of cancer-related deaths among women worldwide. One in eight American women will ever get invasive breast cancer. In 2018, there were 63,960 new instances of non-invasive (in situ) breast cancer and more than 265,000 new cases of invasive breast cancer among women in the United States, according to the American Cancer Society and the National Cancer Institute. According to information provided by the Canadian Cancer Society, about 26,300 women in Canada received a breast cancer diagnosis in 2017, representing a 25% increase in cancer occurrences. Each year, Germany reports more than 70,000 newly diagnosed cases of breast cancer.
A rise in government initiatives coupled with an increase in cancer awareness screening programs
A biopsy is a confirming process that aids in early cancer/tumor diagnosis, which promotes quick recovery, increased survival, and a reduction in morbidity and death. A breast biopsy is advised by medical professionals for the early diagnosis of breast cancer. Numerous governmental and private organizations, commercial enterprises, and medical facilities are working on innovative initiatives to raise public awareness of breast cancer and the benefits of early detection on health. The Pink Chain Campaign in India is a large-scale initiative that began with raising awareness of breast cancer. Additionally, increasing R&D expenditure is expected to encourage market expansion. For instance, the National Cancer Research Institute (NCRI) reports that its partners funded cancer research to the tune of almost USD 750 million in 2018–19. Therefore, it is anticipated that these initiatives to raise awareness of early breast cancer detection and diagnosis will support breast biopsy systems, advancing market development.
Segments Insight
Product Type Insights
Due to the rising popularity of image-guided procedures in both developed and developing countries as well as the development of cutting-edge and distinctive designs, the biopsy needles market is predicted to account for a sizeable portion of the breast biopsy market. Consider the tri-axial needle, which has a cutting needle on the exterior, a pincer needle on the outside, and a sharp style within. Healthcare professionals may cut through tissue without crushing it because of the needle's shape. Despite its unusual shape, the needle is clearly visible with CT and ultrasonography, which are frequently utilized for biopsy guidance.
Guidance Insights
The Guidance category with respect to liquid biopsy is anticipated to grow the most over the forecast period. A revolutionary technique that is broadening the range of cancer diagnostics is a liquid biopsy. The significant growth of the market may be attributed to the expanding use of cutting-edge NGS-based assays and droplet digital PCR technology for conducting liquid biopsies in the majority of developed nations. To bring new products to market, businesses in the sector are increasing their R&D spending. Thus, ongoing clinical trials and a prospective product pipeline will fuel additional market expansion.
Type Insights
This sector is divided into needle breast and open surgical biopsies according to kind. The first is further divided into vacuum-assisted core biopsy, core-needle aspiration, and both. Due mostly to an increase in demand for less invasive treatments, the fine-needle aspiration category is predicted to have the highest share in 2022. Contrarily, the less invasive vacuum-assisted core biopsy, which entails creating a tiny incision through which the needle is put, followed by sample collection using a vacuum-powered device, is predicted to expand at a high CAGR value throughout the projection period.
Regional Insights
North America accounted for the largest revenue share in the worldwide market in 2022, and it is anticipated that the region would continue to dominate the market during the forecast period. The U.S. and Canada, two of the region's biggest economies, are the main sources of income for the market value in the area. The prospective market for medical tourism in the area underpins the value of the prevailing regional market.
Furthermore, Asia Pacific is anticipated to grow at the fastest rate from 2022 to 2030, according to projections. The rapidly developing nations in the area have invested in the building of healthcare infrastructure, which is promoting the market growth. China, the world's second-largest economy, is expected to expand at a CAGR of 13.1% between 2022 and 2030, with a target market size of US$620.6 million. Other major geographic markets include Japan and Canada, which are expected to increase at rates of 4.8% and 7.8%, respectively, between 2022 and 2030. Germany is expected to expand within Europe at a rate of growth of around 5.8% CAGR. Additionally, as the diagnostic market in developing nations becomes more aware of breast biopsy procedures, businesses are able to invest in breast biopsy equipment in these developing markets. Rapid advancements in health technology in nations like China, India, and South Korea have prompted hospitals and other breast care facilities to make large expenditures in cutting-edge technologies (comprising liquid breast biopsy and vacuum-assisted biopsy devices, amongst others). For instance, Cytecare Hospital in Bengaluru, India, was acknowledged as the first hospital to offer 3D mammography (Digital Breast Tomosynthesis) to female patients. Since 3D Mammography creates many successive slides through the tissues using low concentrations of x-rays at various angles, it offers an advantage over 2D scans. The scans take 10 seconds, after which the computer receives the conclusions.
Recent Developments
In March 2019, Dune Medical Devices revealed the results of the first human test of their smart biopsy device. The smart Biopdy from Dune Medical is a continuous soft tissue biopsy device that provides electrical samples in real time using small key needle detectors. To enhance diagnosis and readout, these electrical pulses are compared to astronomical data. The in-man stage signals the start of a more involved, exhaustive clinical investigation aimed at identifying the precise tissue makeup of the breast.
Key Market Players
Cook Medical Incorporated
Becton, Dickinson and Company
Devicor Medical Products Inc.
C.R. Bard, Inc., Hologic Inc
Argon Medical Devices
Planmed OY
Encapsule Medical Devices LLC
Ethicon Endo-Surgery (Johnson and Johnson)
Segment Covered in the Report
(Note*: We offer reports based on sub-segments as well. Kindly, let us know if you are interested)
By Product
Biopsy Needles
Guidance Systems
Biopsy Tables
Localization Wires
Assay Kits
Liquid Biopsy Instruments
Others
By Guidance
Image-Guided Biopsy
Mammography-guided Stereotactic Biopsy
Ultrasound-guided Biopsy
MRI-guided Biopsy
Other Guidance Techniques
Liquid Biopsy
NGS-based Biopsy
PCR-based Biopsy
Microarray-based Biopsy
By Type
Needle Breast Biopsy
Core Needle Biopsy (CNB)
Fine Needle Aspiration Biopsy (FNAB)
Vacuum-assisted Biopsy (VAB)
Open Surgical Breast Biopsy
Excisional
Incisional
Liquid Breast Biopsy
Circulating Tumor Cells
Circulating Tumor DNA (CtDNA)
Other Biomarkers
By Geography
North America
Europe
Asia-Pacific
Latin America
Middle East & Africa (MEA)