The global cancer biopsy market size was estimated at US$ 21.8 billion in 2022 and is expected to reach over US$ 114.5 billion by 2032, poised to grow at a CAGR of 18.10% from 2023 to 2032.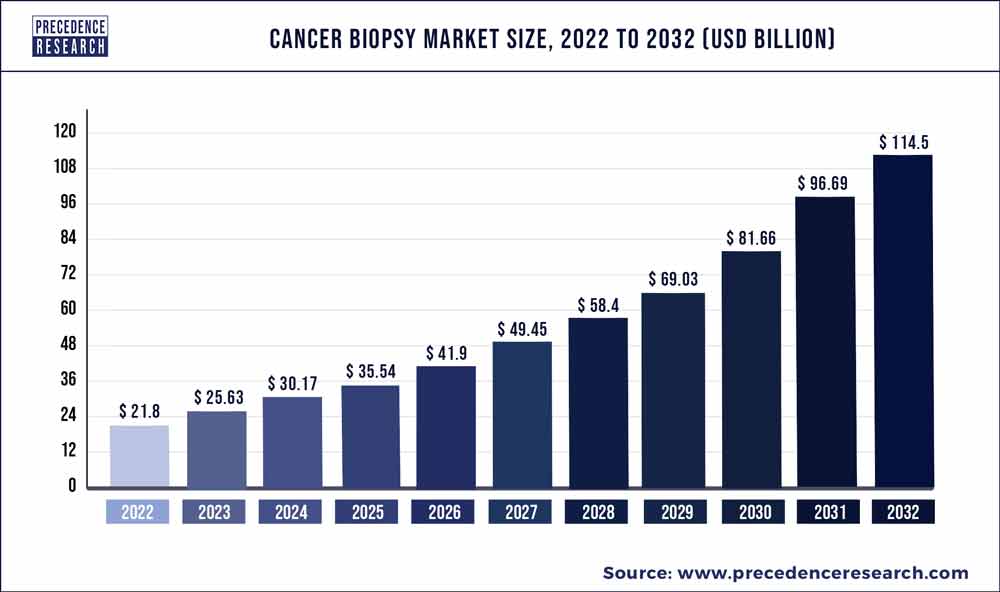 Growth Factors
The removal of tissue for the purpose of examining it for disease is known as a biopsy. Any region of the body can be used to collect tissue samples. Biopsies can be done in a variety of methods. Some biopsies entail taking a little bit of tissue with a needle, while others entail surgically removing a suspected lump or nodule. The imaging tests like MRIs and CT scans can assist detect lumps or abnormal tissue, but they cannot distinguish the difference between cancerous and non-cancerous cells. The only approach to diagnose most malignancies is to take a biopsy and collect cells for further analysis.
The growing elderly population, together with the rising prevalence of cancer indications, is likely to drive the cancer biopsy market expansion. Furthermore, the introduction of liquid biopsy procedures is projected to boost the cancer biopsy market forward. In the field of oncology diagnostics, many procedures such as skin, needle, bone marrow, endoscopic, and surgical biopsies are used on a large scale. The needles biopsies are regarded a favored tool for early detection of patients among these techniques. However, benefits of fine needle aspiration needle biopsies, such as reduced invasion and faster results, have the cancer biopsy market expansion.
The liquid biopsy for cancer diagnosis, prognosis, screening, and treatment has increased competition and capabilities in the cancer biopsy market significantly. The key market players are taking significant steps to enter the cancer biopsy market and are conducting liquid biopsies, which are projected to drive the cancer biopsy market's growth in clinical settings. The liquid biopsy is being utilized to diagnose advanced cancer in individuals who are unable to undergo a tissue biopsy.
The liquid biopsy can also be used to determine targeted therapy or clinical trial eligibility for patients for whom tissue-based testing is not appropriate or available. The liquid biopsy provides oncologists with real-time information about a tumor and is a quick, minimally invasive, and cost-effective diagnostic. These tests have the potential to reveal residual tumor cells, early recurrence diagnosis, and treatment efficacy.
While the issues connected with cancer biopsy pose significant obstacles for technology vendors, laboratories, and clinicians, patients who want to avoid the genuine hazards, potential pain, and high costs associated with tissue biopsy have a strong demand for liquid biopsy. Furthermore, the ability to track treatments and detect disorder early, as well as collect data across the tumor, gives patients a better chance of receiving appropriately targeted therapy.
In terms of instruments, kits, and consumables, cancer biopsy has seen a number of technological advancements. The development of effective products associated with biopsies is critical as liquid biopsy becomes a multimodal tool of diagnosis in the field of clinical oncology. Despite the fact that existing instruments are widely utilized, they have a number of flaws. The introduction of new technologies, on the other hand, is predicted to dramatically enhance the need for instruments in the coming years. Several new companies are concentrating on developing equipment that can improve endoscopy-based biopsies.
Scope of the Cancer Biopsy Market
| | |
| --- | --- |
| Report Coverage | Details |
| Market Size | US$ 114.5 Billion by 2032 |
| Growth Rate | CAGR of 18.10% from 2023 to 2032 |
| Largest Market | North America |
| Fastest Growing Market | Asia Pacific |
| Base Year | 2022 |
| Forecast Period | 2023 to 2032 |
| Segments Covered | Type, Product, Application, Region |
| Companies Mentioned | Myriad Genetics Inc., Guardant Health Inc., Exact Sciences Corporation, Bio-Rad Laboratories Inc., Agena Bioscience Inc., Personal Genome Diagnostics Inc., Exosome Diagnostics Inc., ANGLE Plc., F. Hoffmann-La Roche Ltd. |
Type Insights
The tissue biopsy had the highest revenue share in 2022. It is still widely used in biopsies and is widely used across a variety of cancer diagnosis applications. This is due to the rigorous research operations testing its safety and efficacy, which have helped to the expansion of this segment.
The liquid biopsy segment is fastest growing segment of the cancer biopsy market in 2022. In recent years, there has been an increase in physician preference for liquid biopsy, which is bolstered by its capacity to provide disease assessments from both the primary and distant tumor locations. This method is used in personalized medicine treatment, where tumor makers are sampled regularly to adjust the treatment based on the patient's response.
Product Insights
The kits and consumables segment dominated the cancer biopsy market in 2022. The segment's expansion has been aided significantly by large investments made by major market players in the industry.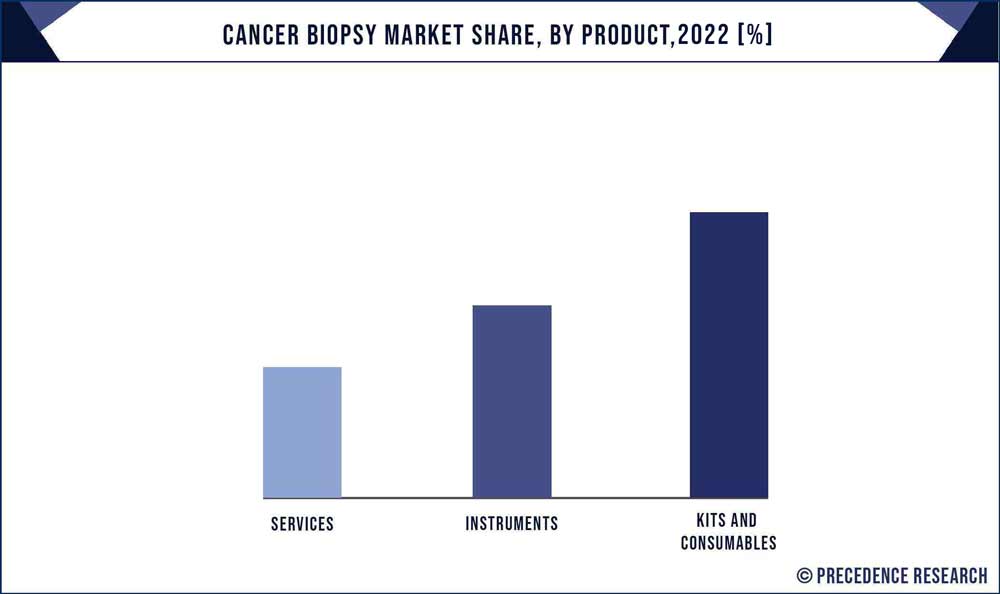 The instruments segment, on the other hand, is predicted to develop at a rapid rate over the projection period. The rise of the market is related to an increase in the number of patients around the world who require precise, efficient, and quick tools and kits.
Application Insights
In 2022, the breast cancer segment dominated the cancer biopsy market. The growing number of patients suspected of having breast cancer undergoes microscopic study of breast tissue, which is required for obtaining a clear diagnosis, as well as determining the stage and type.
The prostate cancer segment, on the other hand, is predicted to develop at the quickest rate in the future years. The liquid biopsies based on circulating tumor cells can track the minimal residual disease in non-metastatic prostate cancer patients, as well as the follow up examinations, to provide independent prognostic insights.
Region Insights
North America dominated the cancer biopsy market in 2022. The North America region is expected to maintain its lead during the projected period, with the U.S. contributing significantly to regional revenue. Furthermore, distributors and manufacturers in this region are working to sale and manufacture unique kits that are well-suited for quick diagnostic applications.
Asia-Pacific, on the other hand, is expected to develop at the fastest rate during the forecast period. The number of lung cancer cases detected in Asia has increased due to rising awareness among patients and healthcare professionals.
Key Developments
Guardant Health Inc. and MD Anderson established an agreement in January 2017 to make complete liquid biopsy a standard of care in cancer.
Illumina Inc. reported in March 2021 that their NextSeq 550Dx platform and accompanying reagent kits had received medical device registration in Russia. Prior to this registration, the MiSeq Dx had already been approved as a medical device.
The key market players are helping to drive the cancer biopsy market growth by diversifying their diagnostic portfolios and increasing the adoption of their proprietary biopsy products. To acquire a competitive advantage over their competitors, the major market players are using a variety of growth tactics including as acquisitions, collaborations, mergers, partnerships, and product launches.
Some of the prominent players in the global cancer biopsy market include:
Myriad Genetics Inc.
Guardant Health Inc.
Exact Sciences Corporation
Bio-Rad Laboratories Inc.
Agena Bioscience Inc.
Personal Genome Diagnostics Inc.
Exosome Diagnostics Inc.
ANGLE Plc.
F. Hoffmann-La Roche Ltd.
Segments Covered in the Report
By Product
Instruments
Kits and Consumables
Services
By Type
Tissue Biopsies

Fine Needle Aspiration (FNA)
Core Needle Biopsy (CNB)

Needle Biopsies
Surgical Biopsies

Liquid Biopsies
Others
By Application
Breast Cancer
Colorectal Cancer
Cervical Cancer
Lung Cancer
Prostate Cancer
Skin Cancer
Blood Cancer
Kidney Cancer
Liver Cancer
Pancreatic Cancer
Ovarian Cancer
Others
By Geography
North America
Europe
Asia-Pacific

China
India
Japan
South Korea

Latin America

Brazil
Rest of Latin America

Middle East & Africa (MEA)

GCC
North Africa
South Africa
Rest of Middle East & Africa