The global carbon black market size was estimated at USD 20.84 billion in 2022 and is expected to hit around USD 33.05 billion by 2032, growing at a CAGR of 4.72% over the forecast period from 2023 to 2032. U.S. carbon black market size was valued at USD 3.2 billion in 2022.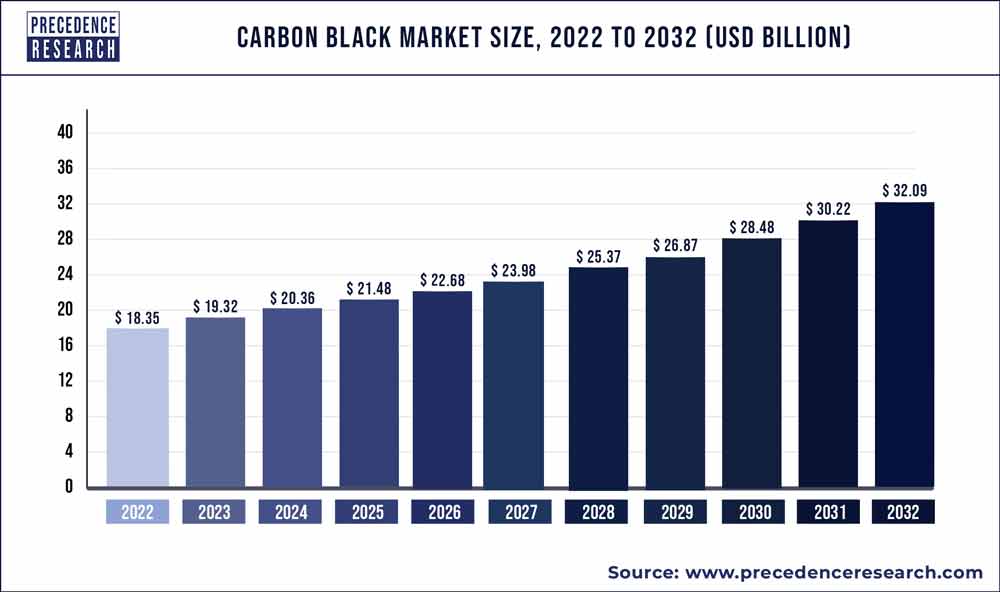 Key Takeaways:
By Type, the furnace black segment generated more than 44% of the revenue share in 2022.
By Grade, the standard grade captured for the maximum share in 2022.
By Application, the tires segment has captured 69% revenue share in 2022.
Asia Pacific region has accounted 63.5% market share in in 2022.
Market Overview:
The material's physical and mechanical properties are enhanced by carbon black, a type of paracrystalline carbon that contains 95% pure carbon and increases the efficacy of the finished product. The primary industries that use carbon black are those that make tires, plastics, mechanical rubber items, printing inks, and toners.
Due to its ability to absorb UV light and convert it to heat, its main application is in the insulation of wires and cables. Moreover, it is used to produce a variety of rubber goods and colours. It functions effectively in tyres as a low-cost rubber-strengthening compound.
Growth Factors:
The tyre, construction, and manufacturing industries have increased their demand for carbon black, which is used to harden industrial rubber compounds and other equipment. These factors are causing the carbon black market to grow. It also offers physical qualities including colour stability, solvent resistance, and heat stability to the paint and coating industries. Its broad use can be explained by these qualities.
In the approaching years, market growth is anticipated to be constrained by changes in raw material prices, an increase in the usage of silica as a replacement, and environmental issues related to the production of carbon black. On the other hand, it is anticipated that a rise in the demand for carbon black due to its UV protection and conductive properties in plastics will open up new business prospects.
Report Scope of the Carbon Black Market:
| | |
| --- | --- |
| Report Coverage | Details |
| Market Size in 2023 | USD 21.82 Billion |
| Market Size by 2032 | USD 33.05 Billion |
| Growth Rate from 2023 to 2032 | CAGR of 4.72% |
| Largest Market | North America |
| Base Year | 2022 |
| Forecast Period | 2023 to 2032 |
| Segments Covered | By Type, By Grade, and By Application |
| Regions Covered | North America, Europe, Asia-Pacific, Latin America and Middle East & Africa |

Market Dynamics:
Driver:
Usage in the plastics, coatings, and manufacturing industries are expanding, and demand for carbon black is expected to increase as the global rubber sector expands.
An increase in demand for the substance across numerous industries, including paints & coatings, rubber reinforcement, battery electrodes, plastics, and inks & toners, is driving the global market for carbon black. The growing use of carbon black in the tyre sector is the main factor driving the market for it. In 2020, the world's tyre industry produced 1.498 billion units, down 11.5 percent from 2019 according to Kordsa Teknik Tekstil AS. Also, it is anticipated that the entire tyre business would have manufactured 1.813 billion units by 2023.
Carbon black can be easily integrated into rubber recipe formulations for both tire and non-tire applications as a reinforcement filler. Vehicle production and sales are rising globally, which is assisting the industry as a whole. About 30% of a tire's weight is made up of rubber, which is frequently reinforced with carbon black. Several rubber automotive components include carbon black, which is required. According to an SMR poll, Asia is home to three of the top four tire markets in the world: China, India, and Japan.
It was projected that 1.3 billion tires worth US$ 97.4 billion would be sold in Asia in 2020. 70% of that market was accounted for by these three countries. Global urbanization, industrial growth, and a rise in the manufacturing and construction industries are driving factors in the black market for carbon. Moreover, carbon black is used in a variety of end-use sectors, such as paint and coatings, ink and pigment, and polymers, to enhance performance. Carbon black is highly sought-after in the rubber industry because it gives rubber greater tensile strength and durability.
It may be inferred from research done by SMR that the demand for natural rubber (N.R.) would increase by 9.3% year to 14.1 million tonnes in 2021. Carbon black, another rubber component, shields rubber tyre tread from oxidation and ultraviolet light. As a result, rubber compositions use carbon black as a filler more frequently. Particularly in mechanical rubber products like industrial rubber, membrane roofing, and automotive rubber components, such as hoses, anti-vibration parts, and sealing systems, it gives rubber strength, extends the material, and improves its physical properties.
About 90% of rubber sector applications, including both automotive and non-automotive ones, employ carbon black, according to an SMR survey. The majority of the remaining 70% of carbon black is utilised in tyres, even if only 30% of it is used for other things.
Recovered carbon black, an eco-friendly substance created by recovering old tyres, is also being utilised more frequently. Other examples include radar-absorbent materials, which are created by combining carbon black with glass composite and reduce radar cross-sections, conductive carbon black, which is frequently used to improve thermal and electrical conductivity, and gum vulcanization, which is frequently used to enhance the physical properties of carbon black-filled vulcanized rubble.
Restraint:
Higher cost of carbon black market
Over time, the price of carbon black has been rising gradually. According to SMR's analysis, market growth would significantly slow down when prices rise from roughly USD 1415 per megaton to USD 1485 per megaton from July through September 2022 and from roughly USD 1,330 per MT to USD 1,365 per MT from January through March 2021. Many dangerous gases, including carbon monoxide, carbon dioxide, and sulfur dioxide, are emitted during the manufacture of carbon black, reducing demand for the finished product. Inhaling these gases can result in a variety of harmful health problems, including nausea, headaches, dizziness, and tightness in the chest.
Governments in a wide range of nations have therefore set several strict laws and restrictions. Concerns were expressed by the International Agency for Research on Cancer about the health hazards of the product on human beings. IARC has classified carbon black as a Category 2B material, meaning it is highly carcinogenic and potentially harmful to human health. Reduced product acceptance is being brought on by the aforementioned restraints, which are also expected to impede market expansion as a whole.
Opportunity:
High demand in the APAC market, increasing need for conductive characteristics and U.V. protection in polymers
The Carbon Black market was largest in Asia Pacific, then Europe, then North America. Overly stringent environmental restrictions could impede business expansion in North America and Europe. Yet, it is projected that the business would be supported by the growing tire demand. According to data done by SMR, the global tire industry invested more than $15 billion in capital projects in 2020. An average yearly increase of 3.3 percent will occur by 2024, reflecting both supply and demand.
The rapidly industrializing, urbanizing, and rising economies of Asia and the Pacific are driving up regional demand for carbon black. The factors promoting market expansion are good regulatory frameworks and rising foreign investment. The area is developing into an industrial centre, which has increased demand for the material lately. Major companies are relocating their manufacturing operations to countries like India, China, and Vietnam because of the lower labour costs and support from the government there.
Impact of COVID-19:
The COVID-19 epidemic had a significant impact on the automotive sector. The flow of people and goods had been hampered, which led to supply-chain hiccups. Along with large-scale production disruptions in Europe and a decline in Chinese exports, the pandemic also resulted in the closure of assembly lines in the US. In addition, disruptions in manufacturing and the supply of raw materials and completed goods have caused a demand shock in the automobile sector.
Due to laws like the "shelter-in-place" order, it is anticipated that the recovery period for this business will remain unpredictable. Nonetheless, the market is anticipated to return to normal over the next few years as governments throughout the world work to restart industrial operations.
The necessity for tire recycling utilizing the pyrolysis method has increased due to growing concerns about the disposal of used tires.
The energy that may have been wasted has eventually been recovered in the form of heat and other materials. As a result, the market expansion is anticipated to be aided by the increased focus on recycling procedures.
Segments Insight:
Type Insights:
The leading segment and one with the fastest predicted growth is furnace black. In an oil furnace, this type is produced by burning incomplete petroleum oil or coal. By using this method, carbon black in a variety of particle sizes and configurations can be produced in large quantities. Moreover, this sort is commonly used in the manufacture of rubber as a strengthening agent. Thermal black is the second-largest market sector in the globe.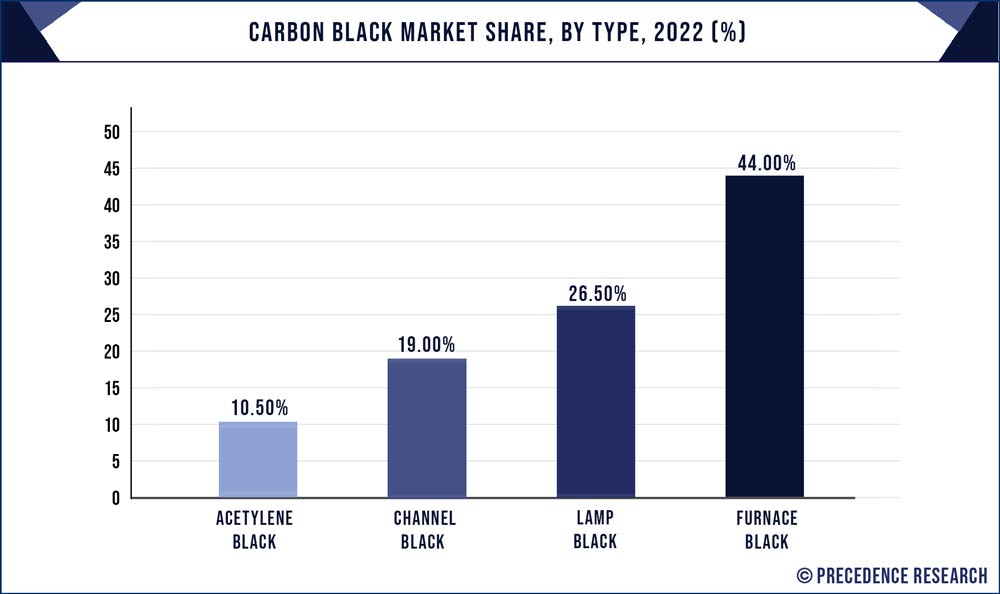 The rise is attributed to its UV-absorbing properties, which fuel demand in the plastics sector. Acetylene black is produced from acetylene gas by a thermal breakdown process. The product's high purity and great conductivity make it useful for making silicon goods, electrical lines, and dry cells.
Grade Insights:
Based on grade, standard grade and specialty grade products are sold separately on the market.
Standard grade accounted for the majority of the carbon black market in 2022. Its supremacy is a result of the extensive usage of products made of standard-grade rubber in several industrial applications, including tyres, wires, and cables. The market for specialty grade is anticipated to grow rapidly as a result of its expanding applications in the plastic and inks & coatings sectors.
Application Insights:
Based on application, the market is divided into four categories: plastics, inks & coatings, tire non-tire rubber, and others. In the upcoming years, the tire industry is projected to rule the market. About 30% of the total weight of a tire's production is made up of the product. Moreover, the automobile industry's explosive rise has boosted tire consumption, supporting product demand.
Regional Insights:
Asia Pacific is expected to rule the world over the projected period. The biggest producer and user of this product is China. The rising use of the substance in the manufacture of tyres and plastic goods is blamed for China's growing illicit market for carbon. The consumption of the product in the region will also increase as a result of increased R&D efforts and product advances.
The market expansion in North America can be attributed to the growing use of specialty grades in inks and coatings. Also driving the market expansion in this region will be the expanding use of furnace black in hoses, air springs, vibration isolation devices, and belts.
Recent Developments:
On June 2022, in significant markets, Birla Carbon reported an increase in capacity. The growth will encompass strategic markets in Europe, India, and China. Birla Carbon will grow by 80 kMT in India, 40 kMT in Hungary, and 80 kMT in China in accordance with the growth objectives of its clients. In order to better serve customers in vital applications like water-based coatings, the company will also enhance its capacity for the surface treatment of high-value specialised materials in India thanks to market trends fueled by sustainability.
In October 2021, Cabot Company unveiled VULCAN 3-LP carbon black, a novel low polycyclic aromatic hydrocarbon chemical for rubber application. With this launch, the company demonstrated that it is committed to continuing to provide innovative answers to consumers' expectations for high-performing products.
In June 2021, Orion Engineered Carbons S.A. unveiled ECORAX Nature, a brand-new renewable carbon black solution for rubber applications. To create this product, high-grade, sustainable plant-based oils that are not generated from fossil fuels are employed.
Key Market Players:
Tokai Carbon Co, Ltd.
Birla Carbon
Ralson
Orion Engineered Carbons GmbH
Atlas Organics Private Limited
Omsk Carbon Group
Cabot Corporation
Himadri Speciality Chemical Limited
Philips Carbon Black Limited
International China Oak Investment Holdings Co., Ltd.
Continental Carbon Company
Segments Covered in the Report:
(Note*: We offer report based on sub segments as well. Kindly, let us know if you are interested)
By Type
Channel Black
Acetylene Black
Lamp Black
Furnace Black
By Grade
Standard Grade
Speciality Grade
By Application
Coatings & Inks
Plastics
Non-Tire Rubber
Tires
Others
By Geography
North America
Europe
Asia-Pacific
Latin America
The Middle East and Africa