The global carbon capture and storage market size was evaluated at USD 4.91 billion in 2022 and it is expected to touch around USD 35.70 billion by 2032, poised to grow at a CAGR of 21.94% during the forecast period 2023 to 2032.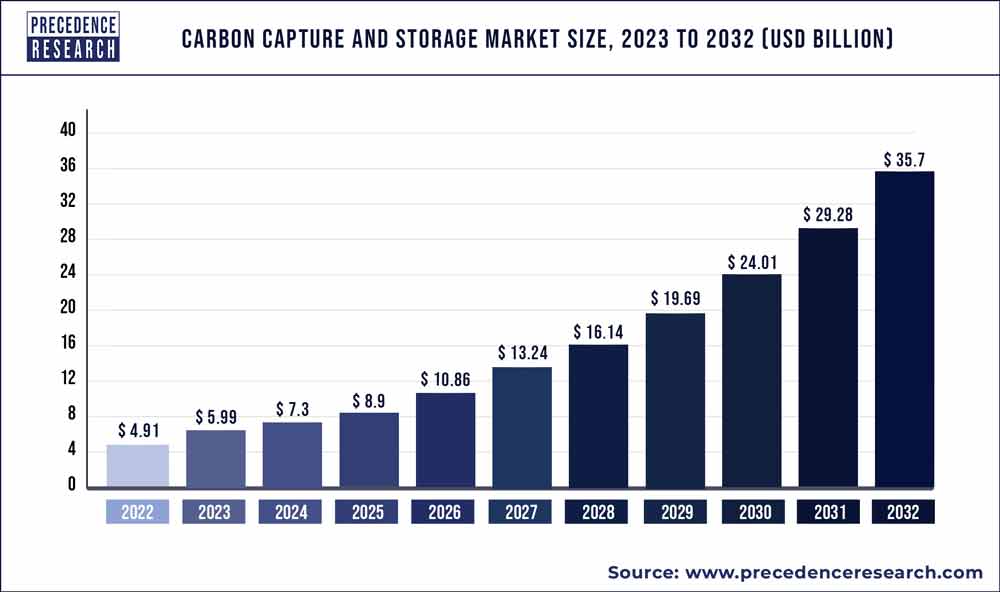 Access our Premium Real Time Data Intelligence Tool, Visit: Precedence Statistics
The procedure that goes under the name "Carbon Capture and Storage Market" is the collection of carbon dioxide emissions from things like coal-fired power plants and the reuse or storage of the released carbon dioxide gas to protect the environment and prevent pollution.
Growth Factor
The increasing pace of industrialization and increased investment in manufacturing facilities are the main factors driving the worldwide market for carbon capture and storage. Additionally, during the projection period, the demand for carbon capture and storage will be supported by a number of government initiatives to reduce greenhouse gas emissions in several industries. Additionally, when the equipment is operating, the better oilfield recovery plans emit carbon dioxide.
Additionally, rising energy needs and massive investment in the upstream and downstream sectors would enhance the market outlook for carbon capture and storage. Furthermore, management and societal worries about increasing CO2 emissions and rising energy needs are ultimately what are driving the market for carbon capture and storage.
Additionally, industrial growth is being fueled by the increasing use of extremely efficient power-generating cycles and technological advancements in the area.
The use of carbon capture and storage technology has been deemed necessary as a result of the growing awareness of the detrimental effects of carbon emissions on the environment.
Growing industrialization along with growing concern about increasing emissions is likely to boost the growth of the market.
The market is being driven by a growing focus on lowering CO2 emissions, backing government efforts, and rising demand for CO2-EOR methods.
Report Scope of the Carbon Capture and Storage Market
| | |
| --- | --- |
| Report Coverage | Details |
| Market Size in 2023 | USD 5.99 Billion |
| Market Size by 2032 | USD 35.70 Billion |
| Growth Rate from 2023 to 2032 | CAGR of 21.94% |
| Base Year | 2022 |
| Forecast Period | 2023 to 2032 |
| Segments Covered | By Service, By Product and By Application |
| Regions Covered | North America, Europe, Asia-Pacific, Latin America and Middle East & Africa |

Key Market Driver
The increase in investments and technological advancements
Over time, more money has been put into the research and development of cutting-edge capturing technology. Additionally, governments are launching programs to promote CCS technology, which is fostering industry expansion. The development and commercialization of low-carbon technology is receiving significant funding from both the public and private sectors, as doing so lowers carbon prices and safeguards the environment.
In order to capture CO2, for instance, scientists from the University of California, Berkeley, the Lawrence Berkeley National Laboratory, and ExxonMobil created a new method that makes use of porous material known as a metal-organic framework, or MOF, that has been altered with amine molecules that contain nitrogen. Therefore, throughout the projected time, these variables will strengthen the worldwide market.
Key Market Challenges
Safety considerations with storage methods and locations
One of the main problems in storing carbon dioxide under the earth's surface is carbon dioxide leakage. Water poisoning, soil acidification, groundwater change, and cryogenic burns can all be caused by CO2 leaks. Therefore, choosing the right location for CO2 storage is crucial for estimating the size and possibility of dangers.
When CO2 is injected underground, it can subsequently escape by a variety of pathways, including geological structures like rock fissures. Leakage through wells is another issue that could arise. Well blowouts or continuous leaking from operational or abandoned wells are both potential sources of CO2 leakage.
Continuous leakage is a steady leak caused by poor well construction, such as cement deterioration, casing failures, and well blowouts, which are often sudden occurrences brought on by faulty pressure management. Although well blowouts are uncommon, they can cause fast leakage and have major environmental effects that might cause both human and animal mortality.
Key Market Opportunities
Demand is increasing for carbon capture and storage.
Strict environmental regulations and legislation have increased the necessity for carbon capture and storage. The main energy fuels now in use are natural gas, gasoline, diesel, and petroleum products. These fuels are harmful to the environment, and it is harmful to explore and produce them. However, natural gas is viewed as an alternative fuel for sustainable development since it reduces carbon emissions, moderates global warming, and reduces GH emissions.
To lessen the risks associated with using gasoline and diesel as fuel and to promote the use of natural gas, the US government has put in place a number of rules and regulations. Nations with sizable natural gas reserves are thinking about the advantages of implementing carbon capture and storage, which would reduce carbon emissions.
Segments Insight
Product Type Insights
In 2022, the pre-combustion sector had the highest revenue share more than 66%. Globally, pre-combustion CO2 removal via the acid gas removal (AGR) process and water-gas shift reaction (WGSR) processes are both now used commercially. The high level of nitrogen in combustion air is the main barrier to the removal of carbon dioxide. Integrated gasification combined cycle is the strategy used to address this issue (IGCC). In the IGCC, powdered coal is combined with pure oxygen to create a synthesis gas that mostly consists of hydrogen and carbon monoxide. The majority of the carbon monoxide with water vapor is transformed into carbon dioxide and hydrogen in a later CO shift reaction.
The key drivers of post-combustion technology are anticipated to be newly developed sophisticated amine systems, rising energy consumption, and heat integration systems throughout the projected period. Post-combustion is the process of removing carbon dioxide from the flue gas after fossil fuels like oil, coal, and natural gas have burned.
The only economically viable solution that can be used for both new units and retrofits of existing equipment is post-combustion CO2 removal utilizing an aqueous-amine absorber stripper technique. This method has been proven in a number of pilot projects. The demand for this technology in coal power plants in North America and Europe is projected to be driven by these considerations.
The industrial sector is a substantial contributor of greenhouse gases (GHG). Cement, steel, oil, and gas are just a few of the industries that industrial separation aims to extract CO2. Flue gas physical characteristics, gas volume, and composition vary by industry. As a result, the market lacks a standard industrial separation technique. Gas separation technology has significant implementation costs as a result of these specialized carbon capture methods.
The industrial sectors are where gas separation membranes are most frequently employed to extract carbon dioxide. There are several different kinds of membranes on the market, including zeolites, palladium membranes, porous inorganic membranes, and polymeric membranes. A unique type of gas membrane is deployed in different sectors for carbon capture and storage depending on the chemical characteristics of flue gas.
Application Insights
In 2022, power generation had a volume share of more than 65.5%, dominating the market. Carbon capture and storage is one of the significant commercial areas in the oil and gas industry, with a significant stake in 2021. Two of the key factors promoting the development of CCS projects are the oil and gas industry's strong foundational competence and cutting-edge technology. The adoption of CCS in the oil and gas industry is made easier by factors including simple access to affordable finance, numerous linkages in the value chain, and substantial market participant revenues.
Since the 1930s, methods have been used to remove CO2 from raw natural gas streams in order to satisfy gas demand. The majority of the separated CO2 has been released into the atmosphere, however, historically there have been some small-scale applications for collected CO2. However, the adoption of CCS projects is becoming more significant to collect CO2 released into the atmosphere as a result of the present limits and tariffs imposed by the regional and municipal governments.
Regional Insights
In 2022, North America led the market and represented more than 36% of total sales. The region's expanding existing and upcoming planned carbon capture and storage projects are to blame for this. For instance, in October 2022, Flour Corporation was hired to offer project integration and engineering services for Project Bison by Carbon Capture, a climate technology firm with U.S. headquarters that produces direct air capture (DAC) devices. A multi-megaton atmospheric carbon removal plant for this project will be built in Wyoming, United States, and it is planned for operation by the end of 2023.
In 2022, Canada had the second-largest proportion. The four active projects in Canada, which make up 15% of the world's capacity, are now capturing 4 million tons annually. Canada intends to sequester and store 15 million tons of carbon dioxide by 2030. This is anticipated to assist the nation in achieving its objective to reduce greenhouse gas emissions by 40–45% from 2005 levels.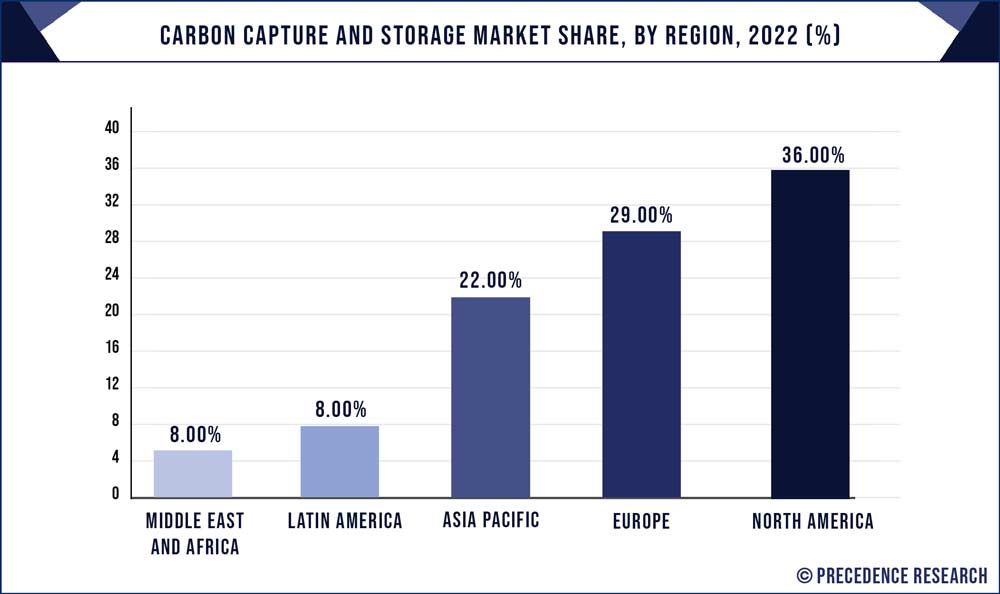 In 2022, Mexico had the smallest market share in North America. The CCS market will expand in Mexico and expand at the quickest rate in the region of North America as a result of the government of Mexico's proactive measures in the adoption of CCS.
The CCU field has seen a lot of R&D activity throughout Europe. The number of European nations engaged in CCU initiatives, whether through testing phases or pilot programs, exceeds that of other regional nations. Germany and the United Kingdom had a vital role in the development of CCU programs in Europe. Companies in the industrial and electricity sectors were able to sell and purchase pollution allowances thanks to the European Union's Emission Trading System.
In previous years, the volume that was accessible was reduced, which resulted in a 25 EUR rise in the permit price. The spread of CCU technology across Europe was prompted by the growth in market participants' incentives.
Recent Developments
Shell revealed its plans to build a large carbon capture and storage (CCS) project in Alberta, Canada, in July 2021. Over the course of its existence, the facility is expected to capture 300 million tonnes of carbon dioxide from the company's chemical and refinery plants.
Key Market Players
Shell PLC
Aker Solutions
Equinor ASA
Dakota Gasification Company
Linde plc
Siemens Energy
Fluor Corporation
Sulzer Ltd.
Mitsubishi Heavy Industries
Japan CCS Co., Ltd.
Carbon Engineering Ltd.
LanzaTech
Market Segmentation
(Note*: We offer report based on sub segments as well. Kindly, let us know if you are interested)
By Service
Capture
Transportation
Utilization
Storage
By Product
Pre-combustion
Industrial Process
Post Combustion
Oxy-combustion
By Application
Power Generation
Oil & Gas
Metal Production
Cement
Others
By Geography
North America
Europe
Asia-Pacific
Latin America
The Middle East and Africa