The global chondroitin sulfate market size accounted for USD 1.22 billion in 2022 and it is expected to hit around USD 1.65 billion by 2032, growing at a CAGR of 3.1% between 2023 and 2032.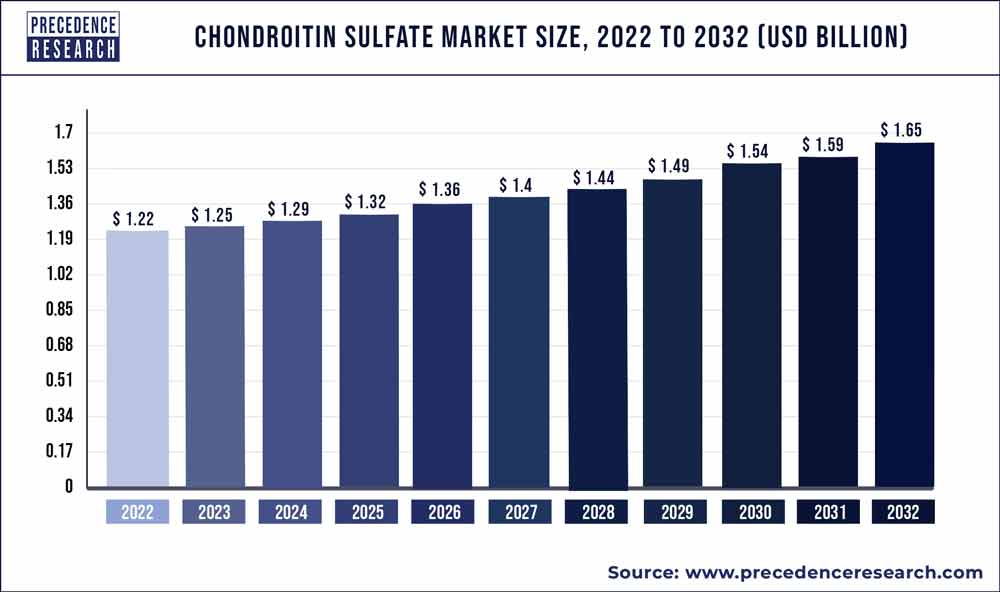 Access our Premium Real Time Data Intelligence Tool, Visit: Precedence Statistics
Key Takeaways:
North America led the market and generated more than 37% of revenue share in 2022.
The Asia-Pacific region is expected to expand at a CAGR of 9% from 2023 to 2032.
By source, the bovine segment dominated the global market in 2022.
By application, the nutraceuticals segment dominated by global market in 2022.
Market Overview:
The expansion of the chondroitin sulfate market is related to rising healthcare costs and consumer demand for pharmaceuticals and personal care products. The solution is also used to protect the cornea during cataract surgery, and it is used in medications to treat inflammation, joint pain, and eye dryness. The chemical formula of chondroitin sulfate and the glucuronic acid typically found in cartilage around joints is similar.
Chondroitin sulfate is also consumed and is accessible as capsules and tablets. The tablets are frequently used as food additives for animals as well. Additionally, the substance increases joint lubrication to support healthy cartilage function.
The market is expanding due to the growing use of chondroitin sulfate for the treatment of joint pain, acidity, heart disease, anaemia, and HIV. Chondroitin sulfate is increasingly used in personal care products, and its inclusion in cosmetics and hair care products, along with rising customer expenses, has caused the market for the substance to expand quickly over the foreseeable future.
For instance, animal glands and organs are used medically in several nations, including Japan, China, and India. Tallow, fertilizer, meat meal, and pet food are all products made from animal intestines. As a dietary supplement and a supplier of vitamin B12 for the prevention and treatment of different kinds of anemia, liver extract from pigs and cows are also used.
Fish waste with excessive bones or high oil content is converted into industrial sources and feed. Additionally, collagen and chondroitin sulfate, which are components used in pharmaceutical, cosmetic, nutraceutical, and food products, are derived from cartilage.
More animals are being killed due to increased demand for meat and meat-based products. The fact that the source of chondroitin is cartilage obtained after slaughter has been highly advantageous to the substance's producers. Osteoarthritis occurs as one of the musculoskeletal conditions that affect the elderly most frequently.
The joints are affected, motion is limited, and pain is experienced. Chondroitin sulfate is used to cure osteoarthritis to reduce pain, stop the disease's progression, and cure its symptoms. As osteoarthritis grows increasingly widespread in developed countries like the U.S. and the U.K., among many others, it is likely to gain popularity.
Report Scope of the Chondroitin Sulfate Market
| | |
| --- | --- |
| Report Coverage | Details |
| Market Size in 2023 | USD 1.25 Billion |
| Market Size by 2032 | USD 1.65 Billion |
| Growth Rate from 2023 to 2032 | CAGR of 3.1% |
| Largest Market | North America |
| Base Year | 2022 |
| Forecast Period | 2023 to 2032 |
| Segments Covered | By Source and By Application |
| Regions Covered | North America, Europe, Asia-Pacific, Latin America and Middle East & Africa |

Market Dynamics:
Market growth for nutraceutical products is expected to drive expansion over the forecast period
Sodium chondroitin sulfate is used as a thickener in health food, forming agents, additives, preservatives, and in animal feed. It is also used in dietary supplements and food products. Because it is effective in treating canine arthritis and joint pain, including conditions like osteoarthritis, hip dysplasia, and elbow dysplasia, it is widely used. Applications for food- and feed-grade materials are anticipated to drive market expansion during the projection period.
Additionally, it is used to enhance liver function, improve digestion, lower blood sugar, and prevent tumour metastasis. Its use in the treatment of osteoarthritis and several other conditions is becoming more and more popular, which is anticipated to help the market expand overall.
Increasing efforts of major market participants to create chondroitin sulfate
Chondroitin sulfate development efforts by major pharmaceutical market players are projected to drive market growth. For example, in July 2021, Bioiberica introduced a new brand image for its investment in healthcare-branded ingredients. The patented CS Bioactive chondroitin sulfate and hyaluronic acid matrix ingredient Mobilee was part of this investment. Such actions will help the market expansion during the anticipated period.
Market Restraint:
Product reactions may affect growth
There is some concern about the health of chondroitin sulfate since it comes from animal sources, even though clinical examinations have not revealed any clinical symptoms or overdoses of the substance. Some chondroitin tablets may contain excessive amounts of manganese, which could be harmful when used over an extended period.
Alternative reactions include loose stools, male pattern baldness, blockage and stomach pain, swelling, clogging, cerebral pain, leg swelling, swollen eyelids, skin rash, and unpredictable pulse. These reactions can vary from person to person. These factors will likely constrain the expansion of the worldwide chondroitin sulfate market. Additionally, social and religious restrictions in some developing nations may threaten the global chondroitin sulfate market.
Market Opportunity:
Increasing pharmaceutical necessities are generating numerous opportunities for the global chondroitin sulfate industry growth
Firms that manufacture pharmaceutical-grade chondroitin sulfate should have a lot of business opportunities due to the expanding pharmaceutical industry worldwide. The market for dietary supplements is anticipated to be driven by osteoarthritis and an expanding population of older people worldwide, which will probably drive chondroitin sulfate demand. The United States now allows chondroitin sulfate in food and nutritional supplements. The nutraceutical market is likely to expand as more people become aware of how chondroitin in sulfate can aid in joint health issues.
Additionally, the rising demand for dietary supplements containing chondroitin sulfate in the country may present opportunities for vendors and manufacturers in the market. Synthetic chondroitin sulfate will be produced by Gnosis S.p.A. in Italy, which should reduce the product's operating costs and enable it to avoid complicated manufacturing procedures. This should also help the market dispute. Credit goes to these kinds of product innovations, and producers should have many opportunities to produce synthetic goods that are both high quality and affordable.
Directly ingestible chondroitin B Sulfate-containing nutraceuticals are exempt from veterinary inspection. To ensure the quality of the product and adhere to the standard production processes, they must be manufactured in accordance with United States and GMP standards. A trend of opportunities is coming to the chondroitin sulfate market due to all these factors.
COVID-19 Impact:
Millions of people and businesses are impacted by the COVID-19 pandemic, which has become both an economic and humanitarian crisis. The funding for chondroitin sulfate-related R&D activities has been cut back due to the medical community's focus shifting to the treatment of COVID-19, and this market segment is now forced to deal with neglect.
To succeed in the rapidly shifting chondroitin sulfate market environment, aspiring businesses and their astute leaders must maintain constant vigilance for any indications of a potential new global order following the COVID-19 crisis.
Segments Insights:
Source Insight:
The global market was dominated by the bovine source segment in 2022. This results from the source being used more frequently across a wide range of application companies, personal care, and cosmetics, including pharmaceutical and nutraceuticals, on a global scale. Several industries that use shark-derived chondroitin sulfate are in the nutraceutical, pharmaceutical, and animal feed industries. Sharks are currently thought to be an extinct species, which might prevent the sector from growing.
The shark-derived product is the predominant form due to its ability to treat people with rheumatoid arthritis, HIV, and gut inflammation; during the forecast timeline, demand is expected to increase due to this preference. Production of synthetic sodium chondroitin sulfate involves a two-stage fermentation-based process. There is little chance of contamination or adulteration because animal cartilage is not used in the procedure. The straightforwardness of the extraction procedure also contributes to low sourcing costs. It can also be used as a substitute by vegetarians and others who have dietary or religious restrictions, so its demand is expected to rise in Asian and Middle Eastern countries.
Application Insights:
Nutraceuticals
Pharmaceuticals
The industry was dominated by the nutraceuticals sector in 2022. Its high market share is credited to the sector's increasing investments due to the requirement to create new and more potent dietary supplements. It is commonly used as a dietary supplement to cure osteoarthritis and joint discomfort in the nutraceutical industry. They are consumed to reduce the pain of arthritis and to strengthen the bones, joints, and cartilage. The source is categorized, considering each country's national laws.
To treat arthritis pain, it is recommended as a dietary supplement along with glucosamine in the US. The market is expected to grow as dietary supplement intake rises in countries like the United States. Moreover, chondroitin sulfate and glucosamine hydrochloride are frequently found in animal feed additives. Pet diets, especially those for cats and dogs, comprise chondroitin sulfate from bovine sources to enhance joint health and mobility. The medication is also used to treat chronic pain brought on by patellar luxation and intervertebral disc disease, osteoarthritis, hip dysplasia, and intervertebral disc disease.
Regional Insights:
During the forecast period, the chondroitin sulfate market in the Asia-Pacific region is anticipated to expand at a CAGR of roughly 9%. The market is primarily driven by the expanding demand for supplements made with chondroitin sulfate from the healthcare and food & beverage industries. Furthermore, the region's market is anticipated to grow as more people become conscious of the health benefits of chondroitin sulfate.
Chondroitin sulfate market share in the Asia-Pacific region is divided into application, source, and country segments. The market is divided into three groups based on the source: bovine, marine, and porcine. Due to the expanding demand for supplements containing chondroitin sulfate obtained from bovines in the healthcare industry, the bovine segment is anticipated to maintain the highest share of the market among these.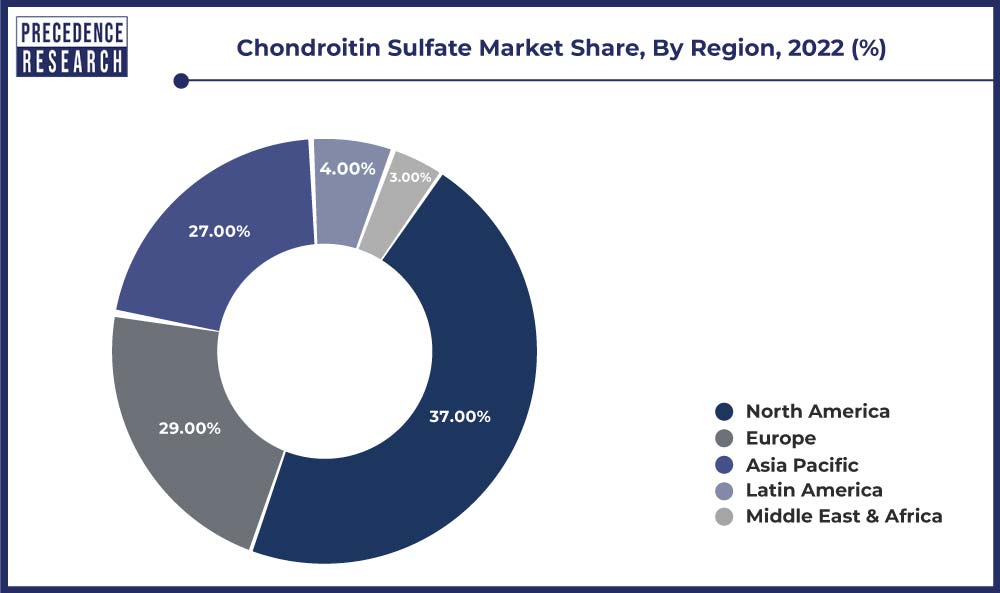 The market is divided into three categories based on application: functional foods & beverages, pharmaceuticals, and dietary supplements. The dietary supplements market is further divided into segments for joint health, skincare, and other products.
Due to the expanding demand for dietary supplements containing chondroitin sulfate from the healthcare industry, China is predicted to be the largest market for chondroitin sulfate among the nation's major countries. Moreover, the country's chondroitin sulfate market will continue to expand as more people become aware of its beneficial health effects. Due to the rising demand for dietary supplements containing chondroitin sulfate from the healthcare industry, India is another significant market for chondroitin sulfate in the county.
Recent Development:
March 2022 - A new product for its market-dominating joint health brand, Highflex, was created by Bioiberica, a multinational life science company, in collaboration with ByHealth, a major Chinese dietary and vitamin supplement supplier. In China, unmet customer demand for novel, low-dose joint health solutions are satisfied by Highflex type II collagen tablets.
July 2022 - With the slogan "Making Bones Stronger for Joint Health," Chinese herbal health services and product supplier Infinitus debuted a new line of Li Mai Jian supplements.
Key Market Players:
Solabia Group
Knowde
JIAXING HENGJIE BIOPHARMACEUTICAL CO., LTD.
SEIKAGAKU CORPORATION
Stanford Chemicals
Qingdao Wantuming Biological Products Co, Ltd.
ZPD A/S (Denmark)
Sioux Pharm, Inc.
Sino Siam Bio technique Co., Ltd.
Summit Nutritionals International
William Reed Ltd.
Bioiberica S.A.U.
Yantai Ruikangda Biochemical Products Co., Ltd
Segments Covered in the Report:
(Note*: We offer report based on sub segments as well. Kindly, let us know if you are interested)
By Source
Bovine
Poultry
Synthetic
Swine
Shark
By Application
Nutraceuticals
Personal Care & Cosmetics
Animal Feed
Pharmaceuticals
Other Applications
By Geography
North America
Europe
Asia-Pacific
Latin America
The Middle East and Africa