The global clinical laboratory tests market size was reached at USD 106.74 billion in 2022 and is projected to surpass around USD 272.61 billion by 2032, poised to grow at a CAGR of 9.83% during the forecast period 2023 to 2032.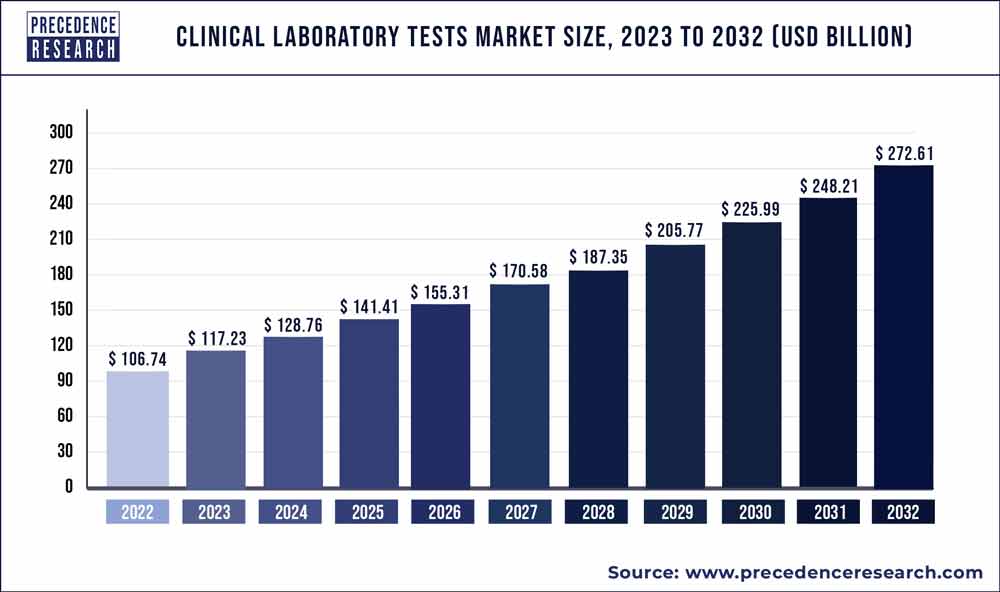 Key Takeaways:
North America Region is predicted to dominate the market between 2023 and 2032.
Asia-Pacific is expected to expand at the fastest CAGR from 2023 to 2032.
By Type, the HbA1c tests segment generated for the maximum market share in 2022.
By Type, the HGB/HCT tests segment is expected to expand at the fastest CAGR between 2023 and 2032.
By End-use, the Primary clinic segment captured the major market share in 2022.
By End-use, the central laboratories segment is projected to grow at a remarkable CAGR between 2023 and 2032.
Market Overview:
The medical testing industry is driven by an increase in cardiovascular and other diseases, an increase in the elderly population, improvements in healthcare and medical infrastructural facilities, and an increase in public health consciousness. A recent development in this industry is the standardization of lab facilities, the improvement of lab systems, and the development of new, quick diagnostic tools. These issues are constantly being addressed by local, global, and international medical authorities and technological experts within the framework of a patient-centered strategy.
The market for clinical laboratory tests is predicted to expand because of rising investments in the creation of sophisticated laboratory testing procedures, technological advancements in clinical diagnostic equipment and tools, and a rise in patient-centered approaches to the treatment of diseases, primarily viral and chronic illnesses.
Furthermore, it is anticipated that the development of novel approaches to maximizing effectiveness and enhancing service will significantly boost the visualizations of this market. With businesses accessing as many as 100 to 150 billion samples annually, database management tools, integrated workflow management systems, and patient test records are becoming increasingly important in the healthcare sector. This market's expansion is anticipated to be fueled by the adoption and advancement of data management and informatics solutions for enabling efficient operations.
Moreover, the regulatory environment surrounding clinical laboratory tests is unclear, limiting the market growth. For example, the U.S. FDA and the European Medicines Agency (EMA) have created regulatory frameworks that rely heavily on the healthcare sector. The diagnostic industry is not subject to clear regulatory standards in developing nations such as India and China. Laboratory-developed tests that provide accurate and speedy results and internal clinical laboratories developing tests are subject to FDA regulation. Profit margins may suffer due to LDT risks, and the popularisation of recently developed tests may be delayed.
Report Scope of the Clinical Laboratory Tests Market
| | |
| --- | --- |
| Report Coverage | Details |
| Market Size in 2023 | USD 117.23 Billion |
| Market Size by 2032 | USD 272.61 Billion |
| Growth Rate from 2023 to 2032 | CAGR of 9.83% |
| Largest Market | North America |
| Fastest Growing Market | Asia Pacific |
| Base Year | 2022 |
| Forecast Period | 2023 to 2032 |
| Segments Covered | By Type and By End-Use |
| Regions Covered | North America, Europe, Asia-Pacific, Latin America and Middle East & Africa |

Market Dynamics:
The global market for clinical laboratory tests is driven by several factors, including the rising prevalence of conditions like cardiac diseases and neurological diseases, the aging population, the development of cutting-edge products like microarray biochips, and the increase in healthcare expenses. Furthermore, the industry is increasing due to consumer preferences for integrated analytical systems, shorter hospitalizations, and preventative health services. This results from the long waiting times for patient test results, particularly for illnesses with complicated and costly diseases.
Stand-alone research labs are anticipated to experience the fastest growth over the course of the projection period because efforts are being made to improve patient outcomes by providing diagnostic services at the retail level. The need for trustworthy diagnostic tests has been essential to high-quality patient care, and this necessity is the primary driver of the market expansion for clinical laboratory testing. Because of the increasing incidence of chronic diseases and the increasing morbidity of non-communicable diseases, the requirement has become more essential.
Restraint:
Government regulations will constrain the rate of growth
The main factors restricting market growth are the strict governmental guidance and regulatory requirements on laboratory research. Country-specific regulatory organizations are in charge of ensuring the quality of clinical laboratory products.
These organizations guarantee protection from risks brought on by errors in the manufacture, design, packaging, or technology of the apparatus or accessories.
Uncertain regulatory framework
The regulatory frameworks created by organizations like the FDA and EMA in the United States are extremely important to the healthcare sector. There are no particular regulatory standards for the diagnostic business in developing countries such as India and China.
Laboratory-designed tests (LDTs) are diagnostic procedures created by internal clinical laboratories that deliver precise results quickly. Risks associated with LDT could lower profit margins and impede the marketing of newly developed tests. This factor hampers the expansion of the worldwide market for clinical laboratory tests.
Opportunity:
Innovative solutions in clinical laboratory tests
Innovative approaches to increasing productivity and reducing errors are anticipated to be significant rendering drivers in this sector. With organizations handling 100 to 150 billion samples annually, interconnected document management processes, database management tools, and patient test records have grown increasingly crucial in the healthcare sector.
Market expansion is anticipated to be fueled by the establishment and growth of data management and informatics solutions to support efficient operations.
COVID-19 Impact:
The market for clinical laboratory testing services has grown because of the COVID-19 pandemic, so it is predicted that the COVID-19 outbreak will be advantageous for the clinical laboratory services industry.
Rapid and widespread testing advancements have also been brought on by improvements in clinical diagnostic and screening technology, which has increased overall demand. The market is primarily driven by the rising incidence of chronic and infectious diseases and the requirement for quick and accurate disease diagnosis techniques.
Segments Insight:
Type Insights:
In 2022, the HbA1c tests category accounted for the largest market share. As patients with fluctuating levels of HbA1c run a higher risk of developing complications from diabetes, it is predicted that the growing number of patients with diabetes and abnormal cholesterol levels will fuel segment growth. Introducing more recent laboratory tests is also anticipated to further fuel market expansion.
Over the forecast period, the HGB/HCT tests category is projected to expand at the fastest rate. The prevalence of blood-related diseases in the general population is blamed for the segment's expansion. The test is employed to identify whether polycythemia or anemia is present. The HGB/HCT test also evaluates dehydration, monitors its effects, and decides on blood transfusions. During the forecast period, market growth is anticipated to be fueled by the rising prevalence of anemia and other blood diseases and the emergence of non-invasive and technologically sophisticated products.
End-Use Insights:
The primary clinic sector held the largest market share for clinical laboratory tests in 2022. Primary healthcare facilities with their research labs, physician clinics with laboratories that take samples from doctors directly, clinical research facilities, and insurance companies are examples of primary clinics. The test is easily made available to patients immediately, and the care team, doctor, and patients can rapidly obtain the results, allowing them to make clinical management decisions on the spur of the moment. They offer a smaller range of tests than hospitals or independent laboratories, and these laboratories only serve a small number of specialties, which results in a small revenue share. Despite their smaller contributions, these are anticipated to continue to support market expansion.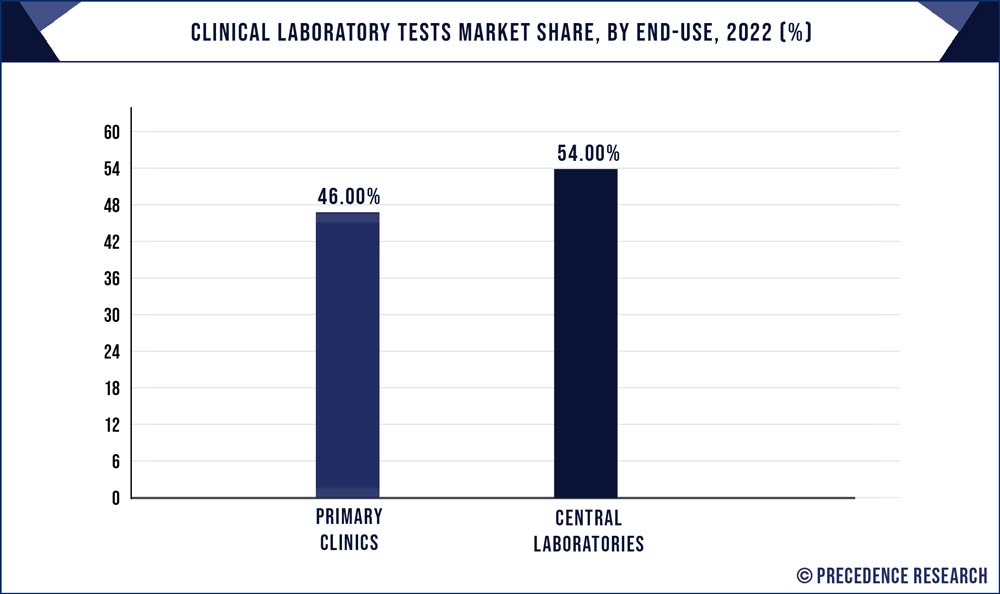 Over the projected timeframe, the central laboratories segment is anticipated to expand at the fastest rate. The volume of procedures and significant market penetration is credited with the company's growth. Another important factor expected to boost the market is the rising number of initiatives taken by governments to provide a variety of services, such as reimbursement for clinical laboratory tests. Many healthcare institutions are collaborating with laboratories to integrate various tests, including microbiology testing. Furthermore, a sizable portion comes from many laboratories in developing and emerging markets. Regulatory agencies are also enhancing laboratory services and simplifying the diagnosis process.
Regional Insights:
North America dominates the markets for clinical laboratory tests globally. Expanding regulatory support and significant demand in clinical laboratory tests are predicted to drive the market. North America has developed economies and a restrictive regulatory framework for the approval of new tests. These tests have been authorized by the FDA in accordance with the 510(k) medical device regulation. To be authorized for commercialization, panel tests conducted on equipment must also pass a similar FDA clearance procedure. Health Canada regulates the Canadian authorization of these tests.
High insurance coverage and supportive regulatory measures promote regular examinations, expanding the market. Patients can more easily estimate costs because insurance firms instantly billed these tests. Medicaid will pay for urinalyses, blood tests, and screening exams. Although tests are inexpensive, local hospitals charge higher fees.
Regarding the worldwide industry for clinical laboratory tests, Asia-Pacific is rising the fastest. The market's primary major growth factors are sizable undeveloped opportunities in the form of unmet medical needs, broadening scientific fields, and favourable economic expansion.
Multinational players are anticipated to invest and seize the providing opportunities as the regulatory environment in high-growth regions improves. Positive developments like publicly funded healthcare raised awareness and the urge for top-notch medical care will probably expand the geographic market.
Recent Development:
March 2022 - The newest complete blood count and erythrocyte sedimentation rate hematology analyzers from Mindray were introduced for small-to-midsize laboratories.
September 2022 - The establishment of Bionano Laboratories, a new company that combines the clinical testing services formerly provided by Lineagen with the optical genome mapping data services of Bionano, was announced by Bionano Genomics Inc. Additionally, it announced the debut of the first OGM-based test created by Bionano Laboratories (LDT).
September 2021 - The Cobas pure integrated solutions analyzer, which has a more intelligent system adequate for several labs and hospitals working in the nation, was introduced by Roche Diagnostics' Indian division.
Key Market Players:
Quest Diagnostics Incorporated.
Sonic Healthcare Limited.
Cinven
ARUP Laboratories
Abbott
Clinical Reference Laboratory, Inc.
Laboratory Corporation of America Holdings
Synnovis Group LLP
OPKO Health, Inc.
UNILABS
Segments Covered in the Report:
(Note*: We offer report based on sub segments as well. Kindly, let us know if you are interested)
By Type
Complete Blood Count
Basic Metabolic Panel Testing
HGB/ HCT testing
Comprehensive Metabolic Panel Testing
BUN Creatinine Testing
HbA1c Testing
Electrolytes Testing
Liver Panel Testing

Hepatitis
Liver Cirrhosis
Bone Disease
Bile Duct Obstruction
Liver Cancer
Autoimmune Disorders
Others

Lipid Panel Testing
Renal Panel Testing
Cardiovascular Panel Tests
By End-Use
Central Laboratories

Complete Blood Count
Basic Metabolic Panel Testing
HGB/ HCT testing
BUN Creatinine Testing
HbA1c Testing
Electrolytes Testing
Comprehensive Metabolic Panel Testing
Renal Panel Testing
Liver Panel Testing
Lipid Panel Testing
Cardiovascular Panel Tests

Primary Clinics

Complete Blood Count
Cardiovascular Panel Tests
Basic Metabolic Panel Testing
HGB/ HCT testing
Lipid Panel Testing
BUN Creatinine Testing
HbA1c Testing
Electrolytes Testing
Comprehensive Metabolic Panel Testing
Renal Panel Testing
Liver Panel Testing
By Geography
North America
Europe
Asia-Pacific
Latin America
Middle East and Africa