The global clinical trials support services market size was reached at USD 21.57 billion in 2022 and is projected to hit around USD 46.14 billion by 2032, growing at a CAGR of 7.9% during the forecast period from 2023 to 2032.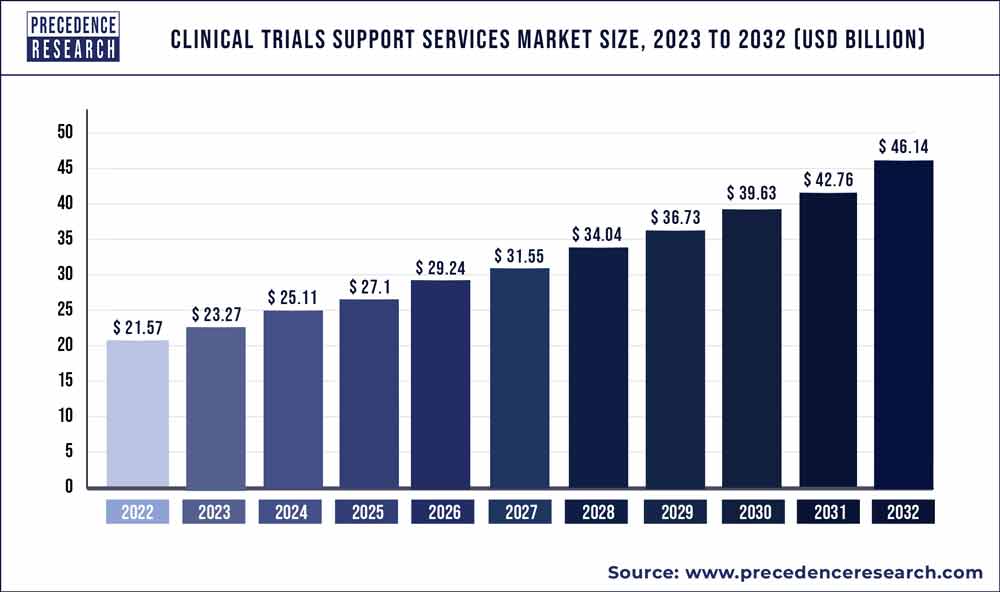 Access our Premium Real Time Data Intelligence Tool, Visit: Precedence Statistics
Key Takeaways:
North America generated more than 51% of the revenue share in 2022.
By Service, the clinical trial site management segment generated for the maximum market share in 2022.
By Phase, the phase III segment contributed for the largest market share in 2022.
By Sponsor, the pharmaceutical & biopharmaceutical segment captured for the majority market share in 2022.
Clinical trial support services are the numerous services applied by pharmaceutical companies throughout clinical trials, either for the approval of new drug molecules or during the market introduction of generics and biosimilars. These support services are extremely useful in the event of a drug, assay design, and clinical testing. It also includes strengthening clinical test sites, acquiring, and collecting study medications, drug dosing estimation, and kit handling.
The clinical test support services include patient recruitment, clinical test site support, procuring and storing study medications, blinding of study drugs, coordination and reconciliation of return medications, calculation of specific dosing, labelling, Lab kit handling, training with study sites, distribution and follow-up, coordination, dispensing/distribution of study drug to appropriate places, inventory, and dispensing.
Report Scope of the Clinical Trials Support Services Market
| | |
| --- | --- |
| Report Coverage | Details |
| Market Size in 2023 | USD 23.27 Billion |
| Market Size by 2032 | USD 46.14 Billion |
| Growth Rate from 2023 to 2032 | CAGR of 7.9% |
| Largest Market | North America |
| Base Year | 2022 |
| Forecast Period | 2023 to 2032 |
| Segments Covered | By Service, By Phase, and By Sponsor |
| Regions Covered | North America, Europe, Asia-Pacific, Latin America and Middle East & Africa |

Market Dynamics:
Driver: Rising incidence of chronic disease & virus outbreaks
Changes in the environment and people's lifestyles contribute to increased health-related problems. The geriatric population are affected by a variety of chronic diseases and conditions. Alzheimer's and other dementias, arthritis, cancer, diabetes, heart disease, obesity, osteoporosis, tobacco-related disorders, irritable bowel syndrome, and other issues have become more prevalent and visible in the general population. The Spanish Flu pandemic struck the world in 1918 and lasted for two years. COVID-19 entered the world in 2020 and is still surviving and mutating. In 2022, the Monkeypox virus was discovered, and an outbreak was observed in Europe and North America.
Restraint: Availability of open source/freeware software
On the market, there are open sources for sale. Open-source software includes Clinion CTMS by Clinion IT Services, Decentralized Clinical Trials by Medrio, ePRO/eCOA by Viedoc Technologies, StudyPal by Delve Health, and others. Security flaws, a lack of support, certification difficulties, and others are all significant disadvantages of open-source software. The risk of hacking and data breaches in open-source software increases when additional security measures are not implemented. The level of support for open-source software is lower than that for proprietary software.
Opportunity: Increasing R&D expenditure by pharmaceutical and biopharmaceutical firms
Increasing R&D expenditure by pharmaceutical and biopharmaceutical firms is expected to drive market growth over the forecast period. For instance, data show that In February 2022, IQVIA, a prominent global provider of advanced analytics, technological solutions, and clinical research services to the life sciences industry, claimed that the top 15 pharmaceutical companies' businesses made a US investment in R&D spending will grow to $ 133 billion in 2021 global increase of 44% since 2016.
Covid-19 Impact:
The COVID-19 outbreak has increased the demand for clinical trial support services throughout the forecast period. Most enterprises and businesses worldwide are threatened by the rapidly spreading risk caused by the COVID-19 disease. The current pandemic poses a severe threat to the overall health of the population. Clinical research is critical to combating COVID-19 effectively. The current global situation and the need to consider treatment options have prompted the most optimised plan to lead clinical trials.
Segments Insight:
Service Insights:
Based on the service segment, the global clinical trial support services market is segmented into clinical trial site management, patient recruitment management, data management, administrative staff, IRB, and others. In 2022, clinical trial site management accounted for the highest market share. Clinical trial site management delivers operational and administrative support services to the clinical investigator at a research site. This involves everything from handling regulatory and compliance activities to managing patient recruitment and data collection.
The rising number of clinical trials, the high prevalence of chronic diseases, and the rise in the number of CROs offering services are estimated to drive the market. According to Clinical trials.gov, the total number of clinical trials in 2020 was 325,773, while the total number of clinical trials in April 2022 was 410,903.
Phase Insights:
Based on the phase segment, the global clinical trial support services market is segmented into phases I, II, III, and IV. In 2022, the phase III segment accounted for the highest market share. This segment's growth is due to the fact that phase III clinical trials are more costly and involve many subjects. Given the small sample size, the failure rate in this phase is the highest, and the study design usually requires complex dosing at the optimal level. Failure causes both human and financial loss, and most failures are caused by noncompliance with safety and efficacy standards.
The primary goal of Phase III trials is to prove and confirm the initial data from former trials that the drug is a safe, functional, and efficient treatment for the particular indication. These phase III clinical trials are performed to confirm and develop safety or efficacy results from phase I and II trials or to evaluate the comparative effect of the new medication over the previous medications available. According to the National Clinical Trial (NCT) record, updated on clinical trial.gov in November 2022, there are approximately 12,136 clinical trials in the phase III stage for several indications worldwide. Many current phase III clinical trials are expected to influence the segment's growth during the forecast period.
Sponsor Insights:
Based on the sponsored segment, the global clinical trial support services market is segmented into pharmaceutical & biopharmaceutical, medical devices, and others. In 2022, the pharmaceutical & biopharmaceutical companies accounted for the highest market share. The segment's growth is due to rising R&D investments and the introduction of new drugs. The biopharmaceutical industry accounts for around 90% of investment in clinical trials and equipment in the US. The costs of a clinical trial include data management, patient recruitment, site recruitment, and clinical procedure costs.
Regional Insights:
In 2022, North America dominated the clinical trial support services market and is estimated to grow faster during the forecast period. The region's growth is owing to the fact that most pharmaceutical firms are located in the United States, where they conduct most of their business and clinical trials, as well as rising R&D spending and the need for drug advancement. Increased clinical studies in the region, owing to the occurrence of key market participants, are also driving the market growth. Walgreens, for instance, launched a clinical trial service in June 2022 to deliver pharmaceutical companies' patient registration and enrollment services.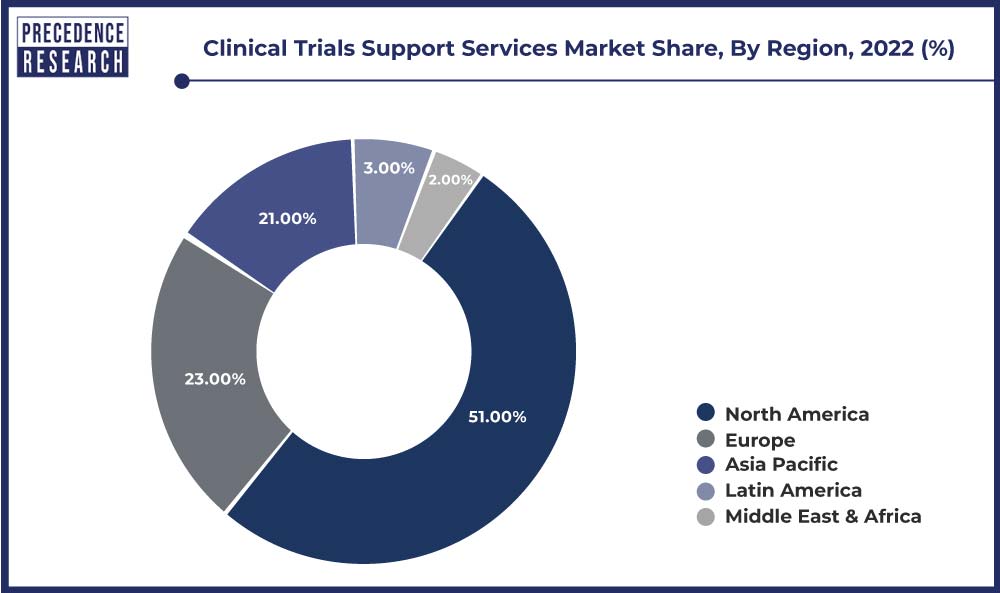 Collaborations, partnerships, and mergers among crucial market players propel the region's market growth. Pfizer, MorphoSys, and Incyte, for instance, entered a clinical trial collaboration and supply agreement in June 2022 to investigate the immunotherapeutic combination of Pfizer's TTI-622, a novel SIRP-Fc fusion protein, and Monjuvi (tafasitamab-cxix) plus lenalidomide in patients with relapsed or refractory diffuse large B-cell lymphoma (DLBCL). As a result, such collaborations are propelling the region's market growth.
The incidence of diseases such as osteoarthritis has improved considerably in Canada, driving the region's market growth. For instance, according to a report allocated by the Arthritis Community Research and Evaluation Unit (ACREU) in Canada, approximately 15% of Canadians aged 20 and up had osteoarthritis. According to the report, more than four million Canadians, or roughly one in every seven adults, have osteoarthritis. As a result, the high frequency of orthopedic disorders is expected to boost demand for the availability and development of therapeutics or medical devices, resulting in clinical trials, which may fuel the overall market's growth.
The rising prevalence of infectious diseases is causing a significant healthcare burden in Mexico, driving market growth. For instance, the article published in May 2021 reported that the overall prevalence of anti-DENV (dengue virus) IgG at enrolment was 19.4%, with the fully-grown group in Mexico having the highest seroprevalence rate. Such cases demonstrate the country's high incidence of dengue, which raises the requirement for developing dengue vaccines following clinical trials. Thus, rising chronic and infectious disease cases, improved need for clinical trials and partnerships among the region's key market players are expected to significantly enhance the growth of the North American clinical trials support services market during the forecast period.
Recent Developments:
In Nov 2022, End-of-treatment data from Amgen's Phase 2 OCEAN(a)-DOSE study of investigational olpasiran (formerly AMG 890) in adults were presented. Olpasiran reduced lipoprotein(a) levels in patients with established atherosclerotic cardiovascular disease by more than 95%. (ASCVD).
In April 2022, As part of its continued expansion into Europe, Advanced Clinical announced the opening a new office in Zug, Switzerland, in April 2022.
In Jan 2022, By combining self-assembled monolayers and MALDI MS, Charles River Laboratories International, Inc expanded its collaboration with SAMDI Tech Inc in January 2022 to address the throughput and sample preparation limitations of traditional MS screening methods.
In 2022, the Advarra Cloud solution will provide end-to-end integration and automated, seamless research document exchange between sites, sponsors, and CROs due to collaboration with Advarra's Site-Sponsor Consortium.
In 2021, ERT, the international leader in clinical endpoint data solutions, merged with Bioclinica and the combined company was renamed Clario. Bioclinica's expertise in imaging, eClinical software, and drug safety solutions will be combined with ERT's expertise in eCOA, cardiac, respiratory, and wearable safety. The development aims to combine both companies' technical aspects to provide better service to a more extensive customer base.
In March 2021, Advarra, a leading research company that provides solutions to make clinical trials safer, smarter, and faster, announced the completion of its acquisition of Bio-Optronics, the creator of CCTrialSuite and a provider of clinical trial matching system (CTMS) solutions for the healthcare system and clinical research. The company expanded its product portfolio and customer base with this acquisition strategy.
Company Profiles and Competitive Intelligence:
Market players attempt to increase their market share through investments, partnerships, acquisitions, and mergers. Businesses are also investing in the development of new products. Furthermore, they are concentrating on maintaining competitive pricing. Some of the prominent market players include:
IQVIA Holding Inc
Icon PLC
WuXi AppTec
LapCorp
Alcura
Parexel International
Charles River Laboratories
Eurofins Scientific SE
F.Hoffmann-La Roche Ltd
Novo Nordisk A/S
Eli Lilly and Company
Segments Covered in the Report:
(Note*: We offer report based on sub segments as well. Kindly, let us know if you are interested)
By Service
Clinical Trial Site Management
Data Management
Patient Recruitment Management
Administrative Staff
IRB
Others
By Phase
Phase I
Phase II
Phase III
Phase IV
By Sponsor
Pharmaceutical & Biopharmaceutical
Medical Devices
Others
By Geography
North America
Europe
Asia-Pacific
Latin America
The Middle East and Africa