The global cosmetic pigments market size was exhibited at USD 700 million in 2022 and is projected to hit around USD 1,532.31 billion by 2032 with a registered CAGR of 8.2% during the forecast period 2023 to 2032.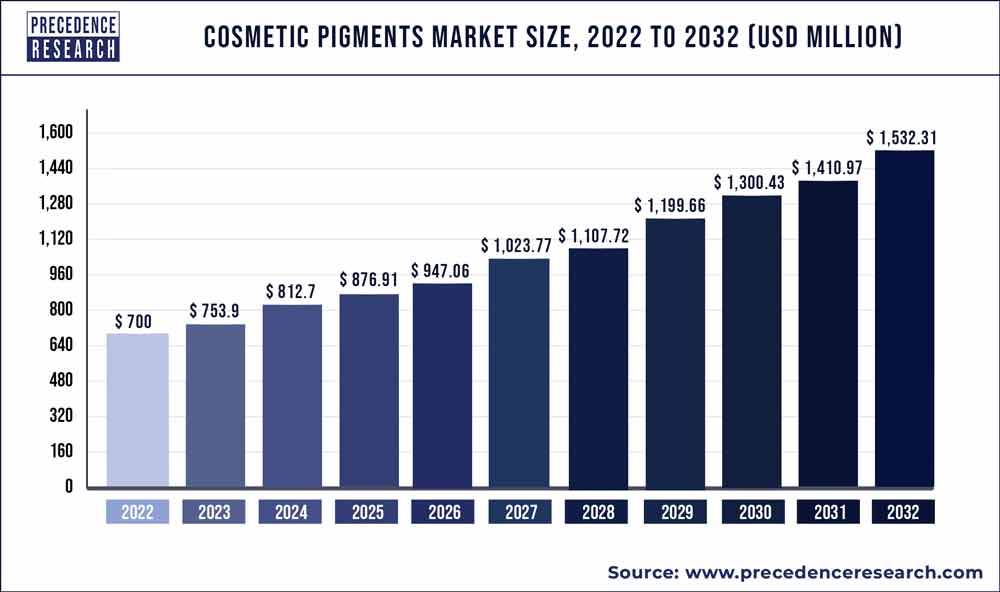 Access our Premium Real Time Data Intelligence Tool, Visit: Precedence Statistics
Key Insights:
By elemental composition, the inorganic pigments segment has contributed the highest revenue share in 2022.
By application, the facial makeup segment has captured the largest market share in 2022.
By geography, Europe accounted largest market share in 2022.
The Europe region contributed 35% of the revenue share in 2022.
A colored substance that is insoluble in water or almost insoluble in water is referred to as a pigment. In contrast to dyes, which are typically organic substances, pigments are inorganic substances. Lapis lazuli, ochre, and charcoal are a few examples of ancient and modern pigments. Cosmetic pigments add a variety of colors, textures, and looks to cosmetic products. Cosmetic pigments come in a variety of hues, as well as white pigments, metallic tones, and other substances. They are used to create personal care items like skincare, nail polish, hair color, and lip care.
Based on their chemical makeup, cosmetic pigments are separated into two categories: organic pigments and inorganic pigments. Carbon chains make up organic pigments, giving them a brighter hue than inorganic pigments. A variety of inorganic pigments with different chemical compositions, including iron oxides, ultramarines, chromium dioxides, white pigments, and others, are employed in the formulation of cosmetic products. Black, red, and yellow is the three colors of iron oxide. These can be found in blushers, face powders, and liquid foundations. Cosmetics frequently contain white pigments like titanium oxide and zinc oxide. These pigments are incredibly light, heat-resistant, and have great covering power. Ultramarines are flat, powerful, matte pigments with vivid colors that are manufactured to a high level of perfection and adhere to all cosmetic standards. Among the cosmetic items that contain them are lipsticks, correctives, foundations, and colored eye shadows. They are crucial in the creation of cosmetics.
The market is being driven by both the efficient and excellent qualities of cosmetic pigments, as well as the rapid expansion of specialized applications using them globally.
Growth Factors
Cosmetic pigments have a sheen, shimmer, and shine that is bright and brilliant. These pigments are made up of colored, colorless, or fluorescent particles. They could be finely powdered organic or inorganic substances. Typically, they are insoluble and unaffected by the chemically integrated medium. They can be found in many different items, including nail paint, lip products, eye products, and facial makeup. Cosmetic pigments, particularly pearlescent pigments, are used in facial cosmetics to cover imperfections and uneven skin tone.
The growing demand for high-performance pigment.
Increasing disposable income.
Report Scope of the Cosmetic Pigments Market
Report Coverage
Details
Market Size in 2023
USD 753.9 Million
Market Size by 2032
USD 1,532.31 Million
Growth Rate from 2023 to 2032
CAGR of 8.2%
Largest Market
Europe
Fastest Growing Market
Asia Pacific
Base Year
2022
Forecast Period
2023 To 2032
Segments Covered

By Elemental Composition
By Application
By Type

Regions Covered

North America
Europe
Asia-Pacific
Latin America
Middle East & Africa

Key Market Drivers
Escalating need for high-performance pigment - Global need for high-performance and specialty pigments is what is driving the market for cosmetic pigments. The growing demand for cosmetic pigments in personal care products will also have a significant impact on the market's expansion. In addition, the expanding fashion and entertainment sectors are a key element boosting the market for cosmetic pigments. Additionally, the market forces that will further accelerate the expansion of the cosmetic pigments market are the fast-expanding demand for organic pigments. The increasing emphasis of manufacturers on the adoption of cutting-edge technology is another important factor that will moderate the growth rate of the cosmetic pigment market.
An increase in available funds and a change in lifestyle - The market for cosmetic pigments will experience a slower rate of growth due to changing lifestyles and rising disposable income. As growing economies like China, India, and Brazil see an increase in their GDP, so do their standards of living. The demand for beauty and personal care products is expanding sharply as a result of rising income levels and altering lifestyles brought on by urbanization.
Key Market Challenges
Maintaining the quality of the pigments - The market for cosmetic pigments is growing as a result of the rising demand for color cosmetic products, but there are still a number of limitations that business participants must deal with. The main challenge that producers of cosmetic pigments have is maintaining the quality of pigments for mass-market products like nail paints, lip colors, and eye makeup items. It is necessary to evaluate a raw material's quality before using it to create cosmetic pigments. The mass-produced, high-grade color cosmetics for the mass market are occasionally of poor quality. The value of the cosmetic pigment used has a significant impact on the demand for these expensive goods. Cosmetic pigment manufacturers and processors are required to use only the best pigments.
Key Market Opportunities
Increasing sustainable and environmentally safe pigments for cosmetics - Even now, cosmetics still contain substances that contain dangerous compounds. These substances could be harmful to human health and are anticipated to raise the risk of health issues. As a result of growing public interest and market shifts in the markets for cosmetic pigments, cosmetics producers are searching for more natural and environmentally friendly cosmetic emulsifiers. For instance, there is a considerable demand for environmentally friendly, sustainably produced organic pigments. As a result, manufacturing firms are investing in the green market and implementing eco-friendly technologies. Throughout the forecast period, there is likely to be a considerable opportunity for market participants in the cosmetic pigments sector due to the rising demand for cosmetic pigments created with natural and organic components that are derived from renewable raw materials.
Segments Insight
Elemental Composition Insights
On the basis of elemental composition, the inorganic pigments segment accounted highest revenue share in 2022. White opaque inorganic pigments are used to brighten and opacify other colors by adding opaqueness to them. These pigments' color intensity is less intense than that of organic pigments. As a result of its widespread use in all cosmetic pigment applications, inorganic pigments like titanium dioxide are in high demand, fueling the expansion of the cosmetic pigments market in this sector.
Throughout the projection period, it is anticipated that the organic pigments segment will expand significantly. Through the projection period, it is anticipated that rising consumer preferences for the usage of dark and vivid colors, notably in nail polish, eyelashes, and lipsticks, together with the low environmental effect, will fuel the demand for the product.
Application Insights
On the basis of application, the facial makeup segment has generated the largest market share in 2022. The market for this application is anticipated to be driven by escalating demand for foundations and face powders, which are basic makeup items. Face makeup dominates the market for cosmetic pigments. Cosmetic pigments used in facial cosmetics products including foundation, blushers, and powders are brightened by titanium dioxide.
Regional Insights
On the basis of geography, Europe has garnered the highest market share in 2022. The market for cosmetic pigments in Europe is expanding as a result of rising urbanization, a greater awareness of personal grooming, and the value of looking presentable, as well as worldwide trends like resource concern, individualization, and digitization. With a share of about 35% in 2022, Europe led the market as a whole. Over 20,000 businesses, mostly in Italy, Spain, and France, operate on the wholesale side of the cosmetics industry in Europe. A Cosmetics Europe survey indicated that 88% of people find it difficult to live without cosmetics, 33% of women find it impossible to live without foundation or concealer, 25% of men find it difficult to live without aftershave, and the market for cosmetics pigment is growing as a result.
In Asia Pacific, the market for cosmetic pigments is divided into China, Japan, India, South Korea, and the Rest of Asia Pacific. Due to rising personal affluence, the Asia Pacific cosmetics and personal care market is expanding quickly. The market for cosmetic pigments in this region is being driven by changing lifestyles and the desire for high-quality cosmetic and personal care products.
Recent Developments
In June 2019 – Leading chemical solutions provider BASF formed a strategic alliance with UK-based start-up siHealth Ltd to market satellite and optronic products with a scientific foundation to the global personal care market. The collaboration should speed up BASF's goods while also enabling new technological advancements in the personal care sector.
Key Market Players
Geotech
Eckart
BASF
Lanxess
Venator
Nihon Koken Kogyo
Ferro Corporation
Dayglo Color
Elemental Srl
Kolortek
Sandream Impact
Chem India Pigments
Yipin Pigments
Sun Chemical
Toyal
Kuncai Europe
Kobo Products
Sensient Cosmetic Technologies
Merck
Vibfast Pigments
Neelikon
Miyoshi Kasei
Segments Covered in the Report
(Note*: We offer reports based on sub-segments as well. Kindly, let us know if you are interested)
By Elemental Composition
Inorganic Pigments
Organic Pigments
By Application
Facial Makeup
Eye Makeup
Lip Products
Nail Products
Hair Color Products
Special effect & Special Purpose Products
Others
By Type
Special Effect Pigments
Surface Treated Pigments
Nano Pigments
Natural Colorants
By Geography
North America
Europe
Asia-Pacific
Latin America
Middle East & Africa (MEA)