The global natural cosmetic ingredient market size was reached at USD 735.28 million in 2022 and it is expected to be worth around USD 1,491.64 million by 2032, poised to grow at a CAGR of 7.33% over the forecast period from 2023 to 2032.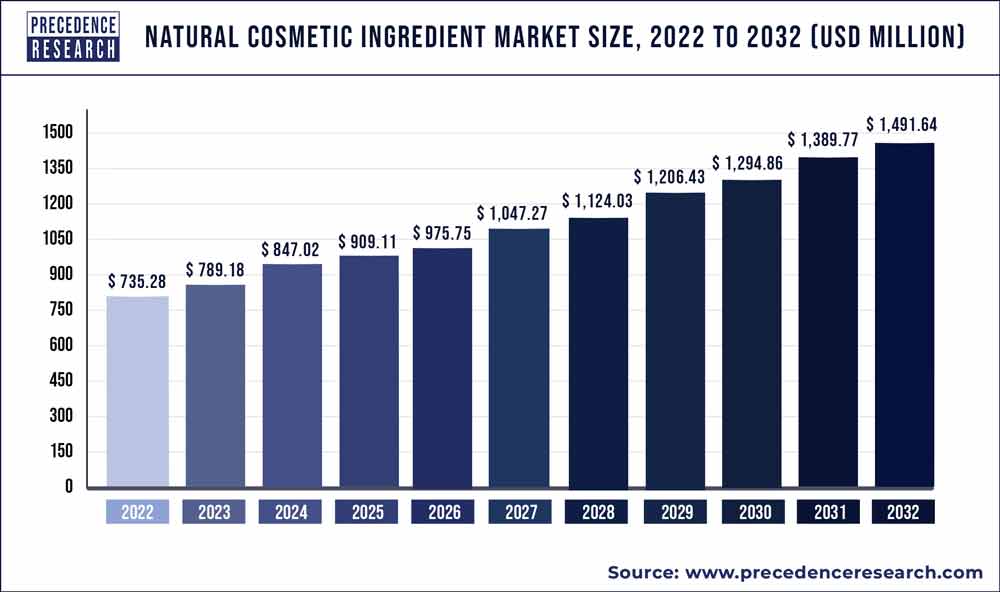 Access our Premium Real Time Data Intelligence Tool, Visit: Precedence Statistics
Key Takeaways:
Europe dominated the market for natural cosmetics ingredients in 2022.
Asia Pacific is expected to witness the fastest growth between 2023 and 2032.
By ingredient type, the emollients segment was the largest segment, is expected to maintain its dominance from 2023 to 2032.
By application, the skin care segment was the largest ingredient type segment in natural cosmetics ingredient market in 2022.
Market Overview:
The global natural cosmetics ingredients market is a significant segment of the cosmetics industry that revolves around the sourcing, developing, and distributing of natural or organic ingredients that are later utilized in cosmetics or personal care products. The market offers a wide range of natural and chemical-free ingredients to manufacturers that are involved in the production of cosmetics across the world.
The demand for chemical-free skincare and personal care products has increased, and attitudes regarding organic care among consumers have changed, leading to an expansion of the market for natural cosmetic ingredients. Cosmetics made with natural materials come from plants, minerals, or animals. They can be found in various cosmetics, including shampoos and lotions for anti-aging. The global market for natural cosmetics ingredients is predicted to grow at a noticeable rate during the forecast period owing to the increasing focus on research activities for product development.
Growth Factors:
Natural sources rather than artificial ones are used to create all-natural ingredients. Multiple key players in the global cosmetics market are currently focused on improving the product value by adding organic ingredients into it, this element is expected to act as a growth factor for the market.
The main drivers of market expansion are innovative product formulation, advanced product development, and sustainable ingredients & compounds. Also, advancements in ingredient processing and cost-efficient production techniques are a few other growth factors for the market.
Report Scope of the Natural Cosmetic Ingredient Market:
| | |
| --- | --- |
| Report Coverage | Details |
| Market Size in 2023 | USD 789.18 Million |
| Market Size by 2032 | USD 1,491.64 Million |
| Growth Rate from 2023 to 2032 | CAGR of 7.33% |
| Largest Market | Europe |
| Fastest Growing Market | Asia Pacific |
| Base Year | 2022 |
| Forecast Period | 2023 to 2032 |
| Segments Covered | By Ingredient Type and By Application |
| Regions Covered | North America, Europe, Asia-Pacific, Latin America, and Middle East & Africa |

Market Dynamics:
Driver:
Demand for environmentally friendly products
In the expanding market for environmentally friendly goods, customers choose natural items that are not harmful to the environment as they become more aware of the environmental impact of their purchase decisions. There is a rising need for natural cosmetic components that are eco-friendly and sustainable as environmental concerns continue to develop and become a top priority for consumers.
Additionally, people are searching for goods with a low environmental impact, such as those lacking dangerous substances that do not cause pollution. Additionally, people are becoming more aware of the potential health risks of synthetic ingredients like parabens and sulfates, which are frequently used in conventional cosmetics. Therefore, more customers seek natural alternatives free of these potentially hazardous compounds. All these factors and a considerable shift towards environmentally friendly products are expected to fuel the market's growth.
For instance, Aveda Corporation, The Body Shop, and Estée Lauder are employing technical advancements to create affordable eco-friendly product lines to maintain their position as the leading forces behind market growth in the upcoming years.
Restraint:
High cost
The cost of obtaining and processing natural ingredients rather than synthetic alternatives could be a barrier to the natural cosmetics ingredients market. As a result, natural cosmetics ingredients may cost more, making them less accessible to consumers with limited budgets. The cost of producing natural cosmetic ingredients, which usually require more time and resources to grow and harvest than synthetic chemicals, contributes to their high price. Using ethical and environmentally friendly sourcing techniques also increases the overall process's cost. Some natural ingredients for cosmetic products may only be supplied in a small number of formulations, which drives up the cost of those products.
Additionally, quality control is crucial to ensure that natural ingredients are free of potentially harmful compounds. It is necessary to conduct routine testing and use quality control methods. Additionally, the fluctuation in crop yields and quality makes it harder for companies to maintain consistency in their products when incorporating natural components.
Opportunity:
Technological advancements
The trend toward natural cosmetics has inspired the worldwide development of technology for acquiring suitable components rather than the present synthetic varieties. 85% of multi-national brands on the market are synthetically formulated, fueling the demand for manufactured goods. Many cosmetic firms have shifted their focus from fossil-based components to bio-based ingredients to build a circular economy, satisfy consumer demand for green cosmetics, and address environmental concerns.
Many cosmetic manufacturers worldwide are investigating the methods of producing natural and eco-friendly cosmetics due to the search for sustainable components and the high-performing, safe worldwide tracking for high-performing, secure, and sustainable ingredients. The use of green synthesis techniques for nanoformulations for fast and effective delivery is observed to be technological advancement in the market. More improvements are sourcing and extracting bio-based components utilizing lab cultivation methods and using computer modeling to choose the appropriate bioactive ingredient during the process formulation steps.
Incorporating substances safe for the next generation into our cosmetic products and attaining zero waste targets are made possible by these technological advancements; such advancements are expected to offer a plethora of opportunities to the market.
Segments Insight:
Ingredient Insights:
In 2022, emollients dominated the market for natural cosmetics ingredients; the segment will continue to grow significantly during the forecast period. Emollients are topical moisturizers that are used to hydrate and calm the skin. To keep moisture in, they put an outer layer over the skin. Emollients are frequently employed in treating dry, itchy, or scaly skin disorders such as eczema and psoriasis. The rising requirement for cosmetics that are made for dry skin highlights the importance of the emollient segment in the market.
Biosurfactants are another fastest-growing segment of the market. Biosurfactants are organic substances with surface-active characteristics produced by microbes and plants. They are an alternative to synthetic surfactants. As the cosmetics industry focuses on finding alternatives for synthetic ingredients, the demand for biosurfactants will increase. They are perfect for use in natural cosmetic products since they can improve the entry of active chemicals into the skin.
Saponins from plants like soapwort, yucca, quillaja, and fruit enzymes papain and bromelain are a few examples of biosurfactants found in natural cosmetics.
Application Insights:
In 2022, the skin care segment accounted for the most significant application for natural cosmetics ingredients. Due to their many advantages, natural cosmetic components are becoming increasingly common in the skincare sector. Aloe vera is a typical natural moisturizer used in skincare products. It helps to hydrate and calm the skin. It also has anti-inflammatory properties that could reduce inflammation and redness. The increased demand for skin care products highlights the development of the segment.
The primary benefit of using natural components in skin care products is their capacity to offer gentle and effective skincare without harsh chemicals. Natural ingredients are frequently kinder to the skin, making them an excellent option for customers to take a more natural approach to skincare or have sensitive skin.
The hair care segment is another fastest-growing segment of the market. Considering its advantages, natural cosmetics are frequently found in hair care products. The primary benefit of using natural cosmetics ingredients for hair care is their capacity to protect and nourish hair without harsh chemicals. For those with sensitive skin or those seeking a more natural approach to hair care, natural substances are frequently kinder to the hair and scalp. Natural components in hair care products are frequently more environmentally friendly and sustainable than synthetic ones. They are a fantastic option for people worried about their cosmetic products' effect on the environment because they are frequently made from renewable resources and are biodegradable.
Regional Insights:
Europe dominated the global natural cosmetics ingredients market in 2022; the region is expected to sustain its dominance during the forecast period. The rising requirements for natural and organic products in the region are a significant factor in the market's growth. Natural ingredients have become more popular among consumers due to sustainability, health, and wellness trends. The desire for natural components is further increased by growing knowledge of the negative consequences of synthetic and chemical compounds in cosmetics.
The European Union has also implemented regulations like the Cosmetics Regulation, which demands safer materials in cosmetic products and restricts the use of harmful chemicals for human health. The demand for components like biosurfactants, essential oils, and plant-based extracts is growing throughout Europe. Hyaluronic acid, algae, and biodegradable polymers made from natural sources are just a few of the cutting-edge substances that have recently gained prominence.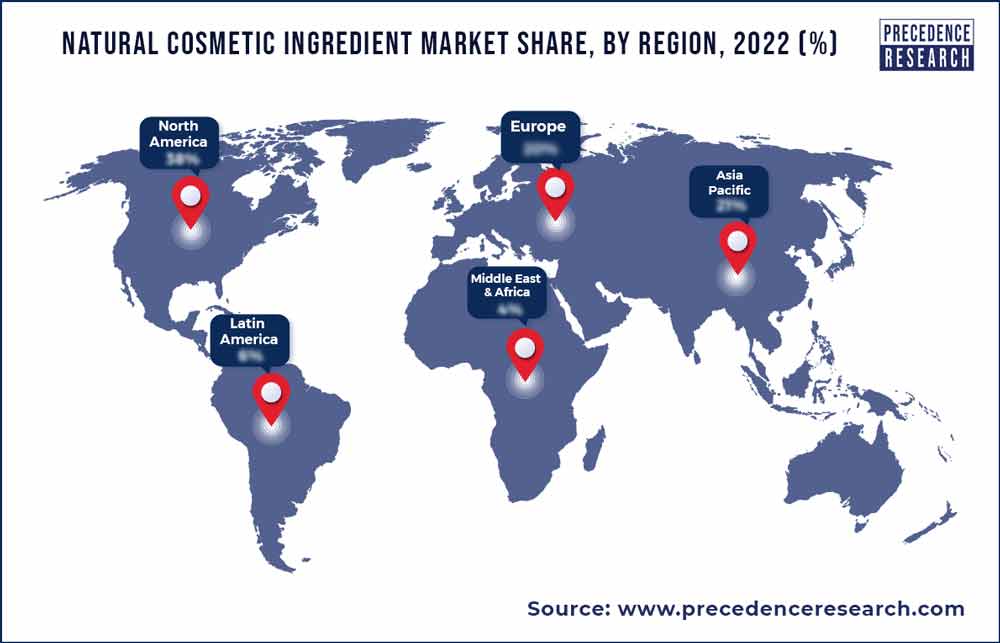 Additionally, a sizable portion of the populace in many European nations is ecologically aware and vegan, and they show a willingness to spend more on cosmetics that are both cruelty-free and environmentally friendly. This element has boosted the popularity of organic and vegan cosmetics brands. The demand for natural cosmetic components in Europe is anticipated to expand in the upcoming years due to several factors, including customer preferences and product advancements.
On the other hand, over the projected period, Asia-Pacific is anticipated to be the fastest-growing region for natural cosmetic ingredients. Due to rising consumer demand for natural and organic products, Asia Pacific's natural cosmetic ingredient industry has boomed in recent years. The rising penetration of domestic cosmetic brands in India highlights the market development in India. International brands have mainly failed to meet the considerable demand for goods appropriate for Indian skin and hair types, creating the ideal opportunity for local businesses. Khadi Essentials, MamaEarth, Kama Ayurveda, Forest Essentials, SoulTree, Plum, Neemli Naturals, and Juicy Chemistry are well-known domestic brands in India.
Recently, in the Asia-Pacific market, natural cosmetic ingredients include consumer awareness, and more people are looking for natural cosmetic ingredients in their skincare and haircare products because they understand the advantages of natural and organic products. Governments in the Asia-Pacific region are encouraging the use of natural and organic products and giving businesses incentives to create and produce these items, stimulating the growth of the market for natural cosmetic ingredients. Product development and innovation in Asia-Pacific industries invest in R&D to produce novel natural cosmetic ingredients to fulfill the rising demand for natural and organic goods. Overall, rising consumer demand, government assistance, and innovative product development are projected to fuel the growth of the natural cosmetic ingredients market in Asia Pacific over the coming years. Multiple countries in the Asia Pacific still prefer skincare/cosmetics with ancient formulas; this element propels the growth of the market by highlighting the penetration of natural and organic ingredients.
Recent Developments:
In March 2023, Clariant created Plantasens Pro LM. This natural emollient gives the skin a lush, deep, and caring feeling during and after application. The all-natural, multipurpose Plantasens Pro LM emollient from Clariant moisturizes and gives skin a rich feel. In response to the growing interest and knowledge people worldwide display in skin care.
January 2023, Ashland announced their natural line for personal care, which includes biotechnologically, produced HyalurotechTM sodium hyaluronate. This product line promotes all-natural substances with well-defined compositions, widely recognizable names, and INCI descriptions. Sodium hyaluronate, a significant component made possible by biotechnology, is part of the natural line of products. HyalurotechTM sodium hyaluronate is a well-liked component in skincare products due to its reputation for hydrating and plumping the skin.
Key Market Players:
BASF SE
Dow Inc.
Ashland Global Holding Inc.
Clariant International Ltd.
Cargill, Inc.
Agrana Beteiligungs-AG
Croda International plc
GatteFosse SAS
Galaxy Surfactants Ltd.
Lubrizol Corporation
Ashland, Inc.
Solvay, Silab
Segment Covered in the Report
(Note*: We offer report based on sub segments as well. Kindly, let us know if you are interested)
By Ingredient Type
Emollients
Bio Surfactants
Sugar Polymers
Natural Preservatives
Others
By Application
Skin Care
Hair Care
Make-up
Oral Care
Others
By Geography
North America
Europe
Asia-Pacific
Latin America
Middle East and Africa