The global cosmetic preservatives market size was exhibited at USD 399 million in 2022 and is projected to hit around USD 711.16 million by 2032 with a registered CAGR of 6% during the forecast period 2023 to 2032.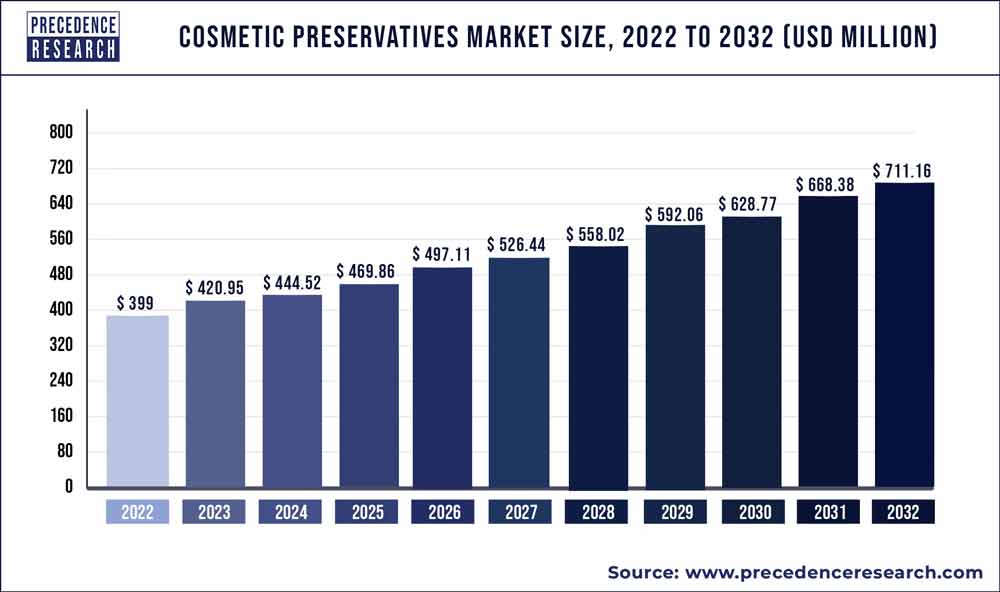 Key Insights:
By product, the phenol derivatives segment is projected to have the largest market share from 2023 to 2032.
By application, the conditioners & shampoos segment is projected to have the largest market share from 2023 to 2032.
In 2022, The Asia-Pacific region has held a market share of more than 30%.
The Europe market might see positive growth during the forecast period 2023 to 2032.
A synthetic or natural component called a cosmetic preservative is added to personal care products to prevent unneeded chemical changes and deterioration brought on by microbial development. Preservatives are an ingredient in many cosmetic goods, including hair smoothing treatments, color cosmetics, scents, lipsticks, shampoos, conditioners, lotions, and anti-aging products. The rising cost of personal care products is what primarily drives the global market for cosmetic preservatives. Advanced preservatives have been included as a result of the rising demand for multipurpose and high-end cosmetics, supporting the expansion of the cosmetic preservatives market. Cosmetic Preservatives are becoming more popular and consumers are becoming more aware of them, which might increase product demand. The accessibility of both natural and artificial preservatives encourages the expansion of the sector.
Growth Factors
The key drivers of the continued growth of the market for cosmetic preservatives include urbanization in developing economies and an increase in the number of working women in nations like China, India, and Korea. The variables that contribute to the advancement of society and urbanites' desire for an affluent lifestyle are crucial to the market's expansion.
The growing end-user demand.
Rising disposable income.
Rising expenditure on personal grooming products
Report Scope of the Cosmetic Preservatives Market
Report Coverage
Details
Market Size in 2023
USD 420.95 million
Market Size by 2032
USD USD 711.16 million
Growth Rate from 2023 to 2032
CAGR of 6%
Base Year
2022
Forecast Period
2023 to 2032
Segments Covered

By Product
By Application
By Raw Material

Regions Covered

North America
Europe
Asia-Pacific
Latin America
Middle East & Africa

Key Market Drivers
Strict legal requirements to restrict the use of ingredients
Cosmetic products contain a range of different ingredients. This group includes cleaning chemicals, distinguishing scents, and preservatives for cosmetics. Regulatory organizations continuously take action to limit the use of substances that are harmful to human health. Strict government rules and regulations prohibit the use of natural cosmetic preservatives in the manufacture of cosmetic products, which is expected to drive the market for cosmetic preservatives to greater growth rates. Additionally, the rise in the usage of herbal compounds in cosmetic products, advancements in shelf life, and accessibility to both natural and synthetic preservatives are some of the major factors projected to fuel the growth of the cosmetic preservatives market throughout the forecast period.
Increase in the female working population
In workforces across the world, there is a rise in female involvement. In 2021, 36% of women worldwide who were employed in organized industries were based in India, according to a report. 66.2% of the population in 2020 was made up of working women, according to a report by the European Union Commission. The percentage of women who were employed in the US in 2020 was around 56.2%, according to the Bureau of Labor Statistics. Women are now more likely than ever to be employed, which gives them more financial freedom and autonomy. The majority of cosmetics users worldwide are women. The use of skincare and cosmetics is therefore anticipated to rise as a result of financial independence, which will also result in a rise in the use of cosmetic preservatives.
Increase in purchasing of consumers
Consumers' quality of life has increased over the past several years, increasing the population's spending capacity and, as a result, their demand for high-end cosmetics and natural personal care products. The business of cosmetic preservatives is anticipated to expand more quickly as a result of this. Global technological advancements and the rise of urbanization have made it possible for people to easily access international brands. The average person's spending power has multiplied due to economic growth and the emergence of new purchasing techniques that have supplanted conventional ones.
Key Market Challenges
The risk associated with synthetic ingredients
The use of synthetic cosmetic preservatives in the creation of cosmetic goods is linked to a number of negative effects. For instance, prolonged usage of hydroquinone harms one's health since it irritates the respiratory system, produces skin cancer, and is toxic to the organ systems. Mercury can harm the brain, kidneys, and liver, yet it can also brighten skin tone and reduce black spots when used extensively as a cosmetic.
Key Market Opportunities
Male-specific cosmetics are receiving more attention
Nowadays, people are more inclined to utilize cosmetics to make themselves seem better. Moisturizers, anti-aging creams, and mud masks made specifically for men are in great demand. Younger men deal with a variety of problems, such as hair loss, oily skin, acne, and wrinkles. All of these problems may be overcome with the use of appropriate, natural cosmetic preservatives and knowledge on how to employ the proper cosmetic preservatives. As a result, there is significant room for growth for cosmetic preservatives that specifically target the male market.
Segments Insight
Product Insights
On the basis of product, the phenol derivatives segment is expected to have the largest market share in the coming years period, this segment has dominated the market in the past with the maximum share in terms of revenue and it will continue to grow well in the coming years.
The category for phenol derivatives is anticipated to see the greatest CAGR throughout the forecast period. The increasing usage of phenol derivatives, notably phenoxyethanol, in the manufacture of cosmetics including skin-lightening creams and lotions, hair coloring solutions, and sunscreens is one of the aspects that may be credited to the segment's rise. Since many years ago, phenol derivatives have been utilized in cosmetic goods and are efficient against a variety of microorganisms.
Application Insights
On the basis of application, the conditioners & shampoos segment is expected to have the largest market share in the coming years period, the segment has dominated the market and it will continue to grow well in terms of revenue. It is advised to employ either natural or synthetic preservatives in the formulation of shampoos and conditioners due to their high water and oxygen content. The market for cosmetic preservatives is being driven by the growing popularity of organic and natural shampoos and conditioners, which is why this market segment is growing.
The facemasks, sunscreens, scrubs & lotions are expected to grow at a significant rate during the forecast period. This application category is expected to develop as people become more aware of the damage that ultraviolet rays do to the skin. Due to increased public knowledge of the effects and harm that the sun may do to exposed skin, sunscreen use is on the rise. The part highlights benefits, such as the fact that sunscreen products' main objective is to prevent or reduce skin damage caused by UV and solar radiation. Skin cancer and actinic aging are two examples of these impacts. Moisturization and a decrease in UV-induced melanin production on exposed skin are secondary advantages. Today's sun care formulator must create solutions that are both elegantly designed to encourage consumer compliance and cost-effectively designed to be accessible in challenging economic times, all while meeting strict SPF and UVA protection criteria.
Regional Insights
On the basis of geography, Asia-Pacific has held a market share of more than 30% in 2022, the Asia Pacific market was the industry leader in terms of cosmetic preservatives. Growing consumer demand for cosmetics and rising public awareness of personal hygiene and cleanliness are anticipated to drive market expansion in this area. According to projections, China and India will expand rapidly, followed by other South East Asian nations. The growing popularity of Gen X and millennial customers in China, Japan, and India has led to an increase in the market for cosmetic preservatives. Additionally, a lot of cosmetic businesses are adopting high-end chemicals for cosmetic preservation, which is predicted to boost market share. As living standards and views regarding the dermatological aspect of skincare evolve, there will likely be an increase in demand for premium cosmetic components. The aging of the population, the trend toward luxury cosmetics, and the rapid development in demand for high-quality products are all expected to have a significant impact on market share.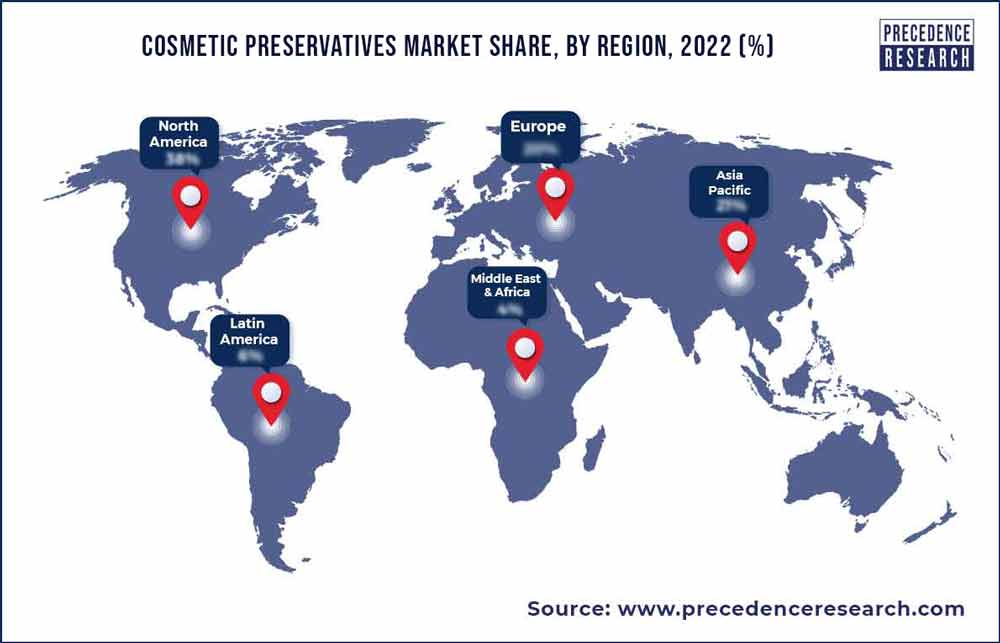 Up to 2032, the Europe market might see positive growth. Europe is anticipated to have the second-largest market share. Europe's market is fueled by nations like Germany, the UK, France, Italy, and Spain. Due to the rising production of high-end beauty items, Germany is predicted to expand at the greatest CAGR throughout the projection period.
Recent Developments
In February 2022– To develop its personalized personal care product technology, BASF is heavily reinvesting in its strategic partner B2B Cosmetics. The Engage system, which offers consumers freshly manufactured, customized cosmetics, has continued to be developed by BASF and B2B Cosmetics. Users may create custom personal care items using Image technology.
Key Market Players
Ashland
International Flavors and Fragrances Inc.
Clariant AG
Salicylates and Chemicals Pvt. Ltd
Sharon Laboratories
Dow
The Lubrizol Corporation
NIPPON SHOKUBAI CO. LTD
BASF SE
Evonik Industries
Akema
Symrise AG
Chemipol
Henan Qingshuiyuan Technology CO., Ltd.,
Segments Covered in the Report
(Note*: We offer reports based on sub-segments as well. Kindly, let us know if you are interested)
By Product
Formaldehyde Donors
Inorganics
Paraben Esters
Alcohols
Phenol Derivatives
Quaternary Compounds
Organic Salts
Others
By Application
Conditioners & Shampoos
Facemasks, Sunscreens, Scrubs & Lotions
Shower Cleansers, Soaps and Shaving Gels
Powder Compacts and Face Powder
Toothpaste and Mouthwash
Others
By Raw Material
By Geography
North America
Europe
Asia-Pacific
Latin America
Middle East & Africa (MEA)