The global digital realty market is surging, with an overall revenue growth expectation of hundreds of millions of dollars during the forecast period from 2023 to 2032.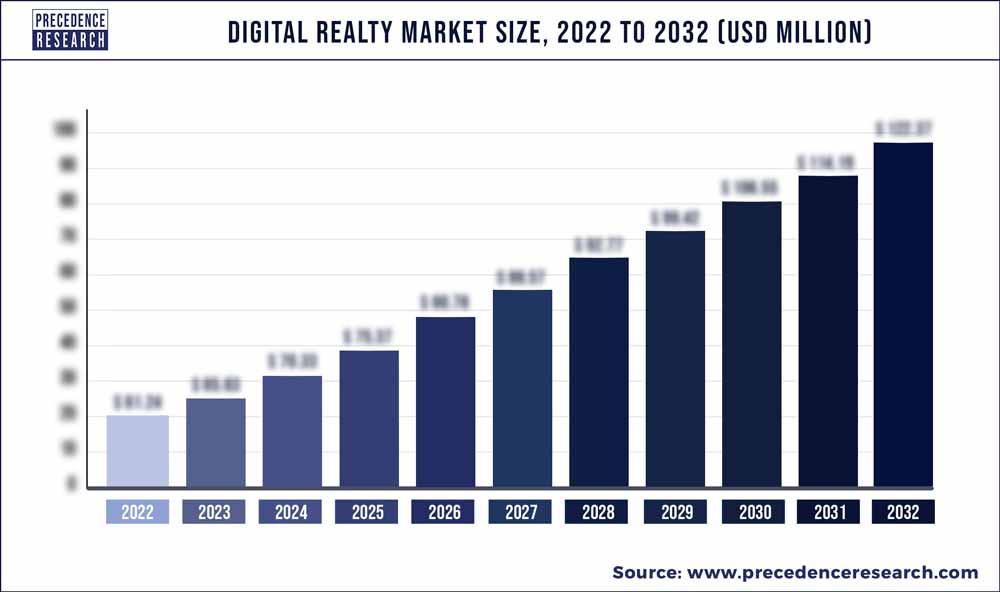 Key Takeaways:
North America dominated the market with the largest market size in 2022.
Asia Pacific is expected to expand significant growth in the market during the forecast period.
By Offering, the hardware segment held the dominating share of the market in 2022, the segment is expected to continue the trend throughout the forecast period.
By End-user, the gaming and entertainment segment dominated the market in 2022.
By End-user, the automotive segment is expected to grow at a significant rate during the forecast period.
Market Overview:
Digital reality is generally referred to as the wider variation in technologies that includes virtual reality and augmented reality. The digital reality market encompasses a wide range of immersive technologies that blur the lines between physical and digital worlds. This dynamic sector generally revolves around offering a combination of augmented reality and virtual reality. Virtual reality offers fully immersive digital environments, often used in gaming and simulations, whereas AR overlays digital content onto the real world.
On the other hand, the sector of digital reality also encompasses mixed reality that combines elements of both VR and AR, enabling interactive digital objects to coexist with the physical environment. As the digital reality landscape continues to evolve, it presents both profitable and exciting opportunities for multiple end-user industries including education, e-commerce, automotive, gaming, and even in the healthcare sector.
Growth Factors:
Digital reality is one of the major emerging technologies globally. The digital reality market is emerging due to the increasing investments in innovation of technologies, and the emergence of companies with new ideas. The digital reality market is observed to expand with the rapidly growing internet connectivity across the globe. In addition, the ever-growing expansion of smartphones and other smart devices is observed to play a significant role in the market's growth. As the focus on advancing virtual and augmented reality technologies increases, the market for digital reality is observed to be accelerated simultaneously.
Report Scope of the Digital Realty Market:
| | |
| --- | --- |
| Report Coverage | Details |
| Largest Market | North America |
| Base Year | 2022 |
| Forecast Period | 2023 To 2032 |
| Segments Covered | By Offering and By End-user |
| Regions Covered | North America, Europe, Asia-Pacific, Latin America, and Middle East & Africa |

Market Dynamics:
Driver:
Rising demand from the advertising industry
The use of digital reality for incredibly immersive advertising and marketing allows consumers as well as companies to interact with the product in real-time, resulting in increased transaction volume. As people's dependency on smartphones is growing, many advertisers are focused on mobile advertising in general, enabling further penetration of mobile digital reality advertising. Additionally, as more large businesses market their solutions, the ASPs of smart glasses and HMDs are likely to reduce. In terms of data presentation, as indicated in the digital reality framework, the advent of low-cost, energy-efficient tiny screens designed specifically for tablets and smartphones could help to speed the market's expansion.
Multiple brands such as Gucci and IKEA have already implemented virtual try-on services for consumers to try products before they buy. Companies can create AR or VR content that aligns with their brand message, this could be in the form of virtual events or online games to promote their brand. Digital reality can offer valuable data on user engagement, preference, and other major factors for advertisers along with proper analytics. Thus, the rising demand from the advertising industry is observed to act as a driver for the market.
Restraint:
Higher cost of operations
The high cost of operation can indeed become a major restraint for the digital reality market. This includes expenses related to technology development, hardware, software and infrastructure. These costs can limit accessibility for both businesses and consumers, potentially slowing down the growth and adoption of digital reality technologies such as virtual and augmented reality. As technology advances and economies of scale improve, it is possible that these costs may decrease over time, making digital reality more accessible.
Opportunity:
Integration of digital reality in the aerospace industry
Digital reality technology offers transformative solutions for various aspects of aerospace operations. In design and prototyping, virtual reality allows engineers to visualize and refine complex aircraft models. Whereas augmented technology assists maintenance technicians by overlying crucial information on real-world aircraft components, enhancing efficiency during repairs.
The aerospace industry can leverage digital reality technologies for multiple other applications. These include pilot training, simulations, prototyping and remote assistance. All these factors present a significant opportunity for the market to grow.
Segments Insight:
Offering Insights:
The hardware segment dominated the market with the highest market share in 2022. The hardware segment in digital reality includes sensors, motion tracing systems, HMDs, and haptic devices. Many organizations use low-cost, energy-efficient microdisplays which are mainly designed for smartphones and tablets. This element contributes to the demand for hardware solutions in the digital reality market while supporting the segment's expansion. Reduced prices of data-source hardware components such as sensors, and cameras add a significant element of advantages in the growth of the segment in the digital reality market.
On the other hand, the software segment is observed to grow at a significant rate during the forecast period. The software segment plays a significant role in creating immersive experiences and enabling seamless interactions. The software also enhances real-time experiences or creates entirely virtual environments.
End-User Insights:
The gaming and entertainment segment dominated the market in 2022. Increasing adoption of virtual reality and augmented reality by the gaming and entertainment industry drives the growth of the segment. The gaming and entertainment segment has been quick to develop compelling content that leverages these technologies, attracting a large user base. Virtual reality and augmented reality revolutionize the ways of interacting with the digital world and provide a better experience that is more engaging and realistic. AR and VR technologies revolutionize the pattern of playing video games.
Virtual reality and augmented reality technologies are also used in the entertainment industry such as it is mainly used in the television and film industry to create a more realistic and immersive viewing experience for the consumer. For example, virtual reality is used for making a virtual movie theater that can be accessible to people around the world. Whereas augmented reality can be used to add an interactive element to traditional films.
On the other hand, the automotive segment is expected to witness a significant rate of growth during the forecast period. The industry is experiencing significant growth as VR and AR technologies are being used for various purposes, such as designing, prototyping and enhancing overall customer experiences. These technologies streamline manufacturing processes, enable efficient collaboration and offer innovative ways for customers to explore and interact with vehicles. As technology advances, the automotive sector is likely to see further integration of digital reality solutions.
Regional Insights:
North America dominated the market in 2022. The region is observed to sustain its dominance throughout the forecast period. North America's extensive network of venture capital firms and startup accelerators offers as nurturing environment for emerging digital reality companies. This financial support encourages experimentation and the rapid evolution of technologies. North America carries a thriving tech ecosystem that fosters innovation in digital reality. Leading giants such as Google, Facebook, and Microsoft have headquarters in the region, allowing them to invest heavily in cutting-edge research and development.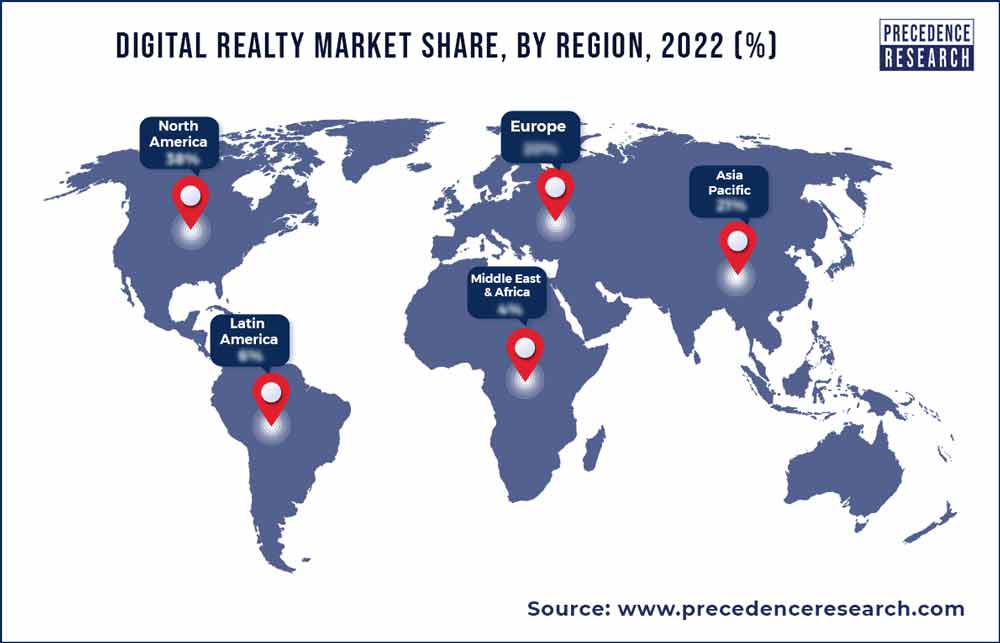 Asia Pacific is expected to witness a significant rate of growth throughout the forecast period. The growth of the region is attributed to the ongoing technological advancements in the region. The increasing population and growth of the healthcare, e-commerce, and automotive sectors create demand for AR, VR, and MR technologies for a better customer experience. Moreover, rapidly growing demand for production and services in the manufacturing industries fuels the growth of the market in Asia Pacific. China, Japan and South Korea have emerged as key players in the market, with their robust tech ecosystems and innovative companies driving innovation. The proliferation of smartphones and affordable VR/AR devices is further accelerating the adoption of digital reality, making it accessible to a wider audience.
Moreover, numerous Indian companies have emerged as key players, developing applications across diverse sectors such as healthcare, education and entertainment. These applications range from virtual classrooms and medical training simulations of interactive marketing campaigns and immersive gaming experiences. In addition, as India continues to invest in research and development for user-friendly experiences, its digital reality market is poised for further growth, potentially contributing to technological advancements.
Recent Developments:
In June 2023, Apple introduced its new headset indulged with virtual reality and augmented reality. The headset is one of the most advanced devices in the consumer market that blends real and digital world.
In July 2023, the biggest global leader provider for the carrier-and cloud-neutral data center Digital Reality announced their latest data center KIX13 certification in Osaka, Japan as NVIDIA DGX H100-ready. It is part of the NVIDIA DGX-Ready Data Center program and identifies KIX13's vision to give a committed and strong environment for employing the intensive computing system.
Key Market Players:
Microsoft
Google LLC
Apple, Inc.
Sony Corporation
Blippar Limited
Infinity Augmented Reality Limited
Niantic, Inc.
Zappar Limited.
Magic Leap, Incorporated
Wikitude GmbH
Segments Covered in the Report:
(Note*: We offer reports based on sub-segments as well. Kindly, let us know if you are interested)
By Offering
By End-user
Aerospace & Defense
Consumer
Commercial
Enterprise
Gaming and Entertainment
Healthcare
Others
By Geography
North America
Europe
Asia-Pacific
Latin America
Middle East and Africa