The global distribution automation market size was valued at USD 15.50 billion in 2022 and is expected to hit around USD 33.31 billion by 2032, poised to grow at a CAGR of 8% during the forecast period 2023 to 2032.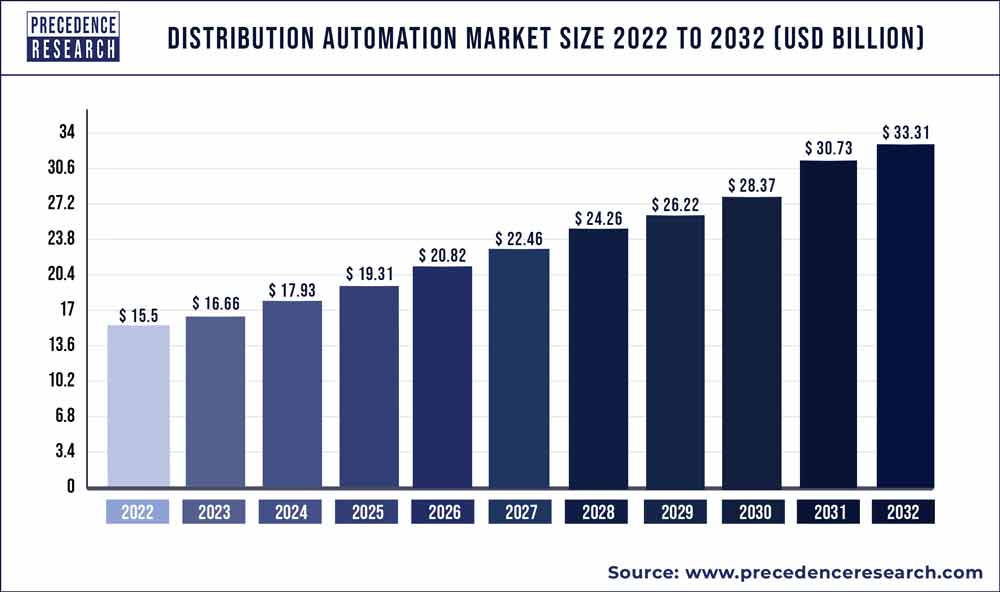 Access our Premium Real Time Data Intelligence Tool, Visit: Precedence Statistics
Key Takeaways:
Asia Pacific is supposed to have the biggest piece of the pie, esteemed at USD 8 billion of every 2022.
Europe distribution automation market was valued at USD 6.2 billion in 2022.
The industrial segment accounted 51% market share in 2022.
By component, software segment has contributed 45% market share in 2022.
Coronavirus' overall impact has been extraordinary and frightening, with conveyance mechanization seeing a negative interest shock across all region because of the pandemic. As per our geological review, the overall market will ascend by generally 5.1% in 2020.
Distribution automation frameworks (DAS) are comprised of a few software and equipment parts. To work on the functional proficiency of the power supply, a utility could assess, accumulate, improve, and mechanize information. Switches, CPUs, sensors, and correspondence network gadgets are instances of equipment gadgets. These gadgets ensure that the inventory network is precisely checked, secured, controlled, and kept up with. These frameworks are expected to give continuous working admonitions for various matrix parts like deformity identifiers, voltage controllers, capacitor regulators, and switches. This information is then imparted to extra astute field hardware and calculations, which coordinate it with transmission frameworks and buyer exchanges. Request streamlining, resource advancement, dispersion control investigation, and conveyance enhancement are terrifically significant highlights of a viable DAS framework.
Report Scope of the Distribution Automation Market
| | |
| --- | --- |
| Report Coverage | Details |
| Market Size in 2023 | USD 16.66 Billion |
| Market Size by 2032 | USD 33.31 Billion |
| Growth Rate from 2023 to 2032 | CAGR of 7.75% |
| Base Year | 2022 |
| Forecast Period | 2023 to 2032 |
| Segments Covered | Type, Product, Application, Components, End User, Geography |
| Companies Mentioned | Trilliant Holdings, Toshiba, Schweitzer Engineering Laboratories, CE Power Engineered Services, Schneider Electric, Itron, Siemens, Kalkitech, Minsait ACS |

Growth factors
IoT and correspondence innovation progressions will drive industry development. During the conjecture time frame, new logical advancements in IoT and specialized gadgets are projected to drive interest for DAS innovation. Siemens (Germany), for instance, has sent off a brilliant Internet of things (IoT) framework called 'MindSphere.' MindSphere is a cloud-based open IoT working framework that joins products, establishments, frameworks, and gear while likewise permitting the administrator to utilize refined investigation. MindSphere offers an exhaustive arrangement of association conventions for gadgets and corporate applications, modern applications, and refined examination applications.
Central members merger and acquisition are initiatives to accelerate industry growth. Bi-directional network speculation is supposed to give worthwhile learning experiences to players in the worldwide distribution automation market. Schneider Electric Smart bi-directional networks - or Grids of the Future Management at Enlit Europe, for instance, will be accessible in December 2021.
Moreover, rising reception of cutting edge computerized power supply innovation is supposed to give worthwhile learning experiences to players in the worldwide distribution automation market. ABB India, for instance, cooperated with Indore Smart City Development Ltd in December 2021 to convey cutting edge computerized innovation that empowers nonstop power supply to homes and organizations. Different industry players are continuously captivating in natural and inorganic extension endeavors to extend their item reach and stretch all over the planet, thus speeding up the utilization of this kind of appropriation framework. For instance, in September 2019, G&W Electric purchased Tozzi Electrical Equipment to broaden its business sectors around the world and in this way further develop its power network answers for fulfill IEC necessities. Furthermore, Builders FirstSource Inc., Dallas, has obtained WTS Paradigm LLC, a product arrangements and services organization situated in Middleton, Wisconsin, for USD 450 million.
Type Insights
The market has been separated into two sorts: wired and remote. From 2023 to 2032, the remote section is supposed to increment at a quicker rate than the wired portion. Remote correspondence innovation diminishes support costs and takes into consideration fast information access from distant regions, which is probably going to animate interest. Radio recurrence network, cell, and WiMAX are the remote portions, with radio recurrence network having the greatest piece of the pie on the grounds that to its high transmission capacity, low inertness, and start to finish security highlights.
Wired correspondence alludes to information move utilizing a wire-based correspondence framework. It for the most part comprises of fiber optic, Ethernet, and powerline transporter. In appropriation mechanization, fiber optics and Ethernet are the most utilized systems administration mediums. Fiber optics give more transmission capacity backing and speed, which supports offering superior execution, trustworthiness, and improved inclusion. Moreover, in light of the fact that fiber-optic correspondence can work at high voltages, it is generally utilized in substations.
Wireless communication is the most refined sort of correspondence in current times. It alludes to the transmission of information over a significant distance without the need of electrical associations or wires. To send remote correspondence in a substation, a solid, secure, and low dormancy bidirectional correspondence framework between shrewd electronic gear and the control place is fundamental. When contrasted with wired innovation, remote innovation guarantees cost reserve funds as well as protected information move.
Application Insights
Due to the development of freely claimed utilities during the conjecture time frame, the public utility area will represent a critical offer. The business is separated into two classifications in view of utility: public utility and confidential utility. In light of the developing number of freely claimed electric utilities all over the planet, the public utility area is supposed to essentially develop. Besides, the public utility area is supposed to grow because of government contributions to public utilities. Moreover, during the market conjecture period, the confidential utility area is supposed to develop at the quickest CAGR. The expansion in government financing for these frameworks is credited to the development. Besides, rising urbanization in nations, for example, India and China requires a popularity for power. This variable is drawing in financial backers to put resources into DA frameworks, which pushes the portion's market development. The expansion in help and commitment to the state government is supposed to drive the section in the public utility. Conversely, the rising pattern of asset designation for dissemination robotization in the confidential utility is supposed to drive section development.
Components Insights
The presentation of new field devices is supposed to further develop section standpoint. In light of parts, the business is partitioned into three classes: field devices, software, and services. Because of the rising sending of field devices in these frameworks, the field devices fragment is supposed to hold a huge piece of the worldwide market. These gadgets are a fundamental part of the circulation organization, aiding the administration of misfortunes brought about by voltage vacillations and blackouts. Besides, field devices help framework administrators in the administration of dependability and blackouts, resource wellbeing the executives, receptive power the board, and appropriated energy assets. Moreover, the product fragment is supposed to develop fundamentally because of a developing pattern of IoT and correspondence framework transformation to new mechanical progressions.
Low upkeep costs, quick recovery times, and further created capability are factors driving business area segment advancement. These organizations accumulate track information and screen change status to screen and control the electric stock association from a distance. It in like manner keeps an ideal scattering track by really looking at power quality, goof, and distant flow track control. Because of the rising example of gathering to rising mechanical degrees of progress, for instance, IoT and correspondence structures, the item and organizations apportionment robotization market holds the a significant piece of the general business. The main issue at risk for the market's potential advancement are decreased recovery time, low help costs, and further created coordination.
Distribution Automation Market Share, By Region, 2022 (%)
| | |
| --- | --- |
| Regions | Revenue Share in 2022 (%) |
| North America | 29% |
| Asia Pacific | 38% |
| Europe | 21% |
| Latin America | 7% |
| MEA | 5% |

Geography Insights
Asia Pacific accounted largest market share in 2022. Because of expanded interest in savvy network projects, the district is supposed to see popularity for DA arrangements. Nations like Japan, China, and Australia are driving huge development in the district. Moreover, factors, for example, quick industrialization and a developing movement toward clean energy to fulfill rising energy needs are supposed to influence the locale's market development emphatically.
Europe is likewise encountering critical development because of expanding interests in network extension and the rising intricacy of force dispersion framework. Germany, the United Kingdom, and France are imperative supporters of the European market. Besides, in nations like Spain, Italy, and Denmark, the innovation is quickly growing because of expanded brilliant lattice speculations with vigorous in-assembled transmission and appropriation mechanization resources. Besides, rising interest for energy effectiveness in power supply is supposed to drive market development in the district. Siemens and Schneider Electric are key part in the European market. Siemens laid the preparation for its future branch in Frankfurt's new Gateway Gardens locale in June 2021. The new office, named 'The Move,' comprises of two structures adding up to more than 35,000 square meters of office space.The North American market is supposed to develop fundamentally during the figure time frame, attributable to new mechanical headways in IoT and correspondence frameworks. Besides, the presence of a few huge players is supposed to support market development in the locale. Schweitzer Engineering Laboratories (SEL), for instance, delivered the SEL-421 Protection, Automation, and Control System with upgraded Time-Domain Link (TiDL) innovation. TiDL innovation is a security-centered computerized optional framework that replaces copper associations with fiber to further develop wellbeing and lower costs. TiDL has information sharing capacities, carefully designed combining units, and present day arrangement software.
Latin America is supposed to develop because of expanded industrialization in the locale, especially in Brazil and Mexico. Brazil has a sizable portion of the overall industry and rules the district's market, trailed by Canada. In Brazil, power dissemination is popularized through two unmistakable business sectors: the controlled power market (ACR) and the free power market (ACL). ACR contracts among generators and merchants through government barters, while ACL customers purchase energy straightforwardly from generators or dealers.
The Middle East and Africa are supposed to develop as government commands to further develop matrix effectiveness drive interest for conveyance robotization innovation across the locale's energy and utility areas.
Key market developments
ABB presented an overhauled form of the REX640 assurance transfer in March 2020, which further developed correspondence security and adaptability in cutting edge power age and conveyance applications.
Schneider Electric and Meglab consented to an arrangement in September 2019 to coordinate Schneider Electric's medium voltage hardware with Meglab's low voltage bundle to give more adaptable, adjustable, and effective power and robotization answers for clients across numerous businesses.
G&W Electric procured Tozzi Electrical Equipment in September 2019 to extend its business sectors beyond North America and to fortify its power network arrangements portfolio to fulfill IEC guidelines.
Electricite de France S.A. combines efforts with NTPC in October 2021 to additionally investigate power project advancement potential open doors in Asia Pacific, the Middle East, and Africa.
Siemens will send off another stage for planning client explicit conveyance network applications in July 2020.
Siemens will deliver gas-protected NXPLUS C 24 medium-voltage switchgear in May 2020.
Key market players
Trilliant Holdings
Toshiba
Schweitzer Engineering Laboratories
CE Power Engineered Services
Schneider Electric
Itron
Siemens
Kalkitech
Minsait ACS
Segments covered in the report
(Note*: We offer report based on sub segments as well. Kindly, let us know if you are interested)
By Type
By Product
Monitoring and Control Devices
Power Quality and Efficiency Devices
Switching and Power Reliability Devices
By Application
By Components
Software
Field Devices
Services
By End User
Industrial
Commercial
Residential
By Geography
North America
Europe
Asia-Pacific

China
India
Japan
South Korea
Malaysia
Philippines

Latin America

Brazil
Rest of Latin America

Middle East & Africa (MEA)

GCC
North Africa
South Africa
Rest of the Middle East & Africa