The global hydro generators market size was valued at USD 137.6 billion in 2022 and is projected to hit around USD 264.41 billion by 2032, expanding at a CAGR of 6.80% during the forecast period from 2023 to 2032.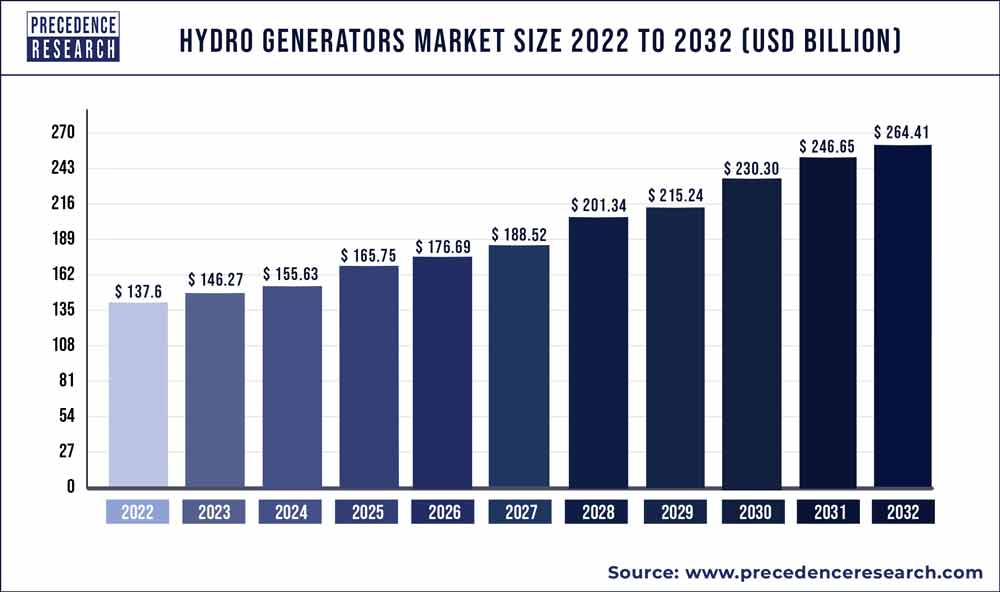 Access our Premium Real Time Data Intelligence Tool, Visit: Precedence Statistics
Key Takeaways
Asia-Pacific has held a major revenue share of 38% in 2022.
Europe is estimated to expand at the fastest CAGR during the forecast period.
By Type, the On-site generation segment has held the largest revenue share of 63% in 2022.
By Type, the portable segment is expected to grow at a CAGR of 7.8% during the projected period.
By Capacity, the 101 to 250W segment held the highest market share of 39% in 2022.
By Capacity, the 501 to 750W segment is anticipated to expand at the fastest CAGR over the projected period.
Hydro Generators Market Overview
Hydro generators are electromechanical devices used in hydropower plants to convert the kinetic energy of flowing water into electrical energy. They form a critical component of the hydroelectric power generation process. As water flows through a dam or penstock, it strikes the blades of the hydro generator's turbine, causing it to spin. This rotational motion is then transformed into electricity through electromagnetic induction. Hydro generators are available in various types, including synchronous, asynchronous, direct drive, and permanent magnet generators, catering to a wide range of hydropower applications, from large-scale hydroelectric plants to small, decentralized micro-hydropower systems, contributing to clean and sustainable energy production.
Hydro Generators Market in the Asia Pacific 2023 To 2032
The Asia Pacific hydro generators market size reached USD 52.29 billion in 2022 and is expected to grow around USD 100.48 billion by 2032, growing at a CAGR of 6.80% between 2023 and 2032.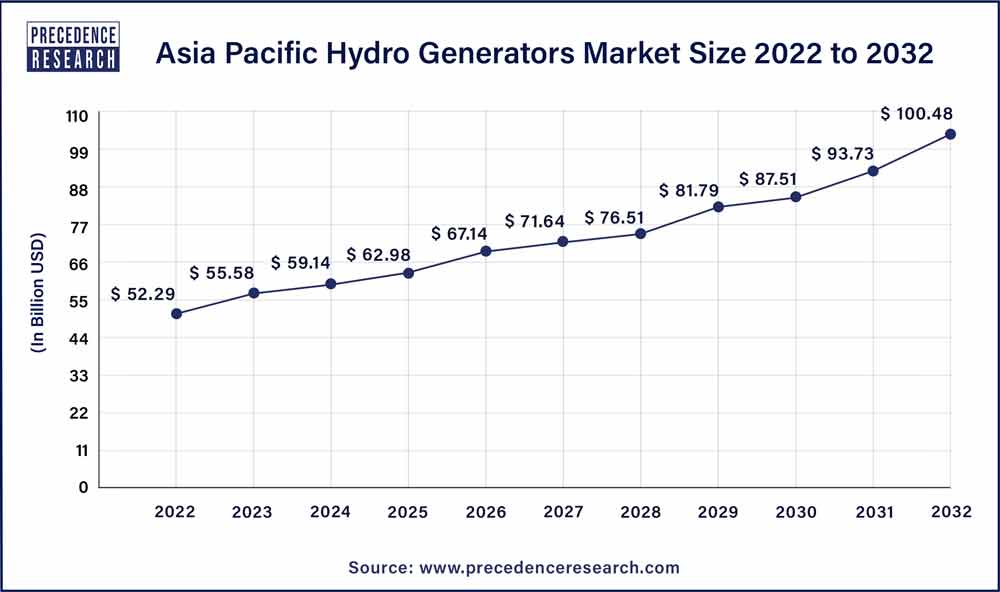 Asia-Pacific has held the largest revenue share 38% in 2022. In the Asia-Pacific region, the hydro generators market is witnessing robust growth. Countries like China, India, and Southeast Asian nations are investing heavily in hydropower projects to meet escalating energy demands sustainably. Small and micro hydropower installations are gaining popularity, catering to localized energy needs. Additionally, digitalization is on the rise, with the integration of real-time monitoring and control systems enhancing operational efficiency. The region's commitment to renewable energy and the potential of untapped hydropower resources continue to drive market trends.
Europe is estimated to observe the fastest expansion in Europe, the hydro generators market is experiencing a resurgence. This renewed focus has reignited interest in the sector, leading to a resurgence in investments and developments. Notably, offshore hydropower projects, especially in the North Sea region, are rapidly expanding. This expansion is driving an increased demand for specialized hydro generators, highlighting the region's dedication to harnessing the potential of clean and sustainable energy from hydropower sources. A shift towards high-efficiency generators and the incorporation of digital technologies for improved performance are prominent trends. Europe's emphasis on sustainability and grid integration remains a driving force, with countries actively modernizing and expanding their hydropower infrastructure to meet clean energy targets.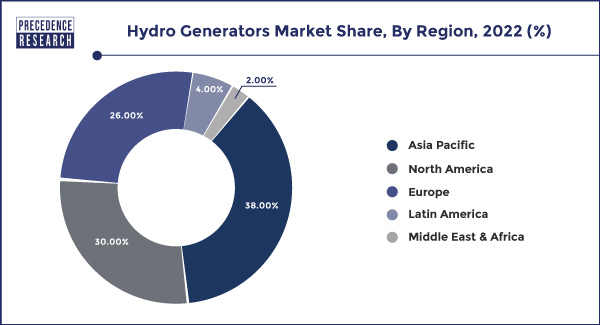 The hydro generators market in North America is on an upward trajectory. The United States and Canada are actively investing in upgrading existing hydropower facilities and exploring new projects. A focus on advanced turbine technology and grid integration solutions is evident. This region's commitment to clean energy sources continues to drive market growth and innovation in the hydro-generator industry.
Hydro Generators Growth Factors
The hydro generators market is currently experiencing substantial growth driven by the global transition to renewable energy sources. Hydro generators, as integral components of hydropower plants, play a central role in this transition. Governments worldwide are increasingly advocating for cleaner and more sustainable energy solutions, with hydropower being a reliable and environmentally friendly option. Supportive policies and incentives further boost the market's expansion, encouraging the development of hydropower projects where hydro generators are pivotal. Key growth drivers for the hydro generators market include the global shift towards renewable energy, the need to expand hydropower capacity to meet escalating electricity demands, continuous technological advancements enhancing generator efficiency, and government initiatives such as financial incentives and regulations supporting hydropower projects.
In addition to these drivers, industry trends encompass the development of small and micro hydropower projects tailored to localized energy requirements and the integration of digital technologies for real-time monitoring and control, which enhances operational efficiency and reliability.
However, The hydro generator industry encounters significant challenges, primarily centered around mitigating the environmental impact of hydropower projects and navigating intricate and time-consuming regulatory approval processes. Environmental concerns, particularly related to aquatic ecosystems and local communities, necessitate rigorous planning and mitigation measures. Moreover, obtaining the necessary approvals can be a complex endeavor.
Despite these challenges, the industry presents substantial business opportunities. One notable opportunity lies in global expansion, particularly in emerging markets with untapped hydropower potential. Generator manufacturers have the chance to tap into these regions and contribute to their sustainable energy development. Additionally, there is a growing market for retrofitting existing hydropower facilities with modern generators and providing comprehensive maintenance services. Ensuring the efficient operation and longevity of these facilities aligns with the industry's commitment to sustainability and presents a lucrative avenue for growth.
Hydro Generators Market Scope
| | |
| --- | --- |
| Report Coverage | Details |
| Growth Rate from 2023 to 2032 | CAGR of 6.80% |
| Market Size in 2023 | USD 146.27 Billion |
| Market Size by 2032 | USD 264.41 Billion |
| Largest Market | Asia-Pacific |
| Base Year | 2022 |
| Forecast Period | 2023 to 2032 |
| Segments Covered | By Type and By Capacity |
| Regions Covered | North America, Europe, Asia-Pacific, Latin America, and Middle East & Africa |

Hydro Generators Market Dynamics
Driver
Global transition to renewable energy and hydropower capacity expansion
The pressing need to expand hydropower capacity is another force propelling market demand. Among these sources, hydropower stands out as both reliable and sustainable. Hydro generators play a pivotal role in harnessing the kinetic energy of flowing water to generate clean and environmentally friendly electricity, cementing their crucial position within the renewable energy landscape. In this context, hydro generators emerge as indispensable components, ensuring the efficient conversion of water's kinetic energy into clean electrical power.
Moreover, the need to expand hydropower capacity is driving the market further. Growing electricity demands necessitate the development of new hydropower projects, both large and small. Governments and utilities are actively investing in these projects to secure a stable energy supply. Hydro generators are the heart of these installations, ensuring efficient energy conversion from water to electricity. In essence, the hydro generators market is thriving as it aligns with global environmental goals and addresses the pressing need for expanded hydropower capacity in the quest for a sustainable energy future.
Restraints
Environmental impact and regulatory approvals
The hydro generators market faces notable restraints in the form of environmental impact concerns and complex regulatory approval processes. which includes the environmental impact of hydropower projects presents a significant challenge. Hydropower, while a clean and renewable energy source, can have adverse effects on aquatic ecosystems, including alterations in water flow, temperature, and habitat disruption. These environmental concerns require meticulous planning and mitigation measures, which can increase project costs and timelines.
Furthermore, navigating the complex web of regulatory approvals is a formidable obstacle. Developing hydropower projects often involves lengthy and intricate permitting processes, varying from region to region. These hurdles can delay project commencement and increase overall investment risks. The need to satisfy environmental impact assessments, stakeholder consultations, and compliance with numerous regulations demand substantial resources and expertise. As a result, these restraints can hinder market growth by deterring potential investors and developers from engaging in hydropower projects, despite the industry's undeniable potential for clean and sustainable energy production.
Opportunities
Retrofitting existing facilities and comprehensive maintenance services
Retrofitting existing hydropower facilities and offering comprehensive maintenance services play a vital role in surging the market demand for the hydro generators market. As aging hydropower plants require upgrades to maintain efficiency and comply with modern environmental standards, the demand for retrofitting services has risen significantly. Upgrading these facilities with modern, efficient hydro generators improves overall power generation and extends the lifespan of the plant, ensuring its continued contribution to the energy grid.
Furthermore, the market for comprehensive maintenance services is expanding as the reliability and performance of hydropower facilities become paramount. Preventive maintenance and timely repairs ensure uninterrupted power generation and reduce downtime, saving costs and enhancing the long-term viability of these plants. As hydropower continues to be a key component of renewable energy strategies, retrofitting and maintenance services are pivotal in optimizing existing infrastructure and driving the Hydro Generators Market's growth, supporting a more sustainable and reliable energy future.
Impact of COVID-19
The COVID-19 pandemic had a notable impact on the hydro generators market. In the initial stages of the pandemic, the industry experienced disruptions due to supply chain interruptions, manufacturing slowdowns, and workforce limitations stemming from lockdowns and travel restrictions. These challenges led to project delays, increased costs, and logistical difficulties, affecting the production and deployment of hydro generators.
However, as the pandemic evolved, the industry displayed resilience. Governments recognized the critical importance of stable energy supplies, especially during crises, and implemented stimulus packages and economic recovery efforts. These initiatives spurred investments in energy infrastructure, including hydropower projects that rely on hydro generators. Moreover, the pandemic highlighted the need for reliable and sustainable energy sources, driving renewed focus on hydropower's inherent strengths. In the post-pandemic landscape, the hydro generators market is poised for growth as governments prioritize sustainable energy solutions. The role of hydro generators in building resilient and clean energy systems has gained prominence, emphasizing their significance in the global energy transition.
Type Insights
According to the type, the On-Site Generation has held 63% revenue share in 2022. On-site generation hydro generators are stationary installations integral to hydroelectric power plants. They directly convert the kinetic energy of flowing water into electricity. These generators are engineered for continuous, high-capacity power production, primarily utilized in large-scale hydropower facilities. In the hydro generators market, on-site generation hydro generators maintain their dominance, bolstered by the global proliferation of grid-connected hydropower projects.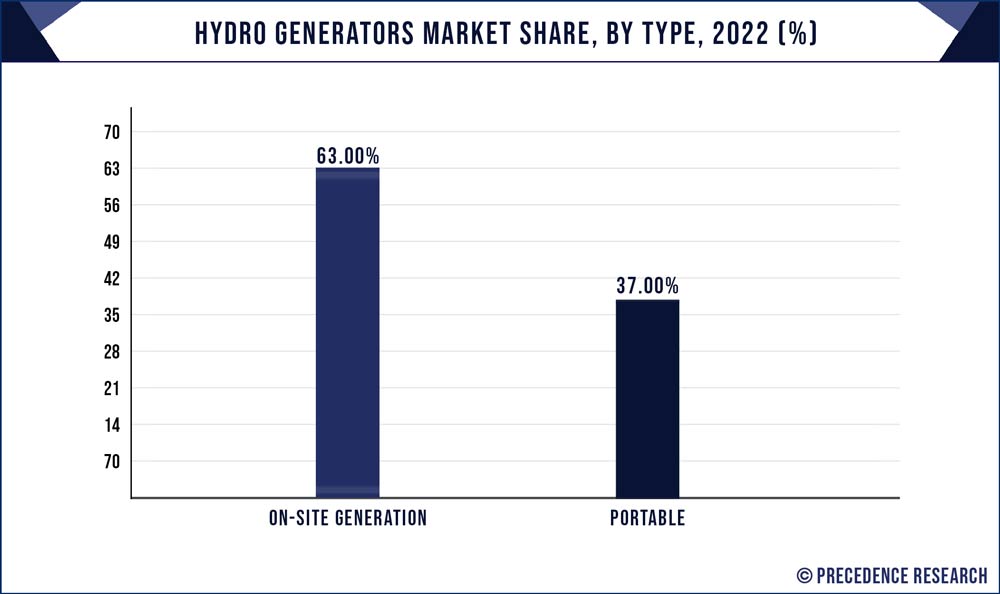 The current trends focus on elevating their efficiency and longevity through technological advancements and innovative materials. Moreover, the industry places growing importance on environmental sustainability, prompting initiatives to mitigate the ecological impact of on-site generation projects. This includes the development of fish-friendly turbine designs and more effective water management practices, aligning with the industry's commitment to eco-conscious practices and minimizing environmental disruption.
The Portable segment is anticipated to expand at a significant CAGR of 7.8% during the projected period. Portable hydro generators are compact, versatile units designed for mobility and ease of deployment. They can be transported to various locations to harness energy from natural water sources, making them suitable for off-grid or remote areas. The portable hydro generator segment is witnessing growth due to its suitability for decentralized energy generation in remote regions. A notable trend is the development of more lightweight and efficient portable generators, making them easier to transport and install. These generators cater to the demand for small and micro hydropower projects and emergency power generation solutions in off-grid locations. Additionally, advancements in energy storage technologies are complementing portable hydro generators, ensuring a continuous power supply even when water flow is intermittent.
Capacity Insights
Based on the Capacity, the 101 to 250W segment held the largest market share of 39% in 2022. Hydro generators with a capacity of 101 to 250 watts are considered small-scale units, typically employed in micro-hydropower projects or remote off-grid applications. These generators cater to localized energy needs, such as powering rural communities, small industries, or remote agricultural operations. In recent years, the trend for these generators involves increased efficiency and reliability, making them suitable for off-grid electrification initiatives in developing regions and eco-friendly energy solutions in environmentally sensitive areas.
On the other hand, the 501 to 750W segment is projected to grow at the fastest rate over the projected period. Hydro generators within the 501 to 750-watt capacity range are commonly utilized in small to medium-sized hydropower installations. These generators are versatile and adaptable, serving a variety of applications, including decentralized energy generation, rural electrification, and industrial operations. The trend in this capacity segment encompasses enhanced automation and digitalization, allowing for real-time monitoring and control. This trend not only improves operational efficiency but also aligns with the broader industry shift towards smart grid integration, optimizing the utilization of hydropower resources within a modern energy landscape.
Recent Developments
In 2022, GE Renewable Energy partnered with Avista Utilities, a U.S. energy company, to upgrade four generator units at the Long Lake hydropower facility. This renovation project aims to boost the plant's installed capacity to over 100 MW, equivalent to the energy needs of around 80,000 households.
In 2022, a Japanese multinational imaging and electronics corporation introduced a pico-hydro generation system designed for use with irrigation canals and industrial drainage systems. Pico-hydro systems, characterized by capacities of less than 5 kW, offer versatile and sustainable energy solutions.
In 2022, witnessed collaborative efforts between India and Nepal to construct a 695 MW hydropower facility, tapping into the Himalayan region's renewable energy potential to address electricity shortages. The project, named the Arun IV project, is a joint venture between India's Satluj Jal Vidyut Nigam (SJVN) Ltd. and the Nepal Electricity Authority (NEA).
In 2021, a substantial 25 GW of hydropower capacity was added globally, elevating the total hydropower capacity to nearly 1360 GW. This capacity primarily derives from large hydro plants employing a series of large hydro generators and backup systems to ensure electricity supply during emergencies.
Hydro Generators Market Players
General Electric Company
Siemens AG
Andritz AG
Voith Group
Toshiba Corporation
Bharat Heavy Electricals Limited (BHEL)
Mitsubishi Heavy Industries, Ltd.
Harbin Electric Company Limited
Alstom Hydro
The Columbia Machine Works, Inc.
Flovel Energy Private Limited
Canyon Hydro
CKD Blansko Engineering, a.s.
Toshiba Hydro Power (Hangzhou) Co., Ltd.
WWS Wasserkraft GmbH
Segments Covered in the Report
By Type
On-Site Generation
Portable
By Capacity
Up to 100 W
101 to 250 W
251 to 500 W
501 to 750 W
751 W and above
By Geography
North America
Europe
Asia-Pacific
Latin America
Middle East and Africa