The global DNA polymerase market size was estimated at USD 329.1 million in 2022 and is expected to hit around USD 582.6 million by 2032, registering a CAGR of 5.87% over the forecast period 2023 to 2032.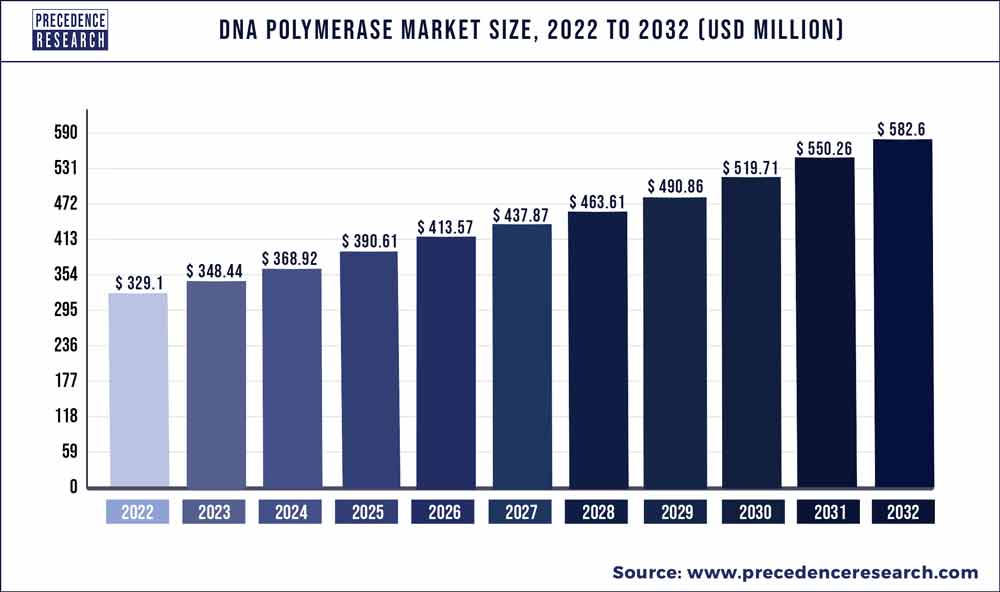 Access our Premium Real Time Data Intelligence Tool, Visit: Precedence Statistics
Key Takeaways:
North America is predicted to lead the DNA polymerase market during the forecast period.
By Type, the Taq polymerase segment is projected to record the most significant market growth.
By Application, the PCR segment is expected to generate the highest market revenue share.
By End-user, the Hospitals & Diagnostic Centers segment is expected to contribute to the most considerable market growth.
Market Overview:
During replication, a collection of enzymes called DNA polymerase catalyzes DNA synthesis. Its purpose is to duplicate a cell's DNA during cell division. Nucleotides are added to the developing DNA strand's 3'OH group to digest it. It is crucial because it facilitates the passage of genetic material from one generation to the next. The market is the main force behind the rising demand for PCR and DNA sequencing technologies in research and clinical applications. The demand for DNA polymerases is anticipated to increase even more as genetic research advances and the desire for personalized medicine increases. The market is expanding in part because of the rising incidence of infectious diseases and genetic disorders.
Agilent Technologies Inc., one of the major key players in the market reported revenue of $1.85 billion for the fourth quarter ended Oct. 31, 2022, an increase of 11% compared to the fourth quarter of 2021 and up 17% on a core basis. The year's revenue was $6.85 billion, delivering 8% reported growth and a core growth of 12%.
The global outbreak of mpox was caused by a strain known as clade IIb in 2022–2023 has increased demand for the DNA polymerase market by testing skin lesions.
Growth Factors:
The rise of the DNA polymerase market has been aided by the creation of novel gene editing techniques like CRISPR-Cas9. DNA polymerase is not directly used in CRISPR- Cas 9, but it is crucial for DNA repair after Cas9 has been cut. DNA polymerase is used to copy the template DNA molecule during HDR (Homology Directed Repair), which results in precise changes to the DNA sequence. Different gene editing methods employ DNA polymerases to add, remove, or modify DNA sequences. In molecular diagnostics, DNA polymerase is a crucial instrument for identifying and amplifying target DNA sequences. The adoption of such polymerases and polymerase-based diagnostic tests is anticipated to increase, driving market growth as the prevalence of infectious diseases and genetic abnormalities continues to rise. The development of DNA sequencing technologies has resulted in a huge rise in the need for DNA polymerase enzymes. DNA polymerases are crucial elements in the biotechnology sector since they are necessary enzymes for DNA sequencing and amplification.
Report Scope of the DNA Polymerase Market:
| | |
| --- | --- |
| Report Coverage | Details |
| Market Size in 2023 | USD 348.44 Million |
| Market Size by 2032 | USD 582.6 Million |
| Growth Rate from 2023 to 2032 | CAGR of 5.87% |
| Largest Market | North America |
| Base Year | 2022 |
| Forecast Period | 2023 to 2032 |
| Segments Covered | By Type, By Application, and By End-User |
| Regions Covered | North America, Europe, Asia-Pacific, Latin America, and Middle East & Africa |

Market Key Driver:
Increasing incidence of chronic diseases
The need for diagnostic and treatment technologies is growing along with the prevalence of chronic diseases including cancer and cardiovascular disease. Because PCR is used to amplify and heavily depends on DNA polymerases, Post Covid has increased the demand for DNA polymerase. High-fidelity DNA polymerases are now being used more frequently to treat cancer.
A high-quality DNA polymerase that can reliably copy DNA and identify mutations with high sensitivity and specificity is in greater demand as a result. As a result, novel DNA polymerase products with enhanced fidelity, speed, and performance as well as specialized polymerases that can amplify and identify DNA sequences linked to diseases have been developed.
Market Key Restraints:
Increasing the price of the DNA polymerase
The growth of the DNA polymerase market is hindered by the rising cost of DNA polymerases, which prevents the adoption of new technologies that need expensive enzymes. Biotechnology advancements have a significant impact on the DNA polymerase market by sharply increasing DNA polymerase prices as these polymerases can be expensive, some research labs or medical facilities might not be able to afford them.
Market Key Opportunities:
Substantial use of DNA polymerase in the biotechnology industries
DNA sequencing makes use of DNA polymerase. During sequencing, labeled nucleotides are incorporated by DNA polymerase into the freshly synthesized DNA strand. The human genome is researched and understood using this methodology. DNA polymerase is necessary for the commonly used PCR method of amplifying DNA sequences. It is the enzyme in charge of lengthening the primers used in PCR and is employed to create new DNA strands from a template DNA molecule. This is used in genetic engineering to edit or create new genes by manipulating DNA molecules. The market for DNA polymerase is also growing because of the biotechnology sector's expansion. DNA polymerases are frequently employed in biotechnology processes like gene therapy, protein expression, and recombinant DNA technology.
Segments Insight:
Type Insights:
The Taq polymerase recorded the highest revenue share. They are used chiefly in PCR and help to amplify a specific DNA sequence. These can withstand higher temperatures and processivity because DNA polymerases can extend DNA strands efficiently and faster. It is used in genetics and molecular biology. DNA sequencing is the significantly growing regional segment of the DNA synthesis market. For instance, research has set the rapid DNA sequencing of Stanford scientists, the Guinness world record, which was used to sequence a human genome in just 302 minutes.
During the forecast period, the proprietary enzyme blends segment is anticipated to have the fastest CAGR. The desire for precise, dependable, and affordable amplification solutions across numerous disciplines is expected to expand the use of specialized enzymes like Q5 high-fidelity polymerases, including high-performance polymerases.
Application Insights:
Due to amplification technology in different molecular biology techniques, the polymerase chain reaction dominates the DNA polymerase market. PCR technology has become indispensable in various sectors, including biotechnology, forensic sciences, and medical diagnostics, where it can be used for DNA-based research and new product development. With the increasing number of genetic disorders in various places across the globe, PCR helps detect the genetic material of viruses in real-time. During covid 19, the demand for DNA polymerase also escalated, ultimately expanding the market growth.
The market for DNA sequencing is expected to grow at the quickest rate throughout the projected period. The rapid development of sequencing technology has made it possible to identify DNA variants linked to a higher risk of disease. The capacity of Next-generation Sequencing (NGS) to screen numerous genes on a single diagnostic platform has increased the technique's usefulness in clinical diagnostics applications.
End-User Insights:
Hospitals and Diagnostic Centers are showing promising growth in the DNA polymerase market. For instance, a hospital might develop a new PCR-based diagnostic test that requires a specific DNA polymerase enzyme with enhanced performance characteristics, such as higher fidelity, specificity, or processivity. The hospital could then work with a commercial partner to develop and market this DNA polymerase.
The market's academic and research institutes segment is expected to witness the fastest CAGR during the forecast period due to increased funding and investment programs from government agencies and private organizations. These programs aim to support research in this field.
Regional Insights:
North America is the dominating regional segment in the DNA polymerase market. With the increase in chronic diseases such as cancer, diabetes, etc., DNA polymerase has increased in the biotechnology laboratories for DNA replication and later extension, so the demand for DNA polymerase has grown. For instance, according to the WHO, in the United States, 37.3 million Americans are living with diabetes, 96 million US adults have prediabetes, and $327 billion is the annual estimated cost of diabetes; the market for DNA polymerase will expand as recombinant medications for treating chronic diseases become more prevalent.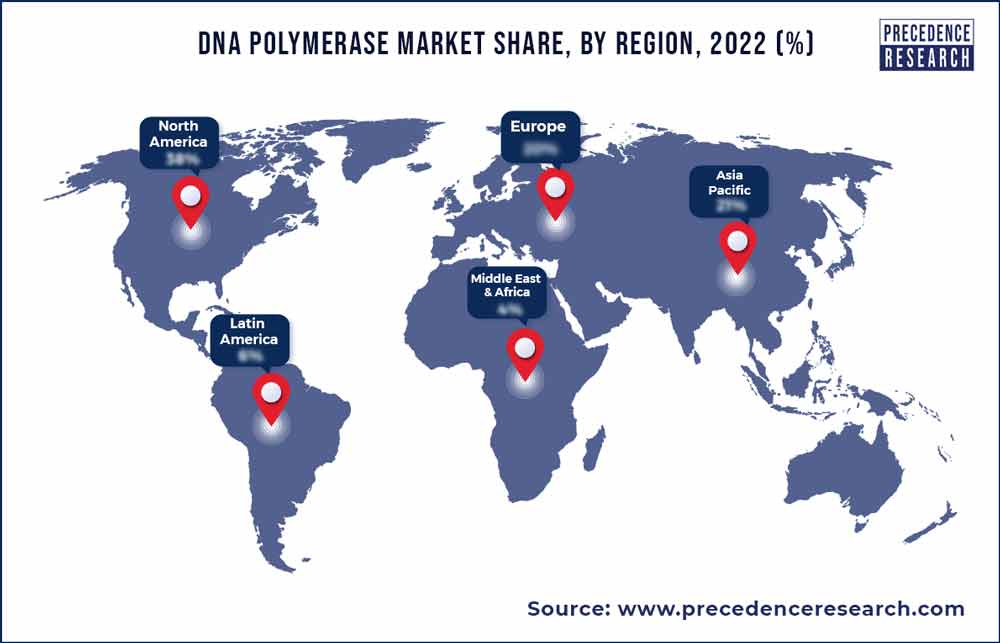 Asia-Pacific shows lucrative growth during the forecast period. This results from the expanding biotechnology sectors, where numerous businesses and academic institutions are pursuing the creation and application of DNA polymerase. The high prevalence of target disorders, rising funding for genomic research, and growing understanding of genetic testing in the area can all be credited for this growth.
Recent Developments:
In April 2023, Agilent Technologies Inc. reported the Agilent Cancer Assay launch, manufactured for different somatic profiling for solid tumor types on a broader scale in collaboration with critical cancer researchers.
In April 2023, Takara Bio Inc. declared the submission of a clinical trial application to Health Canada and received no objection to initiating a trial for CD19 therapy. The clinical trial will start for patients with CD19-positive once the procedure is done.
In September 2022, research showed that oxidative breaks are formed and repaired in "junk" DNA at the Healthy Life Span Institutes and the University of Sheffield's Neuroscience. The results develop treatments for neurological disorders like Alzheimer's and dementia that have implications for future cancer therapeutics.
In April 2022, Pacific Biosciences reported updates to its Sequel II and Sequel IIe, including new functions in detecting DNA methylation and improving workflow, showing a 50% decline in NGS workflow and a 40% reduction in required samples.
Key Market Players:
Merck KGaA
Danaher
Thermo Fisher Scientific, Inc.
Agilent Technologies
QIAGEN
Hoffmann-La Roche Ltd
Promega Corporation
New England Biolabs
Bio-Rad Laboratories, Inc.
Takara Bio, Inc.
Segments Covered in the Report:
(Note*: We offer report based on sub segments as well. Kindly, let us know if you are interested)
By Type
Taq Polymerase
Pfu Polymerase
Proprietary Enzyme Blends
By Application
Polymerase Chain Reaction
DNA Sequencing
DNA Cloning
SNP Analysis
Next Generation Sequencing
By End-User
Biopharmaceutical Companies
Academic and Research Institutes
Hospitals and Diagnostic Centers
Molecular Diagnostic Companies
By Geography
North America
Europe
Asia-Pacific
Latin America
Middle East and Africa