The global protein expression market size accounted for USD 3.84 billion in 2022 and is expected to attain around USD 10.38 billion by 2032, poised to grow at a CAGR of 10.45% during the forecast period from 2023 to 2032.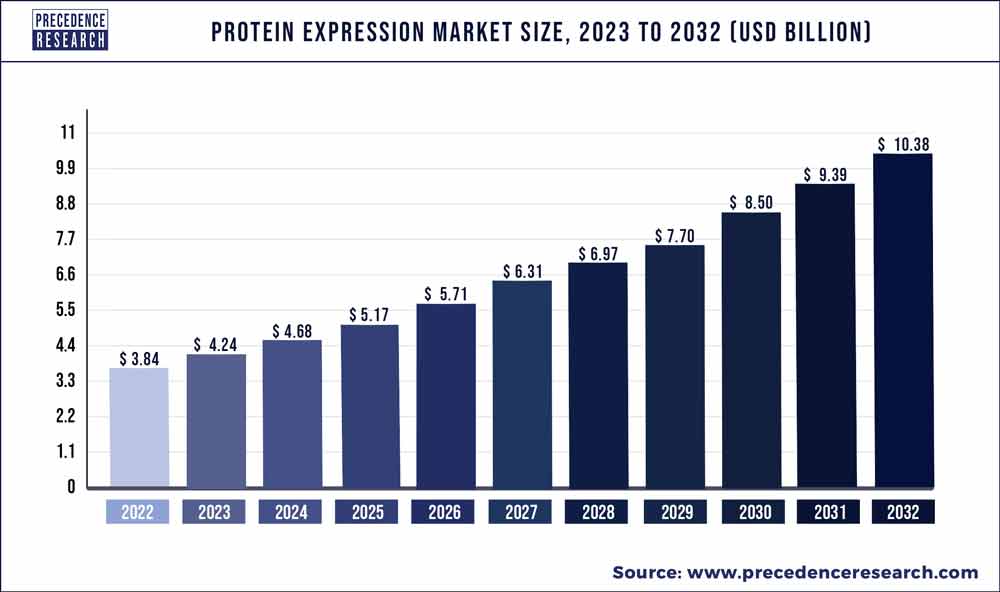 Access our Premium Real Time Data Intelligence Tool, Visit: Precedence Statistics
Protein expression refers to the process by which a cell's genetic instructions are used to synthesize proteins. This process involves the transcription of DNA into messenger RNA (mRNA) and the subsequent translation of mRNA into a specific protein sequence.
Key Takeaways:
North America has generated more than 41% of revenue share in 2022.
Asia Pacific is expected to expand the fastest CAGR between 2023 and 2032.
By Expression System, the prokaryotic segment has contributed more than 41% of revenue share in 2022.
By Expression System, the mammalian cell segment is expected to expand at the fastest CAGR between 2023 and 2032.
By Product, the reagents segment has captured more than 41% of revenue share in 2022.
By Product, the services segment is expected to grow at a remarkable CAGR of 12.5% between 2023 and 2032.
By Application, the therapeutic segment has recorded more than 51% of revenue share in 2022.
By End-use, the pharmaceutical and biotechnological businesses segment has generated more than 46% of revenue share in 2022.
By End-use, the contract research companies segment id expected to expand at the fastest CAGR between 2023 and 2032.
Growth Factors:
A significant development driver of the market is expected to be the rising significance of protein-based therapeutics in contemporary medicine and the growing expenditure by biopharmaceutical firms in R&D. For instance, Merck and Orna Therapeutics worked together to invent, create, and market a number of projects in August 2022, including creating RNA technology for protein therapeutics. The deal included a $150 million investment from Merck.
Due to the increasing demand for customized therapeutics and the quickly expanding R&D activities that support protein expression, the worldwide market is anticipated to develop. Protein engineering and the synthetic building of recombinant proteins are the driving forces behind the development of protein therapeutics. The development of personalized medical treatments is becoming more and more feasible thanks to technological progress. It is expected that strategic collaborations between businesses and academic institutions to create cutting-edge technologies will support the market's upward trend. For instance, scientists from the University of California, Berkeley and the Novartis Institutes for Biomedical Research worked together to create and market a platform for protein stabilization to spur innovation in treatments for cancer and hereditary diseases. Vicinitas Therapeutics was established by the academics in July 2022 with series A financing of USD 65 million.
It is anticipated that operating companies will use protein expression more frequently as a result of accelerated product releases and the construction of powerful networks. For instance, the introduction of Abevmy (bevacizumab) in Canada was revealed by Biocon Biologics Ltd. and Viatris Inc. in May 2022. Viatris is offering the medication as its fourth copycat for cancer in Canada. Viatris Canada unveiled the Hulio copycat for inflammatory chronic diseases in February 2021. As a result, a key driver of market expansion is the rising regularity of product creation that results from the expression of the target protein.
The market for protein translation systems is growing as instances of diseases like cancer, cardiovascular disease, and genetic abnormalities increase. Insulin is one protein-based medicine that has incredible effectiveness in treating a variety of diseases.
Businesses are also funding research into protein expression technologies like baculovirus expression systems (used in insect cells), transient expression (used in mammalian cells), and steady expression. Protein therapeutics have a low risk of side effects due to their high level of efficacy, which is considerably fueling the market's expansion.
The development of genetic engineering, which has created a plethora of new pathways and possibilities for large-scale protein expression and separation, is another factor that is propelling the global market for transient protein expression.
Report Scope of the Protein Expression Market:
| | |
| --- | --- |
| Report Coverage | Details |
| Market Size in 2023 | USD 4.24 Billion |
| Market Size by 2032 | USD 10.38 Billion |
| Growth Rate from 2023 to 2032 | CAGR of 10.45% |
| Largest Market | North America |
| Base Year | 2022 |
| Forecast Period | 2023 to 2032 |
| Segments Covered | By Expression System, By Product, and By Application |
| Regions Covered | North America, Europe, Asia-Pacific, Latin America and Middle East & Africa |

Key Market Drivers:
Rising interest in protein biologics
Biologics are used to address the majority of chronic conditions, including cancer, autoimmune disorders, and other severe illnesses. Vaccines, blood and blood components, and modified medicinal proteins are examples of biologics. The FDA authorized 50 new medicines in 2021. One-of-a-kind antibodies, pegylated proteins, hormones, and enzymes made up the other 14 of these biologics, all of which needed protein translation. Additionally, evusheld (co-package of tagevimab with cilgavimab) was approved as a prophylactic or the prevention of the infection. Other mAbs, such as tocilizumab, sotrovimab, and the co-administration of bamlanivimab and etesevimab, had gotten EUA for COVID1 therapy (mild to moderate). By 2022, the FDA is expected to approve several of these medications. The industry is expanding as a result of the rising demand for goods and services related to protein translation.
Challenges:
Undesired post-translational modifications as well as purification
Crude proteins are created during the protein translation process. These are removed and refined once more. Expression and processing of proteins are frequently difficult processes because of the inherent intricacy of proteins in general. Proteins have pleats and are intricate structures. So a protein's structural or sequence characteristics may have an effect on the output and durability of the protein products. For instance, target proteins frequently associate with the plasma membrane when transmembrane regions or GPl-anchor sequences are present, which compromises protein output. The host cells may experience unanticipated physiological changes as a result of the overexpression and buildup of the target protein, which could lead to the creation of misfolded proteins and protein degradation by the host proteases. These present a development obstacle for the protein expression industry.
Opportunities:
Emergence of microfluidics
The protein expression market has seen tremendous growth in recent years, driven by increasing demand for biopharmaceuticals and advancements in technology. One of the emerging trends in the market is the use of microfluidics technology for protein expression. Microfluidics is the science and technology of manipulating fluids in microscale devices. It allows for precise control over small amounts of fluids, which is ideal for protein expression. Microfluidic devices can create small channels and chambers that provide an environment for protein expression, allowing for rapid and efficient screening of different conditions. The results showed that DBM screening is a powerful tool for enhancing cell factories for the production and release of foreign proteins.
The degree of protein translation and phosphorylation at the single-cell level is also evaluated using a cutting-edge tool known as the Microfluidic Antibody Capture (MAC) gadget. The emergence of microfluidics technology in protein expression presents a significant opportunity for biopharmaceutical manufacturers. It has the potential to revolutionize the way proteins are produced, enabling faster, more efficient, and more cost-effective protein expression. As the technology continues to develop and improve, it is expected to play an increasingly important role in the protein expression market.
Segments Insight:
Expression System Insights:
In 2022, the prokaryotic segment held the biggest portion of more than 41% because it is generally simpler to manage and serves important study purposes. Due to its advantageous traits, including its ability to produce large quantities of recombinant proteins quickly and inexpensively, the market segment is expected to keep its place during the forecast era.
During the forecast period, the mammalian cell sector is anticipated to expand at the fastest pace. Numerous pharmaceutical companies have employed temporary or permanent cell lines as mammalian expression platforms to produce proteins. When specific expression structures join with the genome host, this occurs. However, the use of systems relies on the objective and strategy. For instance, the prokaryotic is regarded as perfect for antigen synthesis, structural studies, and activity studies, where post-translational is not required. However, businesses favor using mammalian cells to make proteins, medicines, and immunizations.
Product Insights:
With a market share of more than 41% in sales in 2022, reagents ruled the industry. Reagents are essential components in protein expression, as they play a crucial role in ensuring the correct folding and conformation of the protein of interest. The increasing demand for research in the field of proteomics and genomics, coupled with the growth of the biopharmaceutical and biotechnology industries, is driving the demand for reagents in the protein expression market. From 2022 to 2030, the services market is projected to grow at a CAGR of 12.5%. The expansion is ascribed to the growing outsourcing of protein production and expression by pharmaceutical and biotech firms to antibody production companies in order to support the development of customized assays and the finding of therapeutic antibodies.
Similarly, many companies are using strategic efforts to increase their market share. BioIVT revealed the purchase of Cypex in August 2022 because the bought company's protein product line enhances its offerings for drug research and development. Additionally, the products offered by Cypex are created using proprietary technology that enables the expression of human drug-metabolizing enzymes in microbes without significantly altering the proteins.
Application Insights:
As protein therapeutics offer numerous benefits over other medications, the therapeutic category, which held a market share of over 51% in 2022, is expected to expand at the greatest rate during the projection period. Due to their adaptability, they provide a more effective course of therapy and have a low likelihood of adverse effects. Additionally, it can serve as a substitute therapy when a gene defect prevents the body from producing enough effective proteins. Furthermore, the therapeutic segment's growth is driven by the increasing adoption of protein-based therapeutics, which offer several benefits over traditional medications, such as better specificity, fewer side effects, and improved efficacy. The demand for protein-based therapeutics is increasing owing to the rising incidence of chronic diseases, such as cancer, diabetes, and cardiovascular diseases, which require targeted and personalized therapies.
Moreover, the prominent factor driving this application sector is the rise in the number of businesses creating protein-based therapeutics because the licensing process is quicker and better regulated for patent protection. Both of these elements boost the revenue of pharmaceutical and biotechnology firms and promote additional R&D spending.
End Use Insights:
Due to the extensive use of cultured cells for the creation of therapeutics and customized medications, the pharmaceutical and biotechnological businesses sector had the highest revenue share of over 46% in 2022. 2019 saw the use of more than 170 transgenic proteins in health around the world. The sector is fueled by the pharmaceutical industry's expanding creative use of proteins. The businesses combine already-existing proteins with genetic variations and entirely new protein designs to produce better value in therapeutics and protein stability.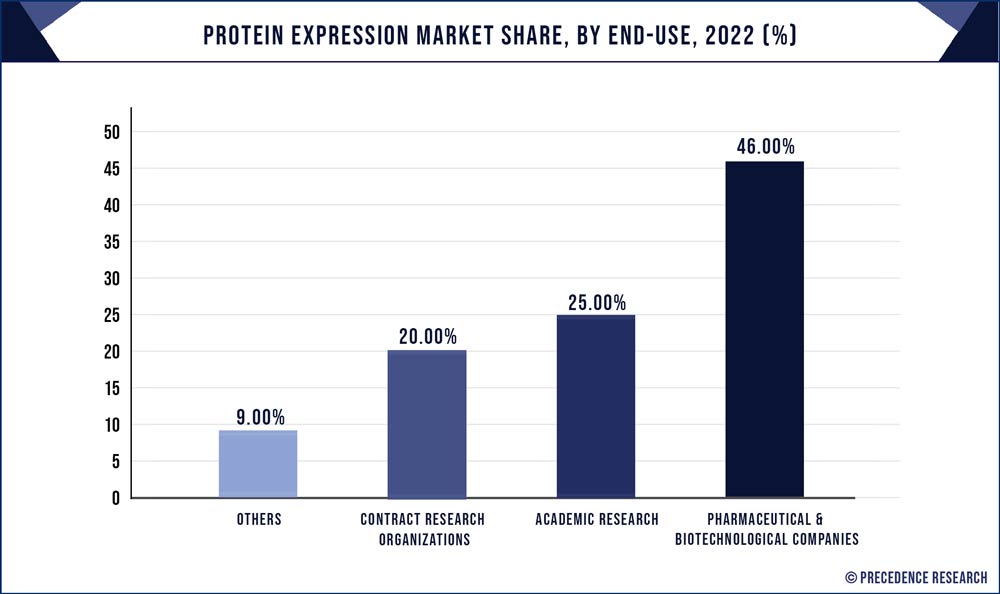 Over the forecast period, contract research companies are anticipated to expand at the fastest pace. This is explained by the variety of specialty services offered by the organizations to the pharmaceutical and biopharmaceutical firms at cost-effective rates, giving them a competitive edge over their rivals. For instance, Charles River Laboratories provides services for automating protein processing and designing buildings.
Regional Insights:
With a revenue share of more than 41% in the geographic market in 2022, North America was in charge. This Significant market share can be attributed to the presence of significant businesses in the region, increasing R&D spending, and strong biosimilar platforms. It has been noted that one of the most important tactics used in the North American area is collaboration between businesses and academic organizations.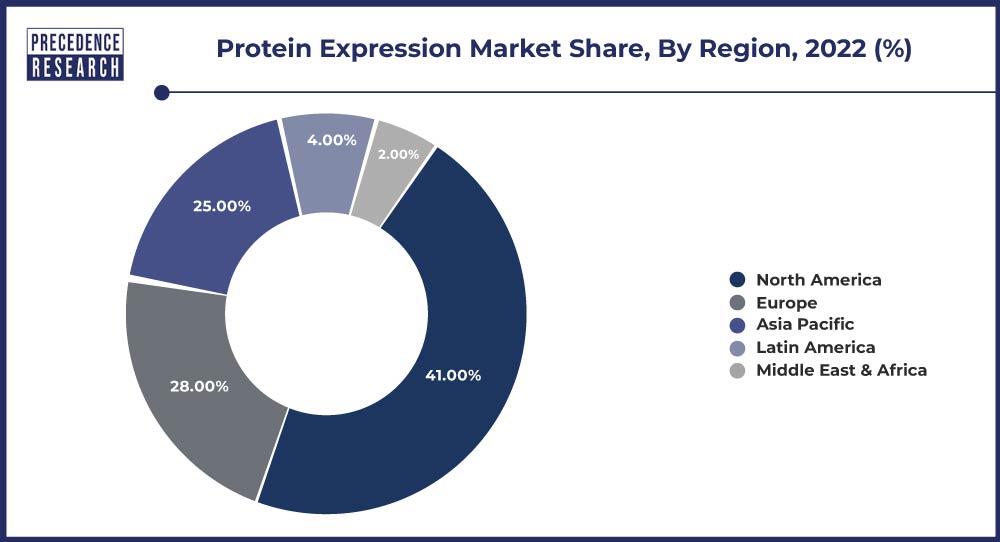 Due to the rising use of protein expression in various uses, especially in India and China, Asia Pacific is expected to experience the quickest growth over the projection period. Additionally, throughout the projection period, the Asia Pacific market has benefited from the expanding emphasis on proteomics and genomics research as well as rising academic institution efforts for novel protein therapeutic development.
In addition, the protein expression market is witnessing significant growth across all regions due to increasing demand for biologics, growing R&D investments, and the rising prevalence of chronic diseases. As a result, key players in the market are expanding their presence in emerging economies to tap into the growing opportunities.
Recent Developments:
Beijing Luzhu Biotechnology and Maxvax Biotechnology will begin raising money in July 2022 for their separate vaccine R&D projects. Maxvax secured about USD 74 million in Series B financing to finance a number of clinical trials for its vaccine development program.
Thermo Fisher Scientific enlarged its Millersburg, Pennsylvania, bioprocessing manufacturing site plant in February 2022 to produce essential components for the creation of new and current biologics and vaccines, including COVID-19.
Key Market Players:
Agilent Technologies Inc.,
Bio-Rad Technologies,
Thermo Fisher Scientific Inc.,
Merck KGA,
Takara Bio Inc.,
New England Biolabs Inc.,
Oxford Expression Technologies Ltd,
Promega Corporation,
Qiagen NV
Sigma-Aldrich Corporation.
Segments Covered in the Report:
(Note*: We offer report based on sub segments as well. Kindly, let us know if you are interested)
By Expression System
Prokaryotic
Mammalian Cell
Insect Cell
Yeast
Others
By Product
Reagents
Competent Cells
Expression Vectors
Services
Instruments
By Application
Therapeutic
Industrial
Research
By End-use
Pharmaceutical & Biotechnological Companies
Academic Research
Contract Research Organizations
Others
By Geography
North America
Europe
Asia-Pacific
Latin America
Middle East and Africa