The global protein purification and isolation market size accounted for USD 8.36 billion in 2022 and it is projected to be worth around USD 22.38 billion by 2032, growing at a CAGR of 10.4% during the forecast period 2023 to 2032.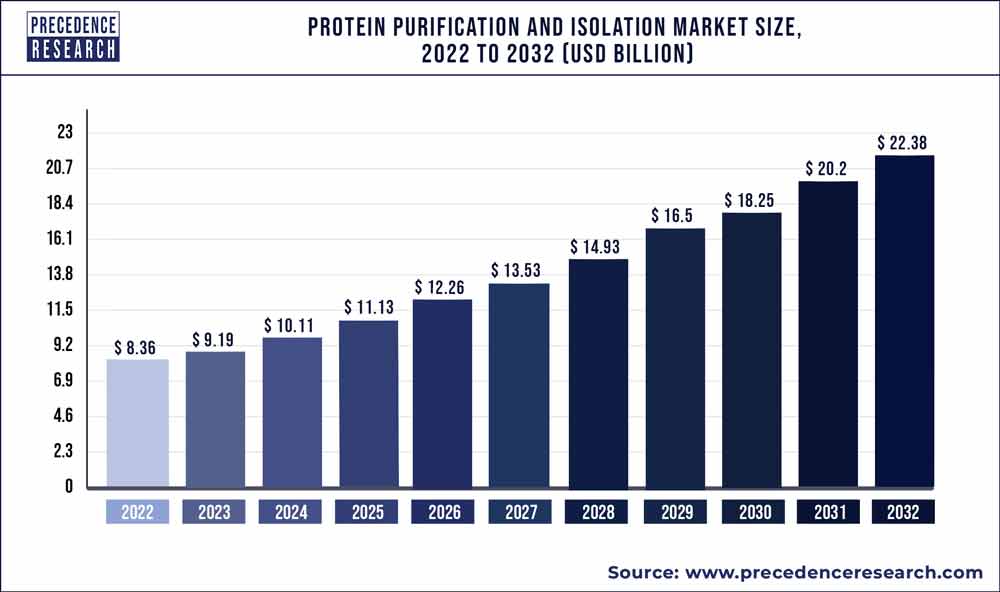 Key Takeaways:
North America generated more than 48% of the revenue share in 2022.
Asia Pacific region is expected to expand at the fastest CAGR between 2023 and 2032.
By Product, the consumables segment captured more than 62% of revenue share in 2022.
By Technology, the chromatography segment accounted for more than 30% of revenue share in 2022 and is expected to lead the market during the forecast period.
By Application, the protein-protein interaction studies segment contributed more than 33% of revenue share in 2022.
By End users, the academic and research institutes segment recorded more than 41% of revenue share in 2022.
Market Overview:
Protein purification and isolation is a set of procedures undertaken, especially for dividing/separating a specific type of protein from a complicated mixture. Usually, the protein purification and isolation process is done during the protein, tissue, or cell studies. Such a process allows the separation, concentration, elimination, and stabilization of various proteins from impurities, including nucleic acid and viruses. Proteins are macromolecules that enable the maintenance of structures and the functional integration of the cell.
Protein purification and the isolation and identifying proteins and other compounds have been obtained using chromatography. A protein isolation procedure involves a series of steps where the protein progresses in purity with each step. The fine-resolution techniques such as chromatography offer the final product. Chromatography is one of the most crucial purifying techniques and this is a result of its many advantages compared to other purifying techniques. Chromatography is considered a convenient method for trapping diluted molecules in a highly diluted solution.
Protein purification is a method of isolating proteins from other biological molecules present in a particular sample. The purification process isolates the protein and non-protein parts of the mixture and lastly isolates the required protein from all other proteins. Purified proteins help in studying as well as understanding their enzymology and affinity for specific substrates. Protein Purification is crucial to comprehend the structure and function of several proteins. It is also vital for the development of clinical biosensors and depends on pure protein as a detection agent. Protein isolation is the method of extracting proteins from a particular sample. Protein purification is important for characterizing the structure, function, and interactions of the needed protein. Purifying a single protein from a complex mixture, more times than not a series of separation steps, based on several characteristics used unless a pure protein is obtained. A protein isolation goal is to safely and efficiently isolate the needed protein from a mixture.
The separation of proteins is done from samples of insects, mammals, plants, bacteria, and others. There are usually four steps involved in protein purification including cell lysis, protein binding to a matrix, washing, and elution. Protein purification is a basic step for analyzing individual proteins and protein complexes as well as finding interactions with other proteins RNA or DNA.
Growth Factors:
The rising relevance of generating novel ligands such as protein-based pharmaceutical compounds is observed as a major driving factor for the growth of the protein purifying and isolation market. The significant presence of pharmaceutical companies around the globe represents the major factor for the market's development.
The increasing number of research and development activities in the global pharmaceutical industry, ongoing technological improvements, development of advanced purification kits and rising demand for more accurate and precise protein isolation processes from multiple end-users are few other factors that propel the market's growth.
Report Scope of the Protein Purification and Isolation Market:
| | |
| --- | --- |
| Report Coverage | Details |
| Market Size in 2023 | USD 9.19 Billion |
| Market Size by 2032 | USD 22.38 Billion |
| Growth Rate from 2023 to 2032 | CAGR of 10.4% |
| Largest Market | North America |
| Fastest Growing Market | Asia Pacific |
| Base Year | 2022 |
| Forecast Period | 2023 to 2032 |
| Segments Covered | By Product, By Technology, By Application, and By End-users |
| Regions Covered | North America, Europe, Asia-Pacific, Latin America, and Middle East & Africa |

Market Dynamics:
Driver:
Increasing government investment in research & development and favorable initiatives
Government investment in R&D provides financial support to researchers, scientists, and institutions involved in protein purification and isolation. This funding enables the development of innovative technologies, methodologies, and equipment, ultimately driving advancements in the field.
Government initiatives may focus on building state-of-the-art research infrastructure, such as specialized laboratories, research centers, and biotechnology parks. These facilities can support protein purification and isolation research by providing access to advanced instruments, equipment, and resources needed for efficient protein separation and analysis. Governments often establish collaborative research programs that bring together academic institutions, research organizations, and industry players. Such initiatives foster knowledge sharing, interdisciplinary collaborations, and the exchange of ideas and expertise.
Restraints:
High cost of tools and instrument
The high/excessive cost of tools and instruments used in the protein purification and isolation market is observed as a major restraint for the market's growth. Protein purification and isolation techniques often require the use of specialized and sophisticated tools and instruments such as chromatography systems, electrophoresis tools, and automated liquid handling equipment. These instruments can be expensive to purchase, install, and maintain. The high cost of these capital investments can deter smaller research laboratories or companies with limited budgets from entering the market or expanding their operations.
The high cost of tools and instruments directly affects the final cost of protein purification and isolation services and products. End-users, such as academic researchers, biotechnology companies, and pharmaceutical manufacturers, may be working on small-scale, be price-sensitive and have limited budgets. If the cost of protein purification and isolation becomes too high due to expensive tools and instruments, it can impact market demand and hinder the growth of the industry.
Opportunities:
Technological advancements are expected to boost the market growth
The rapid advancement in technology is expected to boost the growth of the global protein purification and isolation market during the forecast period. Magnetic and protein beads and ligand tagging systems are highly preferred over conventional methods. In addition, increasing demand for purification kits in rapid screen tests, shifting towards advanced instrumentation for protein purification. In recent years, various purification techniques have been developed, such as Salting Out, Dialysis, Gel-Filtration Chromatography, Ion-Exchange Chromatography, Affinity Chromatography, and High-Pressure Liquid Chromatography.
Prominent market players are focusing on developing novel technologies for protein purification. For instance, in August 2022, a leading player in the market, Bio-Rad Laboratories announced the launch of Econofit, a platform for low-pressure prepacked chromatography columns. The newly launched platform promotes the screening of protein purification experiments.
Segments Insight:
Product Insights:
The consumables segment is predicted to grow at the most significant rate during the forecast period. Protein purification and isolation kits, reagents, magnetic beads and resins are widely used in the purification and isolation process that lie under the consumable category. Such products are convenient, easy to use, easily available and offer precise results with various other benefits.
On the other hand, the instruments segment is projected to expand at a rapid rate owing to the development of portable and accurate instruments. With the technological advancements in the overall biotechnology industry, the instruments and tools in the protein purification and isolation demand advancements and innovation, such demands are observed to fuel the growth of the segment.
Technology Insights:
The Chromatography segment is expected to lead the market during the forecast period. Chromatography is one of the most commonly and widely utilized techniques for the isolation and purification of proteins. Chromatography techniques generally involve mild conditions, such as physiological pH and temperature, which minimize the denaturation or degradation of proteins during the purification process. This is particularly crucial for maintaining the structural and functional integrity of delicate proteins. Chromatography is considered the most ideal technique in the market as it provides excellent resolution, enabling the separation of proteins with similar molecular weights or similar characteristics. By utilizing various separation mechanisms and optimizing the chromatographic conditions, it is possible to achieve high-resolution protein separation.
On the other hand, the ultrafiltration segment is expected to increase at a notable rate during the forecast period. Ultrafiltration is the process of isolating minor particles and dissolved molecules from liquids. Ultrafiltration is widely used for the isolation of proteins from buffer components. the advantages offered by ultrafiltration for protein purification and isolation techniques act as a driver for the segment's growth. The ultrafiltration technology offers the generation of rapid results in the protein purification and isolation market.
Application Insights:
The global protein purification and isolation market is segmented into drug screening, biomarker discovery, protein-protein interaction studies, and diagnostics. The Protein-protein interaction studies segment is predicted to register the fastest growth rate during the forecast period due to the rapid adoption of such techniques for obtaining highly purified proteins. Protein-protein interactions are the physical connection between two or more proteins, and they also offer the representation of complex biological functions.
On the other hand, the drug screening segment is expected to grow at a notable rate during the forecast period owing to the rising utilization of discovering novel drugs with different applications. Drug screening offers the development of drugs with high efficiency.
End Users Insights:
Based on the end users, the academic and research institutes segment is expected to witness the fastest growth during the forecast period. The rising government as well as private fundings for academic research institutions for the development of advanced technologies in biotechnology industry is held as a major factor for the segment's growth. Moreover, multiple research institutions are actively participating in the rapid adoption of isolation as well as purification technologies, this accelerates the segment's growth.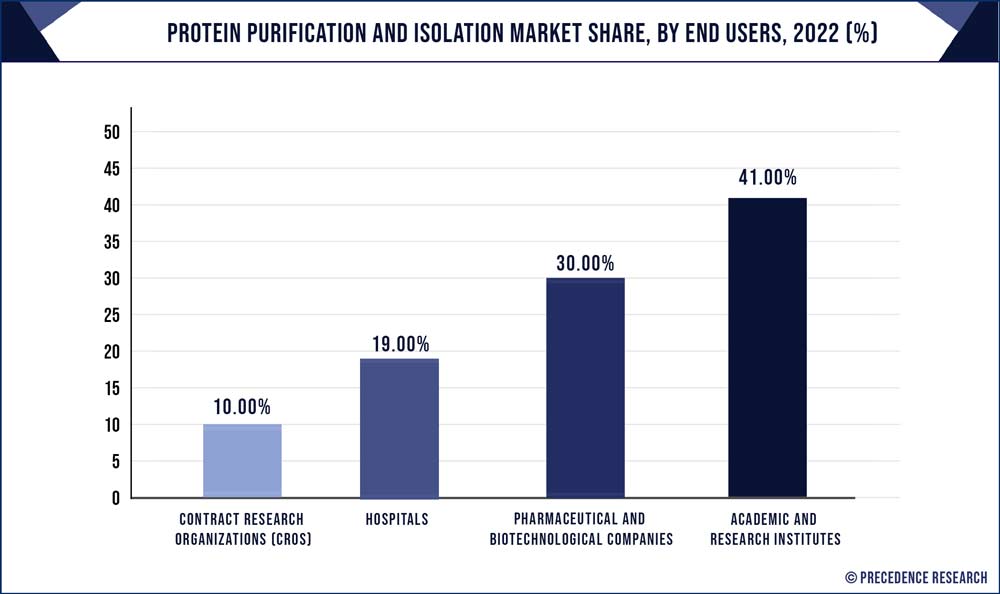 In addition, the shifting focus by academics and research institutes on detailed kinetic analysis and advanced protein purification systems will fuel the segment's growth during the forecast period.
Regional Insights:
North America accounted for the larger market share during the forecast period owing to the increasing number of pharmaceutical companies, the presence of sophisticated research infrastructure, rising number of acquisition & collaboration among major players, and increasing investment from both private and public sectors focusing on developing innovative products.
Additionally, North America has witnessed a rise in research and development activities in the field of life sciences, including proteomics and genomics research. This has created a demand for advanced protein purification and isolation techniques to support the discovery and development of new drugs and therapies in recent years.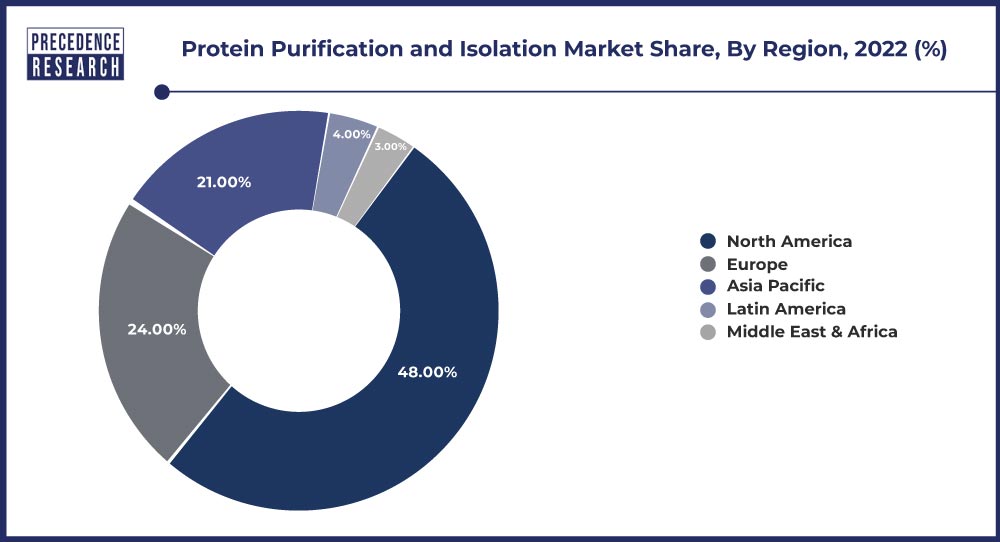 On the other hand, the Asia Pacific market is growing at a significant CAGR during the forecast period owing to increasing government support in developing countries such as India, Japan, and China for the development of healthcare infrastructure and increasing expenditure for the development of novel purification and isolation methods.
Many global pharmaceutical and biotechnology companies are outsourcing their research and manufacturing activities to countries in the Asia Pacific region due to lower costs and the availability of skilled labor. This outsourcing trend is accelerating the demand for protein purification and isolation technologies in the region.
Recent Developments:
In May 2021, Cytiva announced the launch of AKTA, a fraction collector and pure micro-system for AKTA protein purification system. The newly launched product from Cytiva aims to enhance the resolution in microscale protein purification processes.
In March 2022, Thermo Fisher Scintific and Symphogen announced the extension of their strategic partnership to resolve the complicated scientific challenges within the biopharmaceutical sector. Under the partnership, Thermo Fisher Scientific and Symphogen aim to offer new discoveries and solutions along with developments in equipment and workflows that are streamlined, especially for the effective characterization of complicated therapeutic proteins.
In October 2021, a United Kingdom-based manufacturer of resin-based chromatography separation, purification and extraction solutions, Purolite announced the launch of two novel next-generation resins for chromatography. With the new launch, the company aims to address the purification of antibodies that are pH sensitive.
Key Market Players:
Merck KGaA
Thermo Fischer Scientific, Inc.
GE Healthcare Life Sciences
Qiagen N.V.
Sigma-Aldrich Corporation
Agilent Technologies
Bio-Rad Laboratories, Inc.
Promega Corporation
Abcam
Norgen Biotek Corporation
Purolite
BioVision, Inc.
Segments Covered in the Report:
(Note*: We offer report based on sub segments as well. Kindly, let us know if you are interested)
By Product
Instruments
Consumables

Kits
Reagents
Columns
Magnetic Beads
Resins
Others
By Technology
Ultrafiltration
Precipitation
Chromatography

Ion Exchange Chromatography
Affinity Chromatography
Reversed-Phase Chromatography
Size Exclusion Chromatography
Hydrophobic Interaction Chromatography

Electrophoresis

Gel Electrophoresis
Isoelectric Focusing
Capillary Electrophoresis

Western Blotting
Others
By Application
Drug Screening

Biomarker Discovery
Protein-protein Interaction Studies
Diagnostics
By End Users
Academic and Research Institutes
Hospitals
Pharmaceutical and Biotechnological Companies
Contract Research Organizations (CROs)
By Geography
North America
Europe
Asia-Pacific
Latin America
Middle East and Africa