The global protein crystallization market size was estimated at USD 1.58 billion in 2022 and is projected to hit around USD 3.67 billion by 2032, growing at a CAGR of 8.79% during the forecast period from 2023 to 2032. North America generated more than 37% of revenue share in 2022 and is predicted to dominate the market over the forecast period.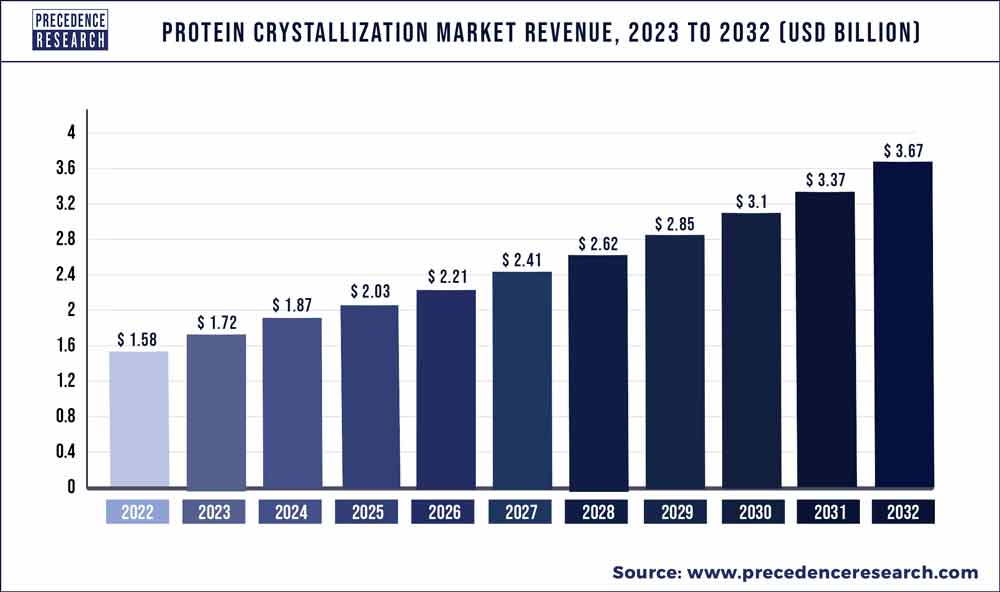 Access our Premium Real Time Data Intelligence Tool, Visit: Precedence Statistics
Key Takeaways:
Asia Pacific is expected to expand at the largest CAGR between 2023 and 2032.
By Product, the consumables segment is predicted to capture the largest revenue share between 2023 and 2032.
By Technology, the X-ray crystallography is expected to record the maximum market share between 2023 and 2032.
By End User, the pharmaceutical and biotechnology companies segment generated more than 68% of revenue share in 2022.
Market Overview:
The process of forming structured, ordered lattices out of complicated macromolecules is known as protein crystallization. In contrast to proteins found in crystalline lattices, which resist denaturation and have higher stability, proteins are often amorphous as solids and prone to denaturation. If placed in suitable, hospitable settings, proteins can crystallize. Due to extremely complex linkages of elements that affect the protein crystallization process, protein crystallization is regarded as both a science and an art. To support structural biology investigations, usually using x-ray diffraction crystallography, protein crystals are frequently made.
By Comprehending the 3-dimensional structures of proteins, researchers may visualize spaces in the framework that permit interaction with the other molecules. For instance, to better understand how enzymes, substrates and ligands interact. Additionally, crystallization provides an alternative method of purification and separation to preparative chromatography by efficiently producing pure proteins that are free of contamination by other proteins or extraneous biological matter.
The growth of the market is driven by innovative product launches, increasing pharmaceutical and biotechnology companies, and growing expenditure by the government for proteomics research and technological advancements in crystallization techniques. The top leading players in protein crystallization are Anatrace, Bruker, Formulatrix, Jena Bioscience, and Rigaku.
Report Scope of the Medical Protein Crystallization Market:
| | |
| --- | --- |
| Report Coverage | Details |
| Market Size in 2023 | USD 1.72 Billion |
| Market Size by 2032 | USD 3.67 Billion |
| Growth Rate from 2023 to 2032 | CAGR of 8.79% |
| Largest Market | North America |
| Base Year | 2022 |
| Forecast Period | 2023 to 2032 |
| Segments Covered | By Product, By Technology and By End User |
| Regions Covered | North America, Europe, Asia-Pacific, Latin America and Middle East & Africa |

Market Dynamics:
Driver:
Growing demand for protein therapeutics
In recent years, protein therapies have developed into an essential part of the healthcare sector. Due to their low immunogenicity and specificity, protein therapies are widely employed to treat numerous types of severe diseases including cancer and others. The market growth will be accelerated by the manufacturer's implementation of growth strategies to capture the largest market share in response to the rising demand for protein-based medicines and therapies. For instance, Amgen and Generate Biomedicines collaborated to find and develop protein therapies for five targets across several therapeutic modalities and therapeutic domains in January 2022. Therefore, the growing trends for protein therapeutics and consequently the key player's strategies in the industry will rise the market expansion over the forecast period.
Restraints:
Complexity in protein crystallization
High-quality protein crystals are necessary for both X-ray crystallography and formulation development, this challenging process begins with a pure, highly concentrated protein sample in solution. In a perfect scenario, the liquid component of the solution progressively evaporates, leaving protein crystals in their place. This procedure consistently yields crystals of good quality for some proteins. For instance, crystalline insulin is utilized as a long-acting variant of the medication. It is far more challenging to produce crystals of superior quality from other proteins.
Protein crystallization is sometimes referred to as both a science and an art because it is largely a trial-and-error process. However, certain traits of proteins are known to make it more challenging to grow a crystal. For instance, membrane proteins are notoriously challenging to purify and crystallize. Many proteins in this class, including transmembrane receptors and ion channels, are extremely interesting from the standpoint of drug development. Thus, this is expected to hamper the market growth to some extent.
Opportunities:
Technological advancements
During the projected period, technological developments in crystallization methods, such as cell-free protein crystallization methods, are predicted to present attractive market prospects. For instance, in October 2022, scientists from the Tokyo Institute of Technology created a revolutionary cell-free protein crystallization method. By allowing the examination of unstable proteins that cannot be investigated using other standard techniques, the technology contributes significantly to structural biology advancements. Such developments encourage the development of new and improved protein crystal treatments for a variety of diseases, such as cancer and muscular dystrophy.
Segments Insight:
Product Insights:
Based on the product, the global protein crystallization market is segmented into instruments, consumables and software & services. The consumables segment is expected to capture the largest revenue share over the forecast period. Reagents, kits, screens, microplates, and other products supporting the crystallization techniques are considered consumables. An effective screening technique for identifying the ideal solubility conditions for protein crystallization is provided by protein crystallization kits.
Additionally, the chemical needed for quick screening to establish the ideal conditions for the crystallization of purified protein samples are included in these kits. On the other hand, the software & services segment is growing at the highest CAGR during the forecast period. Throughout the crystallization process including analysis, dispensing, design and image viewing, the software is used. For instance, the FORMULATRIX program ROCK MAKER enables the rapid creation of many screen assays for one or more proteins. It also assigns scores and aids in the comparison of the collected images. Thus, this type of software capability is expected to drive segment growth over the forecast period.
Technology Insights:
Based on the technology, the market is bifurcated into X-ray Crystallography, Cryo-electron Microscopy, NMR Spectroscopy and Others. X-ray Crystallography is expected to capture the largest market share during the forecast period. X-ray crystallography is a technique for figuring out the 3-dimensional, high-resolution atoms and molecules in proteins. It has played a crucial role in the advancement of numerous scientific disciplines. It is used to measure atom sizes, chemical bond lengths and types, atomic-scale differences between different materials, as well as crystalline integrity, grain orientation, grain size and others. This technique also defines how the pharmaceutical drug interacts with its protein target and what changes might improve it.
Furthermore, the X-ray crystallography techniques have the advantages of no damage to samples, free of pollution, low environmental requirements, and high performance and precision to their counterparts. Besides, cryo-electron microscopy is expected to grow at a significant rate during the forecast period. These techniques have several advantages over their counterparts, which include the capability to study proteins and their complex large molecules without the need for crystals. Thus, the aforementioned benefits are expected to drive segment growth during the forecast period.
End User Insights:
Based on the end user, the market is segmented into pharmaceutical and biotechnology companies and academic and research institutes. The pharmaceutical and biotechnology companies segment is expected to capture the largest revenue share during the forecast period. In structural biology, protein crystallization techniques play various vital functions such as silica drug design and controlled drug discovery.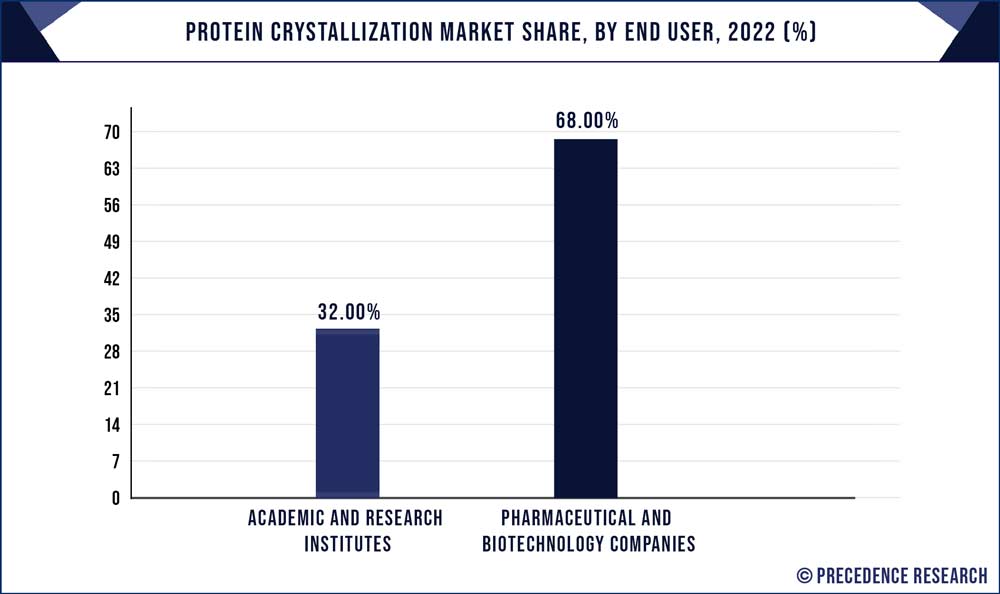 The 3-D structure of molecules is determined through protein crystallography used in silico drug creation. More precise 3-D protein structures are produced as a result of protein crystallization. These high-quality crystals may ultimately help pharmaceutical and biotechnology companies to better understand biological function and improve drug design. Furthermore, protein 3-D structures provide clarity to understand disease mechanisms, create pharmaceutical drugs more effectively and find therapeutic targets. The HIV protease inhibitor and the leukemia drug Gleevec were both developed utilizing protein crystallography as a transformative medicine. Thus, this is expected to drive segment growth.
Regional Insights:
North America is expected to dominate the market during the forecast period. The growth in the region is attributed to rising technological advancements and growing research and development in the biopharma sector. For instance, as per International Trade Administration, US Department of Commerce, approximately one-third of the global market for biopharmaceuticals is accounted for by the United States, which also leads the world in biopharmaceutical research and development. The Pharmaceutical Research and Manufacturers Association (PhRMA) estimates that biopharmaceutical companies spend the most on R&D in the US in 2017 (USD 97 billion), more than in other sectors.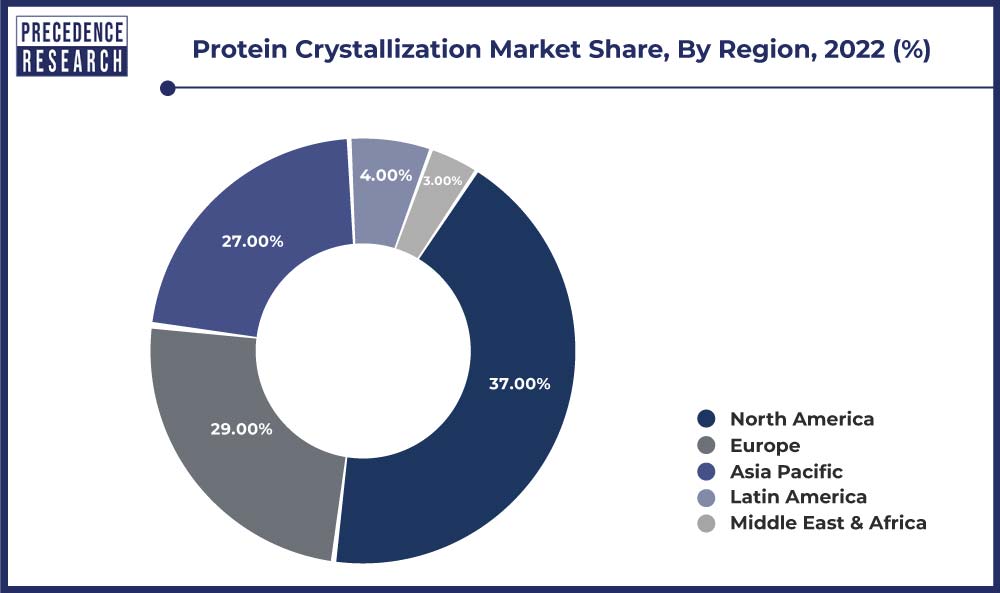 Biopharmaceutical companies have a substantial total economic impact on the US economy. In 2018, companies with large foreign ownership that operate in the United States exported biopharmaceuticals worth over USD17 billion. These primarily foreign-owned companies invested nearly USD 20 billion in R&D in the same year. 2019 saw a total of USD 511.3 billion in foreign direct investment in pharmaceuticals and medical devices. Moreover, the increasing partnership between key players and research institutes is expected to propel the market expansion. For instance, in January 2022, to create cutting-edge small-molecule immune modulators, Cullinan Oncology Inc. and the Icahn School of Medicine at Mount Sinai formed a partnership.
The agreement for a multi-year partnership will be centred on the development and optimization of oral protein degraders that target hematopoietic progenitor kinase 1 (HPK1), a crucial regulator of immune cell activation and a high-priority target in immune-oncology. Therefore, this kind of investment is expected to drive the growth of the market in the region.
The Asia Pacific is growing at the highest CAGR during the forecast period. The growing prevalence of cancer in countries like India and China is expected to drive market expansion in the region. For instance, as per the US Department of Health and Human Services (HHS), 14,61,427 incident cases of cancer were determined to be the projected total in India for 2022. In India 1 out of 9 people has a lifelong risk of developing cancer.
The most common cancer in men and women were lung and breast cancer. According to the estimates, there will be 12.8% more cancer instances in 2025 than there were in 2020. Moreover, the growing investment in healthcare infrastructure is among the key factors that propels the market growth. Furthermore, the increasing pharmaceutical industry in the country like India and China is expected to drive market expansion over the forecast period. For instance, according to the National Investment Promotion & Facilitation Agency, in India, the pharmaceutical market is anticipated to grow to USD65 billion by 2024 and USD130 billion by 2030. Presently, the India Pharmaceuticals market is about USD50 billion. More than 200 nations are addressed by Indian pharmaceutical exports, making India a significant global supplier of pharmaceuticals. Thus, these facts support the market expansion in the Asia Pacific region.
Recent Developments:
In April 2022, Peak Proteins was acquired by Sygnature Discovery. The acquisition will broaden the range of internal drug development capabilities, adding more value to partner initiatives and potential patients.
In July 2022, Redwire Corporation announced the development of new in-space manufacturing technology to provide revolutionary and flexible services for growing small-batch crystals of protein-based medicines and other essential pharmaceutically relevant compounds for research and production.
In June 2022, in Basel, ELDICO Scientific established one of the first electron diffraction facilities in the world, where the 3D structures of organic molecules and proteins could be established.
In October 2022, Direct protein crystallization is a component of the novel cell-free protein crystallization (CFPC) method created by Tokyo Tech, which represents a significant advancement in structural biology. The procedure will make it possible to analyze unstable proteins that can't be investigated using standard techniques.
Key Market Players:
Corning Incorporated
Bruker
METTLER TOLEDO
Rigaku Corporation
Creative Proteomics
HAMPTON RESEARCH CORP
Jena Bioscience GmbH
FORMULATRIX
Greiner Bio-One International GmbH
Molecular Dimensions
Segments Covered in the Report:
(Note*: We offer report based on sub segments as well. Kindly, let us know if you are interested)
By Product
Instruments

Liquid Handling Instruments
Crystal Imaging Instruments

Consumables

Reagents & Kits/Screens
Microplates
Others

Software & Services
By Technology
X-ray Crystallography
Cryo-electron Microscopy
NMR Spectroscopy
Others
By End User
Pharmaceutical and Biotechnology Companies
Academic and Research Institutes
By Geography
North America
Europe
Asia-Pacific
Latin America
Middle East and Africa