The global protein sequencing market size was reached at USD 1.89 billion in 2022 and is projected to surpass around USD 2.78 billion by 2032, poised to grow at a CAGR of 3.94% during the forecast period from 2023 to 2032. North America generated more than 36% of revenue share in 2022.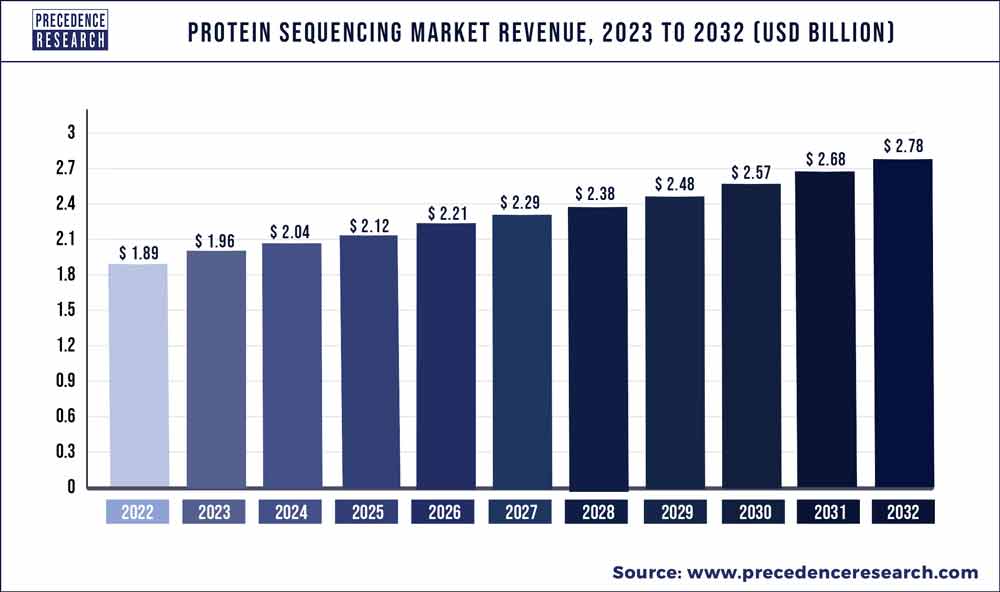 Key Takeaways:
By products and services, the segment of protein sequencing products was the market leader in 2022, with a market share of more than 81%.
By application, the biotherapeutics market had the greatest market share of around 56% in 2022. This can be ascribed to pharmaceutical corporations' growing involvement in the creation of biotherapeutics.
By end-use, the academic institutes and research centers segment generated more than 46% of revenue share in 2022 and the pharmaceutical and biotechnology firms' segment will likely develop at the fastest rate during the forecast period.
Market Overview:
Protein sequencing is a systematic method of determining a protein or peptide's sequence of amino acids in its entirety or part. This might assist in determining the identity of the protein or characterize any post-translational changes it has undergone. A protein can typically be identified using databases of protein sequences created from the conceptual translation of genes using only partial sequencing of the protein (one or more sequence tags). Edman degradation and Mass spectrometry utilizing a protein sequencer are the primary direct protein sequencing methods.
Scientists and academic institutions are delving into the world of proteins, which are big, complex molecules necessary for the structure, function, and control of organs and tissues in the body, to completely comprehend the molecular foundations of health and disease and modify sequencing techniques.
For instance, in 2022, scientist's team at Arizona State University's Biodesign Center for Molecular Design and Biomimetics worked on an ambitious project to create new techniques for sequencing individual protein molecules quickly, precisely, and precisely inexpensively.
This type of single-molecule protein sequencing can transform diagnostic medicine by identifying cancer protein biomarkers and other lethal diseases, enabling earlier and more precise diagnoses, and expanding the understanding of the functions of healthy cells.
Similarly, the University of Texas researchers developed tools like DNA sequencing to comprehend proteins. Fluorosequencing is a patented process that provides thorough and quick information about thousands of proteins. To market their invention, the technology's creators established a new firm called Erisyion Inc. Applications of the technology comprises Parkinson's disease diagnosis and detection, immuno oncology treatment protein identification for immune-oncology, drug development, camouflage system detection, and industrial biology.
Growth Factors:
The growth of the protein sequencing market will likely be supported by strategic measures taken by academic institutions to alter protein sequencing methods. Due to progress in biomedical research and rapidly expanding R&D activities that enable protein expression, the global industry is growing. Discovering biomarkers for diagnosing diseases such as cancer is made simpler by protein sequencing, and additionally, it deepens the understanding of how healthy cells function.
The protein sequencing industry is primarily driven by the biotechnology and pharmaceutical industries' growing focus on target-based drug development initiatives in various developed and emerging markets. Recent developments in de novo peptide-sequencing techniques and analytical procedures have created new business opportunities with the use of neural networks. One example is the development of mass spectrometer technology. Furthermore, improvements in single-molecule fluorescent devices and nanopore sensors allow for detecting certain peptide residues. Proteomics research funding is increasing in developed and developing countries, helping the market grow. The market for protein sequencing is expanding rapidly due to the increase in demand for protein biomarkers in the drug development process.
Protein sequencing will likely increase as recombinant antibodies are increasingly used to treat cancer, rheumatoid arthritis, and other pathological illnesses. Since personalized medicine and vaccination are new applications in the industry, the rising demand for these services will likely be crucial in the market's growth.
Report Scope of the Protein Sequencing Market:
| | |
| --- | --- |
| Report Coverage | Details |
| Market Size in 2023 | USD 1.96 Billion |
| Market Size by 2032 | USD 2.78 Billion |
| Growth Rate from 2023 to 2032 | CAGR of 3.94% |
| Largest Market | North America |
| Base Year | 2022 |
| Forecast Period | 2023 to 2032 |
| Segments Covered | By Product & Service, By Application and By End-user |
| Regions Covered | North America, Europe, Asia-Pacific, Latin America and Middle East & Africa |

Market Dynamics:
Drivers:
Increasing emphasis on target-based drug development
The market is driven primarily by biotechnology and pharmaceutical businesses in developing and established countries, focusing on target-based drug development activities. However, De novo peptide sequencing technologies and analytical approaches using neural network models have recently developed new business potential. A prime example is the advancement of the mass spectrometer.
Increase in funding for proteomics research
A significant driver of the market growth for academic institutions and research centers is a boost in funding for proteomics research from both public and private institutions. Because they lack the necessary infrastructure, have few samples, and cannot buy necessary protein sequencing supplies, these institutions rely on protein sequencing businesses for proteomic analysis.
Restraint:
High infrastructure and equipment costs
The high cost of equipment and infrastructure, including mass spectrometers, may be a barrier to the market's expansion. The need for more suitable technological know-how and laboratory infrastructure in various regions can also hinder the market's growth. Mass spectrometry is a strong technique for protein sequencing. However, it needs specialized and costly equipment and experienced personnel to run and maintain it. This can make it challenging for smaller enterprises or research organizations with limited resources to penetrate and thrive in the market. Other expenditures related to protein sequencing, like reagents and consumables, are additional to the cost of the equipment. These expenses can quickly build up, especially when performing sophisticated experiments or sequencing many proteins.
Opportunities:
Rising research and development activities across the globe
The protein engineering sector is expected to grow in the market due to increased protein engineering research activities and funding for producing various protein-based products. The government's increased assistance for establishing innovative sequencing infrastructure in research institutions and businesses' rising R&D expenditures are contributing to the expansion of the protein sequencing market. Proteomic research receives more governmental and private funding, contributing to the market's growth.
For example, the National Institute of General Medical Sciences granted the Upstate Medical University professor more than USD 1.5 million in October 2022 for merging protein and DNA engineering. The researcher is developing a few choice protein switches with robust biological activities and employing DNA engineering to activate those activities using RNA or DNA sequences of choice, like coronavirus or cytomegalovirus.
Segments Insight:
Service and Product Insights:
With a market share of more than 80.0%, the segment of protein sequencing products was the market leader in 2022. The sub-segment of mass spectrometry instruments in the instruments segment had the greatest share in 2021. Several bio-analytical tools have been used in the past few years to examine peptides and proteins in proteomics. Mass spectrometry has emerged as a promising technology for calculating the molecular masses of peptides, proteins, and sequences for proteomics research.
Additionally, the lower instrument prices have favorably affected the market expansion. More affordable financing methods, such as leasing the equipment, have enabled researchers to use the technology as cheaply as possible.
During the forecast period, it is likely that the segment for protein sequencing services will expand profitably. A growing number of research facilities and academic institutions charge researchers a small fee to use their labs and equipment, ranging from USD 8 per hour to USD 300 per hour.
Additionally, several businesses are creating innovative technologies that make protein sequencing easier for service providers. For instance, NVIDIA Corporation stated in September 2022 that it would integrate its cloud service NeMo LLM with BioNeMO, which gives academics access to pre-trained chemical and biology language models. These services support research interaction and modify data and proteins for various uses, such as drug discovery.
Application Insights:
In 2022, the biotherapeutics market had the greatest share. This can be ascribed to pharmaceutical corporations' growing involvement in the creation of biotherapeutics. The core of bio-therapeutics for curing many diseases is thought to be recombinant therapeutic proteins, particularly monoclonal antibodies. One hundred monoclonal antibodies had received FDA approval as of May 2021.
Similarly, more strategic activities from industry participants in biotherapeutics will likely boost market expansion. For instance, Generate Biomedicines announced in November 2021 that it would raise USD 370 million in a Series B round of funding to assist in creating a drug generation platform. The goal is to comprehend how proteins' genetic code affects their functionality.
End-User Insights:
The majority of the market in 2022 belonged to research centers and academic institutes, and it is a significant source of market revenue. The institutes are performing extensive research and development to create protein sequencing technologies. For instance, the University of Texas researchers announced the creation of a workable method for single-molecule protein sequencing in January 2022. Therefore, it is likely that technological developments in protein sequencing methods will accelerate market expansion.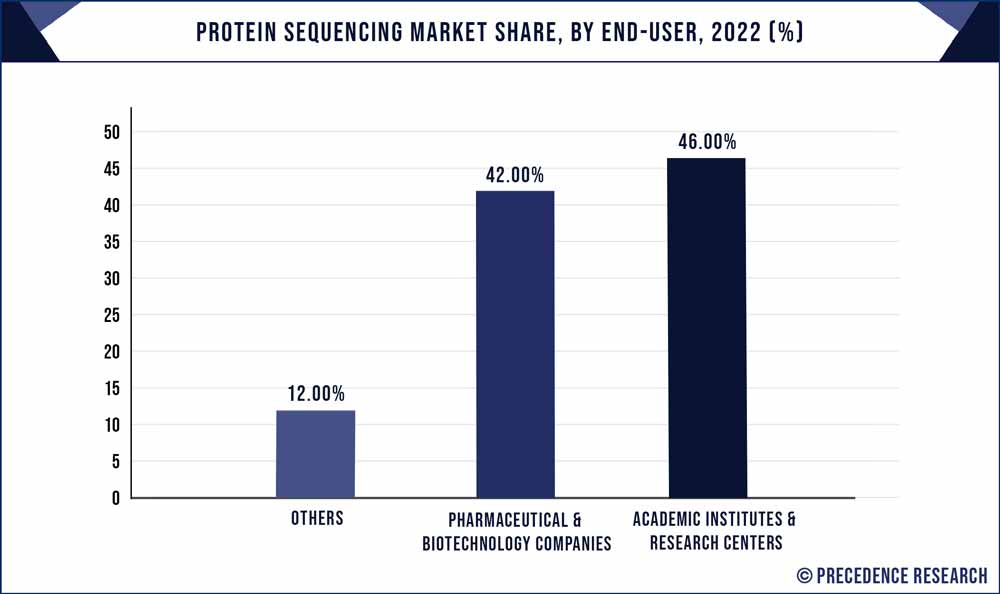 The pharmaceutical and biotechnology firms segment will likely develop fastest during the forecast period. Finding new drugs and developing existing ones is connected to using protein sequencing, particularly mass spectrometry, in the pharmaceutical industry. As a result, the segment is expanding due to the rising need for drug components and biomolecule analysis. The sophisticated mass spectrometry instruments provide high throughput and an ideal testing environment. As a result, these end users show an increased need for such innovations.
Regional Insights:
North America is expected to hold the dominating share of the protein sequencing market during the forecast period owing to the rising technical breakthroughs and the availability of superior healthcare infrastructure in the region. In addition, the rising governmental support in the form of funding for proteomics research is observed to boost the growth of protein sequencing market.
Furthermore, during the forecast period, market growth will likely be accelerated by business activities carried out by major players in North America. For instance, the platinum protein sequencing system started shipping commercially in January 2023.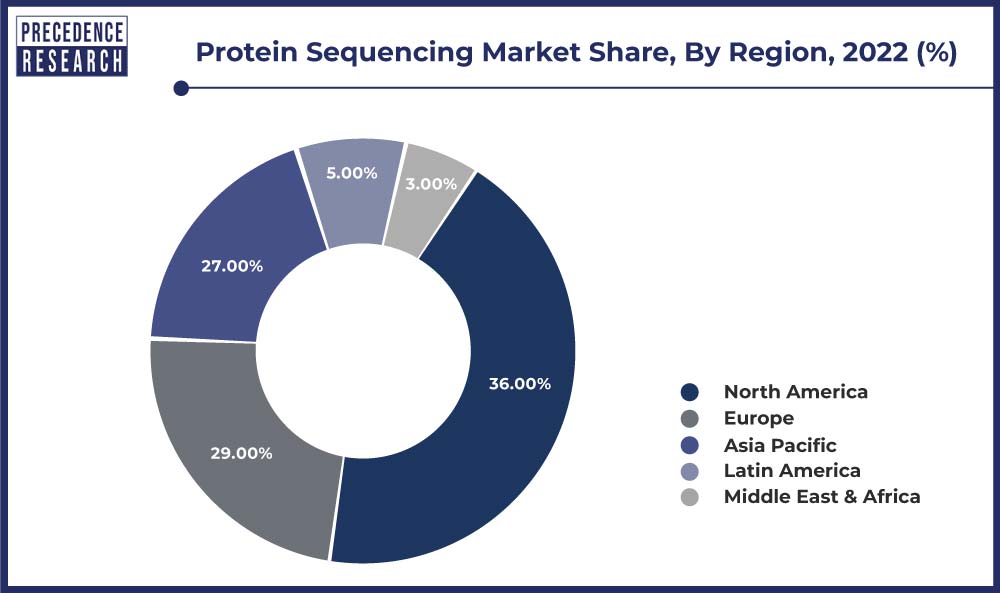 Based in the United States, Quantum-Si gave business updates at the 41st Annual Conference of J.P. Morgan Healthcare. To co-develop sample preparation kits for research workflows of protein sequencing with Platinum, the business teamed up with Aviva Systems Biology, an antibody, protein, and immunoassay reagent product supplier.
In the upcoming years, the Asia Pacific protein sequencing market will likely represent a large portion of the target market's value. During the forecast period, China will likely see the target market's fastest growth rate. India is another significant market for protein sequencing. Moreover, the emerging expenditures for research and development activities in major pharmaceutical and biotechnology companies are expected to fuel the market's growth in India.
Recent Developments:
The NIH granted over $200 million in 2022 to support pioneering biomedical research initiatives across four different study categories. The award categories include "the impact of fracking on pregnancy and conception", "the neural basis of social bias and association using the female songbird as a model", "how brain mechanisms influence memory performance', "health among African Americans across the United States", "tissue regeneration using the uterus as a model", "new model organism to lead in the development of an HIV vaccine" and "a mixed methods examination of skin tone".
Researchers from Poland, the Netherlands, the United States, Switzerland, Israel, France, Italy, Spain, Luxembourg, Germany, and Canada collaborated on a study on single-molecule protein sequencing technology that was released in June 2021. The scientists claimed that advancements in protein sequencing methods would make it possible to examine proteins at the single-cell level, even for proteins with low abundances. Therefore, whole proteome sequencing would likely create an array of possibilities in medical diagnostics.
In May 2022, Amphista Therapeutics and Bristol Myers Squibb partnered to discover and create small-molecule protein degraders. An exclusive license for the product's production and marketing will likely go to Bristol Myers Squibb.
In January 2022, Amgen and Generate Biomedicines collaborated to find and advance protein-based therapies in numerous fields. The partnership is estimated to be worth approximately USD 1.9 billion.
According to a study published in September 2022, 97,437 COVID-19 protein sequences were run to look for non-synonymous mutations in 26 different sequences. The result was beneficial for the whole market.
According to research released in February 2022, de novo antibody sequencing using mass spectrometry methods is possible for various complex clinical samples from endogenous sources, such as serum. Therefore, such research will likely enhance the market's applications in therapeutics.
Key Market Players:
Thermo Fisher Scientific Inc.
Nihon Kohden Corporation
Agilent Technologies Inc.
Rapid Novor Inc.
Shimadzu Corporation
Charles River Laboratories
Selvita S.A.
Proteome Factory AG
Bioinformatics Solutions Inc.
Creative Proteomics
Bruker Corporation
Alphalyse Inc.
Segments Covered in the Report:
(Note*: We offer report based on sub segments as well. Kindly, let us know if you are interested)
By Product & Service
Protein Sequencing Products

Reagents & Consumables
Instruments

Mass Spectrometry Instruments
Edman Degradation Sequencers

Software

Protein Sequencing Services
By Application
Bio-therapeutics
Genetic Engineering
Others
By End-user
Academic Institutes & Research Centres
Pharmaceutical & Biotechnology Companies
Others
By Geography
North America
Europe
Asia-Pacific
Latin America
Middle East and Africa