The global protein engineering market size was reached at USD 3.18 billion in 2022 and is projected to surpass around USD 15.25 billion by 2032, growing at a CAGR of 16.97% during the forecast period from 2023 to 2032.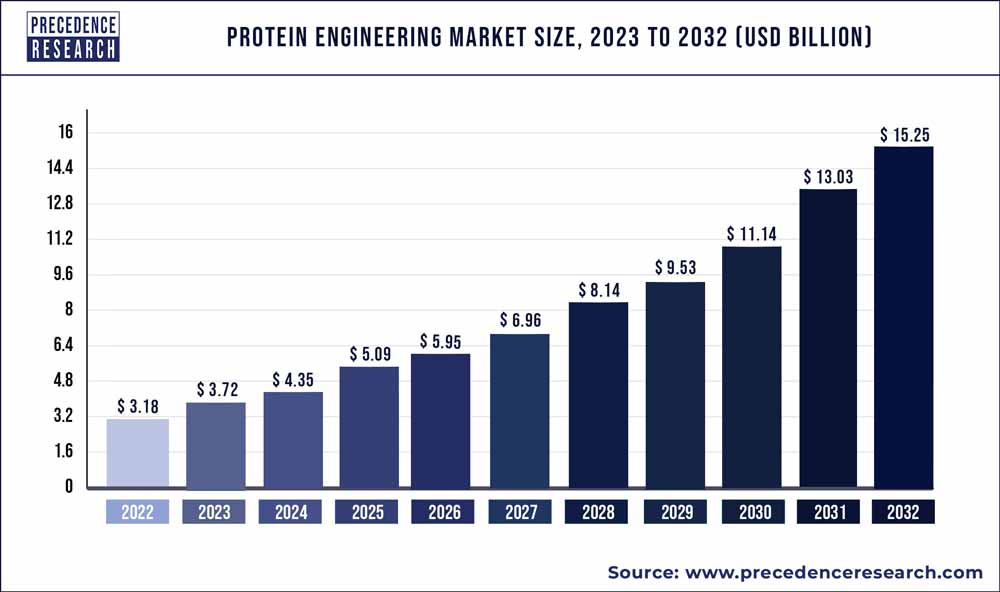 Protein engineering is modifying or creating new ones with specific desired properties using genetic engineering techniques. The global protein engineering market has grown steadily in recent years, driven by the increasing demand for protein-based drugs, the need for more efficient and sustainable industrial processes, and the development of novel protein-based products with unique properties.
Key Takeaways:
North America generated more than 41% of the revenue share in 2022.
By Product, the instruments segment captured the maximum market share in 2022.
By Technology, the rational protein design segment recorded the biggest market share in 2022.
By Protein type, the monoclonal antibodies segment contributed to the largest market share in 2022.
By End-user, the pharmaceutical & biotechnology companies segment generated more than 43% of revenue share in 2022.
Report Scope of the Protein Engineering Market:
| | |
| --- | --- |
| Report Coverage | Details |
| Market Size in 2023 | USD 3.72 Billion |
| Market Size by 2032 | USD 15.25 Billion |
| Growth Rate from 2023 to 2032 | CAGR of 16.97% |
| Largest Market | North America |
| Base Year | 2022 |
| Forecast Period | 2023 to 2032 |
| Segments Covered | By Product, By Technology, By Protein Type, and By End-User |
| Regions Covered | North America, Europe, Asia-Pacific, Latin America and Middle East & Africa |

Market Dynamics:
Driver: Growing demand for protein-based drugs and therapeutics
The growing demand for protein-based drugs is crucial for the protein engineering market. Protein-based drugs, known as biologics, are increasingly used to treat various diseases, including cancer, autoimmune disorders, and rare genetic disorders. Compared to traditional small-molecule drugs, protein-based drugs have several advantages. They are often more selective and have fewer side effects, as they are designed to interact with specific targets in the body.
Additionally, protein-based drugs are less likely to be metabolized by the liver, which can improve their efficacy and reduce the risk of toxicity. As a result of these advantages, the global market for protein-based drugs has grown significantly. Several factors drive this growth, including the increasing prevalence of chronic diseases, ageing populations, and rising healthcare spending. In particular, the growing prevalence of chronic diseases such as cancer, diabetes, and cardiovascular diseases is driving demand for new and more effective treatments.
Adoption of personalized medicine
Personalized medicine refers to customizing medical treatment to an individual's genetic makeup or other unique characteristics, such as age, gender, and lifestyle factors. Protein engineering plays a crucial role in developing personalized medicine by enabling the creation of proteins tailored to specific patient needs.
For instance, cancer treatment often involves monoclonal antibodies targeting specific cancer cells while leaving healthy cells unharmed. Protein engineering is used to create monoclonal antibodies that are more potent and selective, improving their effectiveness and reducing side effects. Doctors enhance patient outcomes and reduce healthcare costs by developing personalized cancer treatments tailored to an individual's unique genetic profile.
The demand for protein engineering is increasing as the healthcare industry shifts towards personalized medicine. This drives growth in the protein engineering market as companies invest in research and development to create new and innovative protein-based therapeutics customized for individual patients.
Restraint: High cost of development
Protein engineering involves complex and time-consuming designing, synthesizing, and testing proteins with specific properties. This process requires significant investment in research and development, a significant barrier to entry for smaller companies and startups. In addition to the direct costs of research and development, indirect costs are associated with bringing protein-based products to market.
For instance, regulatory approval for new protein-based drugs is lengthy and expensive, involving multiple clinical trials and extensive safety testing. The high development costs associated with protein engineering limits competition in the market, as smaller companies and startup do not have the resources to invest in research and development. This leads to a concentration of market power among larger companies, limiting innovation and increasing consumer prices.
Opportunity: Advancements in gene editing and synthetic biology
Gene editing and synthetic biology technologies enable researchers to manipulate and reprogram the genetic code of cells, which can lead to the creation of novel proteins with unique properties. One promising area of research is using CRISPR/Cas9 gene editing technology to modify the genes that code for specific proteins.
By selectively editing these genes, researchers can create proteins with new or improved functions, such as increased stability, enhanced specificity, or improved activity. Synthetic biology also offers new opportunities for protein engineering. Synthetic biology involves designing and constructing new biological systems using DNA and other biological components. Researchers use synthetic biology techniques to create or modify existing proteins to perform specific functions.
For instance, researchers have used synthetic biology to engineer proteins that detect and respond to environmental stimuli, such as temperature changes or specific chemicals. These proteins could have various applications, from environmental monitoring to drug delivery. Therefore, gene editing and synthetic biology advancements are expected to drive innovation in the protein engineering market and create new and improved protein-based products with a wide range of applications in healthcare, agriculture, and industry.
COVID-19 Impact:
COVID-19 had a significant impact on the protein engineering market. There was a slowdown in research and development activities, particularly in the early stages of the pandemic. Many companies had to pause their operations or shift their focus to developing products related to COVID-19, which delayed progress in other research areas, including protein engineering. The pandemic has also disrupted the global supply chain, impacting the protein engineering market.
This has resulted in shortages of certain raw materials and increased prices for some products, which has pressured companies' profit margins in the protein engineering market. However, the pandemic has also created new opportunities for growth in some regions of the protein engineering market. For instance, there has been a significant increase in demand for diagnostic tests, vaccines, and treatments related to COVID-19. This has created new opportunities for companies in the protein engineering market to develop and produce new products to address these needs. Furthermore, there has been increasing awareness of the importance of biotechnology and biopharmaceuticals, which has created new market growth prospects.
Segments Insight:
Product Insights:
Based on product, the protein engineering market is segmented into Instruments, reagents, and software & services. In 2022, the instruments segment accounted for the largest market share. The segment's growth is due to the increasing demand for protein engineering tools and technologies in various applications such as drug discovery, biomanufacturing and biotechnology research. Advances in protein engineering techniques have led to the development of new instruments that perform more complex and precise functions.
For instance, advancements in chromatography systems have led to the development of new protein purification methods, improving the efficiency and yield of protein production. Similarly, new electrophoresis systems have enabled researchers to separate and analyze proteins more accurately and quickly. Furthermore, the increasing number of research and development activities in the biotechnology and pharmaceutical industries and the growing demand for personalized medicine are driving the need for more sophisticated instruments for protein engineering.
Technology Insights:
Based on technology, the market is segmented into rational protein design, directed evolution, hybrid approach, de novo protein design, and others. In 2022, the rational protein design segment accounted for the highest market share. rational protein design is used in various applications, including drug discovery, enzyme engineering, and biocatalysis. For instance, rational protein design has been used to engineer enzymes for industrial processes, such as the production of biofuels or chemicals, as well as for medical applications, such as developing enzyme therapies for rare genetic disorders. As the field of protein engineering continues to evolve and advance, the rational protein design segment is expected to grow, driven by ongoing research and development activities and increasing demand for more specialized and effective protein-based therapeutics and industrial enzymes.
Protein Type Insights:
Based on the protein type, the protein engineering market is segmented into Insulin, monoclonal antibodies, Vaccines, Colony Stimulating Factors, Coagulation Factors, and Other Proteins. In 2022, the monoclonal antibodies segment accounted for the highest market share. Monoclonal antibodies (mAbs) are laboratory-produced molecules that mimic the immune system's ability to recognize and neutralize harmful pathogens or abnormal cells. They are highly specific to their targets and are engineered to have a variety of functions.
The growth of this segment is due to several factors, including the increased understanding of the molecular mechanisms of diseases and the development of new technologies that enable the production of highly specific and effective monoclonal antibodies. The monoclonal antibodies segment is proliferating owing to a wide range of therapeutic applications for these molecules. Monoclonal antibodies are designed to target specific cells or proteins involved in disease processes, making them an attractive option for treating various cancers, autoimmune disorders, and other diseases.
Increasing demand for personalized medicine is also expected to drive segment growth. Monoclonal antibodies are engineered to target specific patient populations based on their genetic profiles or other factors, allowing for more precise and effective treatments. Moreover, the development of new technologies for the production of monoclonal antibodies has contributed to the growth of this market segment. Advances in genetic engineering and protein expression systems have made producing large quantities of highly specific monoclonal antibodies easier and more cost-effective, making them more accessible to patients.
End-User Insights:
Based on the end user, the protein engineering market is segmented into Academic Research Institutes, Contract Research Organizations, and pharmaceutical & biotechnology companies. In 2022, the pharmaceutical & biotechnology companies segment held a significant market share of about 43%. This is due to major players in the protein engineering market developing and manufacturing drugs and biologics that use protein engineering technology. These companies typically have significant resources and expertise in drug discovery and development.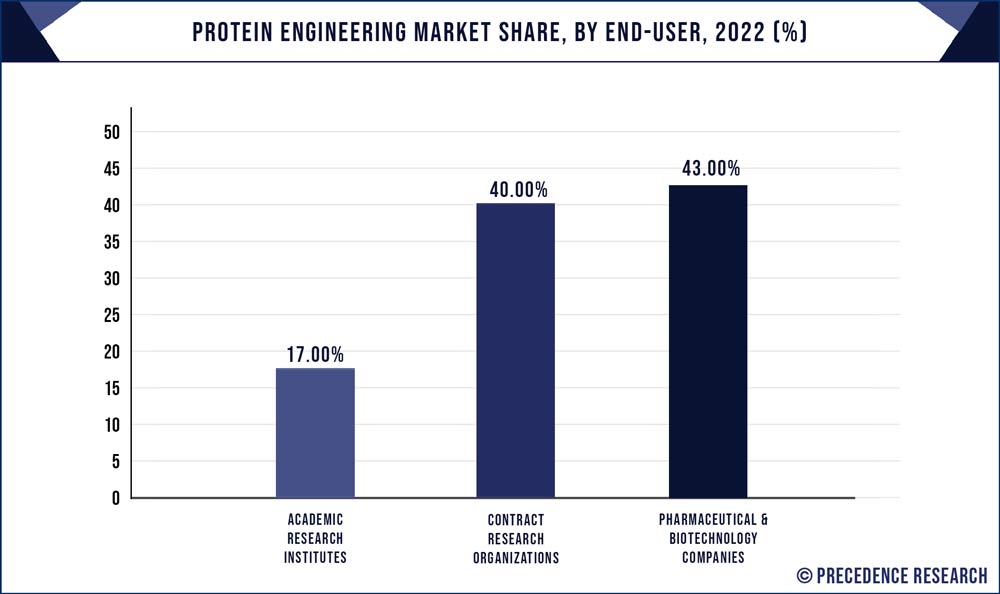 They conduct research or collaborate with academic research institutes or CROs to advance their understanding and develop new products. These companies invest in acquiring or licensing technology from other companies to enhance their capabilities in protein engineering. Therefore, pharmaceutical and biotechnology companies play a critical role in driving growth and innovation in the protein engineering market.
Regional Insights:
In 2022, North America dominated the market holding the highest market share of about 41% owing to many biopharmaceutical and biotechnology companies and academic and research institutes specializing in protein engineering. The United States is the largest market in North America, and it is expected to continue its dominance in the coming years.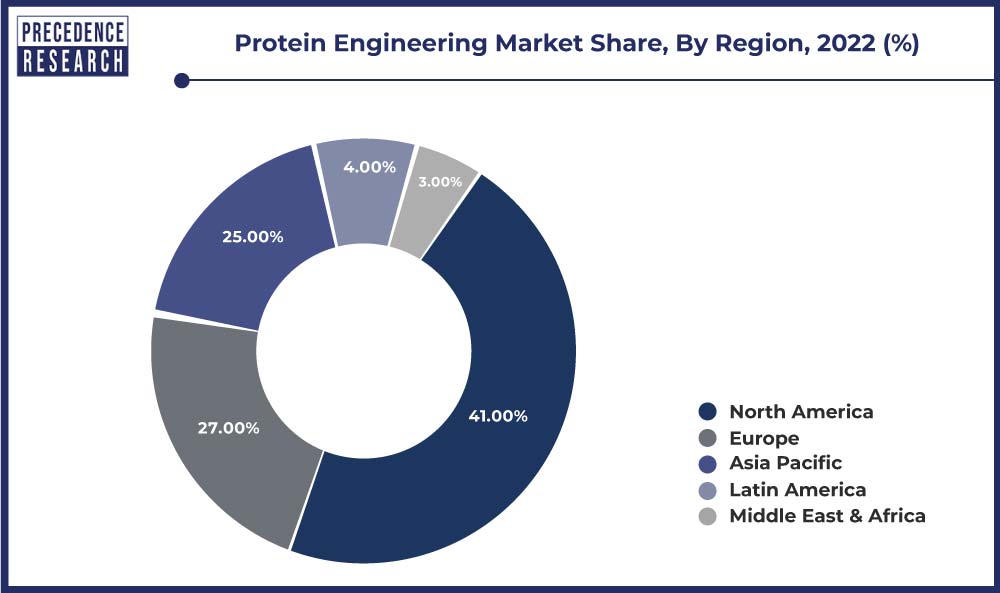 The country has a well-established biopharmaceutical industry and a strong research base, which have contributed to the growth of the protein engineering market. Furthermore, the U.S. government has increased funding for research and development in the biotechnology field, which is expected to drive the growth of the protein engineering market in the region.
Recent Developments:
In Jan 2022, Amgen and Generate Biomedicines announced a research collaboration agreement to discover and create protein therapeutics for five clinical targets across several therapeutic areas and multiple modalities.
In December 2021, Insightful Science, the software company enabling the cloud for scientific discovery, announced that it had completed the transaction to acquire Protein Metrics, Inc., which is a leading provider of biopharmaceutical protein characterization and proteomics analysis software. The acquisition expands the Company's R&D value chain to widen the biopharmaceutical protein analysis arena, unblocking data analysis bottlenecks currently associated with large-scale protein studies.
In October 2020, Agilent Technologies announced the launch of its new Agilent Seahorse XFp Analyzer, a tool for measuring metabolic activity in live cells that can be used in protein engineering research.
Company Profiles and Competitive Intelligence:
Market players attempt to increase their market share through investments, partnerships, acquisitions, and mergers. Businesses are also investing in the development of new products. Furthermore, they are concentrating on maintaining competitive pricing. Some of the prominent market players include:
Amgen, Inc.
Agilent Technologies
Bruker Cor.
Thermo Fisher Scientific, Inc.
PerkinElmer, Inc.
Waters Corp.
Bio-Rad Laboratories
Merck KGaA
Danaher Corp.
GenScript Biotech Corp.
Segments Covered in the Report:
(Note*: We offer report based on sub segments as well. Kindly, let us know if you are interested)
By Product
Instruments
Reagents
Software & Services
By Technology
Rational Protein Design
Directed Evolution
Hybrid Approach
De Novo Protein Design
Others
By Protein Type
Insulin
Monoclonal Antibodies
Vaccines
Colony Stimulating Factor
Coagulation Factors
Other Proteins
By End-User
Academic Research Institutes
Contract Research Organizations
Pharmaceutical & Biotechnology Companies
By Geography
North America
Europe
Asia-Pacific
Latin America
The Middle East and Africa