The global recombinant proteins market size accounted for USD 2.78 billion in 2022 and is expected to attain around USD 8.95 billion by 2032, growing at a CAGR of 12.4% over the forecast period 2023 to 2032. North America generated more than 35% of the revenue share in 2022.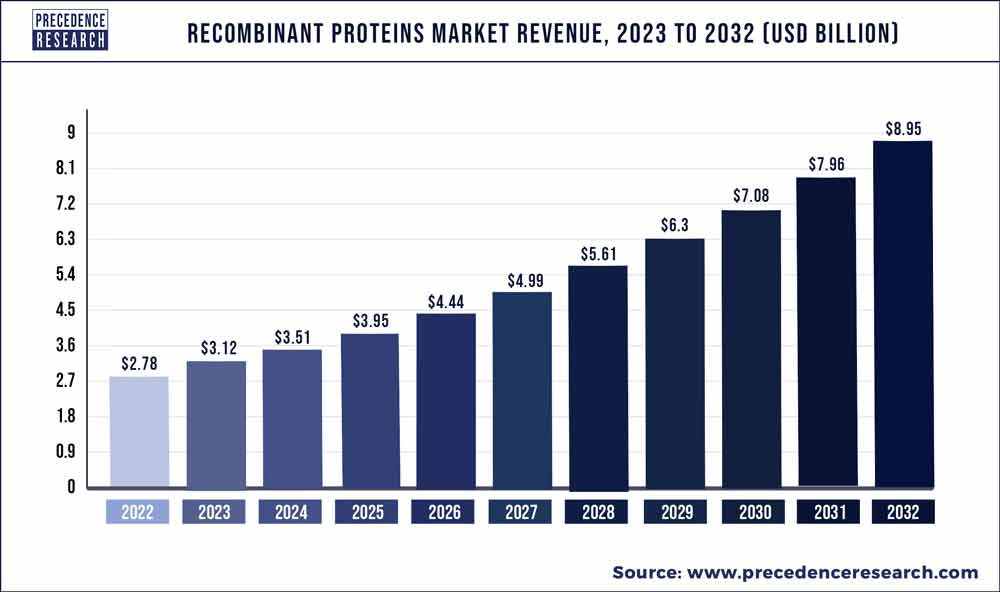 Key Takeaways:
Asia-Pacific region is expected to expand at the fastest CAGR between 2023 and 2032.
By Product, the cytokines & growth factors segment captured a major revenue share in 2022.
By Application, the drug discovery & development segment contributed the highest market share in 2022.
By End-user, the pharmaceutical & biotechnology companies segment led the global market.
Market Overview:
Recombinant proteins are synthesized using recombinant DNA (rDNA) technology, which involves combining at least two DNA sequences not typically found together in nature. These rDNA libraries and the resultant proteins are then scrutinized for their potential use as disease pathway inhibitors, replacement therapies, or other anti-disease agents.
The production of recombinant proteins initiates at the genetic level, where the coding sequence of the desired protein is separated and cloned into an expression plasmid vector. Although most therapeutic recombinant proteins are derived from human genes, they are expressed in microorganisms such as yeast, bacteria, or animal cells in culture. Recent years have seen the development of effective transient transfection protocols, and HEK293-derived cell lines are frequently used for the transient production of proteins. Mammalian cells are presently the preferred host for producing recombinant therapeutic proteins due to their ability to produce high-quality proteins like to those found in humans. Additionally, many approved recombinant therapeutic proteins are produced in E.coli because of its rapid growth, well-characterized genetics, and high-yield production.
Growth Factors:
Industry growth is expected to be propelled by the increasing occurrence of chronic ailments like hemophilia, granulomatous disease, and sclerosis. Additionally, the growing inclination towards biologics, as well as advancements in recombinant protein products, is other factors driving growth. The COVID-19 epidemic has further fueled the research and development efforts to discover diagnostics for the SARS-CoV2 virus.
In addition to the efforts made to build recombinant protein-based vaccinations, numerous players are putting up a great effort to develop medicines via rapid cycles of innovation to bring advances to patients more swiftly. The popularity of biopharmaceuticals has also been influenced by the need for safe, effective, and efficient medications.
Over 400 million people globally suffer from uncommon genetic illnesses, according to Global genes, underscoring the critical need for better health awareness, clinical settings, and treatment alternatives. For the development of medicine, cutting-edge research and an understanding of drug-targeting mechanisms are key resources.
To revolutionize treatment efforts, many regions have created biobanks through cohort programs, which give researchers access to high-quality samples. This has raised interest in finding biomarkers for various disorders. For instance, the FDA authorized Ayvakit in August 2022 to treat advanced systemic mastocytosis, a rare blood disorder, which is anticipated to have a beneficial effect on the growth of the market in the years to come.
Report Scope of the Recombinant Proteins Market:
| | |
| --- | --- |
| Report Coverage | Details |
| Market Size in 2023 | USD 3.12 Billion |
| Market Size by 2032 | USD 8.95 Billion |
| Growth Rate from 2023 to 2032 | CAGR of 12.4% |
| Largest Market | North America |
| Fastest Growing Market | Asia-Pacific |
| Base Year | 2022 |
| Forecast Period | 2023 to 2032 |
| Segments Covered | By Product, By Application, and By End-User |
| Regions Covered | North America, Europe, Asia-Pacific, Latin America and Middle East & Africa |

Market Dynamics:
Driver:
Increasing prevalence of chronic disorders
Since it is difficult to avoid and has unclear aetiology pathways, cancer is a serious health problem. Cancer can result in serious short- or long-term harm, and occasionally even death. Although there are many anticancer treatments available, finding a cure for cancer is still a challenging task.
To combat this, numerous initiatives have been launched to create immunotherapy based on recombinant DNA technology that is more efficient. These recombinant products are designed to eradicate the tumour and mobilise the immune system to combat cancerous cells. The most important recombinant products utilized in anticancer therapy include immunostimulants, vaccinations, antibodies, immunotoxins, and fusion proteins.
Furthermore, recombinant proteins have been developed for use in the treatment of various other diseases including diabetes, myocardial infarction, dwarfism, congestive heart failure, multiple sclerosis, cerebral apoplexy, neutropenia, anemia, thrombocytopenia, hepatitis, asthma, Crohn's disease, and cancer. These therapeutic proteins are derived from hormones, interleukins, interferons, blood clotting factors, growth factors, thrombolytic drugs, tumor necrosis factors, and enzymes. There have been three generations of these proteins, with significant advancements in the third generation. Thus, owing to the increasing number of chronic disorders the demand for recombinant proteins is expected to rise during the forecast period.
Restraints:
High cost associated with the production and development of recombinant proteins
In order to meet the rising demand, active exogenous protein must be produced on a massive scale. Higher protein expression, purification, and processing are required for the complicated procedure. For mass production and purification, each product requires specific parameters or standardizations. It must be economical because only large-scale production can meet the rising demand.
The creation of human-originated proteins in bacterial, fungal, insect, or mammalian hosts uses genetic engineering methods. Recombinant DNA technology needs a lot of time, labor, and resources to be used for mass protein manufacturing. Also, the price per kilogram of recombinant proteins for medical usage could reach billions of dollars. These factors contribute to the high cost of recombinant protein production, which ultimately leads to higher prices of therapeutic products.
This makes them unaffordable for many patients, especially in developing countries, which limits their accessibility and hampers market growth. Moreover, the high cost of production also puts pressure on biopharmaceutical companies to achieve higher revenues, which can lead to increased prices of drugs, and ultimately, result in pricing pressures from payers and regulatory authorities.
Opportunities:
Rising demand for recombinant proteins for biotherapeutics
Recombinant proteins are used in the development of biotherapeutic drugs that have revolutionized the treatment of many diseases, including cancer, autoimmune disorders, and infectious diseases. Biotherapeutics are drugs derived from biological sources, such as proteins, that are used to treat a variety of diseases. These drugs are highly specific and have fewer side effects than traditional small molecule drugs. Recombinant proteins are the building blocks of biotherapeutics and play a crucial role in the development of these drugs.
The demand for biotherapeutics is rising due to their effectiveness in treating various diseases and their ability to target specific cells and tissues. The use of recombinant proteins for biotherapeutics has significantly improved the efficiency and cost-effectiveness of the drug development process. As a result, many pharmaceutical companies are now focusing on the development of biotherapeutic drugs, which is likely to drive the growth of the recombinant protein market during the forecast period.
Furthermore, therapeutic proteins are crucial for treating various diseases, including diabetes, cancer, infectious diseases, hemophilia, and anemia, as many diseases are linked to specific protein dysfunctions. Genetic engineering is utilized to produce human proteins, which play a significant role in the therapeutic medicines market. One of the FDA-approved RP vaccines is the hepatitis B vaccine, which is used to prevent infection from all known subtypes of the Hepatitis B virus.
Over 170 recombinant proteins are being used for medical purposes globally, while more than 130 have been approved by the US FDA for clinical use. The development of recombinant human insulin was an early example of the application of biotechnology in drug development. These proteins are powerful medicines that are less likely to cause off-target side effects and have a shorter development time compared to small molecules. As a result, large pharmaceutical companies are now producing RP as drugs, making it a multibillion-dollar industry. This is further expected to increase the demand for recombinant proteins in the years to come.
Impact of COVID-19:
The growth of the recombinant protein market was affected by the COVID-19 pandemic. The emergence of COVID-19 led to a surge in demand for therapeutic and vaccination measures to fight against it. In response, many players in the market and public organizations redirected their focus towards research and development activities for the treatment of COVID-19, in which recombinant proteins played a critical role. Researchers and scientists used recombinant proteins for COVID-19 vaccine development, as reported in an article published in the JCLA journal in May 2022. Thus, COVID-19 increased the demand for recombinant protein-based medicines.
The market for recombinant proteins is further expected to witness significant growth over the forecast period. This is owing to the high prevalence of chronic diseases and other infectious diseases, along with the effectiveness of recombinant protein-based medicine in their treatment. Thus, it is anticipated that the market will continue to grow due to the increasing demand for these medicines for the treatment of various illnesses.
Segments Insight:
Product Insights:
On the basis of product, the cytokines & growth factors segment held the largest revenue share in 2022. The use of cytokines in cancer therapy is gaining popularity worldwide, and they are also being recognized as biomarkers for disease diagnosis, which is driving the growth of the segment. Market growth is being fueled by factors such as the increasing prevalence of cancer, research, and funding in the field of cancer therapy. For example, according to Globocan 2020, there were 19,292,789 new cases of cancer reported, and this number is expected to increase to 28,887,940 by 2040.
The market is also being stimulated by the presence of competitors, product launches, collaborations, and pipeline assets and research. For example, in July 2022, Sandoz announced that the US Food and Drug Administration (FDA) had accepted its Supplemental Biologics License Application (sBLA) for a high concentration formulation of 100 mg/mL (HCF) of its biosimilar Hyrimoz (adalimumab-adaz) for review. These factors are likely to support the segment growth of the recombinant proteins market during the forecast period.
Application Insights:
Based on the application, the drug discovery & development segment held the largest market share in 2022. The growth of the segment is being supported by increasing research and development activities. The segment is also expected to be driven by product launches by key market players. For example, Cadila Pharmaceuticals launched two similar biologics, NuPTH and Cadalimab, in the Indian market in October 2021. Similarly, in May 2021, Amgen proclaimed that its partner AstraZeneca submitted a Biologics License Application (BLA) for tezepelumab, a first-in-class medicine for severe asthma.
In addition, the increasing number of regulatory approvals for gene therapies is also expected to drive the segment growth of the market. For example, in August 2022, the USFDA approved Zynteglo, the first cell-based gene therapy for treating beta-thalassemia in both adult and pediatric patients. Such approvals are expected to fuel the segment growth due to the rising development of cell and gene therapies.
End-User Insights:
Based on end-user, the pharmaceutical & biotechnology companies segment dominated the global recombinant proteins market. The trend towards biologics and biosimilars has led to significant investments by bio-manufacturers in research and development, resulting in the expansion of product pipelines, the development of new technologies, and the advancement of bioprocessing tools.
The growth in competition among players and diverse applications by end-users has also contributed to the progress in recombinant protein products. Additionally, growing investments by the various key players are also likely to increase the demand for recombinant proteins which in turn is expected to support the segment growth of the recombinant proteins market during the forecast period.
Regional Insights:
North America held the largest revenue share of 35% in 2022. The US accounted for the largest share in the North America recombinant proteins market. The increasing prevalence of cancer in the region has led to the growth of the market. According to Globocan 2020, 2,556,022 people in the United States were affected by cancer, and this number is expected to increase to 3,316,283 by 2035. In addition, the presence of competitors, research funding, mergers, and acquisitions in the region have also contributed to the growth of the market.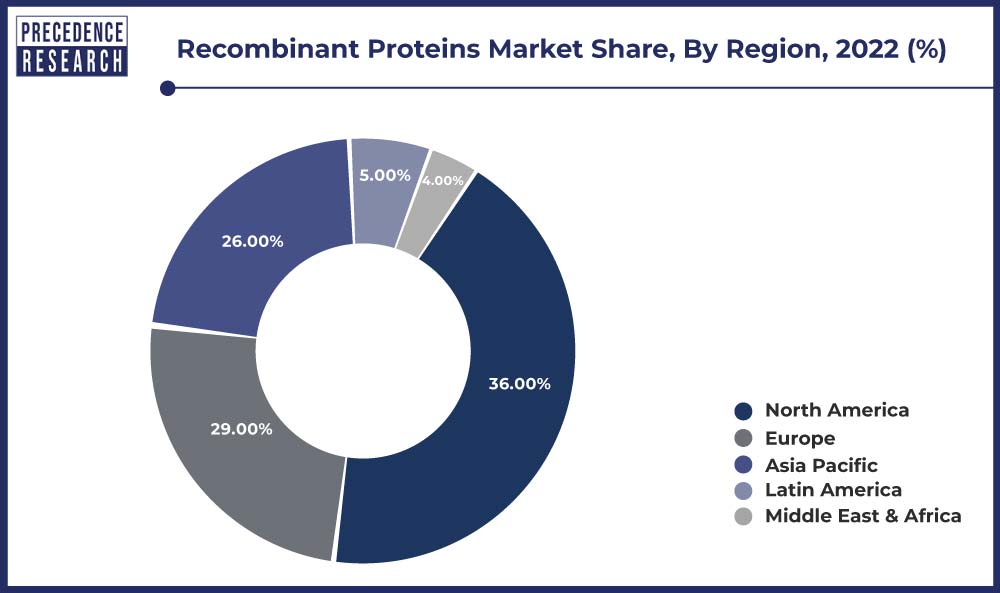 For example, in June 2022, Amgen announced that the FDA approved its biosimilar RIABNI (rituximab-arrx) in combination with methotrexate for the treatment of moderate to severely active rheumatoid arthritis (RA) in adults who have had an inadequate response to one or more tumor necrosis factor (TNF) antagonist therapies. Additionally, the increased studies and research is likely to support the regional growth of the recombinant proteins market during the forecast period.
Asia-Pacific is expected to grow at the fastest CAGR during the forecast period. The growth of the market in the region can be attributed to the increased funding, both public and private, for research and development in recombinant protein studies, supportive government regulations, and the higher incidence of target diseases, especially among the aging population. Moreover, the development of advanced techniques in proteomic and genomic research is also driving the growth of the region. Further, the growing healthcare infrastructure is also likely to support the regional growth of the recombinant proteins market during the forecast period. Additionally, the availability of government support for research and development in the field of biotechnology is also expected to fuel the market growth in the region.
Recent Developments:
In December 2022, Shenandoah Biotechnology Inc. announced the expansion of its CTGrade portfolio of growth factors and cytokines for cell and gene therapies that are manufactured by following the cGMP guidelines. This range of CTGrade cytokines includes IL-3, IL-2, IL-7, IL-6, IL-10, IL-21, IL-15, and FLT-3 ligand, along with the additional proteins that are needed in development which optimize cell proliferation and function meant for new cell and gene therapies applications.
In January 2022, Thermo Fisher Scientific Inc. announced that in December 2021 it completed the acquisition of PeproTech for a total of nearly US $1.85 billion. This acquisition will enable Thermo Fisher to offer their customers with substantial benefits over a unified offering.
Key Market Players:
Thermo Fisher Scientific, Inc.
Miltenyi Biotech
Sino Biological Inc.
Merck KGaA
Abcam plc
Biolegend
Bio-Rad Laboratories, Inc.
GenScript Biotech Corporation
Enzo Life Sciences, Inc.
BPS Bioscience, Inc.
Segments Covered in the Report:
(Note*: We offer report based on sub segments as well. Kindly, let us know if you are interested)
By Product
Cytokines & Growth Factors
Antibodies
Immune Checkpoint Proteins
Virus Antigens
Enzymes
Recombinant Regulatory Protein
Hormones
Others
By Application
Drug Discovery & Development

Biologics
Vaccines
Cell & Gene Therapy

Biopharmaceutical Production
Biotechnology Research
Academic Research Studies
Others
By End-User
Pharmaceutical & Biotechnology Companies
Academic Research Institutes
Contract Research Organizations
Others
By Geography
North America
Europe
Asia-Pacific
Latin America
Middle East and Africa